jul04 Provincetown-Orleans
Some places even launch cannons, along with hosting bonfires and sailboat races. What more do you need for your Cape Cod 4th of July? Every year, there are numerous forms of entertainment commemorating the day all over the Cape, and 2015 is no exception. CapeCod.com has all the information you need to know about how Cape Cod is celebrating Uncle Sam's birthday. Check out the list of 4th of July firework festivities taking place across the Cape.
July 4th
Provincetown, MA
Date: July 4, 2015
Time: Dusk
Place: Provincetown Harbor
July 5th
Orleans, MA
Date: July 5, 2015 (rain date July 6th)
Time: Dusk
Place: Rock Harbor
jul04 Wellfleet
Enjoy scenes from a genuine hometown USA holiday--the fabulous Wellfleet Fourth of July parade on Cape Cod!
jul04 Wellfleet
If you missed this year's parade, don't feel bad. Not as good as in the past.
The theme this year was Surf's Up, and the creative floats of the place seemed to have been replaced by making as much noise as possible. Drums, sure. Marching bands, of course. Fire engine sirens, well okay. But did we need the blare of loudspeakers as well? There were microphones and amps galore. I did enjoy the jazz band performing on the Preservation Hall float. Of course, my favorite was the monarch butterflies of Cape Cool, which interpreted the theme of Surf's Up as the rising tide of global warming and awareness of the danger the earth faces. I also clapped hard for the Capedownwinders, waving banners urging folks to join the movement and get Pilgrim nuclear power plant closed. It was impossible not to applaud little Nora Hay in her red wagon, pulled by Mom Elspeth, preceding Mac's pickup. Friends of the Herring River used their imagination for their school of herring, as did the Furies, with a sign that they had gone cleaning, rather than surfing. The landscaping folks, with all their heavy equipment, should not be invited next year, in my humble opinion, as they slowed everything down, unable to make the turns in the road. The crowd didn't mind though. The kids loved the candy thrown from the floats. What a well-attended parade. Happy Fourth of July!
jul04 Wellfleet
Wellfleet Conservation Trust announces plan to Acquire Drummer Cove Link Lot, Reopen historic S. Wellfleet trail; Kickoff presentation scheduled for 10AM Sunday July 19th.
The Wellfleet Conservation Trust (WTC) has entered an agreement to acquire the "Drummer Cove Link Lot" in South Wellfleet from the Drummer Cove Nominee Trust (DCNT), a group of conservation-minded individuals willing to serve as a bridging ownership entity for WCT. The DCNT approached WCT offering to acquire the property for conservation and recreation purposes until such time as WCT could take ownership. The agreement gives WCT time to fundraise and to make application for a Conservation Partnership Grant with the MA Department of Conservation and Recreation of the Executive Office of Energy and Environmental Affairs. WCT will host an on-site discussion and trail walk on Sunday July 19th at 10 AM to familiarize the public with the benefits of this acquisition. The Drummer Cove Link Lot, located on the northwest shore line of the Drummer Cove, is considered to be of highest conservation priority and was proposed by the Wellfleet Open Space Committee for acquisition subject to certain funding requirements. It is located within the Area of Critical Environmental Concern (ACEC) of Wellfleet Harbor and is entirely within the State designated Area of Critical Habitat to be preserved. Although the proposal received a majority of votes at the Wellfleet Town Meeting on April 27th, it did not achieve the 2/3rds majority needed for the funding mechanisms. The DCNT purchased the lot on June 30, 2015. The three quarter acre Link Lot parcel preserves critical coast line habitat and offers valuable public and historic benefits as well. Once part of the historic and picturesque walking trail that led from Pleasant Point to the Pond Hill School in South Wellfleet, the Drummer Cove trail can now be restored for public enjoyment. The lot was named the "Link Lot" as it provides a public connection to two portions of existing trails and lightly travelled dirt roads that make up a nearly one mile loop of walking trails. The trails will be open to the public with parking areas provided. All of the land on which the remainder of the trail is located is under the care and custody of the Town's Conservation Commission, WCT or open to the public as part of the road system in the area. WCT will undertake a capital campaign to supplement existing funds and raise the remainder needed for this acquisition. WCT President Dennis O'Connell indicated that several neighbors have already approached WCT with pledges to help make part of this commitment. O'Connell commented, "We would normally have all our funding resources in place before making a purchase, but the Board of Trustees felt the need to control the fate of this lot was compelling enough to accept the offer from the DCNT." WCT intends to raise at least $200,000 in this special campaign. A kickoff public presentation and trail walk is scheduled for 10AM Sunday July 19th at the Link Lot itself. The meeting place will be at the end of Pond Avenue in South Wellfleet (Google location is 170 Pond Ave, Wellfleet). The event is free and all are welcome to attend.
jul04 Wellfleet-Eastham-Truro-Provincetown-Orleans-Chatham
The Cape Cod National Seashore is reminding visitors and residents about great white shark safety. Sharks on the Cape and gray seals have gained attention recently and in recent years their numbers have increased. Seals are the major prey species for sharks and as the seal population increases, sharks are more popular.
Although it's rare that a great white shark bites a human, it did happen in Truro in 2012. There have also been several recent reports of sharks attacking people off the coast of North Carolina, though not all have been great white sharks. Seashore Superintendent George Price said that doesn't mean it couldn't happen again. "To great whites, it would be an inadvertent occasion but these animals are so large, that that's an occasion you don't want to have happen to you or your family," said Price. The Seashore asks that people do not swim near seals, swim close to the shore, kayak and surf in groups and do not swim alone at dawn or dusk. The Seashore has partnered with the Atlantic White Shark Conservancy and a number of groups to produce shark advisory signs on beaches and brochures for beach users.
jul04 Wellfleet
Ira Wood is an author, a teacher, a former publisher, a former selectman, and the host of a weekly radio program called The Lowdown on WOMR-FM, Cape Cod's Community Radio Station. For over 30 years Ira has made his home in Wellfleet. The Lowdown enables Ira to indulge his lifelong compulsion to pester people with questions.

jul04 Wellfleet-Truro
Don Manchester, Wellfleet Bay's dedicated hawk watcher, says apex predators have always fascinated him. But hawks have been special.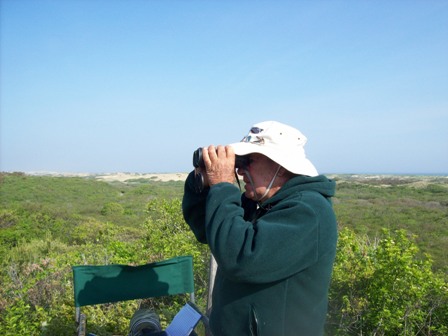 "There's something regal about them. I love the way they soar and dive. Whether I was working or fishing, I'd always stop if a hawk was around." After retiring as a surveyor (a good job for a hawk watcher), Don spotted an ad for a volunteer to man the Hawk Watch at Pilgrim Heights in Truro. He's been there for 16 springs and intends to mark his 20th. Don's all-time high for numbers of raptors in a single season is about 2700. This year has been slower with only about 900 recorded. But among those 900 were some rare kites-a Mississippi and an even rarer Swallow-tailed Kite, a bird usually found no farther north than South Carolina. Don's sightings of these birds will be included in the spring migration report of the Hawk Migration Association of North America where he has sent his data for the last 16 years.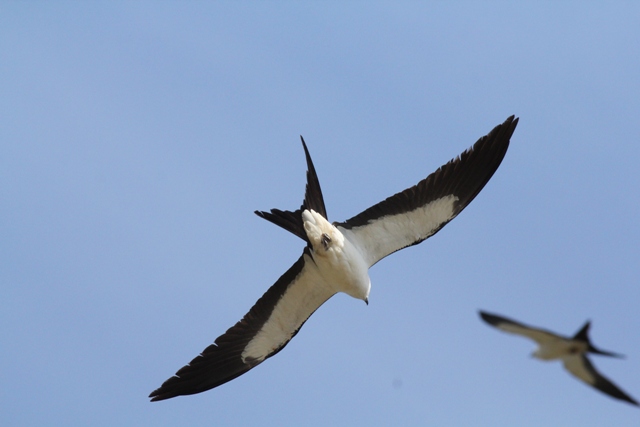 Swallow-tail Kites

The pleasures of the Hawk Watch include more than avian delights. Don says from his perch overlooking East Harbor, the bay and the ocean he has enjoyed many great wildlife moments. "The other day a pack of coyotes serenaded me from the dunes- in the middle of the day," he says. "After they stopped, an ambulance went by and they started up all over again!"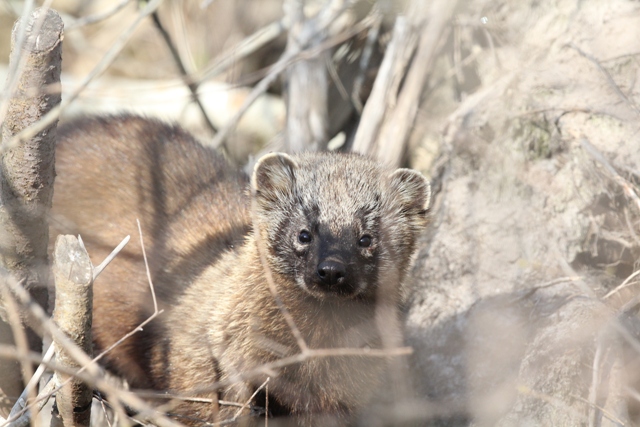 A fisher is caught on camera in May near Pilgrim Heights


jul04

Wellfleet-Eastham-Truro-Provincetown Orleans-Brewster-Chatham-Harwich
There's more than enough to do in a week or two on the Lower and Outer Cape when summer arrives - from biking to paddling, fishing to bird watching, sunbathing to hiking. It's also easy to just kick back and relax.
You can spend your entire time in the Cape Cod National Seashore, which has dominated the Outer Cape towns of Eastham, Wellfleet, Truro and Provincetown since President John F. Kennedy established it in 1961. All of those listed activities are offered there, and National Parks Service rangers will direct you to or lead you on many of those adventures (listen to stories around a beach campfire). NPS programs explore the history (the Cape's National Lifesaving Service was absorbed into the Coast Guard 100 years ago), the ecology (seals and one of their predators, the great white shark, have returned to the Cape) and the beauty of the area (catch a sunset from Herring Cove Beach in Provincetown). Some ranger-led programs are free, others require a fee. Parking at the numerous ocean-side beaches is available with a daily or seasonal pass.

Looking down from the dunes at White Crest Beach in Wellfleet, Mass.

Outside the National Seashore, Wellfleet has town-run beaches on the ocean; Eastham has them on Cape Cod Bay (where the water is calmer). Again, daily or seasonal passes are required. There are also numerous town-run freshwater kettle ponds in which to to swim, fish or paddle. Going fishing?

Connie Codner and her record-setting striped bass in her shop, Blackbeard's Bait and Tackle, in Eastham, Mass.

The staff at the Goose Hummock in Orleans or Blackbeard's Bait and Tackle in Eastham will tell you where the bluefish and striped bass are running - on a boat or from shore. Blackbeard's Connie Codner would know; she retains the women's world record for a 48.5-lb. striper she caught off Chatham in the Lower Cape in 1991 with 16-lb. fishing line. Charter fishing boats leave from Rock Harbor in Orleans, the Wellfleet and Provincetown harbors and elsewhere. You can rent a canoe or kayak at the Goose. Depending on where you fish, you'll need a fresh- or saltwater license (or both) from the state. The Goose Hummock is the only shop in the Lower and Outer Cape to sell them, but you can buy one online.
Bicycle trails criss-cross the Cape, including the Cape Cod Rail Trail, a former railroad right of way, and there are numerous bike-rental shops. Accommodations run the gamut from humble cottages and campgrounds to high-end resorts such as the Chatham Bars Inn (in Chatham) and Ocean Edge in Brewster (actually on the bay).

A pair of kayakers head to the boat launch on Little Cliff Pond at Nickerson State Park in Brewster, Mass.

A friend always stays at Outer Reach in Truro, between Wellfleet and Provincetown (pets allowed). House rentals can be found at such sites as Real Time Rental and VRBO. Motels dot the Lower (Brewster, Orleans, Harwich and Chatham) and Outer Cape. Nickerson State Park in Brewster offers camping; ponds for swimming, fishing or boating; and biking. There's a parking fee for non-campers. If you don't want to cook at "home," there are scads of breakfast places, clam shacks and white-linen restaurants. Land Ho in Orleans is a favorite for locals and visitors (get the clam chowder); after whale watching or art browsing in Provincetown, head for the Lobster Pot (start with a bloody Mary, then the Portuguese kale soup and BBQ Pepper Shrimp or Tuna Steak Delmonico). Where else for Wellfleet oysters but Mac's Seafood (market and restaurant) at the Wellfleet Town Pier? They have another restaurant in P'town, which also boasts the restaurant Saki, for sushi and other Japanese food (also highly recommended). Back in Wellfleet, try the Lighthouse (get the lobster bisque) and Russ and Marie's Marconi Beach BBQ & Seafood.

Employee Robert Campbell shucks oysters for a customer at Mac's Seafood market at the Wellfleet (Mass.) Harbor



The Lobster Pot restaurant in Provincetown, Mass.


jul04 Wellfleet
Wellfeet Summer 2015 Concert Series is presented by the Wellfleet United Methodist Church. All performances are from 7:30pm to 8:30pm. Suggested donation $15 adults, under 12 $5. The church is air-conditioned.
07/07: Daddy-O - harcore fifties
07/14: Songs of the Sea featuring Denya LeVine and Julie Charland
07/21: First Encounter Chamber Players featuring Monika Woods and Elizabeth Tipton
07/28: Celtic and Americana Music featuring Rose Clancy and James Rice
08/04: Monica Rizzio with Ben Kushigian - vocals, strings and guitar
08/11: Black Whydah & the Pirates featuring John Best, Jean Sagara, Cathy Hatch and April Baxter
08/18: Paul Bisaccia & John Thomas - 4 hands, 2 guys, one piano
08/25: Bart Weisman Jazz Group
09/01: North Country - Cape Cod's hottest new country band
09/08: Toast & Jam - Tim Dickey, Julie Charland, Laird Boles and Bruce Abbott
jul04 Wellfleet
Elspeth Hay is an avid locavore who lives in Wellfleet and writes a blog about food. Elspeth is constantly exploring the Cape, Islands, and South Coast and all our farmer's markets to find out what's good, what's growing and what to do with it. Her Local Food Report airs Thursdays at 8:30am on Morning Edition and Thursdays at 5:45pm on All Things Considered, as well as Saturday mornings at 9:30am.
Helen Miranda Wilson grows five kinds of mint and each one has a story. The first comes from her mother's close friend Nina Chavchavadze, who moved a piece of the plant from her garden in South Wellfleet to Helen's family property in 1946.
"This mint, that my mother got in the 40s, that's been growing here ever since, is my go-to eating mint," she told me. "It's not spearmint, it's not peppermint. It's just this kind of straight-up mint taste that I would use in a salad. I guess you'd use it in a mint julep, if that's what you did. But it's robust - I weed it. In other words, I let it spread. I give it rich areas to grow where it will get water. I find that when it doesn't have water and good soil, mint has this kind of slightly acrid, unpleasant taste." Helen treats her mints well. Unlike many gardeners, who relegate mints to pots or scattered patches because it can take over, Helen keeps most of her mint in the main garden. "This is Melissa, and that also is doing very well," she said with a gesture, continuing our tour. "Melissa does well anywhere." Melissa is short for Melissa officinialis, also known as lemon balm or balm mint. It's got a light green stem and is native to Europe, but it's also naturalized here. "You use it in teas," Wilson explained. "And I also use it in salads. The way I use mints in salads is, I make the dressing, and then I get a good sprig of it. I take the leaves off, and I snip the mint in little ribbons with a scissor and toss it in, so that you don't get large mint leaf by itself, you get these little bursts of flavor." Melissa has a lemony flavor, and is also used in ice cream or fish dishes. It's similar to another mint Helen is replanting this spring. "I used to have an extraordinary orange mint that had a flavor that was so delicate and so floral and slightly citrusy that I liked to use it in smoothies. I'd put it in the blender with yogurt and raspberries and stuff. And it would add to it in an incredible way," she said. Orange mint is also known as Bergamot mint, or mentha citrata. It has the dark almost purple stem that's characteristic of peppermint, and in the fall the leaves are tinged a beautiful reddish purple. Next, Helen walked me over to a bushy patch of mint that she says came from behind the Wellfleet Historical Society. "I went over there one day - I wasn't, strictly speaking, trespassing - to try to find someone who I thought was working in there. They weren't there, and I had gone around the back, and there was a huge patch of mint gone wild. So I just pulled a little sprig. I think that's ok!" The mint from the historical society is a spearmint. Helen likes to dry it and use it in middle eastern dishes, and she says it's also good in salads or a cocktail. "Or mint sauce," she said. "Mint sauce with lamb, with fresh mint is classic. It's really good." How do you make a fresh mint sauce? Helen Wilson uses good red wine vinegar, sugar, and then snips the mint in. The fresh mint sauce should sit for about an hour, just before you're ready to eat. For mint jelly, Helen makes apple jelly to give the sauce sweetness and pectin, and then adds mint for flavor at the very end. Her last variety of homegrown mint is a classic peppermint. It's escaped from the main garden and isn't doing very well-Helen says her plant triage list is miles long-but it still has that amazing peppermint smell. "This is the one remaining sprig of my peppermint, my very potent peppermint. See the dark stem? Some people call it chocolate mint," she said. There are a lot more than five varieties of mint-as many as twenty edible varieties have been identified, and Helen Miranda Wilson is also growing plants in the mint family like hyssop, which is medicinal, and catnip.
more
jul04 Wellfleet
Annual Strawberry Festival July 5th, 2-4pm: Strawberry shortcake, lemonade, coffee and music - organic, local strawberries, homemade shortcake, real whipped cream! Wellfleet Preservation Hall, $8 at the door.

July Speaker: Wednesday, July 8th, 7:30 PM, Wellfleet Public Library Meeting Room, Jefferson Adams, Revisiting Cold War Espionage: What Do We Know Now? Exploration of a wide range of intelligence issues around the Rosenberg trials in light of recent releases of Cold War documents. Jefferson Adams is a professor of European history at Sarah Lawrence College and the author of Historical Dictionary of German Intelligence and, most recently, Strategic Intelligence in the Cold War and Beyond. Admission $5.00, Members Free.

House Tour: Sunday, July 26, Five remarkable, diverse homes create the constellation of our tour this year, each stopping point revealing a fascinating aspect of Wellfleet's history and contemporary diversity. Buy Tickets.
jul04 Wellfleet
Cape Wide News told you last week about counterfeit $20s in Chatham. Now it appears they have made it to Wellfleet. Wellfleet Police say that a local business reported that they received a counterfeit $20 bill this past week. The bill was missing the security watermark. Businesses and people should be aware of the potential fraud and ways of identifying fake bills. Please contact the police if you suspect suspicious activity.
jul04 Wellfleet
During the 9-week period of Tuesday, April 21, 2015 through Tuesday, June 23, 2015, the officers of the Wellfleet Police Department made 19 arrests. There were no arrests the weeks of 6/16/15 to 6/23/15, 4/28/15 to 5/5/15 or 4/21/15 to 4/28/15. The Wellfleet Police Department provides weekly arrest reports. They do not provide police logs which contain service calls. Due to changes in Massachusetts law, domestic violence-related arrests are now redacted from police logs.
On Sunday, June 14 at 5:02 p.m,. Jane C. Glasgow, 23, of 310 Chequessett Neck Road, Apt. C in Wellfleet, was arrested on an outstanding warrant.
On Sunday, June 14 at 1:57 a.m., Daniel Rodriguez, 19, of Western Ave. in Wellfleet, was arrested during a motor vehicle stop and charged with OUI-liquor, negligent operation of a motor vehicle, speed greater than reasonable and proper and marked lanes violation.
On Sunday, June 7 at 5:52 p.m., Francis A. Callahan, 57, of 101 Birch Hill Road in Centerville, was arrested and charged with disorderly conduct and resisting arrest.
On Saturday, June 6 at 10:59 a.m., Brooklyn C. Spentzos, 35, of 14 Garfield Ave., Apt. 3 in Provincetown, was arrested during a motor vehicle stop and charged with failure to stop for police, negligent operation of a motor vehicle, marked lanes violation and speeding.
On Saturday, June 6 at 1:05 a.m., Emily Marie Arnold, 20, of 175 Blue Heron Road in Wellfleet, was arrested during a motor vehicle stop and charged with OUI-liquor, marked lanes violation and person under 21 in possession of liquor.
On Thursday, June 4 at 9:36 a.m., David A. Carlsen, 59, of 24 Matheson Road in Brewster, was arrested on an outstanding warrant.
On Monday, June 1 at 7:28 p.m., Dorothy R. Hitchcock, 27, of 52C Fred Bell Way in Wellfleet, was arrested on an outstanding warrant.
On Sunday, May 31 at 7:57 p.m., William H. Allen IV, 32, of 35 Cammett Way in Marstons Mills, was arrested during a motor vehicle stop and charged with speeding, motor vehicle lights violation and OUI-liquor (2nd offense).
On Sunday, May 31 at 1:34 a.m., Teresa C. Lisbon, 51, of 475 Oak Leaf Road in Eastham, was arrested during a motor vehicle stop and charged with OUI-liquor (2nd offense) and marked lanes violation.
On Saturday, May 30 at 9:49 p.m., Amy W. Medeiros, 33, of 1753 Broadway in Raynham, was arrested on an outstanding warrant.
On Friday, May 29 at 11:42 p.m., Caroline A. Hassara, 21, of 239 Kimball Road in Carlisle, was arrested during a motor vehicle stop and charged with OUI-liquor and marked lanes violation.
On Friday, May 29 at 2:06 a.m., Sarah A. Fahey, 24, of 447 Old King's Highway in Wellfleet, was arrested during a motor vehicle stop and charged with OUI-liquor, negligent operation of a motor vehicle and marked lanes violation.
On Tuesday, May 26 at 9:08 p.m., Amanda Lee McDonnell, 23, of 17 Grabau Drive in Plymouth, was arrested during a motor vehicle stop and charged with OUI-liquor, marked lanes violation, possession of an open container of alcohol in a motor vehicle and following too closely.
On Sunday, May 24 at 12:28 a.m., Hugh Dunbar Jr., 67, of 5227 Napoli Run in Bradenton, FL, was arrested during a motor vehicle stop and charged with OUI-liquor (2nd offense), negligent operation of a motor vehicle, marked lanes violation and speeding.
On Friday, May 22 at 1:10 a.m., Brian Michael Oliver, 22, of 25 Belle Brook Lane in Harwich Port, was arrested and charged with disorderly conduct and resisting arrest.
On Thursday, May 21 at 10:15 p.m., Matthew L. Thompson, 33, of 18 Hidden Lane in Osterville, was arrested during a motor vehicle stop and charged with OUI-liquor (2nd offense), possession of a Class C substance and speeding.
On Thursday, May 14 at 1:45 p.m., Dustin Charles Curley, 29, of 295 Pilgrim Spring Road in Wellfleet, was arrested on an outstanding warrant.
On Wednesday, May 13 at 12:59 a.m., Brandon D. McCulloch, 31, of 24 Whimbrel Drive in Cataumet, was arrested during a motor vehicle stop and charged with no inspection sticker and OUI-liquor (2nd offense).
On Thursday, May 7 at 4:39 p.m., Shannelle K. Chisholm, 26, of 18 Saxony Drive in Mashpee, was arrested during a motor vehicle stop and charged with operating a motor vehicle with a suspended license and no inspection sticker.
jul04 Eastham
The Swift-Daley House has seen a lot in the last 274 years. Route 6 was a winding dirt path back then. There were no trees, so the bay and the ocean were visible from the property, said Maureen Andujar, curator for the Eastham Historical Society. Asparagus and turnips grew on farmland and apples ripened where the post office now stands, she added.
Today, cars roar by this 1741 full Cape, which is on Route 6 next to the post office. Its architectural style is still widely used today, so a close look is needed to see that the house is actually a museum. Inside, however, is a different story. There are pumpkin pine floors, imported from Nova Scotia in the 1700s when such wide lumber was prized by boat builders and cost "a king's ransom" for homeowners, said Dorcas Gill, whose parents, Mr. and Mrs. Raymond Daley, bought the home in 1939 and restored it, eventually deeding it to the Eastham Historical Society in 1974. Other parts of the place have needed a little bolstering, like the roof, where generations of powderpost beetles have enjoyed the old rafters as much as Cape Codders have enjoyed the shelter. This winter, the historical society completed repairs to the roof with the help of $200,000 in Community Preservation Act funds. The home looks the same as when Gill's family finished the restoration, except that now the piles of sawdust don't accumulate beneath the rafters, Andujar said. Gill's family restored a center chimney so that three downstairs rooms have fireplaces. The "keeping room" holds the kitchen hearth where the women would bake an industrial amount of bread in a single day, in addition to preparing all the meals and keeping the house cozy. The south side of the home features a "borning room" reserved for mothers in childbirth, newborns and the sick. Another small room on the north side would be used to lay out the dead before burial, Andujar said. The Swift-Daley house had two other rooms: a formal parlor and a master bedroom. Upstairs, two bedrooms occupy unfinished attic space. The house, built originally by Joshua Knowles, has had many loyal residents. The Knowles family owned the house for more than 100 years, Andujar said, and they never changed the original style. Gustavus and Nathaniel Swift lived there in 1859. They delivered meat up to Provincetown and down toward Barnstable, Andujar said. Eventually that family would leave Cape Cod to open the Swift Meat Packing Company in Chicago. The Gills worked hard to restore the house to its original condition. In 1947, Gill added a modern touch by painting the kitchen cabinets in the folk art style of Peter Hunt. The museum is open from 10 a.m. to 1 p.m. Wednesday, Thursday and Friday.
jul04 Eastham-Truro-Provincetown
Hey, it's OK to just sit on the beach and zone out staring at the ocean, maybe have a little snack and doze off with a book on your chest. But, if you're looking for stuff to do, the Cape Cod National Seashore offers a wide variety of activities every day of the week. Pick up the Seashore newsletter at one of the visitor centers to see the whole schedule, but in case you don't have time for that, here are our picks for the season:
Snorkel Adventure, every Saturday through Aug. 29
Location: Varies; Call Province Lands Visitor Center at 508-487-1256
Time: 2:30 to 4:30 p.m.
Fee: Free

Walk and discover the ever-changing world of barrier beaches. These slender strips of sandy shoreline are a key to the Cape's past and a stunning vantage point from which to ponder its future. Meets at Coast Guard Beach, at the end of Doane Road, Eastham. Reserved parking.Call Salt Pond Visitor Center, 508-255-3421, ext. 0, no more than one week in advance to reserve a parking space.


Seaside Stroll, every Saturday through Aug. 29
Location: Coast Guard Beach
Time: 10 to 11 a.m.
Fee: $11

Explore the amazing underwater world of Cape Cod and experience a freshwater kettle pond in Truro, or a saltwater tidal flat in Provincetown firsthand. All equipment provided. Experienced swimmers only. Minimum age 10. At least one adult must accompany children in the water. Locations vary. Reserve at recreation.gov (24 hours); search on Cape Cod National Seashore, tours and tickets; or call 877-444-6777. Reservations required and accepted beginning at 10 a.m. one week in advance of the program date.


Open House: Old Harbor Life-Saving Station, everyday through Aug. 31
Location: Race Point Beach, Provincetown
Time: 2 to 4 p.m.
Fee: Free, beach fees may apply

Built in 1898, Old Harbor is the last intact life-saving station of the original 13 on Cape Cod. A visit feels like stepping into a turn-of-the-century working station while the crew is out on patrol. Park at Race Point Beach, 191 Race Point Road, and take the short walk to Old Harbor.


Walk: Truro's Cold War Past, Sundays through Aug. 30
Location: Highlands Center, Truro
Time: 3 to 4:30 p.m.
Fee: Free

Tour the former North Truro Air Force Station. Learn about its role in the Cold War and plans for its future as the Highlands Center. 43 Old Dewline Road. Directions: Take Route 6 to Cape Cod (Highland) Light exit in Truro. Travel past the turn to the lighthouse. Turn left onto Old Dewline Road. Meet in the parking area.


Canoeing: Salt Pond Paddle, Saturday, Sunday and Monday through Aug. 31
Location: Salt Pond Visitor Center
Time: 2 to 3:30 p.m.
Fee: Fee: $20 per adult, $15 per child 16 and under (minimum age is 6)

Take a leisurely paddle in the protected waters of Salt Pond and nearby area of Nauset Marsh to explore its beauty and diversity. Meet at the Salt Pond Visitor Center amphitheater. Reservations required and accepted no more than one week in advance. Call Salt Pond Visitor Center, 508-255-3421, ext. 0, to register. No prior canoe experience required.All equipment is provided. You may have to wade and assist with moving equipment. Wear footwear (required) that can get wet.


Tour: Captain Edward Penniman House: A Whaling Family's Story, every Monday and Friday through Aug. 28
Location: Penniman House, 70 Fort Hill Road, Eastham
Time: 11 a.m. to noon
Fee: Free

Examine some of the hardships, adventures, and lifestyle of a whaling family as you tour their 1868 home. By reservation only. Call Salt Pond Visitor Center, 508-255-3421, ext. 18, no more than one week in advance to register.


Walk: Dunes of the Province Lands, Mondays through Aug. 31
Location: Province Lands Visitor Center, 171 Race Point Road, Provincetown
Time: 4 to 5:30 p.m.
Fee: Free

Explore an enchanting dune landscape of unusual plants and wild cranberry bogs, while learning about the Province Lands' unique place in American history. Wear shoes appropriate for walking in loose sand, and bring water. Check in at the desk inside Province Lands Visitor Center, 171 Race Point Road, Provincetown.


Walk: Nature Tales and Remote Trails of Ballston Beach, Tuesdays through Aug. 25
Location: 11 North Pamet Road, Truro
Time: 9 to 11 a.m.
Fee: Free

Join the great-grandson of Sheldon William Ball and explore the area that was once the Ballston Beach Seaside Summer Colony. Ascend Bearberry Hill for dramatic views of the ocean and the Pamet River Valley. Terrain includes steep hills and loose sand. Wear or bring long pants, sunscreen, bug spray, and water. Directions: 11 North Pamet Road, Truro. Take Truro Center/Pamet Road exit off Route 6. Proceed 1Ż miles on North Pamet Road to the end. Meet at the trailhead parking area below the youth hostel.


Campfire: Nauset Light Beach, Wednesdays through Aug. 26
Location: Nauset Light Beach, Eastham
Time: 7:30 to 9 p.m. in July; 7 to 8:30 p.m. in August
Fee: Free

Gather around the campfire for stories, songs, or activities about the nature of Cape Cod and its rich past. Meet in the parking lot at Nauset Light Beach, at the intersection of Ocean View Drive and Cable Road. Bring a blanket and bug spray.


Summer Concert Series at Herring Cove Beach, Wednesdays through Sept. 2
Location: Herring Cove Beach, Provincetown
Time: 6 p.m.
Fee: Free

Co-sponsored by Friends of the Cape Cod National Seashore and Far Land on the Beach, these free "Sunset Concerts on the Beach" will feature favorite Cape musicians. Bring your own chairs. For a complete listing of performers and starting times,go to the website or Facebook page of the co-sponsors farlandprovisions.com or fccns.org.
more
jul04 Eastham-Provincetown
The Cape Cod National Seashore will offer "Yoga on the Beach" this summer in North Eastham and Provincetown. The 75-minute sessions are held at 7:30 a.m. Saturdays at Nauset Light Beach at Ocean View Drive and Cable Road in North Eastham and at 8:30 a.m. Tuesdays at Herring Cove Beach off Province Lands Road in Provincetown. The sessions are held in July and August, and cost $11 for each class. Beach parking fees are waived for the classes. To register for a yoga class, visit recreation.gov and search for "Cape Cod National Seashore Ranger-Guided Programs" or call 877-444-6777. Reservations may be made up to seven days in advance. For information, contact Seashore South District Interpretative Ranger Jenna Sammartino at jenna_sammartino@nps.gov.
jul04 Eastham-Truro-Orleans-Chatham
Mike Kelly could not have asked for a more beach-perfect day Friday, with a blazing sun and waves lapping quietly at the shore of Cape Cod Bay. But as he relaxed with his family under a blue umbrella, there was one pleasure the 63-year-old Bostonian knew he could not indulge here on Corporation Beach - lighting a cigarette. The town of Dennis banned smoking on the beach last year, joining a growing number of Cape Cod towns fed up with fumes and litter.
The most recent to prohibit puffing on the strand was Truro, which this year became the eighth of the Cape's 15 towns to ban smoking at town beaches. And the Cape Cod National Seashore, which occupies a wide swath of the Cape's ocean-facing forearm, outlawed smoking at six beaches last year. Though a longtime smoker, Kelly has no objections. As children dashed between the blankets on the crowded beach, he said, "There's no way I'd smoke, not with children and people all around me." For town leaders in Dennis, the decision was "a no-brainer," said Dustin Pineau, beach and recreation director. The Board of Selectmen needed little discussion before voting to ban smoking on the town's 19 beaches, he said. "It's good that society is moving in the right direction," Pineau said. When the Dennis ban first went into effect, smokers "were always cooperative. I didn't have any arguments." It helps, he said, that many nonsmoking beachgoers are happy to educate smokers about the new rule.
Outdoor smoking bans are a vast new frontier for antismoking advocates, who have already won battles to banish cigarettes and cigars from restaurants, offices, and other indoor locations. More than 40 Massachusetts cities and towns, including Boston, ban smoking in parks and playgrounds, according to the Massachusetts Municipal Association. Americans for Nonsmokers' Rights , a national organization based in California, lists hundreds of municipalities across the country that have prohibited smoking in outdoor spaces, including more than 200 with smoke-free beaches. In 2009, Maine banned smoking in all state parks and historic sites, including numerous beaches. In Massachusetts, the trend of prohibiting smoking on beaches started, oddly enough, in an inland community. In 1995, Sharon enacted the state's first beach smoking ban at its three lake beaches. Today, the municipal association lists nearly four dozen Massachusetts towns with beach smoking bans, most located far from the ocean. The harms of secondhand smoke indoors are well-documented. Less is known about the health effects of tobacco smoke wafting through a park or across the sand. But for proponents of outdoor bans, health is only one concern; they are also motivated by the smell and the cigarette butts and packaging left on the sand. The National Seashore instituted its ban after hearing complaints about smoke on the crowded beaches, said park Superintendent George E. Price Jr. The prohibition applies only to the sections that have lifeguards at six popular beaches. Smokers need merely walk down the beach beyond the guarded areas if they want to light up. "It actually worked out very well," Price said. The park, which sees 4 million to 5 million visitors each year, has received few complaints and most smokers comply, he said. Only one $50 ticket for a smoking violation was issued last summer, according to chief ranger Leslie Reynolds. Still, not every Cape town is eager to jump onto the smoke-free bandwagon. The Outer & Lower Cape towns that continue to allow beach smoking are Brewster, Harwich, Provincetown, and Wellfleet. But Provincetown has little in the way of town beaches, with much of its shoreline encompassed by the National Seashore.
more
jul04 Eastham
The Eastham Visitor's Service Board is again sponsoring the band concerts on Eastham's Windmill Green on Monday evenings this summer. The concerts are held at the bandstand, starting at 7 PM every Monday. The line up is as follows:
July 6 - Peking and the Mystics Vintage Vocals
July 13 - Sarah Swain and the Oh Boys!
July 20 - The Brass Connection Quintet
July 27 - Bruce Abbott - Fred Fried Quartet
August 3 - Toast and Jam
August 10 - Bert Jackson Quartet
August 17 - Kami Lyle Quartet
August 24 - Chandler Travis Philharmonic
These concerts are lots of fun. Join hundreds of folks on the lawn - bring bug spray, lawn chairs and/or blankets. Or, bring a picnic dinner. These are fun for the whole family!
jul04 Truro
jul04 Truro
On today's CapeCast: Need a hike to escape summer crowds, see mysterious things along the way and end at one of the best views on Cape Cod? This is that hike!
jul04 Truro
An attorney for the former Truro police chief who was found guilty by a Barnstable District Court jury last week of endangering his 3-year-old son while driving drunk said he will be asking the court for a new trial because of an issue with one of the jurors. John Lundborn, 47, of Hyannis was convicted of a second offense OUI and endangering a child while operating under the influence after an incident in Hyannis last summer when he was arrested in a McDonald's parking lot. Lundborn resigned from the Truro Police Department in 2011 after crashing a police cruiser while driving drunk and has a history of alcohol abuse. After Lundborn's conviction, an assistant district attorney realized the issue with one of the jurors and presented it to Judge Joan Lynch, Lundborn's attorney Peter Aspesii said Thursday. A hearing was scheduled for July 14. "This (district attorney's) office is full of people who have extremely high ethics and extremely high integrity," Aspesi said. "I'm grateful that they brought it to my attention and the attention of the court." A spokeswoman for the Cape and Islands District Attorney's Office confirmed there will be a hearing on July 14 but would not comment on the details of the case.
jul04 Truro
The Cape Cod Writing Workshops is offering an online five-week summer class, starting August 1st, teaching writers how to develop compelling fictional characters, workshop director Jeannette de Beauvoir announced today. "Characterization is always tricky," says de Beauvoir, "especially for beginning to intermediate writers. While an author must develop his or her voice, the story's characters also have to do the same thing. But it's very easy to lose their voices in the midst of the plot and other considerations."
The class, taught online via written materials, video, Skype, and email, includes weekly assignments and feedback. "We look at the components of creating memorable characters through selected literary pieces as well as theoretical materials," says de Beauvoir. "But a great deal of the class is hands-on: learning by doing. By the end of the five weeks, students will be able to confidently determine characters' roles, uncover unique voices, and create people that readers will want to read about." Cape Cod Writing Workshops has been offering online and onsite retreats, workshops, and instruction since 2013. Onsite events take place at the Penny House Inn in Eastham. "There's something special about coming to write on the outer Cape," acknowledges de Beauvoir. "There's such a long and impressive literary tradition here, it's difficult to not be touched by it." The organization's philosophy is to teach from a perspective of success. De Beauvoir-who is teaching the summer class-is herself an award-winning working author as well as a successful editor, mentor, and publication consultant. Adjust faculty are selected for both success in their fields and teaching ability. Interested potential participants may email de Beauvoir at jeannettedebeauvoir@gmail.com for a course description, fee schedule, and enrollment instructions.
jul04 Truro
Fire damaged a structure in Truro around 11:30 p.m. Wednesday evening. Police investigating a report of possible fireworks discovered the fire at a business at 91 Shore Road. A deck had caught fire and the fire was starting to spread to the side of the house. Firefighters assisted by Provincetown and Wellfleet were able to quickly knock down the flames. No injuries were reported. The cause of the fire is under investigation but does not appear suspicious.
jul04 Provincetown
Repair work on the northern parking lot at Herring Cove Beach has been completed and the lot is open, Cape Cod National Seashore Superintendent George Price announced Thursday. The 208-space northern lot was damaged by winter storm surges, leaving about 70 usable spaces before the repairs. In mid-June the Seashore had believed the repair work might span the Fourth of July weekend. Four contractors helped get the repair work done earlier, Price said. "We know that this parking lot is a local favorite for watching the sunset each evening," Price said in a prepared statement. "I appreciate all the extra effort by National Park Service contracting staff and the contractors on site to finish the work for our visitors at the start of the busy summer season." The northern lot is used year-round because of its drive-up beach access and views of the sunset. Another 400 parking spaces are available in the southern lot as well. Herring Cove Beach, off Province Lands Road, is one of six Seashore swimming beaches with lifeguards and is the busiest, with about 800,000 recreational visitors in 2014, according to National Park Service records. Given the annual storm damage of the northern lot at the beach, the Seashore is continuing to plan for a future relocation of that lot, Price said.
jul04 Provincetown
After a stop in Philadelphia on Thursday, Hillary Rodham Clinton came to the tip of Cape Cod and, later, to the Osterville home of a family friend for a pair of fundraisers, giving the region its first glimpse of the 2016 presidential election for a minimum donation of $1,000. Speaking at the Commercial Street home of Boston real estate broker Daniel Mullin, in a town that has long served as a favorite vacation destination for the gay community, Clinton spoke in highly personal terms about the U.S. Supreme Court's decision last week that the Constitution guarantees the right to same-sex marriage, according to donors who attended the private event.
The Provincetown fundraiser, which was co-hosted by longtime activist Alix Ritchie and Bryan Rafanelli - the Boston-based event planner who orchestrated Chelsea Clinton's wedding - was followed by a fundraiser at the Osterville home of Elaine Schuster, a philanthropist and top Democratic donor. The Provincetown event - which was closed to the media, with access given only to those who paid $1,000, or $2,700 for a more intimate reception - had been scheduled weeks before the Supreme Court's landmark ruling. But last Friday's 5-4 decision made for fortuitous timing, allowing Clinton's campaign to ride the wave of excitement surrounding the long-sought victory for the gay rights movement and the typical jubilation around Fourth of July weekend, traditionally a hot time for fundraising on the Cape. In an interview after the fundraiser, which Ritchie said was attended by about 300 people, state Rep. Sarah Peake, D-Provincetown, said Clinton "spent some time" on the same-sex marriage ruling, saying the effect of the decision is to expand opportunity. Clinton, she said, also touched on the recent decision upholding the Affordable Care Act to highlight the stakes of the 2016 election. "Everybody who has health care today that they can afford, everybody who has health care even if they have a pre-existing condition, everybody who has a child 26 or younger who has health insurance, all that goes away if a Republican is elected," Peake said. "And these are very real and very important things." Clinton also voiced her support for universal preschool, telling the crowd that "you shouldn't have to be the grandson or granddaughter of a former president and a former secretary of state to have opportunities open and available to you," said Peake, who arrived at the fundraiser on a bicycle replete with a horn in the shape of an alligator head. Although she said Clinton created a "wow impression" - describing the former secretary of state, U.S. senator and first lady as warm, engaging, smart and driven - Peake said she wished the leading Democratic nominee for president had taken 20 minutes to shake hands on Commercial Street. Peake said she understood that the campaign's current focus is on raising money, but the face time could be especially important in Clinton's case. "In my experience, when people have a chance to meet the person that they're voting for, that's very important. The way she's portrayed in the media and in the public eye in general ... the Hillary Clinton I saw today at the end of Commercial Street is not the Hillary Clinton that I read about even in The New York Times. There is a warmth and a personality and gravitas there that you don't just pick up on." On Thursday morning, the state Republican Party released a public statement "welcoming" her to Massachusetts and calling attention to compliments U.S. Sen. Elizabeth Warren, D-Mass., recently paid to Bernie Sanders, a Vermont senator who is challenging Clinton for the Democratic nomination. "As the American people continue to indicate they don't trust Hillary Clinton, it should come as no surprise that she's facing increasing skepticism even within her own party. With top Massachusetts Democrats like Elizabeth Warren looking more likely to back other candidates, it's clear that Clinton will have to lurch even further to the extreme left just to get through the primary," said Kirsten Hughes, chairwoman of the Massachusetts Republican Party, in the prepared statement. "The reason for her troubles are clear: Clinton represents more of the Washington, D.C., status quo, and Americans are ready for a change."
jul04 Provincetown
Hillary Clinton visited Provincetown on Thursday. Here is my only official reporter-heard Hillary quote: "I have been called a lot of things in my life. Quitter is not one of them." I do not know the context of her saying it, but I heard it clearly.
Clinton and her presidential campaign, or at least the fundraising portion of it, came to Provincetown to talk to about 300 people who donated at least $1,000 (and some $2,700) each to attend the event. The media were not invited, nor was the public. A small curious throng were kept a couple of lots away from the private home in the West End where the event was held. But pedestrian access was not blocked off during her visit and in walking by, I was able to hear that one specific quote clearly. The rest of the speech, from outside the tent, sounded like Charlie Brown's teacher - a lot of muffled "blah, blah blah." At the end, there was much applause, a chant of "Hillary! Hillary!" and then she walked out and waved, I'd like to assume, right at me. Then she headed forth on her mission to change the world, or at least raise a bunch of money in order to maybe do so. Afterward, I ran into Lynn Kratz and Pamela French of Provincetown, who had just attended the event. "It was a great turnout," said Kratz. "I've been following her for many years. She is so knowledgeable and so charming, and she really gets out the people." French said, "She talked about the reasons she wanted to be president, and helping further what President Obama has started. She's very familiar with the issues. She was talking a lot about fixing the economy."

Flying the flag.

There was a large flag with Hillary's campaign logo of an H-with-an-arrow logo flying off a house in the West End. And way down at the private house where the event was held, there was a long line of people waiting to cash in on their donation and get into the tent to see Clinton in person. The symbolism of her timing and the message of her visit seemed unmistakable. "It's such a propitious time for her to be here, with the Supreme Court decision (in favor of gay marriage) just being released," said Mark Wisneski of Provincetown and New York, as he was waiting in line. "She has an important voting base here in Provincetown." Wisneski said, "I doubt I'll get close to her, but if I did I'd ask how will you work to move gay, lesbian and transgender rights forward." Here is the remarkable thing: The odds-on favorite candidate for President of the United States Of America visited Provincetown, known as one of the top gay destinations in the world. Ponder that for a moment. It shouldn't and should never have been ponder-able except for the fact that Provincetown is a really small town. It sure must be an important small town, huh? Richard Hanson of Provincetown said, "I think she is the first presidential candidate that ever showed any interest or pride in our community." "I think it's great that she's paying attention to this community and to issues of gay and lesbian equality," said Adam Welch of New York. "It's a political tactic for anyone. But it's fantastic that she's being bold." And Joe Bolduc of Provincetown said, "As a gay man, I'm thankful that she's coming to Provincetown. Provincetown is a great place for her to be." Urvashim Vaida and Kate Clinton live on Commercial Street in the West End and they had several signs on their fence supporting Hillary. "I love Hillary Clinton," said Vaida. "We're expressing our support." If she could talk to Clinton, Vaida said she'd say, "Be strong, go left and fight the right." Jim Pipilas of Provincetown said, "I'm sure she'll be criticized by some for not supporting certain gay issues fast enough. But she has evolved. A lot of people have evolved. My own family evolved. She can too." While gay rights were a focus of conversations about her visit, other issues were randomly raised to this Cape Cod Wave reporter, included the economy, animal welfare, and terrorism concerns such as ISIS. Ben deRuyter of Brewster said the one piece of advice he would have for Clinton is, "Don't be afraid to humanize yourself in the campaign."
As best as I can figure, there are 21 major candidates for President. I had it at 20 in the morning, but by the end of the day I learned that Jim Webb is joining the race. Just before I left for Provincetown, I googled up a list of who is declared running for President, threw in Scott Walker and John Kasich, and printed up a list of 20 (no Jim Webb) names. I wondered who else should visit Provincetown, and what would people say to them? Congresswoman Niki Tsongas of Lowell was in line for the event and, after looking at the list, she said, "Oh my." She paused, and stared at the list some more. and then said, " I'd invite Hillary Clinton back for a more intimate chat." She added, "As a woman, I am looking forward to electing our first woman president." Vaida said, "I don't wish for any of these people to come here because they've all said hateful things about gay people." Then she looked again and said, "Bernie Sanders and Martin O'Malley are welcome." Several people suggested inviting Sanders to town. "I'd have to invite Bernie Sanders," said deRuyter ."Of everyone on this list, he and Hillary excite me the most.

In line for the event

I'd like to know what would he do about income inequality. I'd also like to see Jeb Bush come here and have to explain his position on the recent Supreme Court decision." Welch said, "I'm not a very confrontational person," and then cited Marco Rubio and Chris Christie. "What's the point of trying to appeal to those people?" he asked. "I would probably tell them they should go stay in Chatham." Bolduc said, "I think we'd have to invite Ted Cruz because he has so many misconceptions about diverse populations. He should experience us as human beings." Pipilas said he would ask Donald Trump the question, "Are you serious?" Brian Whiting of Boston did not attend the event. While watching from the street and pondering the list of candidates, he said, "Honestly, I wouldn't want to see a single one of these people. I'd love to see a Provincetown-style show with drag queens performing as each one of these people. That I'd pay for. Especially Chris Christie. I think that would be so easy."

No tickets

Lynette Molnar of Provincetown offered this wisdom: "None of them will come because Massachusetts always votes Democratic. That's the remarkable thing about Hillary coming here. Obviously she's here raising money." We, the riff-raff, stood outside and watched or perhaps gawked as the beautiful rich people mingled with the presidential candidate. "Just look at how everyone's dressed. My feeling is, I can just smell the money, " said Whiting. "It's money and politics. And that's maybe the biggest problem with politics."
more
jul04 Provincetown
Aboard the Dolphin VIII whale watching is a popular Cape Cod attraction, with fleets of cruise boats taking tourists out to the Stellwagen Bank feeding grounds from Provincetown, Barnstable and elsewhere.
But it can be a crap shoot. On some outings you'll see a variety of whales: finbacks, minkes, right whales and humpbacks are the most common on Stellwagen. Sometimes you'll see females with their calves; sometimes dolphins or seals, too. But sometimes, you'll see nothing but seagulls. So I had no expectations when we took off from Provincetown Harbor at 4:30 p.m. June 25 aboard the Dolphin VIII. An hour out of the harbor (it takes awhile to get to Stellwagen), the boat stopped, a signal that the crew had spotted a whale and were waiting to see where it would surface next. But this one had dived; it could stay down for 30 minutes and, after a few, we moved on. But the next sighting, two minutes later, was more promising. The whale reappeared and, as the boat gave chase, passengers could pick up other activity all around: a blow (exhale) to port; a tail breach (breaking the surface) away off starboard. The boat's naturalist/guide, John Conlon, recognized that we were in the midst of a group of juvenile humpbacks, 3 to 4 years old. And they were exhibiting typical adolescent humpback behavior: repeated tail slaps (tail-lobbing), waving their flippers out of the water, and rolling at the surface. Why they act that way is not fully understood.
"There are many theories as to possible underlying reasons, including play, communication and maintenance behavior - they tend to slough their skin in the process and in the process may also shed parasites," said Jooke Robbins, a scientist with the Center for Coastal Studies in Provincetown. "As of yet, science has not provided a clear explanation." One thing is certain: the tourists don't get this kind of a show often, and this close. One young woman had her camera fouled when a whale surfaced and exhaled next to the boat (it is not a pleasant smell).
The veteran watchers didn't mind the lack of species variety on this trip; these young humpbacks were dancing all around. And then, just off to port - the piece de resistance - a young whale leapt completely out of the water and crashed back in, a full body breach.

A juvenile humpback whale leaps completely out of the water on the Stellwagen Bank off the coast of Provincetown, Mass.

Conlon said he's been crewing on whale watches since he moved to Eastham 35 years ago but this collection of antics was a first. "I do 250 trips a year and I've never seen that," he said.
jul04 Provincetown
SOMEWHERE OFF PROVINCETOWN -- From a distance they look like two black logs floating side by side on the surface. But logs don't spout water. These are humpback whales, one known to local researchers as "Spoon" and her 6-month-old calf, as yet un-named, according to Dennis Minsky, the Dolphin Fleet's naturalist aboard our whale-watch boat Dolphin X. Spoon returns to these waters seasonally and this is her ninth offspring, says Minsky, a veteran naturalist who provides a fascinating commentary during our three-hour adventure from Provincetown Harbor to the southwest corner of Stellwagen Bank, a shallow plateau famous for its abundance of plankton, krill and other tiny creatures that draw whales to a smorgasbord of food each spring through early fall. Our excursion in the latter part of June turns out to be incredibly fruitful and one of the best I've ever experienced; before it's over we've seen a dozen humpbacks including one "close-approach whale," as Minsky calls it, who swims at the surface alongside the Dolphin X and gives happy passengers a million-dollar view - it was close enough for me to see its right eye and, I think, for it to get a good look at me. Whale-watching from Provincetown (and from Barnstable Harbor) offers prime opportunities to see and appreciate humpbacks and other whales but it also provides an alternative view of the Cape tip from a geographical and historical perspective. Heading out of Provincetown Harbor we motor alongside the breakwater as the town shrinks to a postcard-size view of a coastal New England community. The 252-foot-tall Provincetown Monument stands out, as does the historic Provincetown Public Library and the bright facades of waterfront shops and restaurants. But now it's time to look northward as the boat picks up speed and approaches several notable beach locations and three lighthouses. A handful of people sit under a beach umbrella at Long Point, with Long Point Light just behind them. Like the rest of this coastal area it's a pristine beach kept relatively secluded because it's a sweaty two-hour hike to get there on foot - or, a 15-minute shuttle boat ride from the harbor. I've been out there during high tourist season (by boat) and even then it seemed like a private getaway compared to the crowds at Herring Cove or Race Point Beach. Minsky notes the destination, too, telling passengers as we pass by that Long Point, back in the early to mid-19th century, was home to a community of people and had a school and a church. By about 1850 the settlement, which was founded on the sea salt industry, began to wane and eventually many of the houses were floated across the harbor to the town. When you're walking down Commercial Street keep an eye out for these houses, which are marked with plaques indicating they came from Long Point.
more
jul04 Provincetown
American flags are found in every corner of Provincetown as we gear up for our annual 4th of July celebration. Visitors in our little town for this annual celebration, kicking off the real beginning of the busy summer season, can number more than 70,000. We hope the rain will hold off for the parade on Commercial Street this afternoon, and for the fireworks out over the harbor this evening.

The American Flag flying at John Dowd's Commercial Street home is one of PTown's most recognized symbols of Independence Day.


jul04 Provincetown
Two-time Tony Award winner Sutton Foster joins Sirius/XM Radio Star and pianist Seth Rudetsky for three Fourth of July weekend shows. Veteran of 11 Broadway shows including "Anything Goes," "The Drowsy Chaperone" and Thoroughly Modern Millie," Foster is currently starring in the new TV Land series "Younger," created by "Sex & the City" star Darren Star.
Show time is 7 p.m. on Friday and Sunday, July 3 and 5, with an additional 5 p.m. show on Sunday, July 5. For tickets, $50-$100, go to ptownarthouse.com, call (508) 487-9222 or visit the box office at 214 Commercial St.
jul04 Provincetown
Jennifer Holliday, who created the role of Effie on Broadway in "Dreamgirls," is coming back to Provincetown. Together with her own three-piece band, this Tony and Grammy Award-winning big, soulful voice promises to blow the roof off the Crown & Anchor this July 4th weekend.
Show time is 8 p.m. Sunday-Tuesday, July 5-7. Tickets, $65-$150, are available at onlyatthecrown.com, (508) 487-1430 and the box office, 247 Commercial St.
jul04 Provincetown
Kobalt Gallery's choice of "pop construction" and assemblage artist Dave Laro, with his mixture of Americana and popular culture, is pitch perfect to usher in Provincetown's Fourth of July weekend. This is Laro's fifth solo exhibition at Kobalt.
Superman images are among Laro's favorites. A pop icon originally designed for children, the red-caped flying figure is an internationally recognizable cartoon character with layered cultural associations and a complex back-story. Others feature Dick Tracy and Jayne Mansfield imagery, male bodybuilders and a number of skeletons incorporating silkscreen techniques. Laro, largely self-taught as an artist and an observant colorist, appreciates the world as seen through a child's curious eyes. An antique shop, a flea market, treasures tossed into dumpsters are potential playgrounds for this artist's creative, associative play. Alongside Laro's pop images are personal, story-telling constructions. An early piece combines a "caution ahead" road sign with a large man's shoe. Another incorporates a downward-facing doll in an orange dress, positioned on the edge of what reads as an endless hill, constructed from a toy piano lid, its wood grains revealing streaks of orange. Laro's masterful handling of color and antiquity come to life in an assemblage placing a gold-tinted motorcycle between soda advertisements, elaborately scripted in red. Most pieces are framed within larger wooden cases, carefully rebuilt to suit an aesthetic purpose. Other pieces are political: one (Laro's work is viewable on the Kobalt website) is made with a delicate black-faced girl doll at the center of an American flag, its open-eyed expression conjuring up hurtful stereotypes. "Would you believe someone made these as children's toys," Laro asks, speaking by phone from his home in White River Junction, Vt., a few days before heading out on a back country fishing trip. Laro is familiar with navigating different worlds, as craftsperson-builder on projects for others (including Vermont furniture designer Charles Shackelton and pipe organ maker David Moore, who specializes in hand-crafting locally harvested wood), to feeling comfortable acknowledged as an artist. Asked during a gallery talk what something meant, the soft-spoken New Englander with something of Robert Frost's laconic habits of speech responded, "I'm not trying to make a statement. I'm just trying to make something interesting, with the possibility of a story." His extended studio space houses raw materials collected over several decades - miniature woodworking kits with tools, toys, games, books, posters and metal objects that, like an alchemist, he turns into tactile, sculptural art. It took a long time for this skilled maker-builder - he has also worked as a stonemason - to become comfortable creating objects whose purpose is to hang on someone's wall. He is now incorporating screen-printing, cutting and then inlaying images on Masonite board so that up close, the smooth but slightly grooved surface looks like a puzzle.
more
jul04 Provincetown
jul04 Provincetown
I stopped at Far Land Provisions the other day to get something to eat, and I tried their Herring Cove sandwich. It's made with a pile of tender, lean roast beef, just a bit on the rare side, tasty and perfect in a sandwich.

Far Land's terrific Herring Cove sandwich is big, delicious, and only $7.

Next comes the roasted red pepper, then the garlic herb spread. I ordered it with the standard lettuce and tomato, and added thin-sliced red onion. All of that went between a couple of hearty slices of impeccably fresh multigrain bread, with a pickle spear on the side, and it was the best sandwich I've had in quite some time. Better still, it was just $7. I like their Wood End sandwich, too, with grilled, marinated vegetables, sprouts and their homemade hummus rolled in a wrap. Their Head of the Meadow is no slouch, either: brie, apple, sprouts and honey mustard. Delish!

Desserts and sweets are a specialty at Far Land, made daily, from scratch.

It's hard to walk out of Far Land without something from their bakery case, too, with freshly baked muffins, cookies, bars and brownies in an endless variety. My dessert this day was made with pineapple, cashews, macadamia nuts and coconut, with a crust that was something akin to a shortbread. Did they call this a Congo Bar? I don't know, but I got the last one in the case. I ate my lunch at a little table looking out the window onto Bradford Street, amongst a bunch of folks who had taken refuge from Wednesday's killer rain storm, but you can get your order to go, too. Check out Far Land, at 150 Bradford Street, for their award winning sandwiches and goodies, and for lunch to take with you to the beach.
jul04 Orleans
The July Fourth parade begins at 10 a.m., rain or shine, at Eldredge Parkway. Fireworks are at dusk at Rock Harbor on July 5. The Orleans United Methodist Church will open its Fire Cracker Cafe again this year from 9 a.m. - noon on the Fourth of July. They will be selling lobster rolls, hot dogs and beverages before and during the 4th of July parade.
jul04 Orleans
Free Monday night concerts at the gazebo at Nauset Beach from 7 to 9 p.m. begin July 6 with Greg Johnson and 45 RPM, which play acoustic rock, folk and pop.
jul04 Orleans
The board of selectmen will hold its annual nonresident taxpayers summer informational meeting at 6:30 p.m. July 15 at Town Hall at 19 School Road. The selectmen hold the meeting to provide an opportunity to discuss problems and policies. The selectmen and Town Administrator John Kelly will be available to answer questions. Everyone is welcome. For more information, call the town administrator's office at 508-240-3700, ext. 415.
jul04 Orleans
The big birthday cake float in the Fourth of July Parade marks the beginning of multiple celebrations of the Friends of Snow Library's 50th. Coupons will be given out to kids during the parade and can be redeemed at the weekly book sales on Saturday morning and at the all-day sale on July 11, 10 a.m. - 4 p.m. The festivities for the library's birthday will continue July 5 on the Village Green across from the library from 1 - 3 p.m. As Dinah Mellin entertains with her fiddle, Trevor the Juggler will be performing and thirsty kids and adults can enjoy ice pops from the Local Scoop. There will be numerous games -- winners get five stars and a free book. Activity stations will be set up all around the green, including face painting by Gisella Moran-Alexander and areas for crafts, books and tattoos.
jul04 Orleans
Selectmen are seeking citizens to fill vacancies on committees, commissions, councils and boards. Selectmen will be conducting interviews, appointments or reappointments during the upcoming June and July 2015 regularly scheduled meetings. The committees that have spots available include: affordable housing committee, agricultural advisory council, bike and pedestrian committee, board of assessors, commission on disabilities, historical commission, marine and fresh water quality task force, planning board, and renewable energy/wind committee For further committee information, please call Margie Astles at 508-240-3700, ext. 311. Folks who are interested in serving, are invited to submit a Citizen's Interest Form, available at the town hall or on the town web site at www.town.orleans.ma.us, under Boards and Committees then find Orleans Citizen Interest Form.
jul04 Orleans
A jury gave Karen Warren, 49, a suspended sentence of six months in the Barnstable County Correctional Facility and three years of probation for negligent operation of a motor vehicle for fleeing the scene of an accident Nov. 30, 2014, and speeding away from a pursuing police vehicle at speeds over 125 mph. According to a report by state police Trooper David Villandry, it was just after midnight when he began pursuit of Warren's vehicle after he noticed she had a headlight out and was going 6 mph over the speed limit. Warren accelerated and Villandry noted her speed at over 125 mph at one point. He found the vehicle crashed into the woods near Exit 12 in Orleans. In his investigation, Villandry found that Warren had fled the scene of a crash in which she rear-ended another vehicle on Route 6. Warren was taken to the hospital after her vehicle crashed at Exit 12 on Route 6. A blood sample was taken at the hospital to determine her blood/alcohol level but no results of that test were contained in court documents. The state dismissed a charge of OUI because of insufficient evidence. Warren admitted sufficient facts and was found guilty of leaving the scene of an accident with property damage and reckless operation of a motor vehicle. She was found not responsible for lights and safety standard violations, as well as marked lanes, speeding and seatbelt violations.
jul04 Brewster
In preparation for the fireworks Sunday at Rock Harbor in Orleans, the Brewster Police Department asks that drivers and pedestrians follow a traffic and parking plan if observing the fireworks from Crosby Beach. There will be no parking on the side of Crosby Lane or the side streets (Hillbourne Terrace and Drake Way), according to police. Crosby Mansion's event parking lot will be open and officers will be on scene to direct vehicles and strictly enforce the no-parking areas.
jul04 Brewster
A free seminar, Deer Ticks: One Bite can Change Your Life, featuring Larry Dapsis, an entomologist with the Cape Cod Cooperative Extension, will be held Thursday, July 9, 4:30 to 5:30 p.m. at Cape Cod Museum of Natural History, 869 Route 6A, Brewster. The event is sponsored by the Brewster Association of Part-Time Residents. All are welcome.
jul04 Brewster
In his acceptance speech for the 1987 Oscar for writing that gem of a film, "Moonstruck," John Patrick Shanley thanked everyone who'd ever kissed or punched him, and everyone he'd ever kissed or punched. The playwright brings the same appreciation for emotional intensity and romantic conflict - not to mention sharp dialogue (albeit transplanted from a Brooklyn townhouse to an Irish farmhouse) to "Outside Mullingar," a 2014 Tony nominee for best play, now playing at Cape Rep Theatre in Brewster.
Like "Moonstruck," this play is described as a romantic comedy, but like "Moonstruck," maybe that label isn't quite right. There's a dramatic weight to "Outside Mullingar" that gives it a greater sense of real life drama than a typical "rom-com." The story centers around two neighboring farm families, the Reillys and the Muldoons, and begins after the funeral of Mr. Muldoon. Death is the subject, it awaits us, and time is running out, which leads to the question: Do we reject pride and insecurities and live life, take chances, or play it safe? Anthony Reilly (Damian Baldet) is the son of aging Tony Reilly (Dennis Cunningham) who is having second thoughts about his son's lack of passion for the land. Perhaps an American nephew will find more joy, as he did, working the Irish soil. But Anthony finds no joy in life. His heart broken as a teen, Anthony is afraid of love, afraid of pain, afraid of life. Though in love with his neighbor's daughter, Rosemary (Alison Weller), he has formed an emotional barricade, just as she has constructed a physical one in the form of a strip of land blocking the road. Anthony is therefore resigned to caring for his fields, pollinating his flowers - like a bee, as it were - rather than embracing life, and love. But Rosemary has other ideas. Under the deft direction of Daisy Walker, the play delivers exceptional performances, and the audience's response on opening night was enthusiastic. It is an economical production- there are just four actors - which requires heavy lifting from the cast. The actors do not disappoint. Cunningham and Julie Allen Hamilton, as Tony Reilly and Aoife Muldoon, deliver exceptional and often humorous portrayals of the aging parents of Anthony and Rosemary. Baldet and Weller are on stage for almost the entire play, and deliver well-balanced and tour-de-force performances. All four cast members bring Shanley's well-drawn characters to life. Cape Rep productions have a reputation for excellent stage design, and this play is no exception.
more
jul04 Brewster
A Brewster man accused of providing heroin to a fellow county jail inmate who overdosed on his 31st birthday was indicted Thursday on a charge of involuntary manslaughter, according to the Cape and Islands District Attorney's Office. Timothy Evans, 25, also was indicted by a Barnstable County grand jury on charges of distribution of heroin, possession of heroin with intent to distribute, delivering drugs to a prisoner and conspiracy to violate the Controlled Substances Act.
John Shannon, of Hyannis, was found unconscious by an officer at the Barnstable County Correctional Facility at 6:08 a.m. May 23, 2014, and, despite life-saving measures by the jail staff, was later pronounced dead at Falmouth Hospital, according to Sheriff James Cummings. Tests by the medical examiner's office found opiates in Shannon's urine. Shannon had been in jail for about a month after pleading guilty to charges of assault and battery and vandalizing property, but Evans, who was his cellmate, had arrived at the facility only a day before Shannon's death. When Evans arrived, there was a suspicion he may have had drugs on him, so he was taken to a "dry cell" and questioned, according to Cummings. A dry cell has no running water and is used to prevent occupants from flushing drugs concealed inside their body down the toilet. A drug-sniffing dog was brought in and indicated the presence of drugs on Evans' right hand and the right front pocket of the gym shorts he had been wearing before he changed into prison clothes, but there was no indication of drugs anywhere else on his body, Cummings said shortly after Shannon's death. On Thursday, Cummings said investigators believe Evans smuggled heroin into jail by putting it in a balloon and swallowing it or hiding it in a body crevice, adding that those are the most common ways to smuggle drugs into the jail. The investigation into Shannon's death lasted about a year and was followed by several months of a grand jury investigation, according to the district attorney's office. Several witnesses, including correctional officers and inmates, testified that Evans possessed and distributed illegal drugs in the jail and talked about Shannon's overdose, a statement from the district attorney's office says. In September, a former inmate who was housed a few cells down from Shannon at the time of his death told the Times that Evans quickly amassed canteen items within a day of his arrival from Orleans District Court, despite not being there long enough to buy anything on his own. About $15 to $20 worth of canteen goods can buy a gram of heroin in jail, the former inmate, who asked not to be identified, said at the time. Cummings said Thursday night that he did not know if any other inmates purchased drugs from Evans, because he was not at the grand jury proceedings to hear witnesses testify. The sheriff said the smuggling of drugs into the jail had been an ongoing issue for about five years leading up to Shannon's death, but in April, a full-body scanner was installed and can detect if an incoming inmate has ingested any illegal substances. "So far it's been very successful," Cummings said. Shannon's mother, Ellen, said Thursday night that she had started to give up hope that any charges would arise from her son's death. "(I'm) very surprised just because they haven't really wanted to hear from me," she said of the district attorney's office. "Part of the reason I'm retiring (in August) is to fight for his justice. "
jul04 Chatham
A piece of artwork resembling a life-size shark was stolen Thursday night from the lawn of the public library, and then found in the woods Friday afternoon, according to Janice Rogers, chairwoman of the Chatham Merchants Association board of directors. The "shark" is part of a fundraising effort by the merchants association, according to Rogers. Forty-three pieces of shark art sponsored by various businesses are installed at the Eldredge Public Library at 564 Main St., and bidding is currently underway at sharksinthepark.net.
The art was stolen just before midnight Thursday, and the business association said it had a photo of the alleged culprit and was prepared on Friday to publicize the photo if the artwork was not returned, Rogers said. The missing shark was 5 feet long and about 2 feet wide, painted gray and very realistic-looking, she said. "We've had a little mischief in the past," Rogers said. But nothing had been stolen before, she said. Rogers declined to name the amount of the reward. The association worked with the Chatham police on the matter. "It's a little damaged but it's back," Rogers said. "We're thrilled to have it back."
jul04 Chatham
Monomoy Theatre scores big with its 80th season opener, the beloved baseball musical comedy "Damn Yankees." The multiple Tony Award-winning, 1955 classic holds up incredibly well thanks to the sprightly score by Richard Ader and Jerry Ross and delightful storyline. The show marks the theater's first season with the University of Hartford as its primary sponsor and features drama students from the university's Hartt School. Director/choreographer Kyle Brand, a Hartt School graduate and Monomoy alumni, keeps the ball in play with high octane song-and-dance numbers stamped with his creativity, humor and inventive brand of choreography. The ensemble of singing/dancing baseball players displays "miles and miles of heart" in the rousing number "Heart" and milks the humor out of the comical number "The Game," which pokes fun at America's favorite pastime. Cape actor Scott Hamilton is believable as the downbeat, middle-aged Joe Boyd, a real estate salesman and avid baseball fan. In a moment of sheer desperation the beleaguered Joe swears he'd sell his soul for one long hitter, who can help his team, the underdog Washington Senators, beat the New York Yankees for the pennant. On cue the devil in the hilarious form of the slick, dapper Mr. Applegate (Juwan A. Crawley), appears and makes a deal Joe can't refuse: to transform him into a young superstar, who can lead the Senators to victory. Crawley is a triple threat, who plays the role with pizazz. But the devil gets outsmarted by Joe who demands an escape clause. Back this season is Sarah Killough as the foxy temptress Lola, who's hired by the devil to seduce the naive Hardy and make him forget his wife. The willowy Killough plays the role with a delicious mix of humor and sensuality. Killough and Brown team up for a smooth rendition of "Two Lost Souls." The lesson to the story is be careful what you wish for. Joe Boyd doesn't realize what he has in the game of life until he loses it. But it's a lesson he luckily learns before it's too late.
jul04 Harwich
For the Fourth of July, Harwich Junior Theatre is serving up a delicious slice of Americana. "The Music Man" highlights the endearing qualities of summertime in small-town America, and this vibrant production hits it out of the park. Through many rich and resplendent details, director Ethan Paulini fully captures the heart of the five-time, Tony Award winning, 1957 musical, with book, music and lyrics by Meredith Willson.
"Professor" Harold Hill is the biggest con man in the Midwest. He sells the idea of a boy band to communities, but before the music students play a collective note and the parents get suspicious, he flees with his winnings. Off-Broadway actor Christopher Sidoli plays Hill with so many subtleties and such vibrant energy it is hard not to be taken in. He handles all the fast-talking and famous tongue-twister song, "(Ya Got) Trouble," with ease. A great leading man needs an equally charming leading lady, and Lindsey Erin Agnes, with her spectacular voice, rises to the challenge. As Marian, Agnes slowly transforms from the bun-wearing, shushing librarian, to a love-struck school girl. With memorable choreography, by Christopher McNiff, the number "Marian the Librarian" is artfully performed by the ensemble, as Hill comically courts Marion in the auditory confines of the library. Bruce Reeves is the suspicious mayor of River City, who is desperate to have Hill's credentials verified, while his wife, played by Susie Davis, is the town gossip. When Hill's old friend, Marcellus (Beau Jackett), can't cover for him, Hill cunningly and continuously distracts the credential-seeking, school-board members by encouraging them to sing as a barber shop quartet. Played by Hans Thaxter Baumler, Levane Harrington, Anthony Teixeria, and Tommy Walsh, their old-time tunes, like "Lida Rose," are entertaining. James P. Byrne's American-gothic set is complete with white picket fences. Robin McLaughlin outfitted the large cast in detailed 1900s designs. Led by Robert Wilder, the four-piece band, framed by a huge American flag, is pure perfection while accompanying favorite show tunes like "Seventy-Six Trombones." With all the right ingredients, HJT's two-and-a-half-hours-long "Music Man" is even better than an all-American apple pie a la mode.
more
jul04 Harwich
An antique barn on Field House Lane was damaged by fire late Thursday night, according to the fire department and a member of the family that owns the property. There were no injuries. The fire department was called at around 11 p.m. to the barn at 17 Field House Lane. The barn, an 1870s blacksmith shop, was used informally by musicians and artists, and contained many personal and cultural artifacts that were lost, according to family member Greta Ribb. The property is owned by Margaret Ribb.
jul04 Harwich
State police were investigating a one-car crash Friday morning on Route 6 after a westbound vehicle rolled over. No one was injured in the crash. Harwich and state police departments responded to a report of the crash at 8:38 a.m. between exits 10 and 11, the state police said. At the scene, a man was sitting inside a Jeep with a smashed windshield, based on a report by a Times employee. Traffic was backed up for about half a mile on the eastbound side of the highway. There were no citations issued to the driver at the scene, the state police said.
jul04
jul04
With Independence Day falling today, the summer crush, the exodus to the beaches, begins to get serious. Traffic has to be taken into account on even the most routine birding trip. This weekend's weather offers a perfect start to the summer season and, believe it or not, the beginning of the southward migration of birds. While land birds are finishing up the breeding season on the Cape and Islands, or attempting a second brood, the spectacularly fit waders, sandpipers and plovers, are already taking flight on another leg of their staggering annual migration.
Generally, the Fourth of July is quite routine (aka boring) for rare and uncommon birds, yet this past week has yielded some major surprises, including the appearance of a swallow-tailed kite on Nantucket on July 1. It was, sadly, a one-day wonder seen by only a couple of individuals who managed some identifiable photos with their mobile phones. A brown booby was seen and photographed off Provincetown on June 30. This individual or several have been regularly reported from the waters around Provincetown for the past six weeks. While the Fourth of July is the start of "our" summer, for many shorebirds it signals the beginning of the southbound migration. On every cold front from now through September, globetrotting sandpipers and plovers will be riding the air currents. Finished with their breeding activities, which have been honed through evolution to a remarkably brief period, these birds arrive like clockwork around the Fourth of July on their journey south. Most of the early migrating shorebirds will continue south to southern South America, making them among the longest-distance migrants on the planet. They make a staggering annual round-trip journey from the extreme Northern Hemisphere to the far Southern Hemisphere, keeping them in a perpetual endless summer. This summer is punctuated by regular long nonstop flights that may last for several thousand miles. They are spectacular creatures, superb athletes that routinely go seemingly impossible distances. These winged wonders breed in a brief period before getting back in the air and keeping to their fantastic schedule of globetrotting. So while we two-legged terrestrial creatures are celebrating the start of summer, many shorebirds have already hatched young more than 3,000 miles north and west of us; they arrive on our shores to feed, fatten, grow new feathers and rest before continuing in many cases all the way to the southernmost tip of South America. Already, southbound migrants have appeared on the wind, arriving on tidal flats and estuary shores. The elegant and scarce Hudsonian godwit, with its long, upturned beak, is a regular at South Beach in Chatham during the month of July. In fact, the birding just keeps getting better from now until the middle of October. It is a good time to be here and an even better time to be observing birds. The tidal flats in many locations are busier daily with bird life. Aside from the local breeders, American oystercatchers, piping plovers and willets in the salt marshes are among the transients and southbound migrants showing up. The flats are the place to be for birds and to stay cool as well. Gulls of several species are also quickly becoming more common as they fledge young and move away from inland areas to enjoy the summer bounty at the beach. After being fed by beachgoers and losing their innate fear of humankind, many individuals learn to terrorize anyone eating food, and they know that a paper or plastic bag is the "shell" of something tasty. While not as dangerous as feeding bears, feeding gulls at the beach is not advised. It is bad for gulls and humans alike. Terns, the most graceful and elegant of all birds (in this writer's opinion), are a week or two from fledging young and moving to Cape and Islands shores from nearby breeding grounds. These lovely birds offer an identification challenge to even the most experienced birders at this season. The adults, subadults and recently fledged young all look quite different from one another, even though they all belong to the same species. Add in several similar species, and looking at terns can occupy a lot of one's beach time. Looking at terns is anything but a hardship. I hope you have a great Fourth of July weekend. Until next week - keep your eyes to the sky!
jul04
The lot where Dick and Ellie's Flea Market once boasted dozens of vendors selling trinkets and antiques is now empty, overgrown with weeds and scattered with remnants of old canopy frames. The flea market that operated seasonally on the Cape for more than 35 years - first at the site of Dick and Ellie's Miniature Golf in Mashpee, later in South Dennis - has closed because of dwindling interest from vendors and customers, said Wayne Kucha-Stone, one of the recent owners.
"Kids don't seem to be interested like they used to be," said Kucha-Stone who ran Dick and Ellie's with his wife, Carol, for one year. "They're not interested in collectibles, they're not really looking for antiques, they're not looking to buy their clothes at a flea market." Last year, Dick and Ellie's hosted about 20 to 24 vendors, he said, but this year only about nine merchants had signed up by the start of the season. "We didn't have enough vendors to open," said Carol Kucha-Stone. "Flea markets are a dying business." Carol Kucha-Stone now operates a stand selling custom jewelry, T-shirts and other items at the Wellfleet Flea Market located at the Wellfleet Drive-In Theatre. Dick and Ellie's previous owner, Joe Marrama, ran the flea market for about a decade before giving it to the Kucha-Stones. In its heyday, the market hosted over 100 vendors, but business had been declining for years, he said. "The last two or three years were so slow," said Marrama, owner of the Cape Cod Inflatable Park. "It just kind of died out." Dick and Ellie's became the site of controversy in 2012 when Lowe's Home Improvement proposed a plan to build a store on the South Dennis property. After much deliberation with the town and protests from some local residents, the Cape Cod Commission denied the plan, said Jon Idman, commission chief regulatory officer. The home improvement chain later appealed the decision, but then withdrew its appeal, and there are no pending plans for development on the lot, he said. The property on Theophilis Smith Road is owned by Chamberlain Realty. Flea markets across the country are struggling because of tough competition from the Internet, said John Vincent, one of the owners of the Wellfleet Flea Market. "We started to feel pressure from the Internet about 10 years ago," Vincent said. "Every market's feeling pressure from Amazon, eBay, Craigslist and other venues." Online platforms like these allow sellers to post their products for free and reach a wider audience, rather than having to pay for space at a flea market, said Gopala Vasudevan, a finance professor at the University of Massachusetts Dartmouth. "You're getting the entire U.S. and possibly the world market rather than just somebody who comes there," Vasudevan said. During economic downturns, like the financial crisis of 2008, many people stopped purchasing the types of specialty merchandise offered at flea markets, Vasudevan said. Now that the economy is bouncing back, people are starting to purchase items like antiques and collectibles again, but the culture has changed and many have replaced flea market browsing with online shopping, he said. But the Wellfleet Flea Market, which opens four days per week in the summer and hosts anywhere from 15 to 175 vendors, has seen steady attendance, Vincent said. "We have a beautiful flea market," he said. "We do well with people on vacation." The Wellfleet Flea Market has been able to remain open due to a couple of factors, Vincent said. It is located on a paved lot, which helps avoid the problem of muddy grounds after rain, he said. Also, the market has become a tourist attraction for visitors and is constantly rotating its vendors to offer new items, he added. "Customers like to see fresh stuff in all the time," he said. Part of the appeal of flea markets is the experience and the possibility of finding something entirely unique, Vincent said. "It's still a wonderful place to buy stuff," he said. "I have things that you can't get online, you can't get anywhere else."