sep21 Wellfleet_**CLASSIC**
Provincetown may be the most eclectic town on Cape Cod, but Wellfleet is pretty special in its own right. The Provincetown art community has permeated into both Truro and Wellfleet over the years, and many Wellfleet artists hawk their wares at galleries and shops throughout town. Seasonal visitors are a scholarly bunch. On a rainy day, they will opt for a trip to the popular town library or recently renovated Wellfleet Preservation Hall for academic talks and cultural experiences before going shopping in town and in Orleans or Hyannis. Hidden in the Wellfleet woods are an impressive Mass Audubon center, the Gestalt International Study Center, and remnants of houses from modern architects Marcel Breuer, Serge Chermayeff, and Olav Hammarstrom.
'Fleetians know how to have fun and enjoy fine food and wine, too. The surfer culture is strong here, and the town's National Seashore beaches (Newcomb Hollow, LeCount Hollow, Cahoon Hollow, White Crest, and Marconi) don't disappoint. Arguably the Cape's best seafood outlet and French bakery (Mac's Seafood and PB Boulangerie Bistro) are located here, and a few new restaurants in the past few years prove there is always an appetite for more.
Wellfleet is steeped in history. On a South Wellfleet bluff, Guglielmo Marconi built the country's first trans-Atlantic radio transmitter station at the turn of the century. A ceremonial telegram from President Theodore Roosevelt to King Edward VII of England was history's first trans-Atlantic transmission from the United States. At one time, Wellfleet Harbor included Billingsgate Island, which sat at the mouth. Once flourishing as a small community, it is now just a shoal exposed at low tide. And in Wellfleet's quaint downtown, the First Congregational Church rings ship's time - very confusing to those not in the know.
more
sep21 Wellfleet_**CLASSIC**

Well, it was a club," says Eleanor Stefani, the longtime owner of the Colony of Wellfleet. "It was a private club. You had to have your name in the Social Register - literally!" The 10 Bauhaus-style cottages, which have housed devoted guests for decades, were first known as the Mayo Hill Colony Club. They were built on the bay side of Wellfleet, the little Cape Cod town, in 1949 by Nathaniel Saltonstall, an architect from a prominent Boston family who was a founder of the Institute of Contemporary Art in Boston. Along with his business partner Oliver Morton, he designed it as a midcentury Modern retreat for high-society art collectors, with views of the sparkling bay and grassy fairways of the Chequessett Yacht and Country Club through the pines. Mary McCarthy, in the 1940s, and they were followed by what seemed like the entire faculties of Columbia and Harvard, the staffs of Partisan Review and The New Yorker, and half the psychoanalysts on the Upper West Side, who began to descend upon the village every summer, and particularly in August. (McCarthy famously called Wellfleet "the seacoast of Bohemia" in her novel "A Charmed Life," and Wilson, in his journal, credited the historian H. Stuart Hughes with the memorable sobriquet "la plage des intellectuels.") But as weather-beaten shacks and skinny-dipping in the ponds became the order of the day, the colony continued to maintain certain standards. At the same time, Wellfleet itself - much quieter than its flashier neighbor to the north, Provincetown - was becoming another sort of club. Edmund Wilson, the literary critic, arrived with his third wife,

The writer Mary McCarthy, an early town resident.
A brochure from the era notes that "Maid service is quite complete, but rendered unobtrusively. Beds are made and turned down. Rooms are cleaned. Baggage is carried. Fires are laid and fireplace wood kept replenished." Meals and picnic baskets could be ordered from the Continental Casserole Kitchen. There was a Picking Garden for contemplative blossom gathering. "Mr. Saltonstall started the Picking Garden," Eleanor says with a laugh. (Guests quickly come to call her by her first name.) "I doubt that the people he had staying here were accustomed to going out and picking their own flowers. Most of them didn't know how to boil water, never mind hold a pair of clippers. They were people who were accustomed to servants and service, and when they came here, they got it." Eleanor and her husband, Loris Stefani, who is no longer alive, bought the colony, including the main house, which then served as an art gallery, from Saltonstall in 1963. "I was looking for a summer house," she remembers. "And the minute I saw that house! Mr. Saltonstall said, 'Unless you buy what goes with it. . . .' " The cottages, with their clean right angles, wide windows, transoms and louvers for cross-ventilation, screened porches, decks and fences with vertical slats for an almost Japanese effect, have scarcely changed over the decades. Inside, the airy, spare theme continues with Herman Miller, Eames and Knoll furniture. Paired single beds (they can be pushed together) are made up as couches during the day. Sisal rugs lie on the painted cement floors. Bookshelves are stacked with issues of Foreign Affairs and Granta, and the kitchens are stocked with eggbeaters, kettles and Le Creuset enamel pots and pans. "Practical things," Eleanor says approvingly. A trim figure in neat blue jeans and gardening gloves, Eleanor has gray hair pinned back and clear, blue-gray eyes as changeable as the color of the bay. She speaks with the distinctive tones of a Boston Brahmin accent - although she categorically denies the label - that renders tomatoes "tomahtoes" and is now all but vanished, along with the perfectly charming manners that go with it. "One day I came in here," she recalls over a tray of English Breakfast tea with toast and butter. "I saw Nathaniel Saltonstall in the garden. I thought he was the gardener! Oh, he was so annoyed. I'd caught him in a moment of dishabille. He didn't dirty his hands very often, let me tell you!"
Once the Stefanis owned the colony, it was no longer run as a private club, although the maid service and carried baggage continued and one could order lobster and coquille St.-Jacques from the Casserole Kitchen, cooked by a Mrs. O'Gorman and sometimes by Eleanor herself. Since the place was no longer reserved for Boston's patrons of the arts, the new Wellfleet literati began to descend. Bernard Malamud and his wife were regulars. Lionel and Diana Trilling drove up from Manhattan - or, rather, were driven up by a graduate student who had the job of chauffeur for the month of August. They stayed, always, in cottage No. 3, where Diana held dinner parties for friends like William Phillips, the Partisan Review editor; and Philip Hamburger, the New Yorker writer (who had a house nearby and composed a number of "Talk of the Town" pieces about Wellfleet for the magazine). The essayist Phillip Lopate was a student of Lionel Trilling's at Columbia and wrote an essay about him in which he recalled sending a letter one summer to his former professor: "His reply was brief and handwritten. It came a week later, on stationery that read the colony of wellfleet with a red-inked seahorse logo on the letterhead." Years later, in the late '70s and '80s, Lopate himself was drawn to Wellfleet. By then the titans of the earlier times, like Wilson and Trilling, were dead, and the years were past when, as Lopate marvels now, "literary critics had groupies." But it was still possible to step into their world, as into a tableau vivant, and almost catch sight of their ghosts. "I always worshiped Edmund Wilson," Lopate says, "and I loved the idea that Elena, his widow, was still there, still having gin-and-tonics with Arthur Schlesinger." Lopate remembers his sense of awe at the guests he mingled with at Wellfleet dinner parties: "Elena Wilson; Robert Jay Lifton, the psychiatrist; Christopher Lehmann-Haupt, the book reviewer for The New York Times, and his wife, who stayed on the bay side; Herman Badillo, who ran for mayor of New York many times; Arthur Schlesinger Jr. You got a chance to watch how these lions were at their most unbuttoned. Some of these dinner parties were really like a Manhattan dinner party. There'd be an enormous amount of conversation about real estate - 'Who's renting that now?'" In fact, Lopate says, it was the pedigree of his rental, the former house of the critic Dwight Macdonald on Slough Pond (where Schlesinger had his house as well), that gave him an entree into that world. "The softball games were very important," he remembers. "My book had come out, and it had gotten a middling review. I went to the game, and someone said, 'I saw your review,' and there was an awkward silence." But there was a sort of writerly kismet about the place as well. "The most important thing that happened to me in Wellfleet," Lopate says, "was, I loved to go through people's bookshelves. And - I think it was on the Macdonalds' bookshelf - I found the selected essays of William Hazlitt, and I went out to the hammock and started reading it. And that's how I became a personal essayist."
The colony, meanwhile, was becoming a refuge for those less inclined to socialize. Eleanor remembers watching Paul Newman stroll down the twisty little road that runs through the property, though she won't say any more about his visit there. "When Faye Dunaway was here," she recalls, "she and Harris Yulin made a reservation for a week, and they stayed over a month; they didn't want to leave. And she was in my kitchen - 'What are you cooking?' and 'How did you do that?' " That degree of comfort, Eleanor emphasizes, was because "I wasn't talking about her or calling the newspapers and saying, 'We're special at the colony, we have movie stars.' I never, ever intruded on their lives." In the days before cellphones, guests took turns at the colony's phone booth (where my husband, when we stayed there 10 years ago, heard the news that his first book had been sold). "They were lined up," Eleanor says. "And occasionally somebody would say to me, 'I have to meet someone in 15 minutes, and I really have to make this call to my publisher,' and I would say, 'Go in and use my office phone, of course, no problem.'" One person who didn't have to use the pay phone was Diana Trilling, for whom a telephone line was installed in No. 6, where she stayed after Lionel's death and where a sign reading diana trilling cottage was propped up on a tree during her visits. Richard Avedon took her photo through the cottage window for a New Yorker article, in 1993, about the memoir she worked on for years at the colony. Alison Mills, who worked at Herridge Books in town, also served as Diana's secretary. One afternoon at the bookstore, she recalls, "This guy came in, and it turned out it was Adam Gopnik. He was dying to meet her. And so I set it up." For visitors in search of lost time, the colony is most certainly a last redoubt. Sitting out on the deck behind your cottage in the cool, misty morning air, with coffee steaming at your elbow, the umbrella up over the glass table and the wind soughing in the pines, you can understand why so many poems, books and articles have been written here - or, at least, read. Everything here seems to suggest that there is a right way to do things. "I've held onto it," Eleanor says. "Each cottage was so separate and private. Nobody was watching to see how you dressed, or whether you had shoes on or went barefoot. And you could read all day if you wanted, or go to the beach, or sail, or do anything. The marvelous freedom to walk out of that cottage and have somebody put it in order for you. It was my idea of perfect summer living."
more
sep21 Wellfleet
The Wellfleet Chamber of Commerce is now accepting entries for its 2015 Guidebook Cover Competition. Artists are welcome to compete to create the 2015 cover of the Wellfleet Chamber of Commerce Guidebook. Each entrant may submit one or two works of an easily recognizable Wellfleet scene. The main subject of the picture should be on the right-hand side. All work must be framed with a wire for hanging, and only two works from each artist may be submitted. Entries may be dropped off 9 a.m. to 4 p.m. Mondays to Thursdays, 9 a.m. to 5:30 p.m. Fridays and 9 to 11:30 a.m. Saturdays until Oct. 4 at the Cape Cod Five Cents Savings Bank conference room, located at 345 Main St., Wellfleet. The competition art show will be on display from Oct. 4 to 31 at the Wellfleet Library. Three winners selected by ballot vote of the members of the Wellfleet Chamber of Commerce will be announced on Oct. 20. The winning entry will be featured on the 2015 cover of the Wellfleet Chamber of Commerce Guidebook. For more information, email info@wellfleetchamber.com.
sep21 Eastham
The freshman class of Nauset Regional High School received iPads this week that they'll use at school and at home for the next four years, according to Nauset Public Schools Technology Director Barbara Lavoine. The 240 new iPad 4s for the freshmen are part of a three-year technology plan called "Technology 1:1" to deploy high-tech gear across the district in ways that allow students to improve learning, develop critical thinking skills and foster creativity. The technology is also meant to provide all learners with access to knowledge, information and resources that connect them to the local and global community. Nauset Public Schools encompasses the towns of Wellfleet, Eastham, Orleans and Brewster. The iPads are creating a lot of excitement, Lavoine said Saturday. "There's a big buzz," she said. The last batch of iPads was handed out Saturday morning at the high school in North Eastham. The others were handed out on Thursday and Friday. "They need to bring their devices to school on Monday," she said. A total of 221 iPads were handed out, with the remaining tablets in reserve. In previous years, three carts carrying 20 iPads each were circulated among classes, but this is the first time the ratio of technology to student is one to one. A committee of school staff and school committee members was formed a year ago to rewrite the school district's technology plan. Part of that was evaluating which tablet technology to bring into the school district, Lavoine said. In June, the district provided iPads to all teachers for grades 6 through 12, along with professional development days to learn how to use it in their lessons. Each student iPad comes with a keyboard, keyboard case, an extended warranty and some apps, for a total value of $573 per student with educational pricing, or $137,520 total, Lavoine said. The school district is leasing each student iPad for four years, she said. Next year, the plan is to provide students in a few other grades with iPads, either at the high school or Nauset Regional Middle School, Lavoine said. The middle school is in Orleans. "This is year one of a three-year implementation plan," she said.
sep21 Eastham
Eight hours after putting down a blaze on Great Pond Place, Eastham firefighters returned to the unoccupied home early Friday morning after finding that the fire had rekindled. At about 1:30 a.m., firefighters responded again to 20 Great Pond Place after a routine check on the house, Eastham Fire Capt. William Sprague said. Eastham officials had checked the house at midnight to make sure the fire had not begun anew. Sprague said the house already was considered a "total loss." Firefighters responded at around 5:30 p.m. Thursday to find flames showing from the back of the one-story house. Firefighters from Brewster, Dennis, Orleans, Truro and Wellfleet were called in to help with the fire, which caused an estimated $240,000 in damage, according to the Eastham Fire Department. Firefighters left the scene at about 10 p.m. Thursday after thermal imaging gave no sign of latent heat inside the house. "However, there must have been some small area that was able to reignite," Sprague said. No one was inside the residence, which Sprague described as a summer home. The cause of the fire is not known, but Sprague said it is not considered suspicious.
sep21 Eastham
The Eastham United Methodist Church will serve a free "Friendship Spaghetti Feast" from 5 to 6:30 p.m. Friday at the church, located at 3200 State Highway (Route 6). The dinner will include spaghetti with homemade sauce, salad and dessert. All are welcome to enjoy the meal and conversation with neighbors and friends. Reservations are not required.
sep21 Truro
Police are urging drivers to be aware of possible traffic delays today along Route 6 and side roads due to the town's 23rd annual Truro Treasures event. Daylong activities such as a flea market and arts and crafts fair are planned on both days at the Truro Central School on Route 6 and elsewhere throughout town. For more information, go to trurotreasures.org.
sep21 Truro
Truro Police held an open house on Saturday as part of the Truro Treasures Weekend. Dozens of people showed up to view a variety of exhibts. Chief Kyle Takakjian took part in a dunk tank,
sep21 Truro
sep21 Provincetown
When Lora Papetsas closes the doors of Sal's Place on Sept. 29, she will mark the end of her family's 25-year run as owners of one of Provincetown's iconic restaurants. It's a chapter befitting an Italian opera, marked by love, loss, perseverance, passion, triumph and, ultimately, great food and wine. In the end, Papetsas is closing the business on her own terms, having overseen a recent revitalization of the West End eatery. "The past three years have been our most successful," she says. The property is for sale, and while Papetsas hopes the buyers will be restaurateurs who will honor the 52-year history of Sal's Place, she acknowledges that may not happen. The closing of Sal's Place frees up Papetsas to return to her true passion, theater. She is producing Steve Lyons' play, "The Gift," which will open at The Provincetown Theater in spring under the direction of David Drake. Papetsas, a Brooklyn, N.Y. native, earned a master's degree in dramatic arts from New York University in 1986.
Her son Alexander hopes to pursue his own dream of opening a restaurant in Manhattan after he graduates in May with a business degree from Bentley University. Alexander, who practically grew up in the restaurant's kitchen, received formal culinary training in Italy and became executive chef at Sal's Place in 2012. The decision to close the restaurant was prompted by a mother and son talk earlier this year, when Alexander revealed his dream to someday open his own restaurant in Manhattan. "Kids have their own minds and their own ideas about what they want to do," she said. "His heart and soul is in the city. He's a 21-year-old man now. I get that," says the fully supportive mom. "This has been an incredible journey. My entire adult life has been here," she says, sitting at a table on the restaurant's waterfront deck, with the late afternoon tide lapping below. Papetsas took account of her family's place in the history of the location, pointing over her shoulder to the end of the deck. "This is the site of the old Union Wharf," she says of one of the town's main piers built in 1830-'31. In 1962, artist Salvatore Del Deo opened his eponymous restaurant there after parting ways with his business partner, the late artist Ciro Cozzi, and their Kiley Court restaurant, Ciro & Sal's. In 1989, Lora and her husband, Jack Papetsas, bought Sal's Place from Sal and Josephine Del Deo. "I met Jack on Cape Cod. I was on a trip with a girlfriend. Jack and I just connected," she recalls. "It was meant to unfold that way."
more
sep21 Provincetown
Boston firefighters, mostly from Engine Company 33 and Ladder Company 15, which lost two brothers in a Back Bay fire in March, are being honored with ceremonies and free vacations in Provincetown this week and next. Founded by part-time Provincetown resident Garth Roberts, the nonprofit Hero Fund America is hosting about 40 firefighters and their families. Among this year's guests will be Joan Walsh, mother of the late Lt. Edward Walsh, Roberts said. Walsh and Firefighter Michael Kennedy were trapped in the basement when a nine-alarm blaze ripped through a Beacon Street brownstone March 26. This week, about 20 colleagues from their Boylston Street firehouse enjoyed free rooms offered by private homeowners, hotels and motels, and discounts donated by restaurants, spas and other local businesses, Roberts said. They were honored at a ceremony Tuesday that included Provincetown firefighters and a banner made by Provincetown children at the firehouse on Johnson Street and in the Harbor Lounge on Commercial Street. Another group of 20 will be treated to a similar ceremony at the Harbor Lounge at 4 p.m. this Tuesday. The public is invited. Roberts began Hero Fund America in 2013 after the Boston Marathon bombings. A marathon runner himself, although he never ran the Boston event, Roberts said he noticed that many funds had been set up to help the victims of the bombings, but he wanted to recognize the emergency workers who "ran into the smoke" after the bombs went off at the finish line. Watching them work during the fear and chaos of the explosions "highlighted to me what first responders do in our community," he said. "Their daily life experiences, it's profound. And how it impacts their loved ones ... It's a huge sacrifice." Walsh, 43, was the father of three young children, Dillon, 8; Morgan, 5; and Griffin, 2. Kennedy, 33, served with the U.S. Marines in Iraq before becoming a firefighter and was active in the Big Brothers Big Sisters program. "The generosity and the compassion from Provincetown has been overwhelming," said Boston Fire Commissioner Joe Finn, who attended the ceremony this week. "I cannot say enough about them," he said of Roberts and the business owners who donated rooms and goods. "They were looking to do something special and they certainly did."
sep21 Orleans
A Champagne Gala to benefit the Lower Cape Outreach Council will be held from 5 to 9 p.m. Saturday at the Orleans Yacht Club, located at 39 Cove Road. The gala will feature a live auction, music by the Bart Weisman Jazz Group, dancing, special guests and the presentation of the council's first-ever Champion's Award to the Cape Cod Five Cents Bank Charitable Foundation Trust. There will also be a raw bar; a "Taste of the Lower Cape," with offerings from local restaurants; an ice cream bar provided by Emack & Bolio's; and chocolate truffles from Stage Coach Candies of Dennisport. Tickets, $75, can be purchased at www.lcoutreach.org or by calling 508-240-0694. The Lower Cape Outreach Council is a nonprofit organization that helps Lower Cape residents in need with food; transportation; and heat, utility and medical costs, as well as other necessities.
sep21 Orleans
Orleans firefighters spent the first week of September taking a boat-operators course with the U.S. Coast Guard. Members of the department along with the town's natural resources director, learned emergency boat handling and search and rescue skills with USCG Station Chatham's senior chief Rob Goley and Provincetown USCG Station Chief John Harker. The extensive program ended with training evolutions with USCG Station Chatham and the landing of a USCG Jayhawk helicopter from Air Station Cape Cod.

sep21 Orleans
The Neuropathy Support Group will meet from 2 to 4 p.m. Wednesday at the Orleans Senior Center, 150 Rock Harbor Road. At this meeting, attendees will be asked to share their questions about their own individual neuropathy experiences. These questions will then be submitted to Dr. John Hamjian, of Neurology Associates of Cape Cod, who will address them at the group's next meeting from 2 to 4 p.m. Oct. 22. For more information, call Kristina Meservey at 774-207-0153 or 860-912-3111.
sep21 Brewster
One hiccup and your life can change forever. That's the simple, unvarnished wisdom uttered by Margaret Walsh, a lifelong resident of Southie, who has had more than her share of life's hiccups. The working class Irish-American Boston neighborhood famous for forced busing and Whitey Bulger is a tough place to live, filled with racial tension, minimum wage jobs, violence and, among it all, "Good People." The play opens in the alley behind a Dollar Store - Southie's version of a conference room - as Stevie (Sam Gillam) reluctantly fires Margaret (Vicki Summers) from her cashier job. Margie is unreliable on her best day, dealing with the problems spawned by poverty, single motherhood and caring for her adult, mentally disabled daughter. It's a wrenching scene, with Margie pleading for her job, reminding Stevie of all they have in common, desperation punctuating her argument; she is once again out of work in a very challenging economy. Margie's friend Jean (Elizabeth Liuzzi) - the "mouthie from Southie" - persuades her to contact her high school boyfriend, Mike (Richard Sullivan) who is a successful doctor and may be able to help her find a job. What follows is a perfect example of worlds colliding, the past hurtling full force into the present, leaving everyone shell-shocked in its wake. Margie insinuates and barges her way into Mike's life, at once proud and resentful of his successes, citing luck as the distinguishing factor of his life, the one thing that enabled him to leave Southie and the lack of which keeps her buried there. "Good People" premiered on Broadway in 2011, garnering Tony nominations for Best Play and Best Leading Actress; Frances McDormand won the award for her portrayal of Margie. This production is the Cape Cod premiere of the play, and the local references, flavor and accents have found a wonderful home here. We know these folks. We understand that for some women, a clean flannel shirt is a party outfit, and raw, blue language ("pardon my French") is routine. (Kudos to Elizabeth Liuzzi for her dialect coaching, eliciting the perfect Southie tonality). An ingenious modular set by Mary Hamrick seamlessly recreates an alleyway, a doctor's office, a tenement apartment, a Chestnut Hill mansion and a church bingo hall. The cast of Cape Rep perennial performers is outstanding; Melissa Becker is hilarious as the cranky landlady and Elizabeth Liuzzi's Jean is someone we all have met. Richard Sullivan straddles the dichotomy of his character - Southie boy turned lace curtain Irish - and Terralon Walker rings true as the trophy wife who takes no prisoners. Sam Gilliam's role as Stevie is small but significant; he is endearing and compelling. As Margie, Vicki Summers is by turns funny, exasperating, heartbreaking and fabulous. Director Kristin McLaughlin deftly steers the play through its comic first half to its poignant second act. David Lindsay-Abaire's script is complex and thought-provoking, filled with apparent affection and thoughtful observation of his hometown. Ultimately, the play is about life's hiccups, yes, but it's also about finding kindness where you least expect it.
sep21 Brewster
The Garden Club of Brewster will host its bi-annual "Game Day Fundraiser" from 1 to 4 p.m. Oct. 15 at the Brewster Council on Aging on Route 6A. Participants are invited to bring their game of choice - mahjong, Scrabble, cards, dominoes, etc. Tables and refreshments will be provided, plus there will be door prizes. Individuals and groups are welcome. Tickets, $12, should be purchased early as the event sells out quickly and space is limited. Proceeds will help support Brewster civic gardens, scholarships and educational grants. Reservations may be mailed to: Kathy Grizzle, 22 Greenland Pond Road, Brewster, MA 02631. For more information, call 508-896-9173 or email K.Grizzle@Comcast.net.
sep21 Brewster
Residents concerned with the health of Brewster ponds are encouraged to attend the first organizational meeting of the Brewster Ponds Coalition at 10 a.m. Oct. 4 at the Brewster Council on Aging, 1673 Main St. Members of the steering committee will describe the work of the group and make nominations for the first board of directors, according to Konrad Schultz, an organizer. Those in attendance will elect board members and discover ways to participate on various committees for improving water quality in town ponds, he said. The coalition is a 501(3)c nonprofit corporation, he said.
sep21 Chatham
Two of the last four remaining North Beach cottages were removed this week.
more
sep20 Wellfleet
sep20 Wellfleet
Ira Wood is an author, a teacher, a former publisher, a former selectman, and the host of a weekly radio program called The Lowdown on WOMR-FM, Cape Cod's Community Radio Station. For over 30 years Ira has made his home in Wellfleet. The Lowdown enables Ira to indulge his lifelong compulsion to pester people with questions.

sep20 Wellfleet
The warrant for the October 6, 2014 special town meeting has been posted and sent to the printer for mailing to registered voters. The meeting will be held at the Wellfleet Elemenetary School beginning at 7:30 PM. Before the meeting, at 7:00 PM, the Friends of the Herring River will present a brief update on the status of the Herring River Restoration Project. The warrant contains includes two articles necessary to correct votes taken at the April annual town meeting and an article to reduce the amount appropriated for long term interest. The latter is to take advantage of the recently completed refinancing of the Town's long term debt. Together these three articles propose reducing the amount to be raised by real estate taxes by $416,066 and will represent a significant savings to all taxpayers. The fourth financial article proposes a stipend for the Town Clerk for completing certification requirements. The complete warrant can be viewed here.
sep20 Eastham
Since its construction in 1868, the Captain Edward Penniman House has been a cultural treasure in Eastham. It commemorates this region's rich maritime history through its association with Edward Penniman, who, at age eleven, began his career at sea as a cook on a schooner bound for the Grand Banks. Captain Penniman retired to his ornate French Second Empire Eastham home on Fort Hill following a highly successful and adventurous career as a whaling captain. The Penniman story is further enriched by the fact that his wife and children accompanied him on some of his voyages.Cape Cod National Seashore seeks volunteers who are interested in sharing this engaging story with the public during tours and open houses beginning in spring 2015. In 2013 over 1,000 visitors toured the home. New volunteers will join a corps of passionate volunteers who currently provide interpretive services there. Training sessions for new volunteers will be held from 1-3 PM on four Wednesdays in October. The dates are October 1, 8, 15, and 22. During the first session, seashore historian Bill Burke will provide a tour of the home and the Fort Hill area for prospective volunteers. Many layers of history are represented at Fort Hill, from Native people and early settlement culture, to agriculture and whaling. Burke will also discuss proposed preservation maintenance projects at the Penniman House. Subsequent training sessions will cover the larger context of whaling during Penniman's time, research methods and sources, architecture, and techniques for sharing the Penniman story with the public. Prospective volunteers will meet with current volunteers to share ideas. At the conclusion of the fall training, volunteers and seashore staff will discuss scheduling and further training in the spring. Prospective volunteers should reserve their place by contacting Chief Park Interpreter Sue Moynihan at (508) 957-0738 or via email at e-mail us.
sep20 Eastham
Cape Cod National Seashore will host a talk on Thornton W. Burgess on Saturday, September 27th at 2 PM at the Salt Pond Visitor Center in Eastham. Sandwich-based author Christie Palmer Lowrance will present this program on the life of the renowned 20th-century naturalist and children's author, who was born on Cape Cod. A keen observer of nature and impassioned conservationist, Burgess turned these interests into plots in his stories for children. The stories were hugely popular in the early 20th century. Characters in his books include Peter Rabbit, Jimmy Skunk, Sammy Jay, Bobby Raccoon, and Grandfather Frog.
In addition to the dozens of children's stories and other writings, Burgess wrote a syndicated daily newspaper column called "Bedtime Stories" from 1912 to 1960. Lowrance is the author of Nature's Ambassador: The Legacy of Thornton W. Burgess. Her presentation will explore such topics as, Burgess' motivation to write 70 children's books; where and how he wrote them; his belief that nature is the universal teacher; and how the children's books helped pass the groundbreaking Migratory Bird Treaty Act. Copies of the book will be available for sale and Ms. Lowrance will autograph them.
sep20 Eastham
For the month of October, Cape Cod National Seashore's Perspectives Series, Seeing Cape Cod National Seashore through Art, is exhibiting work from Cape Cod Viewfinders, a local camera club that is dedicated to promoting the study, understanding, improvement, and enjoyment of photography. Open to all levels of photographers, this consortium offers mentoring, training, competitions, and social opportunities to anyone interested in photography. The show is entitled Cape Photographers View the National Seashore. Cape Cod Viewfinders has exhibited at many venues across Cape Cod such as, Orleans Camera and Snow Library in Orleans, Brewster Ladies Library, Wellfleet Public Library, Cape Cod Creative Arts Center in Chatham, and the Cultural Center of Cape Cod in South Yarmouth. The Cape Cod Viewfinders Camera Club is a member of the photographic Society of America, and the New England Camera Club Council. More information on the club is located on the web, at www.capecodviewfinders.org. A reception with refreshments will be held on Friday, October 3, from 2:30-4:30 PM, in the exhibit room at the visitor center.
sep20 Eastham
Firefighters spent a good portion of yesterday and early this morning fighting a pesky fire in Eastham. Crews from Eastham, Orleans, Wellfleet, and Truro responded to a summer home on Great Pond Road around 1:30 PM. Firefighters from Harwich and Dennis provided backup.
After knocking down the fire, crews then had to return to the scene around 1:30 in the morning after the fire reignited, most likely due to an ember and windy conditions. Eastham Fire Captain William Sprague says the fire is not considered suspicious. Nobody was injured. The house was unoccupied.
sep20 Eastham
The Nauset Warriors field hockey squad rebounded from a tough loss with a big win over Atlantic Coast League rival Sandwich, 2-0, at home on Friday. Nauset (5-1, 1-1 ACL) suffered its first loss of the season at the hands of Dennis-Yarmouth on Wednesday, but played a strong, consistent game against the Blue Knights, according to coach Jodi Quill. "I was really, really pleased with they how they bounced back," Quill said of her squad. Sandwich (2-2-1) gave the Warriors a battle however in its first ACL tilt of the season, taking Nauset to the half in a scoreless tie. Sophomore Emma Stevens broke the deadlock 6:30 after the break, converting a feed from senior captain Shaye Ellard for all the offense sophomore goalie Lucy McNamara would need. Senior Julia Collette gave McNamara an insurance goal, knocking home a pass from senior captain Taylor Field with 14:34 to play. McNamara made 12 stops in earning the shutout for Nauset while the Warriors also got key play from sophomore forward Mackenzie Meads.
sep20 Truro
There will be music, merry-making and even a little magic at the 23rd annual Truro Treasures Gala, which begins this Friday, Sept. 19, and culminates in the Jazz Fest and Grape Stomp on Sunday afternoon. Add sparkling September weather to the mix (fingers crossed), and you have a celebration worth tossing aside your fishing gear, gardening shears or Russian novel for. The kick-off event, traditionally held at 3 p.m. on Friday, is a talk by Mark McGrath on "Truro's Special Places" - the theme of this year's festival. McGrath and his wife, residents of the Upper Cape, took on the challenge of circumnavigating the Cape on foot, exploring the wide stretches of the outer shore as well as the nooks and crannies found along more densely developed parts of the coast. They shared some of their adventures on the Outer Cape at a talk held earlier this summer at the Highland House Museum, and it was so interesting that Truro Treasures organizer Gail Stevenson agreed to invite them back.
The talk will be held at the Highland House Museum, and then it's over to the Whitman House for the opening cocktail party and dinner from 5 to 7 p.m. The silent art auction on Saturday, a regular festival offering, will be one of the biggest ever, Stevenson says, with many paintings by well-known local artists on the block. Wine and hors d'oeuvres will be served during the auction, which takes place at the community center from 10 a.m. to 4 p.m., and Ken Roscoe will play piano from 1 to 3 p.m., adding a little more gallery-like ambiance to the event. The flea market at the school, held both Saturday and Sunday from 10 a.m. to 4 p.m., is always popular, Stevenson says, featuring an assortment of antiques, vintage wares and curios. And there will be more bounty available during the two-day Truro Treasures Raffle, with prizes being awarded continuously. The raffle is held from 10 a.m. to 3 p.m. Saturday and from 10 a.m. to 2 p.m. Sunday at the school. About 180 prizes will be given out, Stevenson says, and participants can purchase Truro Treasures hats and T-shirts when they're done buying tickets. New to this year's line-up is a magic show for children, held Sunday at the library at 1 p.m. "The Greg & Axel Show" features a magician with his dog, says Stevenson, and should prove delightful for the little ones. The celebration ends with the always well-attended Grape Stomp & Jazz Festival at Truro Vineyards, from 2 to 6 p.m. on Sunday. There will be local food vendors, live music and wine for the grown-ups to enjoy while the kids tear off their shoes and head for the vat, where bushels of grapes await a sound squashing.
sep20 Provincetown
A Provincetown man who was out on $25,000 bail on charges of cocaine and methamphetamine trafficking was arrested on similar charges Thursday afternoon. Provincetown police, along with officers from the Barnstable County Sheriff's Office and the Cape Cod Drug Task Force, searched Michael Higgins' Captain Berties Way apartment at 1 p.m. Thursday. They found more than 31 grams of cocaine and 2.2 grams of methamphetamines, according to Orleans District Court documents. They also recovered GHB (gamma-hydroxybutyric acid) and various prescription pills, documents say. The police charged Higgins, 56, with trafficking cocaine, possession with intent to distribute a class A drug, possession with intent to a distribute a class E drug and possession with intent to distribute methamphetamines. He was arraigned in the Orleans court today and is due back Oct. 17 for a pretrial hearing. In the meantime, he will wait in jail. The judge revoked his bail from an arrest in August 2013, according to court documents. That case is still pending in Barnstable Superior Court.
sep20 Provincetown

"#Artrules" at the Jo Hay Open Studio, 153, Commercial St., Provincetown, curated by Carolyn Kramer and Jo Hay, features art by unrepresented artists and all proceeds go to New York City's Hetrick-Martin Institute Youth Art Program.The Hetrick-Martin Institute provides a safe and supportive environment for lesbian, gay, bisexual, transgender and questioning youth ages 13 to 24. The show runs through Oct 2.
sep20 Provincetown
Cranberries grow very well in the low-lying spots in Provincetown's forested areas, and even in the very low spots out in the dunes, and anywhere the water might pool up a bit after the rainfall. When the ground can't absorb all the water after a rainstorm, which happens in these very low spots where the groundwater is just below the surface, the area can remain under water for a time. As the ground slowly soaks up the water, it's likely, at least for a little while, to stay a little soggy, or spongy, or boggy, if you will, hence the name cranberry bog.

Cranberries are ripening right now in the low-lying spots in Provincetown's forests and dunes.
As the ground water recedes, the cranberries can begin to grow, on a sturdy little vine that can produce cranberries for more than 100 years. The berries get their start with a small, pale pink blossom shaped a bit like the head of a crane. The early settlers were calling it crane berry, and that's how the cranberry git its name. In his 1890 book Provincetown or Odds and Ends From the Tip End, Herman A. Jennings provides us with this historic tidbit he dug up "from old town records," apparently from the 1773 Town Meeting:
I'm not sure what effect the unusually cool, dry weather of this summer might have on the cranberries this year, but you can usually find them getting ripe enough to pick by this time. If you go out to pick cranberries, don't confuse them with bearberry, which looks a little similar, and is harmless in small quantities, but it's not good for humans in large amounts. Here's a link to help you find wild cranberries, from a great blog I found, called The 3 Foragers, written by a family who harvests and eats a good bit of their food from wild sources. And if you go out after cranberries, be sure to watch for the poison ivy that is sometimes found nearby.
sep20 Provincetown
Provincetown artists Ramon Alcolea and Bill Hamlin are in the middle of a mutually created whirlwind. Not only are they preparing for a group exhibition at The Schoolhouse Gallery that opens on Friday, Sept. 19, they also are gearing up for family celebrations that evening and their own wedding the following day. One such event could be enough to unsettle even the most serene, well-organized people in the world, but Alcolea and Hamlin are taking all the excitement in stride. In fact, they seem to be enjoying every minute of it. They admit the coincidence of events is intentional.
Last year, once the DOMA regulations were dissolved and other legislated technicalities settled, they started planning their wedding. And months ago, when they began to discuss the timing of a show at Schoolhouse with gallery director Mike Carroll, the Sept. 19 opening date seemed the first best choice. Why not treat their wedding guests to the additional buzz of an art opening? "Our wedding and the exhibition occurring at the same time is perfect timing," Hamlin says. "Two of the most important things in my life are my relationship and making art. We have been in a committed relationship for 15 years so in a way our marriage is my re-commitment to our relationship, and the exhibition is my re-commitment to making art," Hamlin says. Alcolea and Hamlin agree that the close timing of the two events reminds them of the delicate balance needed. The more loving attention both receive, the more rewarding. To further complicate (or enrich) their lives they must factor in professional commitments outside of their art. Hamlin is operations manager for Provincetown's Far Land Provisions and Alcolea is co-director of the late Ronald Bladen's estate based in New York City. Carroll says that Alcolea studied with minimalist movement founder Ronald Bladen and became his assistant while studying at the Parsons School of Design. Carroll sees Alcolea's work as a "blending of minimalism, an appreciation of pure form and a love for Baroque motion and emotion." During a studio visit, Alcolea discussed his "Paradiso" series of wall sculptures, which exemplifies his minimalist approach to art. Don't be misled by the term "minimalist." Alcolea's artistic process involves a complex sequence of steps. He begins his plywood constructions with an inner form of supporting wooden strips that allow the sculpture to remain structurally light while retaining a sense of mass and strength. He connects separate sections at different levels of depth and finally sands and paints each surface with exquisite care. Alcolea follows a version of the golden ratio when creating his current geometric work. Aiming for a balance of color and form, and following an "origami visual language" with a folding and un-folding of each component, he begins with a template to trace, cut, sand, glue and clamp before the final surface painting. His main tools include a jig saw, belt sander and hand sander. He says that his procedure is laborious, and he often works on two or three pieces at a time.
more
sep20 Orleans
The happening: Celebrate our Waters showcases bays, ponds, lakes, marshes, creeks and beaches. Events include walks, talks, tours, kayaking, sailing, fishing, aquaculture, a sand sculpture contest and a bonfire on Nauset Beach.
This year, the influences that water resources have on local artists will be showcased with more than a dozen artists painting plein air on the shorelines, along with a variety of other art events.
more
sep20 Orleans
The Board of Selectmen has approved what it hopes will be an acceptable plan for piping plovers on the southern end of Nauset Beach that will allow oversand vehicles to drive past nests next summer. The selectmen approved the plan Wednesday. Town officials will file the proposal with the U.S. Fish and Wildlife Service this week, according to Selectman John Hodgson. The piping plover is protected under state and federal endangered species acts. In recent summers, town-enforced protections for plover nests and chicks on Nauset Beach have led to multiday closures of oversand vehicle trails. The closures have angered off-road vehicle owners and threatened the town's revenue from the sales of off-road vehicle permits.
The 2013 closure was the longest on record, lasting 83 consecutive days, according to town records. In 2007, Orleans sold 3,950 off-road vehicle stickers, generating more than $320,000 in sales, according to town records. In 2013, stickers sales were 3,053 and revenue dropped 33 percent to $213,000. The habitat conservation plan is meant to provide a way for recreational off-road vehicles to drive past the plover nests and chicks. It is part of the town's application for a three-year incidental take permit, which allows certain legal activities to occur despite potential harm to a protected species such as a plover chick. The town is applying to "take" or lose up to two broods of plover chicks each year under existing federal guidelines. State regulators have already approved a similar permit for the plan. The escort plan would allow up to 180 vehicles to drive along a plover-free beach corridor twice a day, morning and evening, on or after July 15, according to town records. The corridor would be flexible, depending on the location of the plover nests and chicks. The maximum length of the corridor would be a little under half-a-mile, and the maximum width, 30 feet. The total affected area is 1.45 acres. The proposed first year is 2015. In the last few months, ideas about how to escort the vehicles past the plover nests has changed, Hodgson said. Earlier this year, vehicles were to move in a convoy of up to 60. Now, each vehicle must provide its own "vehicle monitor," age 16 or older, to walk approximately 5 feet in front of the vehicle in the corridor. Each morning, under the plan, paid chick monitors will determine the locations of the plover broods and delineate a vehicle corridor around them, according to town records. The chick monitors also will document the broods and their movements. The corridor can be closed temporarily if a plover chick is in or near the corridor, to allow the chick to move away. The morning hours for the corridor are proposed as 8 to 10 a.m., with flexibility due to weather, and the evening hours are 4 to 6 p.m. The town and other collaborators such as the Massachusetts Beach Buggy Association has incorporated every change in the plan suggested by federal officials, Hodgson said Thursday. "They've said, 'It's a green light. Send it.'" The town expects to hear within three to four months, he said. The proposal will need to be reviewed under National Environmental Protection Act procedures, which will include a public comment period, said Meagan Racey, Fish and Wildlife Service Northeast Region spokeswoman. The town had hoped to implement the plan this summer, but the working group determined that regulatory procedures were too complicated to get it in place. In May, the habitat conservation plan was in its 10th revision, Hodgson said at the time. The estimated cost for implementing the vehicle escort plan is $48,573 in the first year, according to Town Administrator John Kelly. The money would pay for four beach patrol staff members, four additional piping plover monitors, binoculars, staff radios and other aspects of the program. A proposed oversand vehicle sticker price increase of $19 for residents and nonresidents is expected to cover the costs of the program, according to Kelly. A public hearing on the proposed sticker surcharge is planned for Oct. 1, and residents will be asked to vote on it at the special town meeting on Oct. 27. The actual budget for the program would be considered at the annual town meeting in 2015, Kelly said. The cost of the program may be mitigated by contributions from the town of Chatham and from the beach buggy association, Hodgson said.
sep20 Orleans
Orleans has already secured a state habitat conservation permit to balance public access and plover protection, but is still waiting for federal sign-off. Now funding from the U.S. Environmental Protection Agency may help the streamline the federal process. Orleans' state permit allows the town to institute a 100-page plan that allows monitored off-road vehicles to drive by two plover nests in order to get to miles of beach, stretching toward Chatham, where buffers to protect endangered species aren't triggered. Many in town, and beyond, were pleased that after a decade of failure state officials were able to work with Orleans and approve a plan for the south side of Nauset Beach and people are hoping that other Cape towns can benefit. To make the process smoother and less expensive at the federal level, the state, backed by a group of Cape towns called the Regional Beach Access Committee, is working on securing a statewide habitat conservation permit from U.S. Fish and Wildlife. If the state secures a permit from the federal government, communities would only need to work with the state. The new funding will help the state develop the permit application. The Massachusetts Division of Fisheries and Wildlife will receive $188,694 to continue working with towns and private conservation organizations to develop an umbrella conservation plan that allows flexibility in plover management to provide relief to beach managers.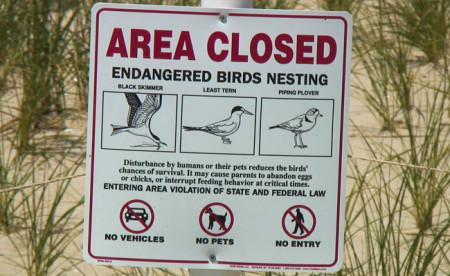 Everyday we get new articles about our ongoing battle with U.S. Fish & Wildlife Service, and with every one comes more confusion. At this point it is so insane that I can barely wrap my head around it. Basically, what the above article states, is that $188,694 of taxpayer money is going to help the state learn how to deal with the towns complaints against the feds? Read that sentence again. This money is not actually conserving or helping anyone in any way, it is only to assist in the bureaucratic quagmire that has formed between different levels of government. So after years of regulations in which the feds used our tax money to keep us off of our beaches, towns are fighting back using our money. Orleans has spent countless hours and dollars developing their plan to balance humans and plovers. Chatham just earmarked $300,000 of their budget to block the Fish and Wildlife service from taking 717 acres of their land. Now the state is getting in on the action as well by spending our money just to referee the fight. To recap. the towns are using our money to fight the regulations the feds put in place using our money and the state generously offered to help. using our money. That is an expensive argument over a fucking bird. No wonder the government wants to save the Piping Plovers, the money we are spending fighting over them is paying peoples salaries. We'd be better off spending all this money on condoms, because one thing is clear. We are getting fucked by everyone.
sep20 Orleans
The town of Orleans is submitting final paperwork to the state and federal governments which will allow ORV users to access beaches even during Plover fledging season. Although the original idea was to have monitors posted around nests to watch as drivers went by, that plan has been tweaked according to Selectman John Hodgson.
"You'll have to have a minimum of two people in a vehicle. One person gets out and walks about ten feet in front of the vehicle as the it goes at a snail's pace past the nests and makes sure there are no birds in the ruts. After the vehicle gets past the nest the person gets back into the vehicle." Hodgson said. Hodgson says that there will still be monitors but they will be more mobile than originally planned, costs will be offset by higher ORV fees.
sep20 Orleans
Here's your chance to sip champagne in a lovely waterfront venue, dance the night away to great live music, rub elbows with community leaders and bid on some fabulous items in a live auction - African safari, anyone? The Lower Cape Outreach Council's annual Champagne Gala is being held this year Saturday, Sept. 27 at Orleans Yacht Club. The nonprofit organization's biggest fund-raiser of the year will feature a "Taste of the Lower Cape," with food donated by local restaurants including Abba, Mahoney's Atlantic Bar & Grill and Rock Harbor Grill. There will also be a raw bar and ice cream from Emack & Bolio's. The live auction will be called by Larry Marsland, executive director of the Outreach Council, which provides emergency assistance and support to needy people in all eight Lower Cape towns. Auction items, besides the two weeklong African safaris, include a week at a beach house in Brewster, Red Sox tickets, Cape Cod Symphony tickets, a theatre tickets package from the Cape & Islands Theater Coalition, a weekend at Crosswinds B&B in Eastham, and lunch and a walking tour of Provincetown with state Rep. Sarah Peake, among other great items. The auction will be followed by dancing to the Bart Weisman Band, featuring Bruce Abbott. Before the dancing begins, LCOC will present its first-ever "Champion's Award" to the Cape Cod Five Cents Savings Bank Charitable Foundation Trust for all its support over the years. Proceeds from the Gala will support LCOC programs, which include food pantries in all eight towns; emergency financial help for struggling families with utility bills, car repairs, mortgage and rent payments; one-on-one mentoring to help people get back on their feet; and "Pay It Forward," a micro loan program. Marsland said last year alone the council provided $1,656,323 in assistance. "These services are crucial to families who are struggling," he said. "Our motto is 'Neighbors helping Neighbors' and this event, our annual Gala, provides people a really great opportunity to help their neighbors - and have fun doing it." Champagne Gala to benefit Lower Cape Outreach Council, Saturday, Sept. 27, 5-9 p.m. at Orleans Yacht Club. Tickets: $75, reserve at www.LCOutreach.org or CALL 508-240-0694
sep20 Orleans
Residents of Eastham and Orleans can take advantage of the last household hazardous waste collection Saturday, Sept. 20, at the Orleans Department of Public Works and Highway garage building, 22 Bay Ridge Lane., from 9 a.m. to noon. To find out what's acceptable, check your mail for your 2014 HHW brochure or conduct an audit. The audit is found at: www.capecodextension.org/hazardous-waste-water-quality/hazardous-waste-homeowners. Latex paint is not hazardous; dry out and throw out. Business owners can also bring in materials. Interested businesses can call Mike Maguire, Extension Educator on Water Quality and Hazardous Materials for the Cape Cod Cooperative Extension/Barnstable County, at 508-375-6699 for more information on how to participate.
sep20 Brewster
A local doctor will lead a discussion on the importance of sharks to the Cape's ecosystem. Dr. Tom Burns, the hospital director at the Veterinary Associates of Cape Cod, will be speaking at the Cape Cod Museum of Natural History in Brewster Saturday.
Burns said he'll be talking about the impact all sharks, not just great whites, have on the area. "A lot of us are captivated by the great whites, which have come back to Cape Cod, but there are many dynamic species of sharks that visit the region each year," Burns said, "Sharks are an important part of our ecosystem whether we recognize that or not. There are other species offshore that are really doing their part to keep our ocean environment clean and healthy for future generations of Cape Codders" The discussion gets underway at 1 PM Saturday.
sep20 Brewster
Brewster Police are auctioning off a 2011 Ford Crown Victoria and a 2007 Ford Explorer.
The department is no longer using those vehicles and has put them up for auction on the website Gov Deals Dot Com. The auction runs through October 8th.
sep20 Chatham
Although three of four town meeting articles weren't even on the radar screen last year, voters easily passed $1.5 million in expenses to help protect the town. Monday's special town meeting stretched just about an hour as those who gathered at the high school appeared to have made their minds up when it came to appropriating money to protect the town's historic rights around Monomoy National Wildlife Refuge, clean up pollution under the fire station, protect close to 8 acres of meadowlands and increase the salaries of firefighters. First up was $300,000 to pay for legal and scientific assistance as the town works to prevent U.S. Fish and Wildlife, which manages the refuge, from "taking" 717 acres of South Beach and expanding jurisdiction to thousands of more acres off Monomoy. The change, said Jill MacDonald, chairman of a task force the selectmen convened to deal with the threat, would limit or eliminate many of the historic uses and "fishing activities that have occurred there for centuries."
She added the arguments the refuge has posed are not legally and scientifically sound and will be challenged with the help of the team the funding is securing. The three firms, Pike Associates, Kelley, Drye and Warren and Coonamessett Farm Foundation, will work with town counsel and staff. Their first task - which they have already begun working on - is to compile comments on the refuge's draft comprehensive conservation management plan to meet the refuge's October deadline. The finance committee and selectmen unanimously supported the approach. "We believe that retaining our South Beach and maintaining our present jurisdiction of Monomoy is certainly worth fighting for," said Jo Ann Sprague of the finance committee. Close to $700,000 in funding to use Perozone, a system used to clean up groundwater contaminants, to address contamination on Depot Road was also supported by a "super majority" of selectmen and finance committee members and readily approved by town meeting. The town's consultant David Bennett, said Perozone offered "the best combination of price, time and turn around." The funds would be used to not only clean up a gasoline plume in the groundwater underneath the fire station, but would address the additional costs inherent in decontaminating a site while building a fire station. Officials said the source of the plume was unclear, but it needed to be addressed and it would delay the construction of the new fire station by about seven months. "In short this is a town problem, one the town is required to fix (as) the property owner," said Selectman Tim Roper. Resident John Huether asked the town to look into possible monetary help from the state and federal government, which aid communities in clean ups such as these. But Fire Chief Michael Ambriscoe explained that, at least in Massachusetts, those programs had been suspended.
more
sep20 Harwich
Hank Phillippi Ryan has been a journalist most of her adult life and is a familiar face to those who watch Channel 7 News out of Boston. In her years as an investigative reporter, she has been threatened, stalked, followed, pushed and yelled at, but nothing has ever stopped her from trying to get to the truth behind a story. Despite her literary success as an author, she's not planning on retiring any time soon.
"The joy of having a good story is endlessly tantalizing to me," she says. "People always ask me what my best story is and I always say it's still to come. I still believe that. I'm genuinely curious and genuinely like to make a difference and when you put those two things together, that's what a reporter needs to be." Ryan has written a book a year since her debut novel "Prime Time" was published in 2009. Last week, she was inducted into the Massachusetts Broadcasters Hall of Fame for her work as a journalist and all of her seven mystery/thriller novels have won accolades and awards. There is no reason to believe her latest thriller, "Truth Be Told," won't as well. It is a fast paced, intensely gripping story that keeps readers guessing until the very end. It also has the ring of authenticity from Ryan's years of experience working as a journalist. "Everything in my books comes from reality," she says. "It comes from a story that I've covered or a case that I really had. They're authentic and genuine stories, but I take the puzzle pieces, a little from here and a little from there, and polish and tweak and add a little adrenaline, a couple of twists and come out with a brand new story." "Truth Be Told," which will be published on Oct. 7, is the third novel in Ryan's Jane Ryland and Jake Brogan series. Newspaper reporter Jane Ryland is covering a story about home foreclosures and the effects on families after a tragic accident occurs in an empty house. Meanwhile police detective Jake Brogan, Jane's "off the record" significant other, is juggling two seemingly unrelated cases. When a man comes into the police station to confess to a 20-year-old unsolved murder that haunted Jake's police commissioner grandfather, it should be case closed, but something about the confession does not ring true. Then a real estate agent is murdered in a foreclosed house in a crime that puts Jane's story and journalistic integrity on the line as she tries to discern whether "off the record" trumps the public's right to know the truth. The sixth annual Author's Literary Plated Tea Library Fundraiser with Hank Phillippi Ryan, Paul Kemprecos and Deborah Swift on Thursday, Sept. 25, 2 to 4:45 p.m., at Wequassett Resort, 2173 Route 28, Harwich.
more
sep20 Harwich
Explore Harwich as it was during the Civil War on a guided walking tour, Saturday, Oct. 4, beginning at 2 p.m. at Brooks Academy Museum, in Harwich Center. Civil War reenactor Brenda Collins will take visitors on a trip back in time to relive the war as it was experienced by residents of Harwich Center. Sponsored by the Harwich Historical Society, the one-hour tour begins at the museum, a former school dating to 1844, many of whose students enlisted to fight in the war. The tour includes stops along Parallel and Main streets, including the First Congregational Church and cemetery, where several Civil War soldiers are buried. This is the last tour of the museum's 2014 season. The cost is $4; $3 for members of the society. For more information, call 508-432-8089 or email the museum at harwichhistoricalsociety@verizon.net.
sep20
WCAI News Director Sean Corcoran hosts local and regional journalists to discuss the news of the week on the Cape, the Coast and the Islands. Joining Sean in our Woods Hole studio is Anne Brennan, digital editor of the Cape Cod Times; Tim Wood of the Cape Cod Chronicle; Sally Rose of the Provincetown Banner; Jim DeArruda of the New Bedford Standard Times; and Nelson Sigelman of the Martha's Vineyard Times.
Among the stories they talk about: changes are underway regarding how the Cape's two hospitals handle psychiatric cases; local activist groups are concerned about the monitoring of the Pilgrim Nuclear Power Station, as well as about security at the reactor; the state has backed off its demands that a local business owner stop maintaining a roadside display in Centerville; and Sandwich residents are concerned that a new gas pipeline will be installed and all the trees won't be replaced.
sep20
The final phases of the Sagamore Bridge painting project get underway on Monday as lane closures go back into effect.
One lane heading on Cape will be closed from 8 AM to 4:30 PM Monday through Friday. After Columbus Day, one lane in each direction will be closed, with that restriction lasting until late December. Closures could also be possible on weekends, if necessary.
sep20
Travel lane restrictions on the Sagamore Bridge will resume Monday, Sept. 22 at 8 a.m. as work continues on the $12.3 million painting project. Traffic will be restricted to one lane heading on-Cape from 8 a.m. to 4:40 p.m. while both lanes heading off-Cape will be open. All travel lanes will be open at night and on weekends. The schedule is expected to last three weeks. Begining Tuesday, Oct. 14, travel will be restricted to one lane in each direction from 8 a.m. to 4:30 p.m. and lane closures may be possible on weekends, if needed by the contractor to complete the work.