may01 Wellfleet
A townwide beach cleanup is scheduled for Saturday at 9 a.m. at Mayo Beach off Kendrick Avenue. The annual event is sponsored by the town Shellfish Advisory Board. Volunteers will meet at Mayo Beach and be assigned areas to collect shellfishing nets and other trash that has washed up along the shores of Wellfleet Harbor and Cape Cod Bay. A dumpster will be provided by the town Public Works Department. For information, email helmirwil@c4.net or bbrennes@wheatonma.edu.
may01 Wellfleet
On May 4, Wellfleet voters will be asked to approve several important ballot questions including Question 4, to replace Engine 94, a 25-year-old pumper, at a cost of $580,000. The town's existing fire suppression apparatus consists of two engines, one ladder truck, one tanker and a forestry unit. The engine we seek to replace has served the town well, but no longer meets performance and safety standards. In addition, the existing chassis and cab design does not allow for rehabilitation or reconstruction that would bring this vehicle to current National Fire Protection Association safety standards. Currently Wellfleet has the oldest fleet of fire apparatus on Cape Cod, and at least one of the four structural suppression trucks is regularly out of service for extended repairs and maintenance. Replacing Engine 94 has been deferred for the previous two years. I am requesting the support of Wellfleet voters on Question 4. Approval will fund a new attack engine with modern fire suppression capabilities and techniques that the current engine doesn't allow. This will enable us to better serve the community in a manner safer for our firefighters and with suppression techniques and equipment considered the industry standard. Wellfleet voters, please vote yes on Question 4.
may01 Wellfleet
Residents put off an effort to create an animal control bylaw that would have consolidated regulations that are already the responsibility of various town departments. Despite the fact that the rules exist elsewhere, the move to enact the bylaw prompted a negative reaction from a number of dog owners. Town Clerk Joseph Powers said the bylaw was created to bring the town into compliance with state laws. The vote on the dog bylaw and several other articles occurred on the second and final night of town meeting after the Times' deadline. Voters also rejected the transfer of a Paine Hollow Road property to the Housing Authority, a proposal that was recommended unanimously by the Board of Selectmen, Open Space Committee, Planning Board, Housing Authority and Local Housing Partnership, but unanimously rejected by the Finance Committee. Town meeting authorized the Board of Selectmen to petition the Legislature for special legislation authorizing the town to impose a room occupancy tax on vacation rentals. The vote did not create a room occupancy tax, but made it possible for the selectmen to petition for it in the future. If created, the tax would be capped at 5 percent.
may01 Wellfleet
For the second time, Wellfleet Town Meeting voters approved asking the state legislature to allow the town to levy a tax on people who rent their homes seasonally. The vote came last night on the second and final night of Wellfleet's Annual Town Meeting. Chairman of the Wellfleet Board of Selectmen Paul Pilcher said he is in favor of the initiative.
"The fact of the matter is, this is a multi-million dollar a year business. Back of the envelope calculations say this is a $10 million or more a year business and it's not taxed. It's also a little bit unfair to have everything riding on people paying property taxes and these people are renting their houses for sometimes up to $10,000 a week," he said. The article does not impose a tax but rather instructs the town to ask the state legislature to grant Wellfleet Town Meeting the authority to create a tax up to five percent on seasonally rented properties. Wellfleet Town Meeting voters were also the first on the Cape to vote in universal preschool this week. The initiative is an effort to attract more families to town. In the first night of Town Meeting on Monday night, voters approved a $100,000 override for the program. It still needs to be approved by voters at the town election on May 4. Pilcher looked at the vote as the most positive development on the first night of Town Meeting. "For me the most heartening aspect was the overwhelming support that the town gave for a tax override to fund universal access for preschool for four-year-olds," he said. There are currently about a dozen four-year-olds in town who could take advantage of the new preschool program, but Pilcher said if it ends up attracting more families to town, that would be a positive. "Frankly, if we start getting more and more children, that's going to be a very good thing. We have an elementary school that a couple years ago had around 150 children, that next year is going to have fewer than 100," Pilcher said. In the first night of Town Meeting, Wellfleet voters also said a loud "no" to a controversial petitioner's article to amend the town's noise bylaw. The change would have increased the current regulations to 24 hours a day. Pilcher said, one woman at town meeting said, jokingly, that would mean she would no longer be able to whistle as she walked down Main Street because it would be a bylaw violation. The bylaw change would have outlawed any noise heard from 50 feet away. Another controversial article that was defeated on the first night of Town Meeting was an article to purchase a three-quarter acre parcel on Drummer Cove. The article garnered heated debate but failed to get the necessary two-thirds majority needed to pass. Payment for the $450,000 parcel would have come from $200,000 out of the Community Preservation fun plus a state grant and money from a local land trust. Pilcher said some of those against the purchase felt Community Preservation funds could be better spent on affordable housing. "Wellfleet has more than enough open space for the time being," he said. In addition to the universal preschool initiative requiring a tax override, Town Meeting voters also approved the addition of a thirteenth police officer to the town's force. That will also require approval at the ballot. Pilcher said Wellfleet has a smaller police force than the neighboring towns of Truro and Eastham. Town Meeting also approved the town's $15 million dollar budget with one caveat. Town Meeting approved an amendment to take some money away from the town's economic development committee, an amendment submitted by a resident who felt the committee was not doing its job. Pilcher said selectmen will need to take a closer look at the actions of the committee.
may01 Wellfleet
Hi Jeff, the article in the Cape Cod Times improperly described me as the petitioner behind Article 46, the noise petition article. (see, Wellfleet voters pass bag ban, new fire truck approved). I was not the petitioner ...I merely spoke on the article as a registered voter with something to say. Would you kindly indicate that in your online posting. I would really appreciate it, because I had a different approach to the problem than the petition had. Thank You. Gail Ferguson.
may01 Wellfleet
In about a week, graduate student Mike Long will launch a two-year study that's expected to tell us a lot more than we know so far about the movements of the declining horseshoe crab population in Wellfleet Harbor.
The study, funded by the Massachusetts Environmental Trust (money that comes from buying those special license plates), will involve deploying about 20 receivers around the harbor and placing acoustic tags on 50 crabs. The data should provide a better idea of whether the Wellfleet crabs are a separate population from crabs in other embayments and should be given more protection.
Mike, who's pursuing his masters degree in environmental conservation at U-Mass Amherst, says the horseshoe Massachusetts Environmental Trustcrab is an ideal research topic for a conservation student."It's awesome to think how incredibly ancient this animal is and that it's still living its life pretty much as it always has," he says. Mike's newly arrived assistant is Colyer Woolston, an environmental studies major from Denver who graduated from Hamilton College last year.
may01 Wellfleet
Horseshoe crab eggs during spawning time at Delaware Bay are crucial to the northbound Red Knot which must add enough fat to survive the final leg of an eight thousand mile marathon to its Arctic breeding grounds.
In this month's Director's Message, Bob Prescott discusses how Cape Cod eventually could play a bigger role in the bird's spring migration.

Spring! I think we understand the concept, but it's something we rarely see on the Outer Cape. This year, it looked like it wasn't going to be even a remote possibility. Having said that, the first of the salamanders have migrated and piping plovers and osprey are returning. Water temperatures, however, are still cold and I think it will be a while before the first of the horseshoe crabs come in with the tides and begin to lay their eggs-an event that has been going on since the glacier created Cape Cod 25,000 years ago and sea levels started to rise.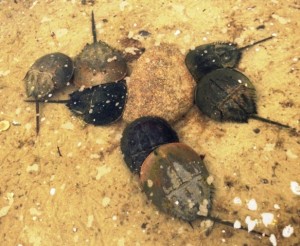 Breeding horseshoe crabs are far more plentiful in Orleans than Wellfleet

In Wellfleet, we have little reason to think there will be any noticeable increase in the horseshoe crab population. They're not going to go extinct, but they show no signs of recovering. There is one bright spot in some Massachusetts Department of Marine Fisheries data from a survey last fall that showed a slight upward tick. Maybe we'll see more crabs once spawning begins in May and June. There is a new player in the horseshoe crab story. The Red Knot, whose dependence on horseshoe crab eggs is well known in New Jersey and the mid-Atlantic but largely undocumented in Massachusetts, was recently listed as a federally-protected threatened species.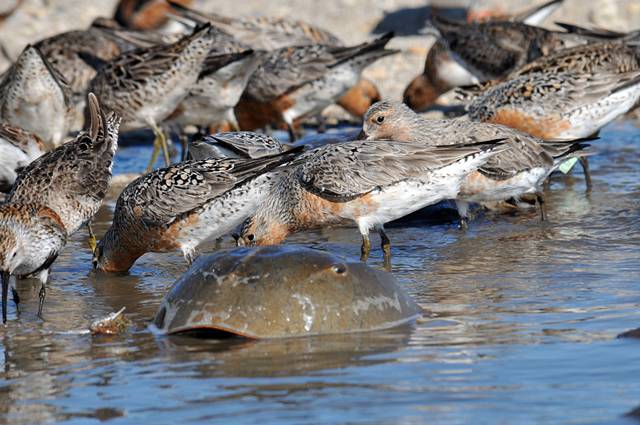 Red Knots feeding on horseshoe crab eggs at Delaware Bay

The horseshoe crab and Red Knot connection may have been ruptured in the 1800s and only now are we seeing them re-connect. We might be seeing more spring Red Knots as they feed on horseshoe crab eggs at Nauset, South Beach, and Monomoy where horseshoe crabs are protected and populations of crabs are the highest levels recorded in the state. This is pure speculation on my part, but it has been percolating for a while as more information has come in from multiple historical sources. In 1850, there was a report from a market hunter (they used to shoot lots of shorebirds for food for Boston residents, but that's another story) of over 25,000 Red Knots on Billingsgate Island. They wouldn't have been there if there weren't either horseshoe crab eggs in the spring or tiny blue mussels around the remaining oyster banks. This is truly a fascinating story that is just beginning to be teased out. We hunted the Red Knot and other shorebirds, like the Eskimo Curlew, to the edge of extinction and harvested horseshoe crabs for fertilizer and pig food in the 1800s and early 1900s. Those are facts. Then we wonder why the Red Knot no longer feeds in Massachusetts during its spring migration. As I said, maybe we are seeing the restoration of this ancient connection that was lost over 150 years ago.
may01

Wellfleet-Eastham-Truro Provincetown-Orleans-Chatham
A new report released by the National Park Service says that the Cape Cod National Seashore supported over 2,400 jobs in the local area and had an economic benefit exceeding $232 million to the local economy in 2014. The report also stated that there were over 4 million visitors to the seashore last year, and that visitors spent over $185 million in communities near the park.
"The primary responsibility of Cape Cod National Seashore is to protect resources and serve visitors," said Seashore Superintendent George Price. "However we also recognize that we are tourism partners in both the local and the larger region. Visitors to the National Seashore have the opportunity to visit all six towns and a wide variety of businesses on the Outer Cape, as well as explore the whole Cape and Islands. We appreciate the partnership and support of the travel and tourism industry, the Cape Cod Chamber of Commerce, the chambers of commerce of each of the six towns, and the Provincetown Business Guild. We are glad to be able to contribute by helping to sustain local communities." The visitor spending analysis was conducted by the U.S. Geological Survey and National Park Service. The report shows $15.7 billion of direct spending by 292.8 million park visitors in communities within 60 miles of a national park. This spending supported 277,000 jobs nationally, with 235,600 of those jobs found in the gateway communities. The cumulative benefit to the U.S. economy was $29.7 billion. According to the 2014 report, most park visitor spending was for lodging (30.6 percent) followed by food and beverages (20.3 percent), gas and oil (11.9 percent), admissions and fees (10.2 percent) and souvenirs (9.9 percent). To download the report, visit www.nature.nps.gov/socialscience/economics.cfm.
may01 Wellfleet
On Saturday, May 9th, 2015: Antonio Carlos Jobim (1927 - 1994) was a Brazilian composer, singer, pianist, guitarist and was a primary force behind the creation of the boss nova.
He is best known as the composer of The Girl from Ipanema, one of the most recorded songs of all time, and his other songs include: Agua de Beber, Chega de Saudade (No More Blues), Corcovado (Quiet Nights), How Insensitive, One Note Samba, Wave, and many more! Debra mann (piano & vocals) from Providence will perform a concert of Jobim with Ron Ormsby (bass) who performs in Brazil, and Bart Weisman (drums) who performed with Keter Betts who helped bring Bossa Nova & Samba into Jazz in the 1960's.
more
may01 Eastham
The Annual Eastham Town Meeting will be held on
May 4th this year in the Nauset Regional High School auditorium. This year the warrant has several articles that you should find interesting.
They are...
Article 7 - Rooms Tax - to impose a tax on summer rental homes. This will require the state legislature to approve it prior to any collection of taxes. This could affect 2016 rentals, not 2015. We've seen (and turned down) this article before. The tax would be 4%.
Article 8 - Municipal Water - this article will fund the remainder of the municipal water system. So-called Phase 1 was funded last year. The article appropriates $85M for the remainder of the system. Needs a 2/3 vote.
Article 16 - Private Road Plowing - approves the plowing of some private roads in Town. Roads will need to 'qualify' to be eligible for plowing.
Article 17 - Hay Rd - this article accepts a portion of Hay Rd as a Town road, the segment from Gov. Prence to Deacon Paine.
Article 28 - Vehicles on Beaches - the article is needed to make progress on the crazy discussions about driving 4-wheel vehicles on the Eastham portion of Nauset Spit. This has been an on-going dispute between Eastham and Orleans concerning a section of beach north of Orleans' Nauset Beach and south of Coast Guard Beach. It's not clear that this article, if passed, will resolve the dispute, but it should help.
Article 30 - Marijuana - this article bans the public consumption of marijuana in Eastham and establishes first offense and multiple offence fines.
The warrant, all 36 pages, is online on the Eastham Town website,.. Here.
may01 Eastham
Henry Beston's famous Outermost House in Eastham was washed away during the Blizzard of 1978, but a number of rare artifacts from the author's iconic Cape Cod cottage will be on display this summer. The "Outermost House at the Schoolhouse" exhibit, which is a joint effort between the Eastham Historical Society and the Henry Beston Society, will be showcased at the Historical Society's 1869 Schoolhouse Museum.
Both non-profit organizations have built collections of artifacts from Beston's seaside shanty, which was built in 1925. Beston's classic book "The Outermost House" chronicled his observations of the four seasons on Eastham's outer beach and has been cited as a reason for the Cape's outer beach to be preserved as a National Seashore. Some of the artifacts that will be on display include Beston's walking stick, kerosene lamp, ink well, kitchen utensils and multiple rare copies of "The Outermost House" along with many pieces of the home. The artifacts will be on display at the Schoolhouse Museum on Schoolhouse Road in Eastham from the last week of June through early September.
may01 Truro
A discussion at Tuesday's annual town meeting about allowing year-round occupancy of condominiums has given proponents a better understanding of the concerns of townspeople, Board of Selectmen Chairman Jay Coburn said. But the proposed zoning bylaw amendment that defined a special permit procedure for existing condominiums to be occupied year-round failed Tuesday night with 78 in favor and 133 against the measure. As it stands now, a zoning bylaw passed in the early 1980s prohibits anyone from living year-round in a unit that was converted from a cottage or cabin colony, motel or hotel into a condominium, although one year-round unit is allowed per complex for a property manager. The restriction is in effect from December through February. There are 515 condos under seasonal restrictions in Truro, according to Town Administrator Rae Ann Palmer. "I thought last night's debate was good," Coburn said on Wednesday. "I think it got the town talking about some important issues around affordability and sustainability of the community. I think the next steps are to look at some of the density issues, and some of the potential water quality and environmental issues and get more of the facts out on the table." Supporters of the amendment hope to encourage more lower-priced year-round living units in town for families and seniors. "I think there are a lot of people who are open to it but are just concerned about fueling development and having a harmful effect on the environment," Coburn said. Voters recognized the fact that the proposal was a "scary proposition," zoning amendment opponent Paul Kiernan said on Wednesday. The proposal would have boosted the value of the existing condo owners' properties and invited year-round occupancy by families, which would greatly expand the school and therefore increase property taxes, Kiernan said. "Such a bylaw would be opening the door to disaster," he said. In other action on Tuesday, voters rejected a zoning bylaw change proposed by the Planning Board to alter the definition of 'street.' Several town charter amendments were approved, all of which need to be confirmed at the 2016 annual town election: The term "town administrator" was changed to "town manager"; the town administrator is allowed to approve contracts for amounts up to $100,000, and the Board of Selectmen is allowed to approve contracts for amounts $100,000 and greater; the Board of Selectmen is allowed to delegate some licensing authority to the licensing agent; the Board of Selectmen shall regularly provide direction to and an annual performance review of the town administrator; the appointing authority for public safety personnel except for the police chief and the fire chief was shifted from the Board of Selectmen to the town administrator; the administrative reporting responsibility for the police chief and fire chief was shifted from the Board of Selectmen to the town administrator, and the selectmen will retain policy-making authority.
may01 Truro
A house with an oversized history in Truro has a new owner. The deed for the 8,333-square foot house at 27 Stephens Way, known as the Kline house, was transferred on Feb. 26 to Stephens Way Nominee Trust for $1, with attorney Duane Landreth as trustee, according to county and town records. Landreth and the new owner's attorney, Benjamin Zehnder of Orleans, declined to name the new owner.
The property with the new three-bedroom house and a second, older structure is assessed at $4.5 million. The town currently has a tear-down order and a no-occupancy order on the house, based on litigation that began in 2008. The state Appeals Court ruled the building permits invalid in 2011. Currently, there is a lawsuit by the Kline family against the town pending in state Appeals Court, and two related lawsuits on hold in state Land Court. Attorney Diane Tillotson, who represents the Kline family, did not return a call Wednesday for comment. Donald Kline bought the property for $6.75 million under the auspices of Stephens Way Nominee Trust, according to town and court records. Donald Kline died in 2009, and the property was transferred to Andrea Kline and then to Andrea Kline QPR Trust. In the last two weeks, the town received a letter from Zehnder notifying officials of the most recent change of ownership and seeking a meeting with the Board of Selectmen, board chairman Jay Coburn said. "I will say, for myself, that this has never been about the Klines," Coburn said, speaking as one member of the board. "I don't know that the ownership change changes anything. It's a case before a judge. I think we will try to work with counsel to try to close the case." As of December, the town had spent $185,000 on litigation related to the house, according to town records. The selectmen have not discussed the letter from Zehnder or made any determination about how to respond, Coburn said. At the Truro annual town meeting Tuesday night, a new set of requirements for the width of a street was proposed by the town planning board, spawned by the court proceedings related to the Kline house, according to comments made by the planning board. Zehnder said Wednesday that he distributed a flier at town meeting in favor of the new requirements, based on the belief that they could have helped bring the Kline lot into conformity with current zoning law, an element of the state Appeals Court ruling in 2011. Voters rejected the measure.
may01 Truro-Provincetown
On today's CapeCast: We head into the remote Provincelands of North Truro and search the sandy canyons for the perfect dune.
may01 Provincetown
A humpback whale entangled in rope and in poor condition was freed Sunday afternoon by an entanglement team from the Center for Coastal Studies.
The whale was reported to the center by commercial fishermen. The center's entanglement team, with the assistance from the federal Northeast Fisheries Science Center aerial survey team out of Woods Hole, located the entangled whale off Race Point, according to a press statement from the Center for Coastal Studies. The humpback had an extremely tight, very heavy rope around its girth that the team was able to cut after slowing the whale with buoys and using a 30-foot pole with a knife attached to make the cut, according to the statement. The rope was about 1Ż inches in diameter. Although the whale was freed, the entanglement team was cautiously optimistic about its survival because of its low weight and numerous, active wounds, likely caused by the rope shifting as the whale lost weight over time. Scientists at the center are working on identifying the whale and will monitor its condition over time, if possible. Mariners are urged to report any entangled whales, sea turtles and other marine animals to 800-900-3622 or to the U.S. Coast Guard, and then to stay with the animal, at a safe distance, until a trained entanglement team arrives. The coastal studies center's disentanglement activities are authorized under a federal permit. Humpback whales off Cape Cod are currently protected under the federal Endangered Species Act and the federal Marine Mammal Act, although the National Oceanic and Atmospheric Administration is considering delisting some populations of humpbacks from the Endangered Species Act. For information about the proposed delisting and to make public comment, visit fisheries.noaa.gov/pr/species/mammals/whales/humpback-whale.html. In a study done in the summers of 1992 and 1993 by international researchers, the coastal studies center's Jooke Robbins said the West Indies population segment of humpback whales, which passes through Cape waters, was estimated at about 11,500 whales. Last week, NOAA said the West Indies population had grown to about 12,000 whales and would be one of the populations taken off the list. Last week, the center and the International Whaling Commission hosted a workshop in Provincetown on best practices during entanglement response.
may01 Provincetown
A happy ending to an intense search in Provincetown Thursday afternoon.
It all started with a report of a missing 66-year-old man at Herring Cove Beach. Provincetown Police, U.S. Park Police and the U.S. Coast Guard responded to the scene. A Coast Guard helicopter crisscrossed the area while a vessel searched the waters.
Park Police went over sand looking for the man. A couple of hours later as a Barnstable County Sheriff's Deputy prepared to deploy a K-9 tracking dog, the man returned to his vehicle in the parking lot. EMTs were called and the man was taken to Cape Cod Hospital for evaluation.
may01 Provincetown
The U.S. Coast Guard and members of the Provincetown Police Department have been searching for a person who was first reported to be in the water at 4:30 p.m. today, according to Coast Guard Petty Officer MyeongHi Clegg. After the call came in, Coast Guard Station Provincetown dispatched a 45-foot vessel. A helicopter from Air Station Cape Cod is also searching the area, Clegg said. Clegg said she didn't immediately know where or how far off the coast that the person was spotted. Provincetown police were also unavailable to comment on the situation.
may01 Provincetown
A week-long workshop in Provincetown last week brought teams from around the world together to review new techniques in whale entanglement rescues. Cape Cod's Center for Coastal Studies partnered with the International Whaling Commission to analyze rescue research data and study successful rescues in global waters in the first official meeting of the International Whaling Commission's Global Whale Entanglement Response Network.
The conference was hailed a success after a team from South Africa rescued a nearby entangled humpback. Concern over the rising number of reported entanglements worldwide, the risk posed to humans attempting to release entangled whales, and the prolonged suffering caused to these animals, led the International Whaling Commission to develop an entanglement response capacity-building program in 2012. The program, which grew out of a joint initiative on the whale entanglement issue led by Australia, Norway and the USA, is a partnership with the Center for Coastal Studies. Richard Delaney, President and CEO of the Center for Coastal Studies, said, "The loss of whales through entanglement has been a priority concern for researchers and responders at the Center for Coastal Studies since its first rescue in local waters in 1984, and we are thrilled to partner with the IWC and share our long time expertise with others from around the world." Since 2012, approximately 500 trainees from 22 countries have received training from Center for Coastal Studies responders and other expert members of the International Whaling Commission's expert advisory group, at the request of the host countries. The 26 workshop participants, who hailed from 12 countries, reviewed new tools and techniques, and re-affirmed the current best practices, also known as consensus principles and guidelines, for maximizing human safety and the successful release of entangled large whales. They also accepted reports from several of the new networks that trained with Center for Coastal Studies and International Whaling Commission since the program began, including Argentina, Brazil, Mexico, Panama and the United Kingdom. In particular, the workshop participants praised Mexico's tremendous efforts to build a National response network called RABEN, which now has 180 trained personnel in 15 teams. They have released 31 whales. Astrid Frisch, the coordinator of RABEN, who interned at the Center for Coastal Studies and has remained in close contact with the CCS Marine Animal Entanglement Response team said, "We want to bring a group [of some key team members] here to Provincetown for a more intensive apprenticeship. Some questions are only answered through experience. So we need the super trainers, those with great experience, who can speak to these things. Each event is different, and we are always learning, so the training is never ending." Milton Marcondes, a responder from Brazil, added, "I came [to the Center for Coastal Studies] for one month. [Coming for the apprenticeship] was a very good opportunity to go beyond the theoretical, to understand how to do diagnostic work using telemetry and health assessments to understand much better how whales became captured in gear. I want to work more with our fishermen, and take the next step to organize our rescue team." The workshop also re-affirmed its commitment to collecting information from entanglement responses; these data will ultimately allow researchers to determine methods to prevent entanglements. Participants examined new tools for documentation and provided advice to the commission on the development of a global entanglement database, and made recommendations for an upcoming International workshop on the prevention of large whale entanglement. Besides the release of a humpback whale by the South African team during the workshop, there were consultations concerning an entangled sperm whale in the Caribbean and the release of a young humpback whale by the Center for Coastal Studies team shortly after the workshop concluded.
may01 Provincetown
The Cape Cod National Seashore is planning a special day for bird lovers. The Beech Forest Birding Bonanza will celebrate International Migratory Bird Day Saturday, May 9.
The Beech Forest Trail in Provincetown is a popular site for birders, and currently hosts a variety of migrating songbirds stopping for rest and feed before continuing their journey northward. This year's theme is "Restore Habitat, Restore Birds." National Seashore staff will offer free sessions on identifying birds by their calls, bird-related games, and some field identification tips. The sessions will also touch on the ecological value of the forest's habitat. The bonanza will run from 9:30 to 11:30 am at the trail off Route 6 at 36 Race Point Road.
may01 Provincetown
Tickets are officially on sale for our 2015 season. Space is limited at each event so get yours soon!
Cheating at Scrabble Without the Internet: Stephin Merritt (of The Magnetic Fields) and Rives in Conversation, Friday, June 5, 7:00 pm. Two poets collide when Stephin Merritt and Rives visit Twenty Summers for a conversation about poetry, language, music, and Scrabble. Rives was previously the host of "Ironic Iconic America" on Bravo and has spoken several times at the TED Conference. He is also the curator of the Museum of Four in the Morning, an online collection of cultural references to that time of day. Stephin Merritt, better known as the frontman of the indie rock band the Magnetic Fields, is the author of 101 Two-Letter Words, a book of poems about each of the two-character words allowed in Scrabble. The Los Angeles Times called the book "delightfully whimsical," and Salon said it's "irresistible." Join us to learn why and, possibly, to improve your Scrabble game.

Buy Tickets: $20.
may01 Provincetown
Eons before the inception of the Provincetown Players 100 years ago, productions have come and gone. Actors, directors and stage crews brighten the boards with magical moments that burn bright and disappear like fireflies on a summer night. That's the nature of theater - a moment shared, blurred with time (though viscerally retained) and always aimed at sparking imaginations in some subtle or profound way.
At the Provincetown Theater, one thing has remained constant for at least the past 15 years: The Provincetown Theater's Playwright's Lab. Since it began in 1999 its members gather every other Sunday night to read and discuss each other's work, shape them into plays and produce countless magical moments. The Theater's 2015 Spring Playwright's Festival, which opens Friday, May 1, and runs through May 10 (with an audience "talkback" after opening night's show), pays homage to the lab members of these past 15 years. What's more, each of the six short plays in this year's spring festival, along with those by 22 other lab members, is also being captured in the new anthology "Lab Results: Selections from the Provincetown Theater's Playwrights' Lab, 1999-2014," soon to be released by the Provincetown Public Press of the Provincetown Library. "Two years ago, Library Director Matt Clark [then the library's marketing and programming director and founder of the Press] approached the Lab about putting together an e-book of plays by our playwrights," says festival coordinator Paul Pilcher. "Our 15th anniversary seemed like a good target date to have the book ready," Pilcher says, "and so we decided to make it the theme for this year's festival," which roughly corresponds with the book's pub date. Proceeds from the festival along with donations may also support a paperback edition. The book, says Pilcher, will be available for free through the theater and library's websites (provincetowntheater.org and provincetownlibrary.org). Pilcher says the playwrights selected for this year's fest were chosen "somewhat arbitrarily" from "currently participating Lab members" but notes that the festival as a whole honors all members who have participated over the years. Each of the six plays on this year's program run 10-15 minutes, Pilcher says. "Most," he adds, "have some comic elements and all have a fairly serious underlying message. This is not farce night but it will be fun." Because each playwright chose a play they'd done in a previous festival, Pilcher says, each writer most likely feels their selection best reflects what they want to express as an artist.
more
may01 Provincetown
Mark Cortale, Producing Artistic Director of The Art House in Provincetown, MA was thrilled to announce today that Sarah Jessica Parker will join his inaugural Broadway @ Town Hall series featuring Sirius XM radio's Seth Rudetsky as pianist and host for one night only on August 17th. Matthew Broderick is a two-time Tony Award winner for Neil Simon's "Brighton Beach Memoirs" and for "How to Succeed in Business Without Really Trying."
Sarah Jessica Parker won four Golden Globe Awards, three SAG Awards and two Emmy Awards as Carrie Bradshaw on the long-running HBO series "Sex and the City". She reprised her role and served as a producer of the two screen adaptations of the hit series. Broderick and Parker have not appeared together on stage for nearly two decades since the Broadway revival of "How To Succeed..." They will make their Provincetown debut with Rudetsky for two performances to include great songs and hilarious conversation on the Monday of Carnival Week, August 17th at 6:00PM and 8:30PM. For Tickets visit www.ptownarthouse.com or call 800-838-3006. Matthew Broderick made his debut at 17 opposite his father James Broderick in "On Valentine's Day," and won an Outer Critic's Circle Award as Best Supporting Actor in Harvey Fierstein's "Torch Song Trilogy." He has also starred on Broadway in the Neil Simon comedies "Biloxi Blues" and "The Odd Couple," as well as the recent hit "Nice Work if You Can Get It" and the record-breaking production of "The Producers" (with frequent co-star Nathan Lane), for which he was nominated for a Tony Award and a Drama Desk Award. His film career includes the critically acclaimed "You Can Count on Me" with Laura Linney and the Independent Spirit Award winner "Election" with Reese Witherspoon. He has starred in the blockbusters "Ferris Bueller's Day Off," "Glory," "War Games," as the adult voice of Simba in Disney's "The Lion King," and in the films "Tower Heist," "Margaret," "Bee Movie," "Then She Found Me," "Deck the Halls," "The Last Shot," "The Stepford Wives," "Inspector Gadget," "Godzilla," "Addicted to Love," "The Cable Guy," "Mrs. Parker and the Vicious Circle," "The Night We Never Met," "The Freshman," "Family Business," and "Max Dugan Returns." He will next be seen on screen in director Neil LaBute's "Dirty Weekend" with Alice Eve, and "The Untitled Warren Beatty Project" opposite Warren Beatty, Annette Bening and Lily Collins.
Sarah Jessica Parker's additional films include "I Don't Know How She Does It," "Did You Hear About The Morgans?," "Smart People," "Failure to Launch," "The Family Stone," "State and Main," "Mars Attacks!," "Ed Wood," "The First Wives Club," "Miami Rhapsody," "Honeymoon in Vegas," "Flight of the Navigator," "Footloose," and most recently in "All Roads Lead to Rome." Parker will return to HBO in the comedy "Divorce" as star and executive producer, and serves as executive producer for the AOL Originals documentary series "city.ballet" which showcases the lives of dancers, choreographers, and other artists within the New York City Ballet. She made her Broadway debut as an 11-year-old in the revival of "The Innocents," and then starred in the title role of the Broadway musical "Annie" in 1979. She has also been seen in leading roles on stage in the Off-Broadway play "Sylvia," and on Broadway with her then future husband Matthew Broderick in "How to Succeed in Business Without Really Trying," in the Tony-nominated "Once Upon a Mattress," and most recently starred opposite Blythe Danner in Amanda Peet's playwriting debut, "The Commons of Pensacola" at the Manhattan Theatre Club. Last year Parker launched the fashion label that is her namesake, SJP, a collection of shoes, handbags and trench coats designed by Parker with George Malkemus III and carried by Nordstrom, Neiman Marcus online and Zappos Couture. She also serves as a Vice-Chairman of the Board of Directors for the New York City Ballet, is a UNICEF ambassador, and was elected in 2009 by the Obama administration to be a member of the President's Committee on the Arts and Humanities.
more
may01 Provincetown
Provincetown, MA, the oldest continuous arts colony in the country, is also heralded as the birthplace of the Provincetown Players, whose innovations shaped modern American drama. In July 1915, new ideas about politics, feminism, arts, psychology, and theater came to artistic fruition in Provincetown with the creation of a non-commercial, experimental theater, led by Greenwich Village writers, painters and philosophers who traveled to the tip of Cape Cod to write, direct and act in short plays still recognized for their witty, perceptive social commentary. To celebrate the 100th anniversary of this widely influential theatrical milestone, the founding of the Provincetown Players establishing Provincetown as a center of modernism in the arts, and setting the stage for playwrights Eugene O'Neill and Susan Glaspell, the Provincetown Theater will host THE PROVINCETOWN PLAYERS CENTENNIAL CELEBRATION in July 2015. Over three weekends, Thursdays through Saturdays, July second -- July eighteenth, the Provincetown Theater will present "THEN AND NOW," with four productions each evening, of short plays written during the Provincetown Players' formative years: SUPPRESSED DESIRES by George Cram Cook and Susan Glaspell, produced by the Wellfleet Harbor Actors Theater and directed by Jeffry George: CONSTANCY by Neith Boyce, produced by the Provincetown Theater and directed by Brian Carlson; TRIFLES by Susan Glaspell, produced by the Payomet Performing Arts Center and directed by Judith Israel; and THE SNIPER by Eugene O'Neill, produced by CETK Arts and directed by Margaret Van Sant. Saturday, July 11th, the Provincetown Theater will host the Eugene O'Neill Society and the Susan Glaspell Society for a day of presentations in the theater. The plays will be presented at 6PM, followed by a Humanities Panel at 8PM with O'Neill and Glaspell scholars Robert M. Dowling, Linda Ben-Zvi, and Jeffrey Kennedy, moderated by Susan Rand Brown. All events are open to the public. Sunday, July 12th a Breakfast Brunch will honor the Societies at 11:00AM, followed by a book talk by Robert M. Dowling, author of "Eugene O'Neill: A Life in Four Acts." Dowling will be available to sign copies of the biography, named a Los Angeles Times Book Prize finalist in biography for 2014. Tickets can be purchased on the theater website: www.provincetowntheater.org or by calling 508-487-7487.
may01 Provincetown
You may have heard Anne Stott strumming her guitar on Commercial Street in Provincetown-her strong, sweet vocals soaring over a cacophonous crowd on a hot summer day. Or you may have seen her interviewing fellow street musicians on her Provincetown Community Television program "Word on the Street," maybe playing along with them on guitar or piano. But if you've never heard what this singer-songwriter can do in a studio, you've got a good thing coming your way with her third and just-released album "Love Never Dies."
For starters, she produced it with Jon Evans of Orleans, New York City and San Francisco. He also plays on tours with Tori Amos, Sarah McLachlan and Linda Perry. And in Evans' work on Stott's album you can hear shades of Amos' out-on-a-limb poetry, McLachlan's emotional ballads and Perry's ballsy rock anthems (think "What's Up," which Perry wrote as lead singer for 4 Non Blondes). There's also local talent backing Stott up in the studio. Like Bruce Abbott on sax and flute, and vocalists Cerise Bynoe, Sarah MacDonnell, Chev Hardy, Ellen Rousseau and Darlene Van Alstyne. But as solid as this album's production may be, it's Stott's voice-colored with cool confidence-and her lyrics that command every track. There's a spot-on unity between her vocals and all that Evans brings to support them. "Jon Evans was the exact right person to co-produce 'Love Never Dies' with me," Stott tells the Banner. "Between his guidance as a producer and his killer instrumental work on guitar and bass, his presence is huge." "He embraced all my quirky ideas and minor-key moodiness," she says. "Because I felt like he understood what the album was about, I could trust him when he said something wasn't right or we should try a sound or arrangement that I wouldn't have thought of. And then we just had a lot of fun." "And Jon's the one who brought in Matthias Bossi to play drums," she adds. "Matthias brings incredible power and confidence to the drums without ever being bombastic or obvious. You can hear so much musicality in his drumming and I am deeply grateful to have his work on [this album.]" As for the album's musical influences, Stott credits '70s and '80s rock and alternative pop, classical piano, Indian chanting and "righteous poet-rockers."
more
may01 Orleans
The Lower-Outer Cape Sea Scouts, Boy Scouts of America, in conjunction with Learning for Life, will hold an open house Saturday to recruit members for the Sea Scouts and Explorer Club. The open house will be from 10 a.m. to 4 p.m. at Sea Scout Ship 72's "Landship" at 46 Beach Road in East Orleans. Activities such as sail handling, navigating, boat safety and oar handling and some of the organization's vessels will be available. The Explorer Club runs from ages 11 through 13 and Sea Scouts is for ages 14 to 20. More information is available at the website, www.seascoutship72.org.
may01 Orleans
A couple of things that aren't fishing but affect many fisherman. One is the new over-sand/plover remediation 4-wheel drive accommodation plan at Nauset Beach. For years now, large swaths of the outer beach have been closed to protect fledgling piping plovers so that they may hatch and grow in peace until they can fly away to wherever it is plovers go. The off-road ban has been a thorn in the side of the recreational 4x4 set, who saw the beach closed for long periods-80 days last year. That's almost a whole summer right there. A new plan, years in the making, spurred by the town of Orleans, has finally yielded results. With several notable compromises, vehicles will now be allowed to drive out to the outer beach all summer. The plan, technically a Habitat Conservation Permit, had to be signed off at both the state and federal levels, as plovers have been federally protected under the Endangered Species Act since 1985. The feds got back to Orleans last week with the new regulations that open the beach. The beach will be accessible only four hours per day, with a two-hour period in the morning and one in late afternoon. Vehicles, likely in convoys, will be guided by a ranger on foot, who will watch for small plovers, who like to get down and nestle in little coves in the sand-exactly like the ones left by a vehicle. Young plovers can't fly yet. So the place they choose to hide is actually the most dangerous for them. With the new regulations, beach access should be every day this summer instead of long closures, which were frustrating to many as the expensive over-sand permits were not discounted or refunded during the closures.
more
may01 Orleans
On today's CapeCast: Sit back and enjoy a visit to Nauset Beach in Orleans, one of the signature destinations on all of Cape Cod!
may01 Orleans
The Orleans Chamber of Commerce and SCORE presented the SCORE Build A Better Mousetrap Award to chamber member The Lost Dog Pub of Orleans. The award honors companies that survive the critical first five years and appear to be headed for long-term success. Jane and Andy Murphy have owned and operated The Lost Dog Pub in East Dennis since December, 2001. In 2009 they had an opportunity to open a second location in Orleans, in the historic building that was once the original Howard Johnson's franchise. By continuing with their combination of tried and true pub favorites, Cape Cod cuisine, and the lively night time atmosphere that has proven success at their East Dennis location, The Lost Dog Pub has become a go to, year-round member of the Orleans restaurant community, chamber staff said. Now entering their seventh summer with many of the staff who have been with them from the start, The Lost Dog Pub in Orleans is in a position to continue to prosper for many years to come.
may01 Brewster
In the mid-1980s, a group of residents planted hundreds of daffodils along Route 6A in Brewster to mark the beginning of spring. That was the start of Brewster in Bloom, now, in its 29th year, a three-day festival organized to celebrate spring and bring thousands of residents and visitors together to enjoy events all over town, many of which are free.
This year's festival, happening Friday through Sunday, will include a wide variety of activities related to art, sports and just having fun. While proceeds from the first festival funded the construction of the bandstand at Drummer Boy Park, money raised since benefits the Elder Brewster Scholarship Fund. Over the years, that fund has provided more than $54,000 to help Brewster students further their education. Among the choices on the weekend's schedule, hosted by the town and the Brewster Chamber of Commerce:
More than 90 vendors will display their wares at a two-day Juried Fine Arts and Crafts Show at the Cape Cod Sea Camps. Hours will be 10 a.m. to 5 p.m Saturday and 10 a.m. to 4 p.m. Sunday at the camps at 3057 Main St. Admission and parking are free.
The Cape Cod 5 Bloom Run on Saturday each year attracts 400 runners, heading out at 10 a.m. from the Brewster Inn and Chowder House, 1993 Main St. Registration opens at 8:30 a.m.
The Kid Fest will offer family-friendly activities at Drummer Boy Park, 773 Main St. Hours are 10 a.m. to 3 p.m. Saturday, with town youth groups hosting the fun.
Area golfers will compete for prizes in a "Closest to the Pin" contest from 7:30 a.m. to 1:30 p.m. Friday through Sunday at Captain's Golf Course on Freeman's Way.
The Brewster Inn/Woodshed Bloomin' Parade will conclude the weekend Sunday, with a theme of "Honey Bee Good!" honoring the important role bees have in local agriculture. The parade starts at 1 p.m. on Underpass Road, heading west on Main Street to Swamp Road.
The fourth annual Antiques & Arts Excursion is a weekend-long self-guided tour of Brewster's galleries.
The Brewster Band's free concert at 7 p.m. Friday at the Brewster Baptist Church will open its summer season. Free-will donations will be accepted to support the band's future music programs. Under conductor John E. New, Friday's program will include two compositions by Leroy Anderson ("The Typewriter" and "Trumpeters Lullaby"); music from "The Phantom of the Opera," "The Lion King," and "The Wizard of Oz"; and the big-band music of Benny Goodman.
The Rev. Don Beaudreault on piano, with Kareem Sanjaghi on drums and Laird Boles on bass, will perform a jazz concert at 7:30 p.m. Saturday at First Parish Brewster Unitarian Universalist Church. All proceeds from the concert, sponsored by the Social Justice Committee of First Parish, will be donated to The Faith Neighborhood Kitchen. The program will include Dixieland jazz, show tunes, blues, sophisticated jazz and standards. Tickets: 508-896-5577.
There will be a Historic Inns of Brewster open house from 2 to 4 p.m. Sunday at Brewster by the Sea Inn & Spa, Candleberry Inn on Cape Cod, Captain Freeman Inn, Old Manse Inn and Sea Meadow Inn. Tickets are $10 per person and include admission to all five; proceeds benefit the scholarship fund. Refreshments will be served at each location. Tickets are available in advance at the Brewster Chamber of Commerce, or at the door of each inn. Maps are provided. Information: Brewster Chamber of Commerce at 508-896-3500.
Information and entry forms: www.BrewsterBlooms.com or www.brewster-capecod.com/brewsterblooms.
may01 Chatham
Richard Ryder, a 10th generation Chatham native and a grandson of a Life-Saving Service surfman, will present "Cape Cod Life-Saving Stations" at the Chatham Historical Society's Atwood House Museum on Sunday, May 10, 2 p.m. Ryder is an expert in the history of life saving on the Cape. He is the author of the book, "Sea Sentinel," about the Old Harbor Life Saving Station.
Every so often, a social media post featuring "the Worst Jobs" graces my screen, showcasing many horrible modern-day professions that you or I would never dream of working in (OK, maybe we would). However, turn back the clock a century or so, and a certain occupation of the Outer Beach would undoubtedly make its way on to that esteemed list. There's no question that "surfman" would be front and center. The surfmen patrolled the Outer Beach of Cape Cod beginning in 1872, as part of the U.S. Life-Saving Service, and then as part of the Coast Guard after the Life-Saving Service and the Revenue Cutter Service were folded together in 1915. As Henry Beston wrote in a 1923 article, "The Wardens of Cape Cod," for the World's Work Magazine, "It is the task of the surfmen to warn vessels standing into danger, to rescue them and their crews from positions of peril, to furnish fuel and food and water to ships in distress, and even, should occasion arise, to navigate a ship into the nearest port." A few months back, novelist William Martin ("Cape Cod," "Back Bay") told me that the Outer Cape was "one of the great graveyards of ships." "Somebody once said that if you could raise all the ships that have been sunk or run aground off the bars off of the Outer Beach, you could walk from Provincetown to Chatham without getting your feet wet, walking from ship to ship," Martin said. "When those ships would hit a bar, run aground, in the dark, in a storm, on a running tide, with a powerful Northeast wind blowing in, they would suddenly become death traps for the men who were aboard them, and for the men who would have to go out and rescue them." A surfman was typically a Cape Cod native, and a skilled boatsman. While they often worked on drills and other necessary tasks during the daylight hours, it was during the night patrols where the job became more treacherous. At dusk, a lantern-laden surfman was sent out either to the north or south, where he would meet up with another station's surfman after walking for about four and a half miles. For instance, a Nauset station surfman would meet up with the man from Cahoon Hollow to the north. High tides, particularly along the glacial cliffs, could leave a surfman with no where to run. The elements weren't the only hazard out there - during the 1920s, the Coast Guards were often on the lookout for rum runners, who were usually well-armed.
more
may01 Chatham
This town takes its maritime heritage to heart. It supports the fishing fleet and is spending hundreds of millions of dollars to address wastewater contamination in coastal waters. But having clean water and good fishing has few tangible benefits unless you have access to the water, and voters will get their chance at the May 11 town meeting to weigh in on whether they would like to spend $900,000 to remake Ryder's Cove Landing, adding parking spaces for trailers and vehicles, creating a new exit onto Route 28 that has better sight lines, building bathroom facilities and a park with a walking trail.
A second article requests $300,000 in Community Preservation Act money for the project, which would reduce the amount requested in the previous article to $600,000. "This is a good idea for a lot of reasons," Selectman Sean Summers said. In the past 27 years, storms have wiped out ocean-side parking lots and mooring fields and sealed the passageway from Nantucket Sound to the Atlantic used by many who trailered their vessels and launched them from the town boat ramp at Stage Harbor. Particularly with the big aggregation of striped bass that decided to feed off Chatham during the commercial season in recent years, the landing has been crowded in summer, with boat-trailer parking overflowing onto side roads and the wait to launch and land delayed by an inefficient traffic pattern, town officials said. Ryder's Landing is the only boat launch area on the Atlantic side, and with fewer moorings available, more people have been putting their boats on trailers. Coastal Resources Director Ted Keon said the additional parking is more like an add-on to a solution for the real problem - traffic. "The roadway itself is often a gridlock situation," Keon said. Expanding the parking lot into the adjacent wooded area would route traffic leaving the boat ramp away from those headed down to launch or pick up vessels. Putting the exit farther north on Route 28 would make it easier to see oncoming traffic and avoids the confusion of the current entrance, where the highway and another side road intersect, Keon said. But some have questioned the expense, the impact on a nationally listed historic Marconi radio station site, and whether waterfront property should instead be used as open space. Summers says deed restrictions left almost all the land on other parcels the town acquired when the Marconi property was purchased decades ago as open space. The parcel adjacent to Ryder's Landing was the only one without such a restriction, other than that it be used for recreation. "So we didn't pave the other 59 (acres), and we save two for recreation," Summers said. "The deed doesn't restrict this parcel because they recognized we'd be needing it for recreation to access the water." Keon said the project did receive favorable comments from the Massachusetts Historical Commission, Cape Cod Commission and the town's Historical Commission that it would not significantly affect the nearby historic Marconi site. The town will protect nearby historic buildings during construction, and the design calls for a permeable parking lot surface to allow rainwater to soak into a thick layer of drainage material beneath. Other storm water devices such as rainwater gardens will be employed. Since the area may not have sewers, the planners proposed a restroom using composting toilets. A walking trail is also proposed for the remaining wooded area.
may01 Wellfleet
Elspeth Hay is an avid locavore who lives in Wellfleet and writes a blog about food. Elspeth is constantly exploring the Cape, Islands, and South Coast and all our farmer's markets to find out what's good, what's growing and what to do with it. Her Local Food Report airs Thursdays at 8:30am on Morning Edition and Thursdays at 5:45pm on All Things Considered, as well as Saturday mornings at 9:30am.
For a long time, skate has been considered trash fish.
But with local groundfish like haddock and cod increasingly off the menu, home cooks and local chefs are turning more and more to this tasty shark relative. This week on the Local Food Report, Elspeth Hay talks with three outer Cape cooks about their favorite skate dishes. As promised, here are two of their recipes.
more