may31 Wellfleet
Imagine having a seven-foot-high yellow navigational buoy with a blinking solar light in your yard to show off to all. It can be yours, Selectman Paul Pilcher said, if you attend the third annual Wellfleet Harborfest & Nautical Flea Market from 9 a.m. to 4 p.m. Saturday, June 1, on the east end of the town pier. The unusual buoy is only one of the many items that will be available for purchase during the flea market, a one-of-a-kind event, where you can also find custom fishing lures, rods and reels, and small water craft including an Optimist Pram, a Sunfish sailboat and a 13-foot Boston Whaler. The town will also hold its annual auction of surplus marine property.
Adults, children and even dogs are welcome to peruse 60 exhibitors, including local artisans, boat builders, charter companies, theater and arts organizations and educational displays - all on the pier. Food vendors include a raw bar provided by Sea Clam, fried seafood and chowder served up by the Beachcomber, sweet treats courtesy of Nauset Regional High School Culinary Arts Dept., wood-fired pizza cooked on-site by Pizza Barbone and Wellfleet clams from P'town Parties. The Chequessett Yacht and Country Club and the Wellfleet Recreation Dept. will offer children's activities, and the Skateboard Park will open for the season. Local boat builder Walter Baron and noted local kayaking guide Dick Hilmer will lead a row and paddle harbor cruise, starting at 3 p.m. Rowers and paddlers should bringing their own seaworthy crafts and register at the Harborfest welcome booth beforehand. Boats on trailers will be permitted to use the town ramp for a donation of $10. Entertainment throughout the day includes local favorites Kami Lyle, Tadd Price, Sarah Swain, Chandler Travis Philharmonic Duo, Molly Paramenter, Sophie Craft and Frightened. Drawings for a raffle will be held at 11 a.m., 1 p.m. and 3 p.m., with items including jewelry, artwork, gift certificates for restaurants and tours. Proceeds from the event will be used to enhance the Wellfleet Harbor and Marina. In past years, this has included informational signs and brochures. At the event, Harborfest will make a $2,000 contribution to the Wellfleet Marina Enterprise Fund to support further marina improvements.
may31 Wellfleet
Wellfleet artist Megan Hinton is a fan of the Outer Cape's hazardous waste collection program. A few days each year, the towns of Wellfleet, Truro and Provincetown collect household hazardous waste from residents, through a county program. Hinton, an artist, drives up with a few 5-gallon buckets filled with a stew of paint thinner, water and paint sludge. It's a more responsible way to get rid of her oil paints than, say, pouring it down a drain, Hinton said.
"They open the trunk for you," she said Wednesday. "They're really great, very friendly." And if you have a question about how to store something safely, they'll help you, Hinton said. "They have an understanding of these things." On Saturday, the Cape Cod Cooperative Extension will host two workshops for artists, both professionals and hobbyists, on hazardous byproducts they may be producing from painting, printmaking, jewelry making, the creation of pottery and more. The idea for the workshop is twofold, according to extension educator Michael Maguire: to teach artists how to protect the Cape's aquifer, which provides our drinking water, and to protect the artists themselves, their families and pets and others who might come in contact with the hazardous waste of the craft. Hinton will speak at the workshops, in Wellfleet and Chatham, as will Maguire and art hazards specialist Dave Waddell from the King County Local Hazardous Waste Management Program in Seattle.
more
may31 Wellfleet
The premiere of the dramatic comedy "Utility Monster," on stage through June 22 at Wellfleet Harbor Actors Theater, is in part a memorial celebration of a brilliant young writer whose life ended tragically all too soon. Playwright Marina Keegan died last year in a car accident on her way to her family's summer home in Wellfleet shortly after graduating from Yale University. The New Yorker magazine had hired her as a writer and she'd already seen her first musical produced in New York's Fringe Festival.
It is therefore difficult for a reviewer, or any audience member for that matter, to watch "Utility Monster" with complete objectivity. We cross our fingers out of respect alone that it's going to be good. Despite the delicious comedy throughout the show, when themes of death crop up early in the play our hearts go out to the young playwright and her loved ones. We cannot miss the cruel irony that the protagonist's father also dies in an automobile accident, or that the mother is entering a tough battle with pancreatic cancer, or that the on-stage family must grapple with loss exactly as the playwright's family and friends must be doing at the very moment we're watching the play. At a sold-out performance last weekend, this reviewer even wondered if Keegan's family or friends might be sitting beside him and his scrawling pen and the flipping pages of his notebook might disturb them. If he were sitting beside close relations to the writer, he just wanted to give them great big hugs - not exactly conducive to objective critique. Of course it's almost impossible to see any theater with complete objectivity. We cut Eugene O'Neill slack for the melodrama of his early plays because we know how sharp his work will become. Similarly, we enjoy the florid squalor of Tennessee Williams' later works because of the brilliance of what he left us from his glorious mid career. Experiencing O'Neill's early works or Williams' late ones is like going to a theater workshop where we get to focus on the opening buds or piquant petals of art abloom. Seeing a fully staged production of "Utility Monster" is a little like that. Keegan writes movingly about every subject she touches. She writes like the very best of extremely talented emerging literary artists, grasping at every idea that crosses her creative vision and delighting in sharing fresh turns of phrase and unique observations with her audience. Witnessing a full production of "Utility Monster" could be like watching a terrifically rich and poignant play frozen in time, forever in the late stages of its workshop phase. While Keegan grasps at every idea that springs up in her characters' lives, she's still grappling with quite a few of them.
more
may31 Wellfleet
"CAPE COD - 1 COOKIE = 1 STARVING AFRICAN." That's what the sign on high school student Claude's sidewalk card table says. On the table is a plate with what turns out to be Oreos. Nobody is around Claude and his table but Sadie, and she's not paying any attention to him, lost in a world of her own.
Claude starts a conversation, tells Sadie about a documentary that he has seen, how the price of one taco could feed one African for a long time. Sadie is interested, suggests maybe Claude could set up his table by her apartment house, if the doorman would let them. "You have a doorman?" asks Claude, wide eyed. Obviously they come from different backgrounds. Yes, they do. Next we see where Sadie lives. Her mother Ruth is on the sofa, luxuriating with a drink. Hanging on the wall behind her are seven colorful paintings. It turns out she is procrastinating with a novel she is writing. Her brother Alan appears. He is a doctor and wants her to take time in a hospital to get ready for radiation treatment of her pancreatic cancer. Also in evidence is Sadie's older brother Caleb. He is different, living away from the family, playing with a band that plans to bring a new sound to the fans of rock. His language is coarse and rude and he seems proud not to be part of a conventional family. Alcohol and pot are his companions. Sadie's well-to-do family is quite a surprise to Claude. And Claude's ideas about how they can save the world are quite a revelation to Sadie and she is whole heartedly for them. They have to raise money to feed Africans. Those that have more than they need should give to those with need. How they do this is shown to us by two fine young actors from Nauset High School, Lily Flores as Sadie and Ryan Rudewicz as Claude. Both sixteen, they inhabit their roles with an accuracy that is perfect. Ryan is totally imbued with his ambition to save the Africans. He is oblivious to problems that would, and do, prevent others from accomplishing what he wants to do. He is true idealism and innocence in a believable package. Lily is a girl that is youthfully intrigued by Claude and is caught up with his passion. She is unaware that what they do could have dire legal consequences because, in both their minds, what they are doing is for GOOD!
more
may31 Eastham-Nauset
Prior to this season, Nauset baseball was easily an afterthought. The Warriors hadn't finished higher than fourth in the seven-team Atlantic Coast League in more than 10 years and squeaked into the postseason in 2012 with a win just before the end of the regular season. But this spring has been different.
Four years after head coach Lou Elia took over a struggling four-win team, the Warriors have revived a baseball culture in the school and the community. The result: Nauset went 16-4 this season, its best overall record since at least 1998, and earned the No. 1 seed in the Division 2 South tournament. "I think it's a case where any coach, and Lou in particular here, has made his kids passionate about the game," said Nauset athletic director Keith Kenyon. "He's done some incredible things with facility improvements and awareness of our baseball program. Our kids are playing American Legion in the summer. He's a baseball junkie. He loves the game and his kids have the same affection for the game." The next phase in Nauset's remarkable season begins at 7 p.m. Monday at Eldredge Park in Orleans. The Warriors host the winner of today's Hopkinton-Milford game. Lou Elia sat in a conference room at Nauset Regional High last week wearing a baseball T-shirt and shorts with the yellow and black school colors. His white hair poked out from underneath his Nauset cap. He spoke proudly of the accomplishments of his scrappy team, one that he inherited in the spring of 2010 only about a week before the season began. He had no knowledge of the players and just one assistant coach, John Mattson, who was also new to the program. At that time, Nauset had failed to make the playoffs two straight seasons and had combined to win 10 games in two years. Elia, a former pitcher at Quinnipiac College in late 1960s and early 70s, was determined to reinvigorate the team. "It was a job changing the culture," he said. "But the culture has changed. The attitude has changed. The community has changed from when I first got here. It's been a very positive experience in the last couple years for everybody." Nauset won six games Elia's first season and seven the next with several freshmen and sophomores gaining experience.
more
may31 Provincetown
For the artists working in the 2,000-year-old medium of encaustic painting, it's a whole new ball of wax. Many of them will be heading to Provincetown May 31 to June 2 for the Seventh Annual Encaustic Conference, taking place at the Provincetown Inn. It's the longest-running event of its kind, drawing some 250 participants who'll offer demonstrations, talks, panels and exhibitions. Co-produced by artist and conference founder and director Joanne Mattera and Truro Center for the Arts at Castle Hill Executive Director Cherie Mittenthal, herself an artist who works in encaustic, the conference, says Mattera, "is a slice of encaustic heaven."
Simply put, encaustic painting is hot wax painting to which colored pigments are added. Although the medium has been around since 100-300 AD (it was used in mummy portraits in Egypt), there's been an encaustic boom in the last decade. Much of the credit for the surge in popularity and legitimacy is attributed to Mattera. Her 2001 landmark book "The Art of Encaustic Painting: Contemporary Expression in the Ancient Medium of Pigmented Wax," the first of its kind in decades, coincided with widespread high-speed Internet access, Google searches and the rise of social media. This allowed encaustic painters from all over the world to learn about and contact her. A modern movement was born, and the conference was a natural outgrowth. The first few encaustic conferences took place at Montserrat College of Art in Beverly, Mass. When Mattera was seeking a new venue for the event, Mittenthal in 2010 contacted her about teaming with Castle Hill and holding the conference in Provincetown. Judging from the breadth and scope of the lectures and demonstrations, the encaustic conference offers an enticing mix of highly technical skills, workshops and creative inspiration from accomplished and experienced artists. "It's a very professional conference," says Mittenthal, who has a solo show of new encaustic works, "Mostly in the Mornings," at Kobalt Gallery through June 7. Mittenthal also serves on a conference panel that will tackle the topic "Raising the Bar: Standards and Practices in Teaching Encaustic." "Encaustic is one of those mediums that many people do but not many teach," she says. "There's a fear of it becoming too crafty. The panel will talk about creating a manual that deals with the technical challenges of the medium, which includes safety, as well as its history and context." Along with Mittenthal, panelists include Sara Mast, artist and associate professor at Montana State University, Bozeman, and Toby Sisson, artist and assistant professor of studio art at Clark University, Worcester.
more
may31 Provincetown
Squid fishing has got the harbormaster's office seeing black, literally and figuratively, and now it's doing something about it. "I'm slightly disturbed that there's squid running again," Rex McKinsey, the harbormaster, told the Pier Corp on Thursday, May 23. Over the last two years things have become inky, he said. Squid fishermen were dropping lines from fishing vessels that were not their own, boats and the harbor waters were stained with ink, people defecated by the ice machine, and tiny children, left unattended by their squid-fishing relatives, rode tricycles up and down the pier at two or three in the morning.
McKinsey and Scott Chovanec, head marine patrol officer, decided a curfew would help solve the problem. The pair compromised last week, deciding that all fishing off the pier would cease at midnight. (McKinsey had thought people could fish a bit later, Chovanec thought earlier.) And, with the curfew, came a parking ban. "I think the free parking down there is getting a little bit out of control," said Carlos Verde, a Pier Corp member. All of the other Pier Corp members strongly agreed that they didn't want anyone parking on the pier without a hanging permit, which is restricted to tenants of the pier. According to McKinsey, there are 77 permits issued on a seasonal basis and spaces for 45 vehicles on the pier, though he said that those holding permits are not there every day. McKinsey pointed out that it's not simply squid fishermen who park at the pier and worried that there could be "ill will from something like this." There are plein air painters who come down to capture the fishing fleet on canvas, he said, and workers who sit in their trucks to eat their bagged lunch while taking in the view. "My feeling is that we should limit it, especially . at night," Rich Wood, another Pier Corp member, said. He suggested that squid fishermen drop off their equipment and then pay to park at the Municipal Parking Lot. Wood further suggested, and it was agreed, that five temporary parking tags could be created, which would be signed out from the Harbormaster's Office. Painters and other people who like to enjoy the harbor can do so, on a first-come, first-served basis, but will have to leave their driver's license to ensure the return of the parking tag.
more
may31 Orleans
With help from the Mass Audubon Wellfleet Bay Wildlife Sanctuary and the Orleans Cultural Council, Snow Library is presenting an animal tracking course, Cape Cod Mammals, Signs, Track and Scat, on Saturday, June 8 from 10 to 11 a.m. The event is free and geared for children.
may31 Orleans
The Oral Health Excellence Collaborative and the Orleans Council on Aging present soup, salad and smiles. Wednesday, June 5, from 11:30 a.m. to 1 p.m. Come for lunch and learn how to improve your health and wellbeing by taking care of your teeth. Registration in advance is required for the free program. Sign up at the Orleans Senior Center, 150 Rock Harbor Road. For more information, 508-255-6333.
may31 Brewster
Nauset Garden Club member Susan Christie compares the person who stole rare wildflowers from the Cape Cod Museum of Natural History to an art thief. The thief, or thieves, has visited the Lyn Peabody Wildflower Garden at the museum on Route 6A for the past three springs, right when the Virginia bluebells bloom.
The thief knows what to look for and how to dig up these delicate flowers so they live after being transplanted. "It just is devastating that someone feels they can just come in and take these plants," said Christie, pointing to a bare patch beside a tree where a beautiful bluebell was stolen three years ago. The thief replaced it with a money plant. "The person thought, 'Those stupid ladies won't know the difference,'" Christie said. But the small purple flowers of the money plant were distinctly different from the riotous mass of pale blue trumpets erupting out of pink buds of the bluebell. The offending plant was removed. She believes the thief has some gardening knowledge because the trillium and lady's-slipper are delicate wildflowers that are hard to transplant unless transported with the surrounding soil. The wildflower garden began 25 years ago when five Nauset Garden Club members returned from a wildflower workshop in Maine with a desire to transform a public space. Museum officials offered a small area, less than a quarter acre behind the complex of buildings that was shaded by tall pines. It provided the right habitat and moist soil conditions for Eastern wildflowers. From April to October every year for the past quarter-century, the club's 125 members have tended the garden's lacy ferns, showy Joe Pye weed, firework-like goat's beard, the elegantly arching of Solomon's seal and other shade-loving plants of the forest. Unfortunately, the garden cannot be seen from either the road or the parking lot. "Part of the problem for us is that during the off-hours, people still walk the trails. It's not unusual to see a number of cars in our parking lot," museum director Robert Dwyer said. His staff has been discussing some solutions, including placing a video camera in the garden grove during the spring.
more
may31 Brewster
Where were you on the night of May 27? That's a question Brewster police may soon be asking. Someone has been stealing flowers from Cape Cod Museum of Natural History's wildflower garden. Two years ago, one Virginia bluebell (Mertensia virginica) plant was taken, last year a while batch of them and just this past week all of the rest vanished, along with four or five toad shade trilliums (Trillium sessile) and a yellow lady slipper (Cypripedium parviflorum).
The theft was discovered when Nauset Garden Club volunteers came to work on the garden after the Memorial Day weekend. "It's very discouraging," declared Sue Christie, a garden club member. "What kind of person would go in and steal plants? I'd die before I would go in and take plants but apparently that's not the case here." The garden is all-volunteer maintained and supplied. "The Nauset Garden Club has been doing it about 25 years," Sue Christie of the Club explained. "It started when four or five ladies went to Bar Harbor, Maine for a symposium on wildflowers and came back and said they could do that themselves." They broached the idea to the museum. "They said part of the property wasn't being used," Christie said. "It was full of poison ivy and bull briar. It took two years to get it cleared and the soil amended. That was in 1988. In 1990 they started physically planting plants." The wildflower garden has always been a welcome addition to the museum's trails. It's primarily a shade garden and features some native shrubs and the sort of flowers that might dot a New England forest floor, whether it be on Cape Cod or snuggled in the Berkshires. "The Nauset Garden Club has allocated money for it every year. That gives us a chance to put down compost, put in pathways and add to the planting," Christie said. "They have to be native." Native plants aren't always easy to find in the trade. Many come from the Garden in the Woods in Framingham, the display garden of the New England Wildflower Society or the Sylvain Nursery in Westport. But Christie and other club members scour local nurseries for the occasional native shrub such as swamp azalea, ferns and perennial plants such as trilliums, goatsbeard, Joe Pye weed, shooting star, violets and cardinal flower. "Some members have native plants in their garden," Christie said. "When they see a plant we don't have they might bring it."
more
may31 Brewster
The New England Water Environment Association will host a walk, run and bike fundraising event Tuesday at Ocean Edge Resort to support the family of Martin Richard. Martin, 8, was killed and his sister and mother suffered serious injuries in the Boston Marathon bombings. The 5- or 10-kilometer event will begin at 7 a.m. at the resort on Route 6A in Brewster, according to a press release from the nonprofit organization. Registration costs $25 and donations are being accepted. All proceeds from the event as well a donations and money raised during a silent auction will be donated directly to the Richard Family Fund. The fundraising event is part of the association's annual spring conference and exhibit, which runs June 2-5 and will include a public discussion about improving water quality on Cape Cod starting at 4:30 p.m. Tuesday at the resort. For more information on the event or forum, go to www.newea.org.
may31 Brewster
Paines Creek Beach and the Parking Area are closed for construction until the week of the fourth of July. Contact the Selectmen's Office if you have any questions.
may31 Chatham
Folks are invited to St. Christopher's Friday Night Grills from 5 to 7:30 p.m. for a grilled supper before the weekly band concert, beginning June 28 and continuing through Aug. 30. Enjoy grilled sandwiches, including their special "Chatham Reuben" burger, cheeseburgers, veggie burgers, hot dogs, and sausages, along with sides: clam chowder, macaroni and cheese, baked beans, fresh baked brownies and drinks at affordable prices. Picnic on the church's front lawn at 625 Main St. or take food to go. Proceeds benefit St. Christopher's programs.
may31 Harwich
The Harwich Police Department will hold two free American Heart Association Health Care Provider CPR training classes in June. The classes will be held from 6 to 10 p.m. Tuesday and June 20 at the Harwich police station. Students need to attend only one class to be certified, and classes will be limited to 10 students. The class is free of charge, but a $5 fee covers the cost of obtaining the CPR cards. For more information or to register for a class, contact Detective Sgt. David Jacek at djacek@harwichpolice.com.
may31
Just in time for the official beginning of hurricane season--June 1--the Massachusetts Homeowner's Handbook to Prepare for Coastal Hazards has been released. The guide, according to a release from the Woods Hole Oceanographic Institution (WHOI), is the product of a collaboration between the Massachusetts Emergency Management Agency (MEMA), the Massachusetts Office of Coastal Zone Management (CZM), the Federal Emergency Management Agency (FEMA), the Massachusetts Department of Conservation and Recreation (DCR), Barnstable County and two Massachusetts Sea Grant programs: MIT Sea Grant (MITSG) and the Woods Hole Sea Grant (WHSG).
The guide covers hurricanes as well as flooding and nor'easters--a far more common occurance on Cape Cod and the Islands. According to WHOI, this year, NOAA is predicting "an active or extremely active Atlantic hurricane season" with a 70% change of 13 to 20 named storms. The guide features tips for homeowners to help minimize the damage to their homes and properties caused by hurricanes and other significant storms. The 96-page guide includes information about preparedness (emergency supplies, evacuation plans and emergency notification systems), protecting your property (keeping your home wind and water proof and electrical issues) and insurance issues. In the most recent years, the Cape and Islands contended with Hurricane Irene (August 2011) and Hurricane Earl (September 2010). The official hurricane season in New England lasts from June 1 to November 30. To learn the names of the 2013 storms beginning with Andrea, click here. The guide is available to Massachusetts residents online. Hard copies are also available at all town halls on Cape Cod and the Islands while supplies last. Periodic updates will be made to the online version. Download the guide here or here.
may30 Wellfleet
A Wellfleet woman was arrested Wednesday on heroin charges after an early morning raid at a Pine Point Road home.

Wellfleet, Eastham and Truro police departments executed a search warrant Wednesday for residence on Pine Point Road in Wellfleet and discovered a large quantity of heroin with a street value of $5,000, as well as $711 in cash.
Officers from the Wellfleet, Eastham and Truro police departments executed a search warrant at around 7 a.m. that resulted in the arrest of Samantha Skrentny, 41. The search warrant stemmed from an investigation that began in Truro involving a substantial theft. During the search of the home, officers found heroin with a street value of around $5,000 and $711 in cash. Skrentny is charged with possession of heroin with intent to distribute and possession of heroin. Police are searching for another suspect, and the investigation is ongoing.
more
may30 Eastham
After years of work and planning, Eastham's new public library is on the horizon. The Massachusetts Board of Library Commissioners last month awarded a provisional construction grant of $4,331,923 to the Eastham Public Library. Provisional grant awards are roughly 50 percent of the eligible project costs with the remaining cost incurred by the town. Eastham's project had been on the wait list for funding since 2011. The town already has funding in place to match the grant. The new library will remain on Samoset Road where the current library is located. Cheryl Bryan, library director, along with library trustees, met Monday for almost two hours with the project engineer, Matthew Oudens; Kevin Caddle, a consulting engineer, and Dan Pallotta, the project manager. They reviewed Caddle's slides showing three possible systems to heat and ventilate the new library, including the most expensive system, a geo-thermal one. Oudens showed slides of what the new library might look like, and drawings show how the various rooms in the new library might be located. No decisions were made during the meeting, although suggestions were offered by the trustees and Selectman Aimee Eckman, the board's liaison to the library trustees. The new library space will include space for children's programs, a study space, and an "Eastham" room to "safely house the library's unique collection of local history and genealogy materials." Bryan, after the meeting, said the town would receive the state award in five payments. They do not have any definite plans yet, she said. "All we have is what you saw at the meeting, but the architects will bring more definite plans to our next meeting, and we are planning to have a public meeting on June 12 when the architects will come and show plans to the public." The library trustees will have another meeting with the state library board before the public rollout on June 12, she said. "It is all very exciting." The state board, in announcing the award, said library usage in Eastham has doubled in recent years.
may30 Eastham
The selectmen Monday approved the American Lung Association's 2013 Autumn Escape Bike Trek that will be held Sept. 27 to 29. Police Chief Edward Kulhawik assured them that this event has been held for many years and there will be police protection along the route.
may30 Truro
Andrea Kline has asked Massachusetts Land Court to let her stay in her house on Stephens Way this summer, despite a 2012 order by the town to tear it down. The 8,333-square-foot house, assessed at $5.4 million, sits on more than 9 acres on Cape Cod Bay in South Truro. Next door is the old summer property of American painter Edward Hopper, who some believe was inspired by the once-barren land out his studio window. The house has been at the center of a controversy over how to preserve what has become known as the "Hopper landscape." Kline, who lives primarily in Boca Raton, Fla., filed the motion Friday asking to live in the house at 27 Stephens Way in July and August. The town will oppose the request, Town Counsel E. James Veara said Wednesday. "The building commissioner has revoked the occupancy permit," Veara said. The town plans to file its response in Land Court next week. No hearing date has been scheduled. Kline's husband, Donald, bought the land in 2007. The town issued a building permit for the house in 2008 and the occupancy permit in 2011. But four neighbors sued the Klines and the town in 2008 over the building permit's legality. Courts have since ruled that the house does not comply with the town's zoning bylaw in that it has frontage on a road that is too narrow and that the new construction was not an "alteration." That second ruling led to the 2012 order by the town to vacate the house and tear it down. But, everything is in limbo with further appeals by Kline pending in Land Court. The town is waiting for the outcome before enforcing its 2012 tear-down order.
more
may30 Provincetown
After only one week of rehearsals, "Across the Pond," the charmingly quirky original new musical by Zoë Lewis, which opens tonight, Thursday, May 30, at the Provincetown Theater, had clearly taken off. All of the actors were off book, the choreography was complete and the staging was fully blocked. And mind you, at the writing of this story, a full two weeks remained to further polish the show.
Credit the amazing cast and creative crew that Lewis assembled locally and from as far away as Texas. Credit the direction of Donna Drake, whose résumé includes performances in the original Broadway productions of "A Chorus Line" and "Woman of the Year" and the direction of last year's Provincetown and New York productions of "The Medium," starring Varla Jean Merman. Most of all, credit the soaring genius of the play's writer and producer Lewis. Flight metaphors abound from take-off to landing throughout the show, which is set on an airplane en route from England. Its themes explore and celebrate the meaning of home, as interpreted through the hearts and minds of four unrelated travelers, three atypical flight attendants and the disembodied voice of the flight's captain. "Across the Pond" at the Provincetown Theater plays at 7:30 p.m. Thurs.-Sun. through June 9.
more
may30 Provincetown
English musician Zoe Lewis recently became a U.S. citizen, and that dual legal status reflects how she feels emotionally about the country she grew up in and the one she has adopted. "I fly home when I get on a plane (to England) and then get on a plane to fly home," she says. "Both feel like home to me."
That plane between her homelands, on a trip between Heathrow and JFK, is the setting for her second musical, "Across the Pond," debuting now at Provincetown Theater. Thinking about her unusual definition of home, she's sat on a plane wondering about the thoughts of the other passengers. This show is her imagined answer. Lewis doesn't consider herself either an actress or a dancer, but - with help from director Donna Drake, an original cast member of "A Chorus Line" - she becomes both in "Across the Pond." She started exploring those talents in last summer's "Snail Road," her first foray into theater after decades as a musician. "I got bitten by the theater bug," she says. "People always said 'You should do theater, your songs are very visual,' and in Provincetown I'm surrounded by theatrical people." "Snail Road" at The Art House was a valentine to her beloved Provincetown; following the advice of "write what you know," this new topic is also close to her heart. "I've lived half my life here, yet I'm still connected to England," she says. This new show involves more character development and scenes than "Snail Road," she says, plus "a ton of dancing" that Drake has "pulled out of us." And Lewis doesn't play herself - she's Lavender Brown, an old English lady. Her house has just been knocked down (like Lewis' late mother's house recently was) and Lavender is recognizing the difference between a house and a home. Lewis shrugs off the idea of acting by noting: "I only write the truth. I know my old English ladies." Her mother was 51 when she was born and recently died at 96; Lewis has an elderly aunt and knows many women in that age bracket. "It's very easy," she says of playing one. "I try, of course, to be full of sage words. I've written them down over the years." Also on the plane in "Across the Pond," considering that question of home, are an Irish backpacker, a New York businessman, an American tourist returning after the recent royal wedding and flight attendants. And the audience: Designer Ellen Rousseau has turned Provincetown Theater into a jumbo jet, with patrons getting "boarding passes" and walking through the airport to go on this journey. ewis is looking forward to sharing such interactive theater, a genre she's honed through a 1920s speakeasy music show she started last summer - and will continue on five Tuesdays this summer, starting June 25, at The Velvet Lounge in Provincetown.
more
may30 Brewster
Genghis Burdulis fishes at Nickerson State Park three or four times a week, so when he learned that beginning Memorial Day weekend the park started charging a $5 daily parking fee, he was not happy. To help support Massachusetts park and recreation programs, the state Department of Conservation and Recreation has instituted a $5 daily or $35 annual fee just to park at the 1,900-acre Brewster park.
About 50 state parks now impose a daily parking fee. Statewide fees for similar parks range from $2 to $9. Some have charged for years, but Nickerson is one of five that have either a new fee this year or an increase. The news has not been well-received. "They are charging five bucks - it spread like wildfire around here," said a man at the Goose Hummock Shop in Orleans. "I think it's outrageous," said John Pierce of Harwich, who takes his dogs to the park and hikes frequently. "It's sad that Massachusetts is so hard up that they have to hit us up for $5 to walk in the woods." Currently employees at Nickerson collect fees from visitors at the guard shack. But soon the state will install a "pay and display" machine, so a visitor would put money into the machine, then get a ticket to display on the dashboard. Nickerson is known nationally as a popular campground. There is a per-night fee of $15 for Massachusetts residents and $17 for out-of-staters to use one of its 400 overnight campsites.
more
may30 Brewster
The Cape Cod Museum of Natural History will present 'Putting it on the Table', a local food series that takes a bite out of Wild Food on Sunday, June 9, at 2 p.m. The cost is $5 for a member and $7 for non members. Stephan Brown, herbalist and owner of Great Cape Herbs in Brewster, will discuss the wild foods and herbs you can gather from your own yard.. For further information, contact the Museum at 508-896-3867, Ext. # 133 www.ccmnh.org.
may30 Brewster
A father and son and a woman were arrested on marijuana-growing charges after police found about 70 plants at a Main Street home this morning.
Officers from the Brewster and Yarmouth police departments and members of the Cape Cod Drug Task Force executed a search warrant early today at 427 Main St. after a five-month drug investigation, said Brewster Police Chief Richard Koch. Josiah Canning, 36, Peter Canning, 61 and Tyra Nichols, 36, were charged with cultivation of marijuana, possession with intent to distribute marjuana and conspiracy to violate drug laws. Approximately 70 marijuana plants were seized from two cultivation rooms in the house. Police also seized about $3,000 in cash as well as growing equipment, Koch said. About half the plants were nearly ready to be harvested, Koch said. The three suspects are scheduled for arraignment in Orleans District Court later today.
may30
The FAIR Plan's latest request to raise homeowner insurance rates statewide and across the Cape and Islands drew sharp criticism from homeowners, legislators and the attorney general's office Wednesday during a public hearing held by the state Division of Insurance. "The Cape and Islands homeowners are being robbed," Paula Aschettino, chairwoman of the Cape-based Citizens for Homeowners Insurance Reform, said during the hearing at Barnstable Town Hall.
The FAIR Plan filed a proposal last month with the state insurance division to raise home-owners insurance rates by 6.8 percent statewide. Homeowners on the Cape and Islands and in the New Bedford area are among those who would be hit with a 9.9 percent increase, the highest of any of the state's regions. Opponents of the rate hike raised several objections on Wednesday, including the amount of the FAIR Plan's profits in recent years, the misguided notion that Cape and Islands residents are all affluent, and inaccuracies in storm models used to predict liability. The FAIR Plan, formerly known as the Massachusetts Property Insurance Underwriting Association, last sought a rate hike in 2011. That year, officials asked for a 6.7 percent rate increase on the Cape and Islands, translating to a 7.2 percent hike statewide. That request was denied by Insurance Commissioner Joseph G. Murphy in January 2012. The FAIR Plan, a pool of private insurance companies, is often considered the insurer of last resort for homeowners unable to purchase policies elsewhere. Many Cape and Islands homeowners have been forced onto the plan after insurance companies cancelled policies based on high estimates of damage from wind. About 55,000 households on the Cape and Islands are insured by the plan.
more
may30
Elspeth Hay is an avid locavore who lives in Wellfleet and writes a blog about food. Elspeth is constantly exploring the Cape, Islands, and South Coast and all our farmer's markets to find out what's good, what's growing and what to do with it. Her Local Food Report airs Thursdays at 8:30am on Morning Edition and Thursdays at 5:45pm on All Things Considered, as well as Saturday mornings at 9:30am.
Ever wanted to plant an herb garden, but don't know where to start? This week on the Local Food Report, Elspeth Hay talks with Peter Fossel of Swan River Farm in Dennisport about planning an herb garden.
more
may30
DISPOSITIONS in court 5/28, 5/29
HOLMES, Joanne, 49, 38 Woodbury Ave., Hyannis; admitted sufficient facts to OUI, April 8 in Eastham, continued without a finding for one year, 45-day license loss, $1,597.22 costs and $50 fee; negligent driving, dismissed; not responsible for another traffic violation.

MCLAUGHLIN, George III, 44, Mansfield; admitted sufficient facts to OUI, May 12 in Provincetown, continued without a finding for one year, 45-day license loss, $1,847.22 costs and $50 fee; negligent driving, dismissed; not responsible for another traffic violation.

PADILLA, Sofia, 24, Santa Ana, Calif.; two counts assault and battery, May 27 in Provincetown, dismissed.

ARRAIGNMENTS in court 5/28, 5/29
BADAWY, Shareef, 33, 19 Brook Trail, Brewster; OUI, negligent driving and three other traffic violations, May 26 in Brewster. Pretrial hearing June 17.

DALEY, Chengsum, 29, 10 Seashore Park Drive, Provincetown; aggravated assault and battery, May 1 in Truro. Pretrial hearing July 11.
more
may29 Wellfleet
may29 Wellfleet-Eastham
may29 Wellfleet
may29 Truro
Seven-year-old Olivia Dutra had hurt her hand. She was supposed to take a lesson at the community center in the "Hello Cello" after-school program, so she nursed the injury for a while. At around 4 p.m. cello tutor Saskia Keller came through the door with two cellos, and Nathaniel Prickitt, 9, sat down on the bench. His lesson was to begin right away. "Your hand position looks really good," Saskia, a Truro resident and a junior at Nauset Regional High School, said. She sat across from Nathaniel, who was about as tall as the cello itself. He held a bow. "I think we should play something," she said after a bit of tuning of the instruments.
Every Friday afternoon during the school year, Saskia volunteers as a cello tutor to children at "Pamet After-School," a town recreation department program. Children ages 5 through 12 who live or go to school in Truro are eligible for "Hello Cello." The half-hour lessons are included in the $6 per-afternoon, per-child cost of the after-school program. Saskia, 16, began studying cello on-and-off in second grade at Truro Central School and by eighth grade she was taking private instruction. She has been in the Cape Cod Symphony Youth Orchestra, in conjunction with the Cape Cod Conservatory of Music & Arts. She has played in a chamber ensemble associated with the conservatory as well. "She is just such a natural performer and a natural talent," conservatory managing director Stephanie Weaver said Friday.
"It's really refreshing for someone her age to have that maturity." Saskia is also a good teacher, Nathaniel's mother, Maggie Prickitt, said at the community center. "She's kept up his interest," Prickitt said. Nathaniel takes cello at Truro Central School as well. "Saskia's great," she said. As a high school freshman, Saskia began thinking about introducing students at the Truro school to the cello. At the time, her friends were doing community service projects that didn't really inspire her, Saskia said. "I didn't want to shelve books at the library," she said. Plus she knew she liked working with children. As a sophomore, she raised $500 for a half-size, student-friendly instrument and began "Hello Cello" as a series of weekly tutorials.
more
may29 Provincetown
Tails are set to wag come Saturday, June 1, for the second annual Carnival of the Dogs, a fundraiser to benefit the Pilgrim Bark Park, which opened in 2008 at the end of Shank Painter Road, alongside Route 6. The Pilgrim Bark Park, which was cited as the second best dog park in the country in 2010 by Dog Fancy magazine, is the crown jewel of the Provincetown Dog Park Association. The park is named in honor of the two dogs - an English mastiff and English springer spaniel - that were known to have landed on these shores with the expedition from Plymouth, England in November of 1620.
"The mantra we've been chanting is that even though it's a public park, [the Bark Park] is entirely privately funded," says association president and co-founder Deborah Grabler. And while upkeep and maintenance costs means that the association is ever in need of sustained financial contributions, in just four years off the leash, it has enjoyed the support of more than 40 local businesses, including Bowersock Gallery and Marc by Marc Jacobs, which played hosts for 2011's Bow Wow Bash fundraiser. "We went into debt to be handicap-accessible in 2009, but someone was able to make contact with Lily Tomlin and we had a great success [with The D Word fundraiser]," recalls Grabler. That event, a fundraiser and silent auction, featured Tomlin and award-winning comedian and Provincetown regular Kate Clinton, entertaining 800 in a tent on MacMillan Pier during a tropical depression. This year's carnival will run from 10 a.m. to 1 p.m. (rain date: Sunday, June 2, same time) and is once again sponsored by TD Bank. "TD Bank is thrilled to co-host Carnival of Dogs and help support the Pilgrim Bark Park," said Ardeth Griggs, retail market manager for TD Bank. "We recognize the importance of partnering with communities to sponsor these events, and the Carnival of Dogs provides families with a fun-filled way to spend an afternoon with their pets." The Pilgrim Bark Park is set on an acre of land and features a general dog area as well as a fenced-off section specifically designated for smaller dogs. For more information on the rules and regs of the park, as well as more details on the 2013 Carnival of Dogs, or to volunteer and make donations, visit the website at pilgrimbarkpark.org/2013Carnival.html.
more
may29 Provincetown
The office of Attorney General Martha Coakley has ruled the board of selectmen violated the state Open Meeting Law in its handling of an executive session Nov. 14, 2011. State officials will address the violation with informal action, Assistant Attorney General Jonathan Sclarsic stated in a May 20 letter to the town. "We do not find that the violation was intentional," Sclarsic said in his letter. Property owner Bernard Brahm alleged in a July 3, 2012, complaint to Coakley's office that the selectmen held an executive session on Nov. 14, 2011, without listing the session in a public notice and that the minutes of the selectmen's open session for that day do not state the specific topic that the board discussed. Brahm first filed a complaint with the selectmen April 30, 2012, and they responded in a letter to him on May 17, 2012, according to Sclarsic's letter. The selectmen acknowledged the error in the response, Sclarsic said. Brahm then filed his complaint with the attorney general. "The whole Open Meeting Law has changed," Selectman Austin Knight, chairman of the board, said Tuesday. "It's now become more detailed. You have to be more specific about what it was all about." The Open Meeting Law was revised and responsibility for enforcement of the law was centralized with the attorney general as part of the 2009 Ethics Reform Bill.
more
may29 Provincetown
Tony Award-winning actress Elizabeth Ashley a dear friend of Tennessee Williams but through her outstanding performances in Williams' plays she has given us the definitive interpretations of the playwrights' leading ladies - perhaps most notably with her Broadway turn as Maggie in "Cat on a Hot Tin Roof."
Fittingly, Ashley will be in town this week as a special guest for the Provincetown Tennessee Williams Theater Festival's gala, on Saturday, June 1, in Town Hall, 260 Commercial St. Cocktail hour begins at 6:30 p.m. with dinner and an auction at 7:30 p.m. State Rep. Sarah Peake serves as auctioneer and some of the goodies on the block include a special festival oil painting by the popular Provincetown artist TJ Walton, a photograph of Natasha Richardson as Blanche Dubois in "A Streetcar Named Desire" and a trip to Napa Valley Wine Country for two. What's more, the program of this year's festival, "Wine, Women and Williams," which takes place Sept. 26-29, will be unveiled. For more details and tickets to the gala, go to twptown.org.
may29 Brewster
The second annual "Welcome Back Snowbirds" golf tournament and dinner will be held at Captains Course Sunday, June 9. The Friends of the Captains sponsors the event. The 1 p.m. shotgun start will be followed by dinner in the Ellsworth Pavilion catered by the Back 9 Café. The cost will be $50 (incl. cart, prizes, dinner, & donation to the Friends) for members and $90 for guests. Dinner only is $30. Checks, payable to The Captains Golf Course, can be left at the Pro Shop or mailed to; The Captains, 1000 Freemans Way, Brewster, MA . 02631. The deadline is June 2. For more information call Captains at 508-896-1716 or e-mail friendsofthecaptains@comcast.net.
may29 Brewster
There is a vacancy on the Brewster School Committee and you don't have to run for it. The election was Tuesday and Patricia Hill and Dave Telman won seats on the committee but Jen Rabold resigned last month to apply for the position of assistant superintendent of the Nauset Regional Schools - a position that went to Keith Gauley, the Principal at the Eddy School - so there is a vacancy. The position is good until the May 2014 election. Interested parties should send a letter of interest or resume to the Board of Selectmen's office, Brewster Town Hall, attn. Susan Broderick. Or via mail to sbroderick@town.brewster.ma.us or call 508-896-3701 ext. 1134.
may29 Wellfleet
Robert Finch is a nature writer living in Wellfleet. He has lived on and written about Cape Cod for forty years. His essays can be heard on WCAI every Tuesday morning at 8:35am and Tuesday afternoon at 5:45pm. 'A Cape Cod Notebook' won the 2006 New England Edward R. Murrow Award for Best Radio Writing.
Going ashore on Bird Island one morning 30 years ago, Robert Finch and two companions found 30 freshly killed Roseate terns - what amounted to one percent of the entire continental population. As the men collected bird corpses, they gradually pieced together a picture of the predator. It seemed most likely to have been a peregrine falcon, by sad irony another endangered species. This is part 2 of a 2-part essay. Part 1 is posted here.
may29
Seems like you need a license or permit to do almost anything these days and the same is true for fishing here in the commonwealth. But if you don't have a freshwater fishing license yet, you are off the hook this weekend during free recreational fishing days June 1 & 2 in Massachusetts.
Here on the Cape and all over the state, a license is required for fishing inland rivers, ponds and lakes. If you have thought about getting a license, this weekend is the perfect time to give it a go. And so you know what you are catching, check out the Fishes of Massachusetts Guide here. If you find yourself hooked on fishing following the weekend, it's easy to obtain a license from the MA Department of Fish & Game on their MassFishHunt website. See the license fee schedule here. If your fishing interests run a bit salty, a license for recreational saltwater fishing is also required. You'll find information on that one here.
may28 Wellfleet
The Boston Children's Hospital Blood Mobile will be at the Wellfleet Council on Aging at the Senior Center on Thursday, May 30, from 10 a.m. to 3 p.m. The drive is being conducted in honor of two Wellfleet teens who have been undergoing treatment at Children's: Kevin Fitzgerald and Olivia Oliver. To make an appointment, log onto www.halfpints.childrenshospital.org and use the sponsor code WELLCOSE, or call Terri at the COA and she will book the appointment for you. There is no upper age limit to donate blood. Children's Hospital relies solely on donors to supply blood to their patients.
may28 Wellfleet
The Wellfleet Police Department is participating in the Massachusetts Special Olympics' Cape Cod Law Enforcement Torch Run Thursday June 6. The run travels from Provincetown Police Department starting at 5 a.m. and winds through several other communities on its way to Bourne, picking up additional runners and vehicles along the route. Those communities are Truro, Wellfleet, Eastham, Orleans, Brewster, Dennis, Yarmouth, Barnstable, Sandwich and Bourne. The torch is expected to arrive in Wellfleet at approximately 7 a.m. This year the Wellfleet Police Department is looking for runners who would be interested in joining them in passing the torch through Wellfleet. This is not a race, but a group run at a slow pace. Anyone interested in running between 1 and the entire 8 legs should contact Wellfleet Police Chief Ronald Fisette by May 30 at ronald.fisette@wellfleet-ma.gov for more information.
may28 Wellfleet
The Wellfleet Farmers Market will host a fund-raising dinner upstairs at Wellfleet Preservation Hall Friday, May 31. A cocktail hour with music from the Beet Greens of Wellfleet begins at 6:30, p.m. followed by a five-course dinner, featuring food from the market vendors, at 7 p.m. Sup on asparagus from Redberry Farm in Eastham, sausage from Cape Cod Organic Farm, a local spring salad, fresh baked bread from Wildflour Bakery in Wellfleet, a local rhubarb dessert and more. Prior to the meal, from 5:30 to 6:30 p.m., there will be a free public roundtable discussion with the market growers downstairs. Tickets are $60 per person and may be purchased at Prez Hall and the Wellfleet Farmers' Market, held every Wednesday behind Prez Hall from 8 a.m. to 1 p.m.
may28
A packed house and some barefoot dancers at the Wellfleet Beachcomber. Check out the everlasting fun scene that is the Incredible Casuals at Cape Cod's best beach bar. It was the opening Sunday night of the season for the Casuals, who have played Sundays at the iconic bar in the dunes for 32 years. When it was over night on Sunday night, Chandler Travis of the band said, "That was an okay first rehearsal."
may28 Wellfleet
The South Wellfleet General Store is still closed.

LeCount parking lot has lost the space for about nine cars. The DPW did a marvelous job with the ramp and put up a sturdy fence.
I heard a rumor that Todd LeBart, Beachcomber owner, is one of the partners who has undertaken renovation of this popular grocery. I also heard that Lorraine, who just closed her popular Mexican restaurant in P-town, will be making the take-out, and Paul, from Wellfleet Marketplace, will be the manager.
more
may28 Eastham
Coast Guard Beach was closed to public access Monday and Tuesday so that Cape Cod National Seashore employees could create two new paths to the beach. The existing ones were compromised by winter storms. Wayne Davis, the Seashore's heavy equipment operator, bulldozed a path to the beach for foot traffic, and then another path next to where the Seashore will put down a blue Mobi mat that will enable handicap access to the beach.
may28 Eastham
Eastham United Methodist Church will serve a Free Friendship Spaghetti Feast Friday, May 31 from 5 to 6:30 p.m. The dinner will include spaghetti with homemade sauce, salad and desserts. Come enjoy the meal and good conversations with neighbors and friends! The church is located at 3200 Route 6, Eastham
may28 Provincetown
It's tough to say good-bye to an old dear friend, even when the time is right for change. So it is for Joyce Carreiro and her brother-in-law Joey Carreiro as they bid farewell to Tip for Tops'n, a long-revered Provincetown landmark restaurant that has been part of their family since 1965.
Now, with the restaurant soon-to-be under a new name and new ownership, with Devon Ruesch at the helm, the Carreiros are beginning to look to the future and plan the next, more separate stages of their lives. One way or another, however, Tip's will be fondly remembered. Officially billed as "Carreiro's Tip for Tops'n Restaurant - Tip of the Cape for Tops in Service," the place was a magnet for locals and tourists looking for down-home food with a Portuguese flair. During his day, the now-deceased patriarch, Edward "Babe" Carreiro, teamed with his wife, Eva, and sons Jerry and Joey to turn out satisfying meals three times a day that were legendary for their ample portions. Often served with various linguiça-laden side dishes, their breakfast specials were quite popular. Many townie participants in the abstemious fit-for-life program frequently chose to begin their "Sunday eat what you want all day" splurge with a stack of Carreiro pancakes. On the other six less generous days of the week those same health-conscious patrons could have opted for the more cautious, always available "High Protein Breakfast." Popular at lunch was the clam chowder, kale soup and Portuguese-style mussels among an array of sandwiches and luncheon specials. Although seating was limited to only 57 people at a time, turnover was always rapid and service friendly. Vacationers appreciated the breezy, no frills pace; townies loved the familiar continuity of a menu they could rely on, presented by people they recognized as part of the local fabric of home. The true culinary stars of the Tip for Tops'n menu emerged at dinnertime with the Portuguese specialties, including Peixe Assado (baked stuffed sole with sea clam stuffing), Cavala em Molho Cru (fried mackerel) and Caldeira de Peixe (a Portuguese bouillabaisse served with saffron rice).
more
may28 Provincetown
Complaints of headaches, sleeplessness and anxiety have caused the board of health to launch an investigation into noise complaints at Province Landing. Province Landing resident Laurie Roles told the board on Thursday, May 16, that she knew she had made a mistake right after she moved into the affordable housing development.
Besides the incessant noise caused by the footfall of the family that lives above her, she said the "echo chamber" generated by the outside staircase is "inescapable." She wakes constantly from vibrations caused by noise impact, she said, and when she complained to the building's management, her sleep and health concerns were "invalidated." "I have seen my doctor four times since I moved into my apartment," Roles said, adding that she has had fillings replaced because she's been grinding her teeth, as well as migraine headaches that have caused vomiting, neither of which plagued her before. The solution, she was told, was mediation. "Tenants have been asked to mediate [a] construction flaw," Roles said. "Am I going to mediate with the nine people going up the stairs?" Province Landing is a 50-unit affordable housing development on 90 Shank Painter Road. In 2009, Provincetown chose The Community Builders [TCB] to create and build the six-building development, which has 25 one-bedroom, 21 two-bedroom, and four three-bedroom apartments. Apartments are rented to people with incomes of up to 80 percent of the area median income. TCB project manager Michael Lozano and property manager John Economos said that only about half the one-bedroom residents have complained. "We've heard the concerns and we're working [to resolve them]," Lozano said, adding that the development was built to code and was inspected by the town. "Essentially, that's our position."
may28 Provincetown
Early June in Provincetown offers a multitude of ways to have fun, while also doing good. It doesn't matter what activity you enjoy because there are benefit events to suit nearly every taste! If you're a dog owner, nothing beats Saturday morning fun at the dog park, and we have one of the best! On June 1st, you and your footed friends can meet, play and mingle with hundreds of others at the Pilgrim Bark Park's Carnival of the Dogs! You will find representatives from clinics, food companies, doggie day care, & animal hospitals to answer questions about your dog's health; vendors selling pet grooming and dog supplies, gourmet treats, and dog art; free samples; free massages and pet-a-cures for your pups; free pet caricatures; free face painting for the kids, hot dogs from Blondie's Burgers and ice cream from Ptown Scoops; a kissing booth for pictures of you and your dog; dog contests with prizes from TD BANK, and the chance to bid for a variety of prizes in a bountiful silent auction. It's a great way to share some quality and fun time with your canine best friend!
After you've spent the day playing with Damon, Marlon or Stella, you can let them rest at home while you have a fabulous night out at the Provincetown Tennessee Williams Festival 2013 Annual fundraising gala, "Wine Women and Williams" at Provincetown Town Hall! You can enjoy wine, beer, champagne and hors d'oeuvres provided by Far Land Provisions at the cocktail hour, while you browse art by TJ Walton which will be open for bid at their auction, complete with a special guest-star auctioneer. You will also enjoy the chance to meet and talk with Tony Award-winning actress Elizabeth Ashley, famous for her role as Maggie in the 1974 Broadway revival of Cat on a Hot Tin Roof, and now starring in the HBO series Treme. You can opt to simply attend the cocktail hour or stay for the dinner created by guest chef, Derik Burgess. Ms. Ashley will share intimate stories of Tennessee Williams, and you will to hear the official 2013 Festival Program Announcement. It's sure to be an evening filled with fun, good food and excitement, so don't miss it! On Sunday, June 2nd, runners will enjoy the3rd Annual Provincetown 10K charity road race which benefits both the Provincetown Art Association and Museum and the One Fund Boston this year! An event which attracts runners from all over Massachusetts and from such far-flung spots as Mexico and New Zealand, this scenic run departs Lopes Square near MacMillan Pier at 9:00 am, winds through the picturesque West End to the moors, then takes you down Route 6 to Howland Street and on to the finish line at PAAM, where you'll enjoy food and refreshment from a number of local establishments. For registration and a list of sponsors providing goodies, visit their website. Finally, those who prefer to relax instead of run can go kick back at Paramount at the Crown and Anchor on Sunday, June 2 from 11AM-1PM for a GOSPEL, BLUES & JAZZ BRUNCH. Previous performers have included Radjulari, Christie Hardwick and others. Their all-you-can-eat gourmet brunch buffet will include a Farm Fresh Egg dish, French Toast, Sausage, Bacon, Roast Beef Carving Station, Home Fries, Bagels, Coffee, Tea, Juice, Biscuits and Fruit. Purchase tickets in advance or at the door.
more
may28 Brewster
The Brewster Parade began promptly at 12:30 p.m. Monday. It began at the Brewster Baptist Church to the Council on Aging along Route 6A, paused for a ceremony at the COA following the parade.
Refreshments followed a brief ceremony at the VFW on Freeman's Way. Memorial Day is a United States federal holiday which occurs every year on the final Monday of May.and is a day of remembering the men and women who died while serving in the United States Armed Forces. Formerly known as Decoration Day, it originated during the American Civil War by General John A. Logan, leader of an organization for Northern Civil War veterans to commemorate the soldiers who died in the Civil War. By the 20th century, Memorial Day had been extended to honor all Americans who have died while in the military service. It typically marks the start of the summer vacation season, while Labor Day marks its end.
may28 Chatham
The Chatham Farmers Market will be held every Tuesday, from 3 to 6:30 p.m. at Local Color Art Gallery and Ocean State Job Lot. For more information, visit chathamfarmersmarket@hotmail.com or on facebook. The market runs until Oct. 21.
may28
Last Sunday we blind-sided my grandson with a surprise flight over Cape Cod with him at the airplane helm for his 15th birthday. He didn't suspect a thing until we drove into the Plymouth Airport and stopped at Pilgrim Aviation which offers a Cape Cod scenic tour where a passenger can fly the plane during the flight.
As the slideshow demonstrates, we flew over Cape Cod Bay from Plymouth to the tip of Cape Cod then continued over Provincetown Harbor with dramatic views of the dunes, continuing down over the Lower Cape to Chatham where we took photos of the new breakthrough in South Beach. Be sure to bring your camera and discover a whole new perspective on our coastal environment. They offer flight instruction for people from nine to ninety. Pick up available at Provincetown Municipal Airport (PVC) or other Cape Cod points by reservation. The trip we took offered a choice of a Cessna 152 or Cessna 172. The $199 price includes up to 3 persons. Scenic flights are available 7 days a week from Plymouth Airport and include a tour spectacular views of Plymouth Harbor or the coastal South Shore, Cape Cod Canal, Provincetown, Chatham and more. and stopped at Pilgrim Aviation which offers a Provincetown and scenic tour.
more
may28
Cape Codders got their first look at the Aereo TV service last week as service for the Boston market went live for those who pre-registered in April. The system will be open to all as of June 1st. Quite simply, Aereo is a service that delivers broadcast television over the Internet. For $8 a month users receive access to their very own digital antenna with the signal delivered over their broadband connection. The service includes broadcast channels available in our market area and a "virtual DVR" service to compliment the TV content. Aereo operates a "farm" of antennae in the Boston area - one or two for each subscribe -serving a digital stream to each antenna's subscriber.
Sign up is a simple process. Choose the subscription option you want, set up a username/password, verify location and start watching TV on Aereo. It really is that simple! Aereo offers two plans. The entry plan is $8/month and includes the broadcast channel suite, 20 hours of DVR storage and the ability to watch TV and also record a program on another channel at the same time. The $12/month plan includes 60 hours of DVR storage and the ability to record two programs at once. We believe most users will start with the $8/month plan. Aereo delivers TV to users via three different media: desktop/laptop computer, tablet/smart phone or via a "TV connected" device like Roku or Apple TV. The service allows users to authorize five different devices that can receive the Aereo stream. How does Aereo work? In a word: excellent! We tested Aereo with desktop PCs and two different models of Roku boxes. The system performs well in all venues. The PC interface is smooth, uncluttered and intuitive. Aereo for Roku is slick and behaves as other Roku channel apps. The system maintains a steady, unbroken stream most of the time with a minimum of re-buffering. Helpful hint: Set picture quality to "automatic" to allow Aereo to optimize your experience for the Internet connection and network speed at your location. Aereo has an interactive channel guide so users can either choose to watch something "live" or schedule future recordings of a show on the excellent "virtual DVR". When watching the live stream Aereo behaves much like a traditional DVR - you can pause live TV, then un-pause and finish watching the show. If you can't finish the show, you can tell Aereo to record that program so you can watch the rest of it later. In the Boston market, which includes Cape Cod, Aereo subscribers get the following channels:
WGBH 2 - Boston PBS affiliate
WBZ 4 - Boston CBS affiliate
WCVB 5 - Boston ABC affiliate
WHDH 7 - Boston NBC affiliate
Fox 25 - Boston Fox affiliate
WGBX 44 - Boston PBS affiliate
CW 56 - Boston CW network affiliate
Ion - National network featuring general entertainment of adults
Ion Life - National network airing family-friendly programming
MeTV - Classic sitcoms, drama and commercials from the '50's to '80's
ThisTV - Classic films, modern movies and great TV shows
MyNetwork TV - Syndicated favorites including dramas, talk shows and comedy
Retro TV - National broadcast network offering classic television
COZI TV - Mix of classic television and first-run lifestyle content
Create - Home improvement, crafts, cooking and more
World - Public TV programming about science, nature, news and more
PBS Kids - Children's programming from the Public Broadcasting System
Qube - Children's programming that celebrates the fun of learning
TCN - Music video network for country music enthusiasts
Daystar - Evangelical Christian programming
MasTV - Spanish content specifically for Boston's Hispanic audience
UnitMas - Spanish language series, telenovellas, movies and sports
more
may28
DISPOSITIONS in court 5/22, 5/24
BEARD, Jamie, 44, 40 Main St., Harwich; assault and battery with a dangerous weapon and assault and battery, Sept. 4 in Harwich, dismissed.

GAMELLA, Ronald, 48, 8 Bradford St., Provincetown; admitted sufficient facts to assault and battery, April 23 in Provincetown, continued without a finding for one year then closed, $600 costs and $50 fee; disturbing the peace and vandalism, dismissed.

THOMAS, Christopher, 33, 29 Barn Hill Road, Chatham; admitted sufficient facts to operating a motor vehicle while under the influence of alcohol (OUI), May 21 in Chatham, continued without a finding for one year, 45-day license loss, $1,597.22 costs and $50 fee; negligent driving, dismissed; not responsible for another traffic violation.

CICCARELLI, Louis, 51, 456 Crowell Road, Chatham; admitted sufficient facts to assault and battery, May 23 in Chatham, continued without a finding for 90 days then closed, $150 costs and $50 fee.

PITTORE, Tina, 30, Dorchester; admitted sufficient facts to assault and battery, May 24 in Provincetown, continued without a finding for 90 days then closed, $150 costs and $50 fee.

ARRAIGNMENTS in court 5/22, 5/23
BEST-KIND, Kendall, 39, 11 Cross St., Harwich; assault and battery, May 21 in Harwich. Pretrial hearing July 2.

ABRAHAM, Andrea, 22, 11 Overlook Drive, Truro; possession of heroin with intent to distribute, possession of heroin and possession of Adderall, May 23 in Truro. Pretrial hearing June 19.

HENDERSON, Randall, 48, 558 Training Field Road, Chatham; assault and battery and intimidating a witness, May 22 in Chatham. Pretrial hearing June 26.
more
may27 Wellfleet
Barnstable County government may be reorganizing along lines that may not be beneficial to a small town like Wellfleet. Ned Hitchcock, Wellfleet's representative on the county's Assembly of Delegates, the body that reviews the budget prepared by the county commissioner, briefed the selectmen at their May 7 meeting on the charter review committee the assembly created that is looking into several things. One is the possibility of merging the 15 members of the Assembly of Delegates with the three elected county commissioners, and turning the county administrator position into a "strong" administrator who would not have to go to the commissioners. The committee may recommend the creation of a municipal county government advisory board that would focus on "collaboration, cost-effectiveness, efficiency, regionalization and the provision of regional services, " Hitchcock said.
"The arguments in favor of this reorganization tend to emphasize possible efficiencies and economies of scale," he said. "The arguments against this reorganization come from a more traditional direction and usually reflect concerns about a move away from more direct government, the loss of local control and the drawbacks of centralization." How this turns out, he said, "will depend on the charter review committee and how elected officials and concerned officials respond to this process." He said the committee, headed by Ron Bergstrom of Chatham, would hold regular open meetings on a number of subjects. Harry Terkanian, town administrator, said the proposed reorganization of county government "creates a situation where the smaller communities in Barnstable County will essentially lose their vote." Wellfleet now has 1.67 percent of a vote on the commission, while Barnstable, the largest town, has 22.9 percent of a vote. Truro, the smallest town, has .93 percent of a vote. "Right now we have a very small voting percentage. We still have the ability to stand up and articulate our town's needs," he said. But that ability could be "diluted" if county government is centralized. Selectman Paul Pilcher, who previously served on the Assembly of Delegates, said one proposal is to eliminate the delegates from all 15 Cape towns, who are paid $1,000 a year, and increase from three to five the elected county commissioners, who are paid $16,000 each a year. The five commissioners would be paid more than $16,000 each. "It does not take someone really sophisticated with math to figure out this proposal is not going to save us money. So I don't see where proponents can claim efficiency and cost savings," Hitchcock said.
more
may27 Wellfleet
Many people wonder about the people with millions of dollars - the CEOs, the actors, the athletes - who spend their money on fine wine, expensive jewelry, yet another car. Why don't they use that money to help the poor and the hungry instead of buying another possession? But what about the rest of us, too? If the price of a snack at Taco Bell could help to save a child's life in Africa, why don't more of us use even what little disposable income we have to make that kind of difference?
That issue sets off the action and the questions raised about values, contributions and society in "Utility Monster," a thoughtfully written work by Marina Keegan that offers sympathetic and memorable characters as well as debate-provoking themes. It's an involving play that seems surprisingly mature in many ways for a college undergrad, and creates two teenage characters - with help from the considerable talents here of Lily Flores and Ryan Rudewicz - who will both melt and break your heart. Director Dan Lombardo, also artistic director at Wellfleet Harbor Actors Theater, chose this national premiere to open the season largely in tribute to Keegan, a part-time Wellfleet resident who died in a car crash a year ago, just days after graduating from Yale. While it's hard to forget that backstory when you watch this production, Keegan's script easily stands on its own merit. Lombardo's direction uses its comedy and a contemporary, minimalist staging to keep the right balance between a light tone and the serious themes that often - even in humor - involve death. Keegan had a remarkably good ear for dialogue. She particularly got 15-year-old Sadie and Claude right in the often awkward, earnest way they speak to each other and adults. The two are played with natural ease together by real-life friends Lily and Ryan, with Ryan also nailing many of the show's laughs with his characterization. The love-hate sibling relationship between Sadie and Caleb, her music-producing, pot-smoking older brother, also rings true, and Ari Lew gives a charged portrayal of the likable, volatile Caleb. This play - and WHAT's support of it, with help from Yale - has become a way for Keegan to move us with a story while also getting us to reconsider the value of various aspects of our lives and society. Yes, a way to "make something happen" could start here. "Utility Monster" is presented 8 p.m. Thursdays through Mondays through June 22 at W.H.A.T.
more
may27 Eastham
It's not every day that a lighthouse gets painted. In fact it's been almost eight years for Nauset Light. In those years, the iconic beacon, once threatened by erosion, has weathered the Cape's salty air, wind, sand and sun, all of which have taken their toll, said David Gray, president of the nonprofit Nauset Light Preservation Society.
"Being a metal building, the cast iron structure, it tends to corrode and the corrosion begins to seep out along all of the seams through the building, and it was beginning to look pretty dingy," he said. "So we decided it was time to be repainted." Earlier this month, a small crew with the International Chimney Corp. started the painting project. The New York company is the same one that moved the lighthouse from the eroding bluff in 1996. Using a suspended scaffolding system to move up and down the lighthouse, the painters were able to reach every exterior area. About eight gallons of white paint, six gallons of red paint and four gallons of black paint were rolled and brushed onto the lighthouse, said Bob Hawkins, one of three painters from West Virginia. To prepare the lighthouse for the new paint, some areas had to be ground where rust and corrosion had formed. Spot priming and binding coats were also applied before two finishing coats of moisture-cured paint were laid down, Hawkins said. Cape Cod Potato Chips, which is owned by Snyder's-Lance Inc., is picking up the painting tab, Gray said. The project, he said, cost about $40,000. The lighthouse has become the company's logo and is displayed on the front of every bag of its kettle-cooked potato chips.
may27 Provincetown
Sharon Lynn was never into the board game Clue as a child, nor did she play detective. She read Nancy Drew, but everyone did. And she remembers a hat she had from which a cap gun popped out with the push of a button. She wore that back in her hometown of Pennsylvania, and wishes her mother had saved it. Her fondness for that hat may have been the only early indication that Lynn would become a cop, a detective and one of the one-tenth of one-percent of an elite group of police officers who trained at the FBI National Academy. All of that serendipitously led her to Provincetown, where she settled six years ago into what previously had been a vacation home for her, and into the position of town manager.
Although she'd last worked as township manager of West Goshen, Pa., it's Lynn's background in criminal justice that has some residents on edge. Many townspeople worry that she wants Provincetown to become a police state, and they therefore often oppose even obviously reasonable police department requests. A few remain adamant that the police force doesn't need a new station, though the building is undeniably hazardous. Lynn, sitting in her conference room in Town Hall Monday, says that she "absolutely" thinks that the police department is being picked on. "As far as a police state, again, I consider the police department to be the most professional, highly skilled officers and they know how to do their jobs," she says, but admits that it does go after the "bad component" in the community. "Sometimes that means arresting people and sometimes that means arresting [Provincetown] people." When it was suggested that Provincetown is no longer what writer Norman Mailer called "the Wild West of the east," she says it still is. Lynn doesn't seem to think that people who move here from other places to embrace their individuality and freedom are stifled by police presence. "But the cops here are the same people," Lynn says. "And, you know, we have officers who really want to live here. . They work here. Their partners work here. They interact with everyone here." Cops buy houses, are part of the gay and straight community and raise families here, she says, which was part of Police Chief Jeff Jaran's plan, part of the reason she hired him. (Contrary to rumors, she never worked side-by-side with him in any other police department.) Jaran was chosen as the top cop after a search that began with more than 80 applicants. Lynn likes him because he is a well-rounded police officer with administrative experience as a chief, who also attended the FBI National Academy.
more
may27 Provincetown
Rik Kapler doesn't want chemicals on the town's lawns - it makes him sick. He told the board of selectmen as much at its May 13 meeting. Selectman Erik Yingling said that even though he talked about adopting an organic land management policy in April, nothing has happened. The town is on it, Rich Waldo, deputy director of the Dept. of Public Works, said Tuesday. Everyone is on board to go green, he said, but he wants to figure out how to transition from chemical to organic care without destroying the lawns.
"In the hot summer we have a lot of people who picnic under the trees," he said, explaining why the town needs grass. "Town Hall looks better. That was a dust bowl. It just takes a lot away from the town." The town is currently under contract with Scotts Lawn Service, which Waldo said comes to town about six times a year. The spray Scotts uses feeds the grass with nitrogen and chemically controls weeds, insects and bugs, he added. While he has a material safety data sheet from the company, which provides workers and emergency personnel with procedures for handling or working with chemicals, it doesn't specifically list the chemicals used, he said. Scotts Lawn sprays the lawns at Town Hall, Bas Relief, Motta Field, Jerome Smith soccer field and the fire station. The contract can be cancelled anytime, Waldo said, without penalty to the town. Because chemicals have been used, Waldo said that the lawns have no way to feed until the soil is corrected. The pH, which measures how much acid is in the soil, needs to be at a certain level for bugs to live and grass to thrive. To go organic, lime needs to be put down until the pH is correct, he said. Then compost is added, and microorganisms begin to develop and reproduce. It is the nitrogen in the microorganisms' poop that feeds the grass, he said, and agrees that's better for the environment than synthetically produced nitrogen. "The [nitrogen] ratio of what the grass feeds and the bugs poop is [equal]," he said. Therefore, the natural nitrogen isn't sucked into the groundwater supply the way it is with chemicals, which he said are not fully absorbed.
more
may27 Provincetown
One person was treated for smoke inhalation after fire broke out at a Provincetown inn on Sunday afternoon. An automatic alarm alerted firefighters to respond to the Crowne Pointe Historic Inn and Spa at 82 Bradford St. around 4:45 p.m. A back-up call confirmed a fire in the building. According to reports, combustible materials left on top of a heater apparently ignited. The fire was quickly put out with minimal damage, but smoke had to be ventilated from the building.
may27 Chatham
Fisherman Kurt Martin is holding on to his weir permits in hopes that something may change in the future, because seals have made the present a bad business proposition. "It hasn't been productive in the last couple of years," he said. "There are too many of them." Because of the abundance of seals eating fish in the traps, Martin, who owns one of only two trap companies, is not putting out the hickory poles that have been used by fishermen for centuries. "This is the only time I haven't set my traps," Martin told selectmen, who approved renewing his permits.
may27
A swallow-tailed kite was reported from Highland Rd in Truro on the 20th and a Mississippi kite was seen in Provincetown on the 16th. Some Cape Cod highlights from Mass Audubon's Bird-a-thon weekend included a Eurasian collared-dove in a yard in Eastham, 3 clapper rails and 10 marsh wrens on the Herring River in Wellfleet, a sora on Frost Fish Creek in Chatham, a glaucous gull, 3 lesser black-backed gulls, and a black tern at South Beach in Chatham, 3 ruddy ducks and an American coot on Herring Pond in Eastham, a common merganser on Pilgrim Lake in Truro, 16 white-winged crossbills in Wellfleet, and 2 red crossbills in Eastham. Seen at South Monomoy in Chatham on the 21st were a northern shoveler, 3 northern pintails, 2 green-winged teal, 2 northern harriers, a sora, and 5 white-rumped sandpipers. A summer tanager was seen near the lighthouse on the 17th. Birds in Provincetown this week included a thick-billed murre at Race Point, a clay-colored sparrow at the airport, 14 species of warbler including a Canada warbler plus a summer tanager and 8 pine siskins at Foss Woods on the 22nd, and 15 species of warbler including an Audubon's yellow-rumped warbler and 2 bay-breasted warblers also on the 22nd. Other sightings this week included 8 red knots off Tonset Rd in Orleans, and 13 glossy ibis at Wellfleet Bay sanctuary on the 19th.
more
may27
DISPOSITIONS in court 5/16, 5/17
BRADFORD, David Jr., 54, Norfolk; admitted sufficient facts to operating a motor vehicle while under the influence of alcohol (OUI), April 18 in Eastham, continued without a finding for one year, 45-day license loss, $1,847.22 costs and $50 fee; not responsible for another traffic violation.

JONES, Jeffrey, 33, 6 Marchant Way, West Yarmouth; assault and battery, May 5 in Chatham, dismissed.

HARRIS, Richard, 29, 77 Bank St., Harwich; guilty of assault and battery, March 6 in Harwich, one-year probation, $600 costs and $50 fee; aggravated assault and battery, dismissed.

KENNEY, Donald, 63, 349 Barn Hill Road, Chatham; admitted sufficient facts to OUI, May 7 in Chatham, continued without a finding for one year, 45-day license loss, $1,597.22 costs and $50 fee; reckless driving, dismissed; not responsible for another traffic violation.

ARRAIGNMENTS in court 5/16, 5/17
CHILDS, Timothy, 23, 152 Winter St., Hyannis; larceny of more than $250 from a person 65 years and older or disabled, larceny of more than $250 and larceny from a building, April 17 in Wellfleet. Pretrial hearing June 7.

KRONMILLER, Tara, 42, 62 Bridle Path Road, Brewster; assault and battery, May 16 in Brewster. Pretrial hearing June 7.

MATCZAK, Josef, 55, Middleton; OUI, negligent driving, larceny of less than $250 and another traffic violation, May 16 in Orleans. Pretrial hearing June 12.

THOMASSON, Darrell, 55, 849 Queen Ann Road, Harwich; OUI-fourth offense, assault and battery of a police officer, resisting arrest, negligent driving and another traffic violation, May 17 in Brewster. Pretrial hearing June 11.
more
may25 Wellfleet
The six finalists in an affordable housing design competition in Wellfleet have rather inviting, intriguing names: Dogtrot, Oyster House, Year'rounder House, NaCl³ House, Cantilever and Niche.

Niche is a cottage-sized home designed by architects Matt Coffey, Jason Michael Fay and Shaun Morris.
The small houses, each under 800 square feet, are angular and spare, open-air and appropriate for nestling among trees, as though on a side street in a seaside village. About 120 architects and architectural students across the country entered the Add-on'13 competition, sponsored by the nonprofit Cape Cod Modern House Trust and Wellfleet architect Peter McMahon. The town's local housing partnership and housing authority are supporting the project along with the Cape and Islands affiliate of the Boston Society of Architects and a local builders association.

Oyster House was designed by architects Christopher Lee, Mengyi Fan and Dungjai Pungauthaikan.
The idea is multifaceted: to broaden the region's ideas about what affordable housing can look like; to boost Wellfleet's stock of affordable accessory dwelling units, which are added to existing properties; to give private property owners ideas about how to add extra housing to their property; and to expand the number of places workers and young people can live. A Wellfleet bylaw encourages property owners to add up to three year-round "affordable accessory" rental units as long as their septic tank can handle it, housing authority member Elaine McIlroy said. The extra units can be in or attached to a primary building, or freestanding, and each one can be no larger than 1,200 square feet of living area. The annual income limit in Wellfleet for one person to rent a unit is 120 percent of the area median family income. For a one-person household, that would be about $68,880. The rent paid for a one-bedroom unit in Wellfleet could be up to $945 including utilities. Currently, Wellfleet has 12 active, affordable accessory dwellings. But more are needed, McIlroy said, adding that the bylaw is "underutilized." At a free public forum at 3 p.m. Sunday at the library, the finalists will present their ideas. Then the second phase will begin. Finalists will work their conceptual designs into working proposals that incorporate budgets, mechanical systems and development challenges such as energy conservation. The winners will be announced Aug. 13.
more
may25 Wellfleet
The six finalists of the Add-On '13 design contest, who submitted innovative designs for a small affordable home of less than 800-square feet, will show their designs at 3 p.m. Sunday, May 26, at Wellfleet Public Library. "This competition captured the imagination of the architectural world, and some 120 architectural teams from all over the county submitted detailed, forward-thinking designs," said Gary Sorkin of the Wellfleet Local Housing Partnership and Wellfleet Housing Authority. "The need for small, year-round affordable rental units is critical for Wellfleet and throughout the Cape," Sorkin said. "It is a compelling issue for ordinary wage earners, particularly younger folks, as well as seniors in our area." A panel of community members and distinguished architects will select the winning design in August.
may25 Wellfleet
Today many visitors to Wellfleet will get their first look at Cahoon Hollow Beach, but it will not be in sunshine, because Memorial Day weekend, 2013, is rainy and cold. Still, they will head to the beach. Many will muse over the results of erosion from winter storms and admire the new ramp created by the DPW.
Last week Wellfleet's Board of Selectmen made a decision, regarding Cahoon Hollow and the reduced parking options there (25%). A shuttle bus will run from June 28 to September 2. This service is a joint venture between Mercedes Cab Company of Provincetown and Todd LeBart, owner of the Beachcomber. The bus will bring beachgoers from the back parking lot at White Crest on a regular schedule, to be announced. The "Funk" bus will also service LeCount Hollow Beach.
more
may25 Wellfleet
Come to the Wellfleet Historical Society Museum on Main Street for an open house from 4 to 6 p.m. Saturday, May 25. There will be refreshments and you will be able to see the new renovations in the museum's East Wing.
may25 Wellfleet-Orleans
The 2nd Annual Cape Cod Cup - Invitational Soccer Tournament first round action begins this Wednesday, May 29.
D-Y Celtic, last year's champions look to defend the Cape Cod Cup trophy with a first round match-up against the Wellfleet Breakers at 6 p.m. at Bakers Field in Wellfleet Harbor. In the other first round match-up, Legends FC, last years finalists, take on the Harwich Blues at 7:30 p.m. under the lights at Eldredge Park in Orleans. Both the finals and consolation matches will be held on Sunday, June 2 beginning at noon at Bakers Field in Wellfleet.
may25 Eastham
Tom Johnson, opponent of the municipal water system that failed to pass a two-thirds majority at the May 6 town meeting, has submitted an article for the Saturday, June 22, special town meeting that he says would offer voters a choice of a smaller water system. The special town meeting was called by the selectmen to reconsider the municipal water system. Johnson turned in his article Tuesday to Town Clerk Lillian Lamperti, and the selectmen, at their meeting Wednesday, agreed to review this article with Johnson at their June 3 meeting. "We needed 100 signatures and we collected 216 in two days," Johnson said of the petitioned article. His article, he said, "provides a real opportunity for us to protect our neighbors who live near our former dump. It will create a board of water commissioners who would be responsible for any expansion of the system. The most likely payment option for expansion would be a connection fee or betterment so that only those benefiting from the expansion would pay for it." The components of Johnson's proposed system include two pumps with supporting structures, a 500,000-gallon water tank and water mains on the following town and private roads: Schoolhouse Road, Old Orchard Road from Starlight Lane to Glacier Hills Road, Starlight Lane, Sharon Circle, Meetinghouse Road, Meetinghouse Road, rear, Whidah Lane, Eldia Way, Alston Avenue, Alston Court, Moll's Pond Road, Knowles Street, Chipman Street, Fairview Avenue, Piper Lane, Duck March Lane, and Selah Circle. Johnson has scheduled an informational meeting at 2 p.m. Saturday, June 1 at the Four Points By Sheraton, or contact Johnson at tomj@pcext.com or 508-255-1944.
may25 Eastham
Perhaps a good dousing of water is needed in this town to cool down the passions of those who are in favor of a municipal water system and those who oppose it. "When we have big issues in town, it's good to have opposition. It makes us work harder to prove the facts we are presenting," said selectmen chairman Aimee Eckman at Monday's board meeting. "But for some people, that does not seem to be enough. They like to start rumors that the selectmen are getting kickbacks. We all have to live in this town together, and that is really uncalled for. It would be nice if we could stop this nastiness and move on and agree to disagree." Selectman Linda Burt has been a selectman for 14 years. "I've never seen things like what has been happening this year. I think it's terrible for our town. We are pulling ourselves apart here. I don't think this is Eastham. I think we need to be more positive in town. It is really disgusting what has been happening." Opponents of municipal water feel shut out of any debate on the issue. They were told during the many water informational meetings the selectmen held that they would have a chance to raise their concerns when it got to town meeting, but they never got that chance, Lisa Panaccione, told the selectmen Monday. "People were left standing at the mike. They were cut off. It was an absolutely undemocratic process, absolutely wrong," said Panaccione, who ran unsuccessfully for selectman this year. Eckman disagreed "It was not up to us to stop debate," she said, noting that a citizen called the question and "the body of town meeting decided to end the debate." "The whole process was wrong," Panaccione said. "If a multi-million dollar water project is defeated are you going to bring it up again?" "Yes," Eckman said. "I would like to see it keep coming because it is not going to get any cheaper." Lois Roth-Johnson said she had heard from four people that the chairman of the finance committee, prior to town meeting, had said that the town moderator would not let her husband, Tom Johnson, speak to the water article. When he got up to speak, he was cut off, she said. She asked the board if they had heard about this. Eckman and Burt said they did not.
more
may25 Eastham
Spring is in the air, and it's time to spruce up your wardrobe. Attend the Friends of the Eastham Council on Aging Thrift Shop Fashion Show Luncheon Friday, May 31 at 10:30 a.m. at the senior center on Nauset Road. Enjoy fabulous fashions, a light lunch, and an exclusive silent auction (stop by the Eastham Senior Center before May 31 to bid on auction items). The live show will feature the latest trends on the runway modeled by Nauset Regional High School students and other members of the community. All are welcome.
may25 Eastham
Families - friends - neighbors! Do you like to read? Do you like to walk? Do you like to spend time together outdoors? If so, please come to StoryWalk Eastham, a free, self directed combination of walking and reading for the whole family at Wiley Park anytime May 24, 26 and 27 from 10 a.m. to 4 p.m. Look for the yellow StoryWalk signs near the Wiley Park playground and follow the story of "Entering Eastham's Shores from A-Z", a book written and illustrated by the students of Eastham Elementary School, as you walk. Call Fran at the library with any questions at 508-240-5950. Come alone or in a group. All are welcome and that includes dogs! Look for the yellow StoryWalk signs near the Wiley Park playground and follow the story of "Entering Eastham's Shores from A-Z", a book written and illustrated by the students of Eastham Elementary School, as you walk. Call Fran at the library with any questions at 508-240-5950. Come alone or in a group. All are welcome and that includes dogs!
may25 Orleans
Monday, May 27, paddlers of all shapes and sizes - kayakers, canoeists, stand-ups - are invited to the annual Scootin' Scallop, which begins at 9 a.m.at Meetinghouse Pond Landing off Barley Neck Road. Registration is requested, but not required, by calling organizer Dick Hilmer at 508-255-2349. The public can view the start of the paddle at River Road Landing and can also view the paddle from Kent's Point.
may25 Orleans
Atlantic White Shark Conservancy (AWSC), a Orleans-based nonprofit committed to raising public awareness of white sharks is pleased to announce their partnership with Cape based clothing brand The Monomoy White. The Monomoy White is set to open a new store in Hyannis on Memorial Day weekend where it will feature its trademark apparel featuring Cape Cod's "newest celebrity" - the Great White Shark.
"The Cape is truly one of the most beautiful places on earth," says Conor McInerney, owner of The Monomoy White. "It is my love for this place and the beauty of the Great White that inspired me to open The Monomoy White. It only makes sense that I give something back to these magnificent creatures." A portion of proceeds from every sale at The Monomoy White will directly support Atlantic White Shark Conservancy; the company is revamping its website to include a donation tracker. McInerney's site will also feature a link to the OCEARCH Global Shark Tracker to follow sharks tagged off Cape Cod. "We are an all-volunteer nonprofit," explains AWSC founder Cynthia Wigren. "We are thrilled that individuals, like Conor McInerney, are stepping up to the plate now at this significant time for white shark research. As apex predators, sharks play a critical role in keeping our marine ecosystem healthy. There is very little known about white sharks in the Western Atlantic and funding is as rare as the sharks. That's why our organization exists, to change that." A portion of every purchase at The Monomoy White will help give scientists the resources needed to support current and long term white shark research projects as well support AWSC shark education initiatives, which include a summer camp scholarship program, a shark education kit, and public outreach through speaking engagements. "Cape Cod is now a place where scientists have predictable access to white sharks," explains Wigren. "We have an extremely rare opportunity here in Massachusetts to work to ensure the future of this magnificent species. It is crucial that funds be raised now for research and tracking, both for the education and safety of the public and the protection of a species that can positively affect the ocean's viability for future generations."
may25 Orleans
With more people on the roads as the summer careens toward us, the Orleans police department, in concert with the state and other departments, is stepping up its enforcement of seat belt scofflaws. According to the National Highway Administration, more than half of the 21,253 passenger vehicle occupants killed in 2011 were unbelted. The campaign will run until June 2.
may25 Brewster
Brewster's selectmen re-organized Wednesday, after Tuesday's election. The new chairman in John Dickson, James Foley is the vice-chair and newly elected Pat Hughes is the clerk and appointments chair. They will wait to the first meeting in June to discuss liasons to the various committees.
may25 Chatham
Saturday, May 25, at 8 p.m. there will be a square and contra dance at the South Chatham Village Hall at the corner of Mill Creek Road and Route 28. Family dance and beginners' session is at 7 p.m. Musicians will be Amy Richardson Larkin on the fiddle and Jacqueline Schwab on piano. The caller will be Schwab. No experience necessary. Come solo or with a partner. The suggested donation is $10, and the dance is sponsored by the Unitarian Universalist Meeting House in Chatham. For more information 508-945-4827 or www.capecontraorg.weebly.com/chat-dir.html.
may24 Wellfleet-Provincetown-Chatham-Harwich
Wellfleet Memorial Day ceremony, 8:30 a.m. Monday in front of town hall, 300 Main St., sponsored by American Legion.
Provincetown Memorial Day observance, 10 a.m. Monday at town cemetery, off Cemetery Road, for laying of wreath at grave of Civil War veterans. Ceremony at 11 a.m. at town hall, Commercial and Ryder streets, featuring town officials, guest speakers and members of military with patriotic music.
Chatham Memorial Day ceremony, 10 a.m. Monday. Begins at World War I Memorial at left of community center on Main Street; proceeds to Oyster Pond to lay wreath on water; then to adjacent Korean and Vietnam Veterans Memorial. Ceremony then proceeds to Civil War Memorial at Seaview and Main streets for reading of Gettysburg Address by Scott Hamilton. Participants will be led back to rotary by bagpiper Sarah Marchio for further music, speeches and conclusion. Master of ceremonies: Mark Butler, commander of Chatham VFW. Guest speaker: Senior Chief Robert Goley, officer in charge of Coast Guard Station Chatham. If inclement weather, ceremony will take place at 10 a.m. at community center.
Harwich Memorial Day ceremony, 9:45 a.m. Monday, Brooks Park, Harwich. Music by Harwich Town Band. Soloist Amy Camenga. Pledge of Allegiance/national anthem by Harwich Scout troops. Invocation and benediction by the Rev. Jim David. Greetings by Selectman Linda Cebula. Guest speaker: retired Coast Guard Cmdr. John C. Rendon. "Amazing Grace" tuba solo by Michael Rodericks. In memory of Robert A. Domos. Taps by Annie Harris.
more
may24 Wellfleet
Wellfleet will celebrate Memorial Day, Monday, May 27, with a ceremony that will start at 8:30 a.m. in front of town hall. There will be music, speechers, prayers, a color guard and the placiing of a wreath. All are invited to attend. If it rains, the ceremony will be held at the Wellfleet Elementary School.
may24 Wellfleet
On Saturday afternoon, local author/illustrator Susan Baur will read from her books, The Turtle Sisters of Cape Cod Pond and The Turtles Sisters Learn the Best New Trick. Also, see live box and diamondback terrapins up close and learn how conservationists are trying to keep their populations from declining further.
On Sunday afternoon, New England Reptile and Raptor Exhibits will have live native and exotic turtles on display. The Lewis Brothers Ice Cream Truck will be featuring their new Turtle Tracks ice cream flavor! On Saturday at 7:30 p.m. Cinematographer Daniel Lyons will present video and his account of a community in Trinidad that joined forces to help save the leatherback turtle. On Sunday at 7:30 p.m. Author/naturalist Susan Baur will share underwater video of her experience getting to know and learn about turtles of the Cape's local ponds. Bill Allen of Eastham will also discuss a local campaign to save the threatened diamondback terrapin.
more
may24 Wellfleet
Talk to any firefighter or police officer and they will tell you there is more to the job than putting out fires and putting away bad guys. Community outreach is an important aspect of any public safety job. Here on the Cape, officers and firefighters are very involved in their communities and this is especially true when it comes to children.
According to Wellfleet Elementary School Principal Mary Beth Rodman, Wellfleet police officers and firefighters can often be found chatting with kids at lunch time at the school. Last Thursday, according to Rodman, Firefighters Joe, Don and Allison joined the kids for lunch and much to the delight of many, arrived in full gear. This type of outreach is key in teaching children they can trust and count on the firefighters and officers in their town. WFD and WPD personnel are active in other areas too, Rodman said. Wellfleet police teach D.A.R.E to the town's 5th graders and firefighters offer a safety week program during each school year for grades preschool to 5. Who knows, a lunchtime visit such as this could send one of the kids down the public safety career path some day.
may24 Wellfleet
As I contemplate the arrival of Memorial Day Weekend I am amazed that we made it through this interminable winter, but as long as it seemed, I can't believe the beginning of the summer season is here. I find I am slow to pull out the summer clothes, and I haven't bought one plant for my porch. Not yet. I suppose I'm looking at summer with distrust after days of frigid temps with no power, and when there was power, conserving the platinum-priced heating oil by keeping the house at bone-chilling temps. Summer. I thought you and your blue skies and warm sun would never arrive. I promise to not take you for granted, or whine when it's too warm. Well, not much. Nothing spells the beginning of summer like the opening of the Beachcomber in Wellfleet. This iconic beachfront bar is mecca to its devotees, and the only place like it on the East Coast. Of course it wouldn't be opening weekend at the Beachcomber without the Incredible Casuals. On Sunday, May 26 at 5 p.m., Chandler Travis and the band are back. Oh, and of course you can head there tonight, Friday, for some reggae with DJ Bud E. Green, and Saturday night for some more dancing with DJ White Animal Sound. On Monday it's something a bit local -The Trees and The Sunsharks return for a Memorial Day Happy Hour! Showtime is 5 p.m.
more
may24 Eastham
There will be a third town water article on the warrant at the June 22 special town meeting. Selectmen called for the meeting after two proposed water articles failed at the May 6 town meeting after garnering 64 percent of the vote, just shy of the necessary two-thirds majority. The board is now taking both of those articles before the voters again. But opponents have successfully petitioned for a third article that would provide public water to about 220 homes in the neighborhoods down gradient of the capped landfill. The cost of the third proposal would be $5.8 million, including construction and design. The required 100 signatures on the petition have been verified by the town clerk's office. The first proposal submitted by selectmen calls for a townwide system to be built in phases over 12 years for $114.8 million. The second provides water and fire hydrants to most businesses and residents. It also would provide water to the homes around the landfill, where volatile organic compounds and what the Environmental Protection Agency considers a probable human carcinogen - 1,4-dioxane - have been found in private wells. The partial plan would cost $40.8 million. A citizens group, the Eastham Water Action Committee, submitted a petition to the selectmen supporting the board's two proposals. The third article would correct the water problem only around the landfill. $5.8 million would cover construction of a building for water treatment and pumping stations, the purchase and installation of water meters, fire hydrants and other water department equipment. Fire hydrants would be provided only in the neighborhoods around the dump. Under this plan, the businesses would pay for their use of the water system. But all the town taxpayers would cover the $5.8 million for the homes around the landfill. It would cost the owner of a $433,000 home about $32.22 a year on the tax bill for 30 years.
more
may24 Eastham
may24 Eastham
Eastham citizens will gather at the Windmill Green at 9 a.m. Monday, May 27, in observance of Memorial Day. Moderator Dave Schropfer will officiate. There will the reading of a poem and a color guard may possibly be in attendance. All are invited to attend.
may24 Nauset-Eastham
After a successful performance at the Atlantic Coast League meet, the Nauset track teams are set for the Div. 3 East sectional meet this upcoming weekend, with an eye on the state meets to follow. After winning the ACL title in the mile, Nauset sophomore Coralea Geraniotis is seeded fourth for the two-mile.
Fellow ACL champion, Molly Crowell, who won the 400-meter dash, is seeded 12th in the event for the sectional meet this weekend. Both Crowell and Geraniotis will run legs in the 4x400 meter relay, which will also feature Jenny Leyton and Allison Burns. That relay is seeded eighth, while the 4x100 relay team of Katie Hannon, Nina Putnam, Ashley Loder and Sarah Hemmings is seeded sixth. In other individual events, Madison Pawlina will compete in the 100-meter dash while Callie Schadt will compete in both the 800-meters, and the one-mile. Leyton is the fifth seed in the 400-meter hurdles after lacing second at the ACL league meet, while Putnam will race in the 100-meter hurdles. On the boys side, the 4x800 relay team of Jake Avery, Jordan Dash, Andrew McKenzie and Davis Hartnett qualified in the final position. As a team, the Nauste boys placed seventh at the ACL meet.
may24 Truro
utra's Market has a new pair of owners, but its legacy is still very close to home. Truro native Ellery Althaus and fiancé Claire Adams purchased the 163-year-old Dutra's building on Monday, marking an end to the speculation surrounding the historic market's future since suddenly shuttering last September.
"We are the proud owners of what is formally known as Dutra's Market," said Althaus, who grew up across the street from the market where his father and mother, poet Keith Althaus and artist Susan Baker, still live. The young couple is changing the name to "Salty Market," or some close variation, they said, but plan to maintain the essence of the historic general store that has served this remote section of the Outer Cape for generations. "The original Dutra's is the inspiration, but we're going to expand it a little," said Adams, a self-described "wash-ashore" from Boston who met her fiancé in 2011 while both were working summer jobs at Adrian's Restaurant in North Truro. A day after the closing, on Monday, Adams, 29, and Althaus, 30, were on-site at 2 Highland Road wearing masks and work clothes to begin the renovations. The couple plans to remove a center wall in the store, add seating to the deli area, and update the overall feel. A burst pipe on the second floor caused minor flooding in January that will require significant repairs. If all goes well, the market could re-open by late summer or early fall, Althaus said. Like it's predecessor, the market will operate as a year-round general store, deli and liquor store. The newly named market is a nod to the sweet salt air that attracts so many to the Outer Cape, they said, and it will cater to locals, tourists and summer residents alike with a mix of staples and upscale goods. For Althaus, whose childhood played out in the shadow of the general store, purchasing Dutra's was a way to make a life for himself and soon-to-be bride in the place he's always called home. "As a local, it's always difficult to find a way to stay living on the Cape," he said. "It was the dream of living on the Cape and having your own business."
more
may24 Provincetown
The Provincetown International Film Festival (PIFF) which takes place in Provincetown, MA from June 19th to 23rd has announced their 2013 honorees. Matt Dillon will receive the Excellence in Acting Award sponsored by American Express, Ed Lachman cinematographer of such great film as "Far From Heaven" & "Erin Brockovich" will receive the Faith Hubley Career Achievement Award sponsored by the Mallrd Foundation & Harmony Korine will receive the Filmmaker on The Edge Award sponsored by the Coolidge Corner Theatre Foundation.
PIFF is celebrating its 15th anniversary with a few of its past fabulous celebrity honorees including openly gay directors Todd Haynes, Rob Epstein, Jeffrey Friedman, John Waters & producer Christine Vachon just to name a few. The Opening Night Film will be "Lovelace", the Friday Night Spotlight selection is "I Am Divine" the new documentary by Jeffrey Schwarz who told me last month that he will be attending as well. This is the 6th year we'll be covering PIFF for OUTTAKE VOICES. Presenting Sponsors of the 2013 Festival are HBO, Crown & Anchor, MALLRD Foundation, Bubala's, Local 186, Xfinity, Ultra & Official Card: American Express. PIFF is also supported by grants from The Academy of Motion Picture Arts & Sciences, The National Endowment for the Arts, Massachusetts Cultural Council, Provincetown Tourism Fund & the GALE Fund of the Cape Cod Foundation. Tickets go on sale Friday, May 25th & festival passes are on sale now. Passes are the best way to go to insure you won't miss any of these great films & events.
more
may24 Provincetown's
Matt Dillon will be in Provincetown in June to attend the 15th annual Provincetown International Film Festival, where he will receive the festival's Excellence in Acting Award. inematographer Ed Lachman will also attend the festival and receive the Faith Hubley Career Achievement Award. As previously announced, Harmony Korine will be in Provincetown, too, to receive the festival's Filmmaker on the Edge Award.
Dillon's many screen credits include "Drugstore Cowboy," "There's Something about Mary" and To Die For." Lachman's visionary work includes "Erin Brockovich," "Far from Heaven" and True Stories." Also attending the festival are directors John Waters, Todd Haynes, Mary Harron, Rob Epstein and John Friedman, producer Christine Vachon and other celebrities. Provincetown's film festival takes place at various venues around town beginning on Wednesday, June 19, and running through Sunday, June 23. For a complete schedule of festival films and events, go to ptownfilmfest.org.
may24 Orleans
No one will mistake the Cape for Farmville, but there are local farms tucked in between the vacation homes, hotels and restaurants. And this summer is the 20th they've had the opportunity to sell their wares in a local farmers market Saturday mornings in Orleans. Since the Orleans market opened in 1994 other markets have opened in Bass River, Chatham, Dennis, Harwich, Hyannis, Osterville, Truro and Wellfleet. The local fresh food scene in booming but it wasn't always so.
Orleans Market opened on land next to the bowling alley on Route 6A and then shifted to the Cape Cod Five Operations Center on West Road. In 1991 when they still had about 15 vendors they shifted to the present site on Old Colony Way next to the mall. While all of the original 18 odd vendors have moved on, Gretel Norgeot of Checkerberry Farm is still involved as president of the market. "I started in the second year, there was a core group of five or six people, about 10 vendors," she recalled. "Now we have about 30, closer to 40, and we have a waiting list. And we are doing a Wednesday afternoon market in July and August from 3 to 6 p.m." The original goal of the market was to support local farms and all the vegetables, soap and even the cheese is produced in Barnstable County - with one exception. Some of the corn comes from Westport. In addition to new items like soap and cheese, the market now features jams and jellies, honey, smoked and unsmoked fish, wines from Truro Vineyard, grass fed beef from Dennis and Cape Cod roasted coffee (the coffee beans aren't grown in Barnstable). "Tim Friary (of Barnstable's Cape Cod Organic Farm) has pigs and is in the process of getting permitted for pork sausages and pork products," added Norgeot. "We have Eastham asparagus and Eastham turnips, also the Cape Cod salt people." Salt is an old Cape Cod product but the heart of the market is still the fresh vegetables and fruits. "It's the quality of the product," Norgeot declared, "just picked compared to a week on the truck in transport. Fresh food is a better nutritional value than stuff that's been on the shelf awhile." The market is a critical local outlet for growers.
more
may24 Brewster
On Wednesday May 22, at 10:57 a.m. the Brewster Fire Department was dispatched to a reported structure fire in the Clubhouse at the Captain's Golf Course. Upon arrival Car 249 (Fire Prevention Captain Peter Rubel) reported light smoke showing from a wood frame building containing the clubhouse and restaurant facilities.
Car 231 (Chief Moran) and Car 232 (Deputy Chief Harrison) arrived on scene shortly after. Chief Moran assumed command of the incident and Deputy Harrison was assigned as the Operations Section Chief. Brewster Engine 234 arrived on scene and immediately stretched a one and three quarters attack line to the area of origin. Brewster Ladder 237 reported on scene and was directed to set up on Side "A" or the front side of the structure in the event the aerial ladder would be required. A quick size-up of the incident revealed golf course personnel had extinguished the main body of fire on the exterior of the building just prior to the arrival of the fire department. A more localized investigation revealed minor extension of the fire into the eaves was present. Firefighters quickly opened up this area, removed charred siding and a section of the eaves, wet the area down, and utilized the thermal imaging camera to ensure full extinguishment. An origin and cause examination of the scene and witness interviews provided confirmation that the fire originated in a plastic waste bucket used to discard smoking materials which was placed directly against the wood siding of the building. Tower 176 from the Orleans Fire Department and Engine 68 from the Harwich Fire Department responded on the mutual aid line box assignment on the report of the structure fire. On their arrival these units were placed in staging and eventually released from the scene. All Brewster units were released from the scene and command terminated the incident at 11:37 a.m.
may24 Chatham
The board of the Chatham Orpheum Theater is giving the place an added dimension. Orpheum president Naomi Turner said the theater will have HD digital projection capable of showing films in 3-D when it opens this summer, a feature that followed the selection of Jacobs Entertainment Inc. as the theater's professional film buyer.
Turner said that Jeffrey Jacobs, president of Golden, Colo.-based Jacobs Entertainment, suggested the 3-D digital upgrade during a meeting with the Orpheum's board of directors this past April. "Apparently, between now and December, there are something like 19 films which are going to be released in 3-D," Turner said. "With this state-of-the art technology, the theater will have an advantage in providing our audience with first-rate, first-run films." With the upgrade in technology, the theater will also need to raise the construction budget by $20,000. But Turner said the expense is far less than what older theaters must pay to upgrade and retrofit to 3-D projection equipment. "A lot of the theaters around the country are struggling because they are trying to convert to HD and it is costing a lot of money," said Turner. "We will be HD from the start and have 3-D capability for both of our movie screens. That's an advantage for the future and we are in very good shape." Turner also emphasized that the 3-D capabilities would add to the theater's ability to provide options for "audience enjoyment," and that art house films will still be offered along with commercial films. "In the summer, we have a big family audience with a lot of children, and family-oriented films and the 3-D capabilities will help us survive financially," she said. "But there is also a large population of very intelligent, sophisticated people looking for good cinema, so we want to offer both and be both things for all of the markets." The theater, projected to open for business in mid-July, has been under construction since January. In order to meet the deadline, a construction crew is working double shifts.
more
may24 Harwich
Every day, Angela Rose is surrounded by giant galvanized steel tubes and recycled electrical cable and she couldn't be happier. The sculptor works with off-beat materials in her North Harwich studio to create unusual garden sculptures that resemble flowers, insects and fairie wands. Dividing her time between Tucson and Harwich, the space artist, as she calls herself, has the best of both worlds. Summers on Cape Cod which she adores, warm winters in Arizona, and meaningful work year-round.
"I love putting sculptures in the natural landscape. Especially when it will be a surprise for the viewer," she says. Recently she completed an installation for Heritage Museums and Gardens called "Beneath II," which consists of 800 steel pipes bent to resemble seagrass in an area 40 by 108 feet. "I like people in the installation not looking at it. I want to create an experience. I want people to come out and play in nature." She has also made pendants that people can buy at Heritage that echo the sculpture so they can take home the memory. The sculpture will be at Heritage all summer along with the work of three other artists in the show, Moving Landscapes. Her husband Aureleo Rosano, a renowned metal sculptor and mosaicist, is also participating. Rose chose seagrass as the theme of her project because of its importance in the global eco-system. "It's arranged in circles and swirls that you can walk through as if you were a sea creature." She sees her work as a backdrop to people's imagination. Last year, Heritage held a Garden Gate contest and her design was accepted which led to this year's contribution. At the end of the summer, she hopes to find another public venue for Beneath II such as the National Seashore or Boston Public Gardens. Aside from public projects, Rose does private commissions from small pieces (starting at $125 for a single flower) to larger projects which can run up to $10,000.
more
may24 Harwich
To conserve water, the Harwich Water Department is placing its annual phase 1 voluntary watering restriction in place starting June 1. Cooperation from the community would be greatly appreciated in helping protect our valuable water supply. From July 1 to Oct. 15, water only between the hours of 4 - 8 a.m. and 4 - 7 p.m. Follow an odd / even schedule based on house numbers and calendar dates.
may24
On June 30, 1961, the departure of Boston's first Hyannis-bound train in years was met with glee by the 176 passengers on its maiden voyage, with one train operator declaring, "It's good to be back on this run."
On the last Friday of June 1984, Governor Michael S. Dukakis smashed a bottle of champagne on another train, the first to depart Boston bound for Cape Cod in nearly two decades, and declared it "the Spirit of Massachusetts." And on Friday afternoon, Cape Cod rail service will make a comeback once again, with passengers set to climb aboard the 5:12 p.m. CapeFlyer at South Station as it departs for Hyannis, the latest iteration in an on-again-off-again history of Boston-Cape train service that has spanned more than a century. The train is scheduled to run Fridays, Saturdays, and Sundays from Memorial Day through Labor Day. A trip from ­Boston to Hyannis runs two hours and 40 minutes. Transportation officials hope that the service, run by the Massachusetts Bay Transportation Authority and the Cape Cod Regional Transit ­Authority, using a double-decker commuter rail train, will be popular enough to pay for ­itself through fares and on-train advertising.
But history may be against it. "The problem has always been on these services that they never made enough money to cover the operating costs," said Bradley H. Clarke, a transit historian. "It has always suffered from a financial strain that brought service to a swift close." It is a fate T officials are hoping to avoid this time around. The first train reached Hyannis in 1854. Rail service was extended farther along the Cape in ensuing decades; in 1869, when a train first arrived in Wellfleet, it was met with cheering crowds and a song written by a local minister: "The great Atlantic railroad for old Cape Cod; all hail! Bring on the locomotive, lay down the iron rail." The ride down to the Cape, on trains named Comet and ­Pilgrim and Highland Light, became synonymous with the smell of salt marshes filling swanky dining cars as they rolled past cranberry bogs, lush farmland, and the backyards of quaint Cape cottages. On Friday nights the train was filled with fathers in suits, headed south to spend the weekend with wives and children headquartered on the Cape for the summer. But the rise of the automobile led to a fall in popularity. Beginning in the 1930s, service was withdrawn from parts of the Cape, with all service ending in 1958. It was resumed in 1961 and ran until the New Haven Railroad, which provided the service, went bankrupt. In 1984, it reemerged, as part of the privately owned Cape Cod and Hyannis Railroad. Again and again, ridership flagged. State legislators squabbled over whether to provide subsidies, then eliminated all aid to the rail line. Train service sputtered to a halt.
more
may24
When the CapeFLYER officially kicks off Boston-to-Cape Cod rail service today, it is expected to draw a lot of attention. And the overwhelming response to the new weekend service has been positive - except in Middleboro, where the commuter line from Boston usually ends.
"We were all surprised," Middleboro Town Manager Charles Cristello said Thursday about the seasonal extension of service to Hyannis. Residents and town officials are concerned about safety around several grade crossings on the rail line headed southeast toward the Cape Cod Canal, Cristello said. In letters sent Monday to Gov. Deval Patrick, the state Department of Transportation and the Cape Cod Regional Transit Authority, Middleboro selectmen questioned why additional fencing and more secure railroad crossings have not been installed. "We do not understand why (Middleboro) and towns to our south are not afforded the same safety measures that are routinely provided to other communities," the selectmen wrote. Our concern obviously is the safety of the citizens in that area," Middleboro Fire Chief Lance Benjamino said Thursday. He hopes that "quad" gates, which block traffic in and out of a rail crossing, and fencing will be installed, especially in areas with a lot of pedestrian, all-terrain vehicle and dirt bike traffic. As of Thursday afternoon, a total of 200 tickets for the service had been sold online and at South Station in Boston, Cahir said. About 1,110 passengers can fit on the five double coach cars, single coach car and concession coach car being used for the run, he said. "If nobody rides the train, we can't say we didn't try," he said.
more
may24
You into '60s music? The Cape Cod Melody Tent has the Beach Boys, the Temptations and the Four Tops coming this way. The '70s? Here come Lynyrd Skynyrd, the Doobie Brothers and the Steve Miller Band. The '80s? Spend a night with the B-52s and the Go-Gos.
The '90s? The Tent definitely has that covered this summer with a pair of one-night festivals of hitmakers. There are also some performers who made their mark since the start of the millennium (Siobhan Magnus, Scotty McCreery and OneRepublic), and some whose careers cover multiple decades (Buddy Guy and Emmylou Harris).
more
may24 Wellfleet
Elspeth Hay is an avid locavore who lives in Wellfleet and writes a blog about food. Elspeth is constantly exploring the Cape, Islands, and South Coast and all our farmer's markets to find out what's good, what's growing and what to do with it. Her Local Food Report airs Thursdays at 8:30am on Morning Edition and Thursdays at 5:45pm on All Things Considered, as well as Saturday mornings at 9:30am.
It's been a slow squid season this year, so why not use all of what you catch? This week on The Local Food Report, Elspeth Hay learns about the many culinary uses of squid ink, from risottos to martinis.
more
may23 Wellfleet
This Memorial Day weekend is shaping up to be a big one. This official start of the summer season will include the 4th annual WES Fest in Wellfleet on Saturday. Sponsored by the Wellfleet Elementary School PTA, WES Fest offers an inexpensive day of fun for kids and their parents.
If your kids like rides, there will be plenty of them including the rapid 70' slide and pirate ship courtesy of North American Amusements. Kids and adults can try their luck playing the many carnival games including ring toss, clown toss and putting green. There will be lots of delicious food for sale, live entertainment by Sarah Swain, the Rip It Ups and the Oh Boys and a craft fair. Local businesses from Wellfleet and neighboring towns are sponsoring rides and activities. All proceeds benefit WES PTA programs. WES PTA raised over $8,000 at last year's 3rd annual WES Fest. The WES Fest will be held at Bakers Field on Kendrick Ave. in Wellfleet from 10 a.m. to 3 p.m., Saturday, May 25, 2013. The rain date is Sunday, June 2 from 10 a.m. to 3 p.m.
may23 Wellfleet
Organizers of the third annual Wellfleet Harborfest & Nautical Flea Market, scheduled for 9 a.m. to 4 p.m. June 1 at the town pier, are seeking nautical items for donation or consignment. Items could include canoes, kayaks, dinghies, fishing gear, tackle, small motors, boating accessories, dive and snorkel gear, and other nautical equipment. All must be in reasonably good condition. Proceeds from the event are used to enhance publicly owned land and waters along the harbor. For more information, contact Ramon Rustia at 508-349-0066 or at rmrustia@aol.com.
may23 Wellfleet
Last summer, Lily Flores, like so many teens across the country, read a gone-viral essay, "The Opposite of Loneliness," that Marina Keegan, 22, left behind when she died in a Dennis car crash shortly after graduating from Yale. Lily was struck by Keegan's beautiful writing and powerful message - two attributes that have also drawn her in to Keegan's play "Utility Monster." Lily is one of the stars of the world premiere of that play at Wellfleet Harbor Actors Theater, in the town where Keegan's family owned the home where she and her boyfriend were heading when she was killed. Lily and other cast members say their way of thinking has been changed by Keegan's viewpoint in this play, but they also are impressed by how well Keegan was able to capture the voices of different generations.
"It seems so real," says Lily, who was director Dan Lombardo's immediate choice to play the role of Sadie. "She was so young (to be able) to write a play about so many complicated lives. "» It's not really depressing and it's not really dark, it's just a beautiful play." Lily and Ryan Rudewicz are close friends from Harwich Junior Theatre and Nauset Regional High School whom Lombardo calls "remarkable actors." They say the play is about a boy named Claude (Rudewica) who learns that you can save a child by spending just $5 and sets up a bake sale in a parking lot to help make a difference. He convinces Sadie to help him try to save as many children as they can, but they meet some resistance from her well-to-do family when Sadie decides to try to sell valuable artwork. Keegan "understood teenagers really, really well," including how they believe problems are so easy to solve, Ryan marvels. "The relationships she writes about are so true. You find other shows that the writers try to make it true ... and it doesn't really work out. ... But these are so true and so real and it's just amazing." Lombardo, artistic director at WHAT, has worked with Keegan's family to stage this play at the one-year anniversary of her death and says they're supportive and very excited to see their daughter's work get such a showcase. Keegan, an activist at Yale, wrote the play as a sophomore, and it was presented as a student production. Her musical "Independents" was part of the New York Fringe Festival last summer. "Utility Monster" runs Thursdays through Mondays through June 22 at the Wellfleet Harbor Actors Theater.
more
may23 Wellfleet
In this age of mega-banks and impersonal service, it's refreshing to discover that Cape Cod's oldest bank, Seamen's, is opening another branch which will combine the historical architecture of Wellfleet with the latest banking conveniences and technologies.
Since even the strongest bank in the United States will last only so long as the people will have sufficient confidence in it to keep their money there, it's comforting to know that Cape Codders have had confidence keeping their money in Seamen's for 162 years. This comes to mind because Seamen's Bank announced this week that it is inviting the community to visit its new Wellfleet branch when they open it on Monday, June 3. According to John Roderick, President of Seamen's Bank, "We worked with our architects to create a building that is representative of the historical architecture of Wellfleet while also incorporating the latest banking conveniences and technologies." The new building also includes a large community meeting room that groups are already planning to use. The new structure replaces the Wellfleet office that was built in the early 1950s by the First National Bank of Provincetown. That building is no longer fully functional, and presented several mechanical challenges. Seamen's has invited Habitat for Humanity to take any furnishings, fixtures, doors and windows before the old building is demolished. Once the old building is removed, the extensive landscaping will be completed.
more
may23 Truro-Provincetown
Shellfishermen expressed frustration with state regulators and those who protect marine animals at a workshop Wednesday on a new aquaculture venture in Cape Cod Bay. The fishermen want to use a method of growing oysters that has floating cages tied together at the water's surface, but the state announced last week it is banning the equipment because the ropes could entangle whales and large turtles. The fishermen can, instead, use equipment that is secured to the seafloor, state aquatic biologist Erin Burke said. So far, a handful of people are using the equipment in shallow waters off Truro and Provincetown. But the new venture is a 50-acre parcel in deeper water that the two towns have been developing since 2009. The towns received a final permit from the U.S. Army Corps of Engineers in January. "The state hasn't done enough work on the issue," Truro oyster farmer Dana Pazolt said. Pazolt is using the floating equipment in shallow waters off North Truro, but he wants to use the equipment in the deeper area as well. "The state is gun-shy," he said. "It keeps getting sued by do-gooder organizations. I think the regulators are looking at a boogeyman." Stephen Wisbauer, an alternate member of the Truro Shellfish Advisory Committee and a recreational shellfisherman, plans to farm in the deep-water area, keeping most of his oyster cages on the bottom but with a few on the surface. "Anyone can throw a wrench in our (aquaculture development area), and this one seems like it could put an end to many people's plans." He urged Burke and state aquatic biologist Jerome Moles to come up with a solution soon on any new regulations, and to consider easing up on the complete ban on floating oyster farms. Wisbauer urged the pair to call their director during a break in the workshop to try to resolve the issue as soon as possible. "I'm asking, when you go to your director, maybe you could give a number like two, or a ratio, like for every 10 cages on the bottom, one on the top," Wisbauer said. "Can you please, with this decision, can you keep an open mind?" Provincetown and Truro Shellfish Constable Tony Jackett questioned why all the permitting, such as the Army Corps permit, had gone smoothly enough with no mention of the ban.
more
may23 Provincetown
Artist Romolo Del Deo quickly pulled a drape from a scale model of his Fishermen's Memorial sculpture and, after a short while, covered it again. The Fishermen's Memorial Committee doesn't want pictures to go public yet of the 14-inch-long dory model with a fisherman on each end. It will be officially unveiled at the Berta Walker Gallery during the Provincetown Portuguese Festival, which begins on Thursday, June 27. TV cameras at the May 9 Pier Corp. meeting, however, likely caught a glimpse of it.
The actual fishermen-on-the-dory sculpture will be 14-feet across, six-feet wide and 10-feet tall, Del Deo said, and will welcome people to Provincetown at the bulkhead near Fishermen's Park. The sculpture will stick out into the water atop a triangular structure attached to the bulkhead and a piling or arch, he said. The sculpture and the base will each weigh between 500 and 700 pounds. "It would make a beautiful and thematic entrance to the pier," Del Deo told the Pier Corp. on May 9. "I think it's an enhancement to the pier that we're starting to create a sculpture park out there." A Richard Pepitone sculpture and Bubbles the Whale, provided by Julian Popko, are already holding court in the area. Clay, mold and bronze will be used to create the sculpture, Del Deo said, and the base will be made of marble or a form of salt or granite so that it will withstand the harsh harbor environment. The entire process could take up to two years or more. The need for funding might prolong the project - or the artist might. Del Deo has an open-ended contract for the piece so that his artistic goal will be satisfied, he said, which is more important than his wage. After all, he's a son who has returned to his hometown. "Now I've got to look at it every day too," he said. Members of the Pier Corp. praised the design, and Del Deo plans to show it to the board of selectmen, which first gave the project the go-ahead back in November 2010. The sculpture is dedicated to all Provincetown fishermen, past and present, and more than 200 residents signed the original petition supporting such a memorial.
may23 Provincetown
Gov. Deval L. Patrick will be the special guest honored by the Fine Arts Work Center in Provincetown at the organization's fourth annual Summer Awards Celebration, scheduled for Saturday, July 13. The fundraising gala, which supports the Work Center's fellowship program for emerging artists and writers and serves to celebrate artists, writers and supporters of the arts community, has featured a distinguished line-up of past honorees, including Pulitzer Prize-winning writers Tony Kushner, Michael Cunningham and Mary Oliver, visual artists John Dowd and Anne Packard, and the Hudson and Ione Walker Family, arts benefactors.
"It is a great privilege for us to welcome Gov. Patrick back to Provincetown," says the Work Center's new executive director, Michael Roberts, in a press release. "The state of Massachusetts leads the way in innovation and commitment to the creative community. Even through difficult economic times, there is a steadfast effort to keep the arts alive and thriving. Under Gov. Patrick's leadership, the concerted dedication to the creative economy and to continued support for the arts is both meaningful and vital." In July 2009 the Fine Arts Work Center hosted a public forum on the economic impact of the arts within Cape Cod communities. The meeting included Governor Patrick, as well as representatives of several arts organizations and other government officials. In 2008 Governor Patrick signed legislation establishing the Creative Economy Council, tasked with measuring the sector's contributions to the state, developing a statewide strategy, and promoting responsive public policies. The Fine Arts Work Center has been a recipient of annual grants for many years from the Massachusetts Cultural Council, which has provided general operating support and critical stability to the organization. Currently the Work Center is a partner in MCC's Cultural Investment Portfolio, selected because of its long funding history with MCC and track record of public programming in the arts.
more
may23 Orleans
On Friday, May 24, and Saturday, May 25, there will be events most of the day at Friends' Marketplace in honor of the store's 15th birthday with a Yankee Trader product sampling from 11 a.m. to 2 p.m. There are Lobster Rangoons and a wine and cheese tasting from 3 to 6 p.m. on Friday. On Saturday from 7 to 10 a.m. the Nauset Garden Club is having a plant sale and from 8:30 to 11 a.m. there is a Pain D'Avignon sampling and the Good Time Guys Dixie Land Band and a chowder tasting in the afternoon. Raffle tickets will also be sold through June 8, with four winners a day taking home $25 Friends' Marketplace gift certificate. The money raised will support the Nauset Regional Middle School Greenhouse Project.
may23 Brewster
The clubhouse at the Captain's Golf Course was damaged by fire Wednesday morning. Shortly before 11 a.m., the Brewster Fire Department was called to the Captain's Golf Course because of a fire in the clubhouse, where the Back Nine Cafe is situated. Golf course personnel had extinguished the main section of the fire from the outside just prior to the arrival of the fire department. Firefighters found and doused an extension of the fire into the eaves. It appears the fire originated in a plastic waste bucket used to discard cigarettes. The bucket had been placed directly against the wood siding of the building.
more
may23 Brewster
Lawrence Houghton beat Jason Klump 55-40 in a dueling write-in campaign for Brewster's spot on the Old Kings Highway Historic District Committee and reconsidered his decision to step down. Klump was relected to a spot on the planning board after serving out an unexpired one-year term.
may23
The Cape Downwinders have won overwhelming support this spring for the group's push to shut down the Pilgrim Nuclear Power Station in Plymouth. Fourteen towns in Barnstable County, through town meeting or ballot votes, endorsed a citizens advisory question written by the anti-nuclear activists urging that the plant be closed.
The Downwinders hope to present Gov. Deval Patrick with the results of the initiative sometime in June. "People understand this issue," said Diane Turco, Cape Downwinders' co-founder and Harwich resident. "It's just 'where do we go next?' We're going to the governor with the support of 14 towns and calling on our highest public safety chief to close down the reactor." The public advisory question calls on the governor to urge the Nuclear Regulatory Commission to shut down the 41-year-old plant, which is owned and run by Entergy, "because the public safety, particularly Cape Cod residents and visitors, cannot be assured." On Tuesday, Falmouth, Yarmouth, Brewster, Orleans and Harwich voted to support the question. It had already been approved by Provincetown, Truro, Wellfleet, Eastham, Chatham, Dennis, Mashpee, Bourne and Sandwich. Barnstable, the final town in the county to weigh in, won't have a ballot until fall. State Sen. Daniel Wolf, D-Harwich, applauded the Downwinders' effort. "Our district should accept zero risk with something of this magnitude," Wolf said Wednesday. "The fact that this has gained momentum and gotten overwhelming support shows how much concern there is." Federal regulators re-licensed the Plymouth power plant for another 20 years in June, despite concern expressed by several state legislators, Attorney General Martha Coakley and Patrick. The attorney general filed a subsequent unsuccessful court appeal of the re-licensing on grounds the NRC failed to consider similarities between the Pilgrim nuclear plant and the Fukushima Dai-ichi plant in Japan, which experienced a meltdown in 2011 following an earthquake and tsunami. Neil Sheehan, NRC spokesman, said the agency thoroughly reviewed all data on the Pilgrim plant prior to re-licensing it for another 20 years.
more
may23
Federal forecasters are predicting yet another busy hurricane season. Thursday's outlook calls for 13 to 20 named storms, 7 to 11 that strengthen into hurricanes and 3 to 6 that become major hurricanes.
The prediction by the National Oceanic and Atmospheric Administration is more than what's considered an average Atlantic season. Last year was the third-busiest on record with 19 named storms. Ten became hurricanes and were two major storms, with winds over 111 mph. That included Sandy, which caused $50 billion in damage even though it lost hurricane status when it made landfall in New Jersey. The last time a major hurricane made landfall in the United States was Wilma in 2005. The seven year U.S. landfall drought is the longest on record. The six-month season starts June 1.
may23
DISPOSITIONS in court 5/20, 5/21, 5/22
SOKOL-RUBENSTIEN, Mara, 21, Montreal, Quebec; guilty of operating a motor vehicle while under the influence of alcohol (OUI), May 18 in Truro, one-year license loss, $500 fine, $125 surfine and $100 fees; negligent driving, dismissed; not responsible for two other traffic violations.

BENNETT, Robert, 52, 24 Bayberry Lane, Harwich; guilty of assault and battery of a police officer, June 30 in Harwich, 90 days (suspended) in Barnstable County Correctional Facility, one-year probation, $780 costs and $50 fee.

GRANVILLE, Ann, 40, 212A Conwell St., Provincetown; admitted sufficient facts to assault and battery, Aug. 10 in Provincetown, continued without a finding for 11 months, $715 costs and $50 fee; two counts of assault and battery with a dangerous weapon and disorderly conduct, dismissed.

MARTELL, James, 66, 920D Route 28, Harwich; rape, Dec. 24 in Harwich, dismissed.

LITTLEFIELD, Kevin, 51, 2 Alden Lane, Truro; admitted sufficient facts to assault and battery, April 22 in Truro, continued without a finding for one year, $600 costs and $50 fee; possession of marijuana with intent to distribute, dismissed.

ARRAIGNMENTS in court 5/20, 5/21
BUSA, Christopher, 66, 650 Commercial St., Provincetown; violating a harassment protection order, May 20 in Provincetown. Pretrial hearing June 23.

GOMES, Daniel, 30, 209 Main St., Hyannis; breaking and entering in the daytime to commit a felony and placing a person in fear, breaking and entering at night, breaking and entering to commit a misdemeanor and three counts of malicious destruction of property valued at more than $250, May 14 and 18 in Harwich. Pretrial hearing June 17.

HEMPEL, Laura, 29, 14 Willie Nick Way, Dennis; OUI, May 19 in Brewster. Pretrial hearing June 24.

METCALFE, Christopher, 59, Dennisport; OUI, negligent driving and two other traffic violations, May 19 in Orleans. Pretrial hearing July 1.

WYATT, Andrew, 19, 10 Carol Lane, Harwich; assault and battery, May 14 in Harwich. Pretrial hearing June 17.

ALLMON, Justin, 22, 240 Sea Gull Lane, Eastham; two counts of assault with a dangerous weapon and vandalism, April 26 in Eastham. Pretrial hearing June 6.

ENOS, Steven, 47, 273 Millstone Road, Brewster; assault and battery, May 8 in Chatham. Pretrial hearing June 13.

HEROLD, Zachary, 17, 18 Cranberry Lane, Truro; two counts of assault with a dangerous weapon and vandalism, April 26 in Eastham. Pretrial hearing June 6.

SILVA, Vincent, 17, 1770A Massasoit Rod, Eastham; two counts of assault with a dangerous weapon and vandalism, April 26 in Eastham. Pretrial hearing June 6.

WILLIAMS, Phillip, 44, 7 Smith Road, Yarmouth; possession of amphetamines with intent to distribute and distributing amphetamines, May 20 in Truro. Pretrial hearing June 3.
more
may22 Wellfleet
A man was arrested at Marconi Beach on Tuesday morning after allegedly assaulting a woman at a Spring Brook Road home. Jeffrey Hyer, 43, of Wellfleet, was charged with assault and battery and intimidation of a witness. Police responded to the home on Spring Brook Road just before 9 a.m. to a call of a disturbance in progress, according to a police statement. Hyer allegedly assaulted a female at the home and fled, which caused police to call for the aid of a Barnstable County K-9 unit, the National Park Service and Eastham police to help locate him, according to the statement. The woman suffered minor injuries, said Wellfleet police Lt. Michael Hurley. Around 10:30 a.m., the National Park Service found Hyer at Marconi Beach where he was arrested, according to police. Hyer is due to appear in Orleans District Court today, Hurley said.
may22 Wellfleet
Three dozen guns and over a thousand rounds of ammunition were brought in by residents to local police during the Outer Cape gun "buy back" program May 11 through Sunday, Wellfleet Police Chief Ron Fisette said Tuesday. The inventory included ten rifles, seven shotguns, 13 handguns and six air or pellet guns. The towns of Orleans, Eastham, Wellfleet, Truro and Provincetown participated. Wellfleet volunteer Lydia Vivante sought out donations of gifts and gift certificates from businesses to give residents in exchange for voluntarily bringing in the guns and ammunition. The program was generally pitched to people who have guns in their homes that they didn't want, such as a gun inherited from a deceased family member. The "buy back" program mirrors programs in other towns in the state, particularly as a way to prevent gun violence following the school shooting Dec. 14 at Sandy Hook Elementary School in Newtown, Conn., according to local police chiefs.
may22 Wellfleet
Early last summer, Tracy and Kevin Keegan were walking in Wellfleet center when Kevin Keegan recognized Dan Lombardo, the artistic director of Wellfleet Harbor Actors Theater, behind the window of the company's Main Street box office. They struck up a conversation.
"And he said, 'My daughter was a playwright.' And I said, 'Tell me about her,'" Lombardo recalled. "And suddenly it hit me this was Marina Keegan's father." Marina Keegan, a Wayland native, had just graduated from Yale University and accepted a job at The New Yorker when she died in a car crash in Dennis last year, on the way to her family's summer home in Wellfleet. She was 22. Keegan's writing - including a Yale Daily News essay titled "The Opposite of Loneliness," which led to a piece for The New York Times DealBook blog - had already attracted enough attention that her death made headlines: in the Globe, in the Times, and across the country. Like seemingly everyone else in town, Lombardo had heard about the accident, and the chance meeting with her parents took him by surprise. But the possibilities were obvious. Later in the summer, the Keegans loaned Lombardo a DVD of "Independents," a big-cast musical whose book Marina had written that debuted at last year's New York International Fringe Festival. They also sent him the script for her play "Utility Monster." He was eager to read it, but also a little concerned. What if, after all that, it wasn't quite good enough? He quickly decided it was.
more
may22 Wellfleet
The selectmen Tuesday approved Harriett Korim's request to hold the 20th annual yard sale at swap shop on Saturday, May 25 from 8 a.m. to 3:30 p.m. All proceeds will benefit the Swap Shop Ecology Action Scholorship. No food or beverages will be served and parking will be arranged by the DPW staff. The board agreed to waive the fee for use of town property.
may22 Wellfleet
The selectmen Tuesday appointed Neil Gadwa to the boad of water commissioners to fill the remainder of Daniel Wlliams term that will end in 2015.
may22 Wellfleet
The selectmen Tuesday, on learning that Suzanne Lawler, who they had appointed to the board of voter registrars in March was unable to serve, appointed Andrea Pluhar to take her place.
may22 Wellfleet
Seamen's Bank, Cape Cod's oldest bank, will open a new branch in Wellfleet this June. "We worked with our architects to create a building that is representative of the historical architecture of Wellfleet while also incorporating the latest banking conveniences and technologies," Seamen's Bank President John Roderick said in a statement. The new bank includes a large community meeting room. Brown Lindquist Fenuccio & Raber Architects Inc. was the architect for the project and Cape Associates Inc. was the builders. The new structure replaces the Wellfleet office that was built in the early 1950s by the First National Bank of Provincetown. Seamen's has invited Habitat for Humanity to take any furnishings, fixtures, doors and windows before the old building is demolished.
may22 Wellfleet
Ira Wood is an author, a teacher, a former publisher, a former selectman, and the host of a weekly radio program called The Lowdown on WOMR-FM, Cape Cod's Community Radio Station. For over 30 years Ira has made his home in Wellfleet. The Lowdown enables Ira to indulge his lifelong compulsion to pester people with questions.


may22 Wellfleet
Robert Finch is a nature writer living in Wellfleet. He has lived on and written about Cape Cod for forty years. His essays can be heard on WCAI every Tuesday morning at 8:35am and Tuesday afternoon at 5:45pm. 'A Cape Cod Notebook' won the 2006 New England Edward R. Murrow Award for Best Radio Writing.
In May of 1984, two-thirds of the entire North American population of Roseate terns were believed to nest upon Bird Island, a small pile of glacial debris located in Buzzards Bay about a half-mile off the coast of Marion. The colony at Bird Island was long considered secure from predation. On A Cape Cod Notebook, Robert Finch recalls the morning when he and others made a painful discovery which shattered that presumption of safety.
may22 Eastham
Voters returned two supporters of a townwide public water system to the board of selectmen Tuesday in the annual town election. John Knight was re-elected with 997 votes and Wallace "Wally" Adams with 941 votes. Challenger Lisa Panaccione, who prefers a smaller public water system to solve a specific problem area in town, received 728 votes. Both selectman seats are for three-year terms.
Eastham is one of a handful of towns in the state without some sort of public water system. Residents have private wells and septic systems on their properties. The town has 4,137 registered voters and 1,595, or about 39 percent, came out to the polls at town hall. "I'm just pleased that John and I both won," Adams said Tuesday after votes were tallied. "We have a good board. We can still continue good work for the town. Voters also approved a Proposition 2½ debt exclusion to establish a townwide water supply and water distribution system. The vote on Question 1 was 840-703. The approval represents an additional $38.8 million that would complement the $76 million authorized on a ballot question in 2007, a town official told the Times. But the proposed townwide project cannot move forward without a two-thirds vote of approval at town meeting as well, which so far has not happened. The latest defeat at town meeting came on May 6. The selectmen plan to bring the $114.8 million proposal, the sum of the two ballot authorizations, to a special town meeting June 22. A second proposal for $40.8 million, planned for the June 22 meeting as well, would provide public water to properties near the town landfill and to most commercial properties, and provide fire hydrants to 80 percent of the town. Voters approved Question 2 926-541, turning the elective position of town treasurer/tax collector into an appointed position. The proposal was a charter change approved at the 2010 annual town meeting. In uncontested races, Edward Brookshire was re-elected to the Nauset Regional School Committee for a three-year term with 1,250 votes. Ann Crozier, an incumbent, and Amy Handel were elected for three years to the elementary school committee, with 1,129 and 1,148 votes, respectively. Incumbent library trustees Sharon Krause and Norma Marcellino were re-elected for three more years, with 1,181 and 1,167 votes, respectively. Town officials will need to review the write-in candidates to determine who won a five-year seat on the housing authority, Assistant Town Clerk Susanne Fischer said.
may22 Eastham
1,595 ballots were cast in Tuesday's Eastham town election. Voters returned incumbernt selectmen Wallace Adams and John Knight to the board to serve another three years. Knight was the top vote getter with 997 votes, while Adams received 941. Lisa Panaccione, the challenger, received 728 votes. Voters approved Question 1, to fund the municipal water project, by a vote of 840 yes, 703 no. A simple majority was needed for passage.
may22 Eastham
may22 Eastham
The Inn At the Oaks, a 13-room historic Inn located in Eastham, Ma, has published "The Literary Map of Cape Cod," a tribute to Cape Cod writers. The map profiles both classic and contemporary writers, including Eugene O'Neill, Norman Mailer, Tennessee Williams, Mary Oliver, Kurt Vonnegut, and many more. Cape Cod has a great tradition for inspiring writers, and the Inn At the Oaks, located in Eastham, MA, is continuing the tradition with the publication of a Literary Map of Cape Cod. The map shows where writers lived and worked, featuring both classic writers like Eugene O'Neil and e.e. cummings as well as contemporary writers like Mary Oliver and Nathaniel Philbrick. Beside each writer's name is a short somewhat obscure factoid.
Jack Kerouac, who wrote for a time in the Dune Shacks near Provincetown, wrote the final draft of On the Road on a 20 foot roll of paper consisting of tracing paper taped together so he could type continuously without reloading paper. The map also shows more than a dozen literary landmarks, from the Highland Lighthouse in Truro which Henry David Thoreau described as "a neat building in apple pie order," to the Black Water pond and woods outside Provincetown, made famous by Mary Oliver's Pulitzer Prize winning poem. The Inn At the Oaks is also designated as a literary landmark for its association with the famed naturalist writer Henry Beston, who wrote The Outermost House in the 1920's describing his year in a dune shack on Eastham's Coast Guard Beach. Beston stayed at the Inn (then called the Overlook Inn) off and on in the 1920's to escape some of the harshest days of winter and the green flies of summer. The innkeepers at that time would wave a lantern in the window to signal Beston that he had mail. Beston would signal back when he wanted to be picked up to go grocery shopping in nearby Orleans. It's said that there was so much lantern-waving on the beach that the Coast Guard once questioned Beston as a suspected rum runner. The Inn's Henry Beston Suite is now one of its most popular rooms. Today the Inn at the Oaks is owned by Lawrence Shapiro, a prolific writer of self-help books, who started his writing career taking time off from his day job as a child psychologist and writing undisturbed in B and B's and small hotels. Shapiro notes, "When I bought the Inn, I assumed that there are many writers like me who like to get away to write in a quiet place full of natural beauty, and there are few places more inspiring than the Outer Cape." The Inn offers discounts for writers who want to get away for a week or more during the off-season. The Literary Map of Cape Cod is available exclusively at the Inn's gift store, or online at http://www.innattheoaks.com/store/.
more
may22 Eastham-Nauset
Winning their thirdaight, the Nauset boys' lacrosse team qualified for the state tournament with 6-2 win over Plymouth South during Wednesday's regular season finale. Sitting on the outside of the postseason picture looking in following a loss to Sandwich last week, the Warriors won their final three games, staring with a big 8-7 win over Atlantic Coast League rival Falmouth last Thursday afternoon, as senior Ethan McCullough scored the winning goal to propel Nauset to an 8-7 win. McCullough will play both football and lacrosse at Curry College next season. On Monday, Nauset rolled over Mashpee 21-3 to set up Tuesday night's win-or-go-home scenario. At 10-10, the Warriors aren't looking at a top, and will likely have to play on the road during the tournament, but qualifying a feat not lost on the Warriors coach. "Beating Falmouth was the big one for us," said Kevin McCullough, who's in his third year coaching the Warriors. "We've matured a lot as a team throughout the season, which has been the key." Adding success in the tournament will come down to defense and face-offs, coach McCullough praised the play of his defensive unit, including Eric Marston, who'll attend and play at Endicott College next year, Roland "Bubba" Kaplan, and Joe Vitale. Along with underclassmen Adam Sumner and John Gainey. Seniors on this year's squad who played their final home game on Tuesday, were Pat Corbett, Alex Cowing, Dylan Fox, Nick Goode, Kaplan, Graham Larson, Harry Lynch, Marston, along with Ethan McCullough and Vitale. Seedings for the Div. 2 South tournament will be announced on Friday, with their first-round games set for early next week.
may22 Truro
Cape Cod's oldest lighthouse, Cape Cod Light, is open for the season, Highland Museum and Lighthouse Inc. spokeswoman Francene Webster announced. The lighthouse, on Highland Light Road and also known as Highland Light, is a primary aid to navigation. It is open to visitors from 10 a.m. to 5:30 p.m. daily through mid-October. There is a $4 fee to climb to the top, and children must be at least 48 inches tall to make the climb. A gift shop is open as well. The first lighthouse on the property was built in 1797, but the structure has been rebuilt several times since then. In 1996, the 430-ton light was moved back from the edge of the cliff to its current location because of erosion. The lighthouse is owned by the Cape Cod National Seashore and managed by the museum and lighthouse nonprofit organization. The light itself is maintained by the U.S. Coast Guard.
may22 Truro
Payomet Performing Arts Center in North Truro has a full summer of music scheduled this summer, with more than two dozen nationally and internationally known artists scheduled into September at its National Seashore tent and nearby.
As its announcement trumpets, Payomet's music series will feature 12 Grammy-nominated artists (six winners); three Rock and Roll Hall of Fame inductees, what it's calling "The British Invasion," a music prodigy from Martha's Vineyard and the "Jumpin' Jambalaya Jam" benefit. The diverse list of performers include The Zombies, bluesy Ruthie Foster, jazz from John Pizzarelli, guitarist Frank Vignola and cabaret performers the Vagabond Opera. Here's the list, with performances at the tent at 29 Old Dewline Road in the Seashore unless otherwise indicated.
more
may22 Provincetown
The town disability commission will unveil a new program at 11 a.m. today to provide improved access to a beach to the west of Ryder Street Extension. The program provides an amphibious wheelchair and a stable path on which to roll the chair to the water, according to commission spokesman Vernon Porter. The amphibious chair is called a MobiChair, and the path, called a Path-Mat, gives wheelchairs and others with special needs a way to get to the water's edge. The commission is raising money to put the mats on all town beaches because the MobiChair is difficult to use on the town's soft sand, Porter said.
may22 Provincetown-Harwich
may22 Provincetown
Matt Dillon will receive the Excellence In Acting Award and Cinematographer Ed Lachman will collect the Faith Hubley Career Achievement Award at the Provincetown International Film Festival (PIFF).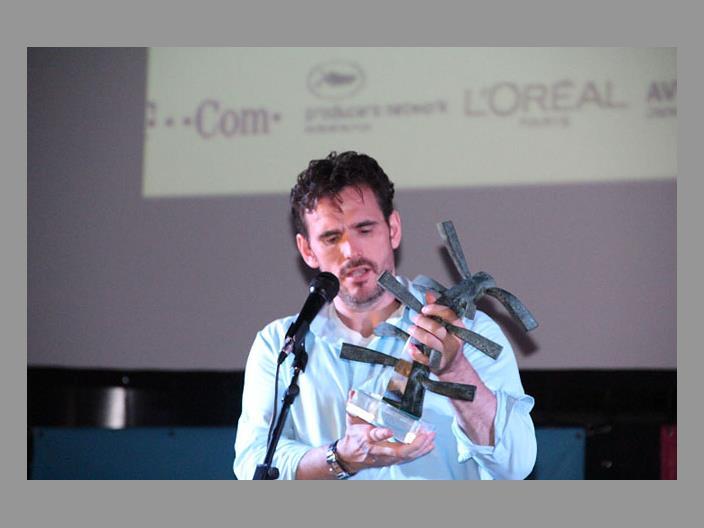 As previously announced Harmony Korine will receive the Filmmaker On The Edge Award and Lovelace will open and Emanuel And The Truth About Fishes will close the festival. The Friday Night Spotlight is I Am Divine and the Saturday Spotlight Selection is I'm So Excited!. PIFF is set to run from Jun 19-23.
may22 Orleans
The town voted for wastewater infrastructure and for the selectmen candidates who supported it at the annual election. Forty-five percent, or 2,349 of the town's 5,259 registered voters, turned out to vote. Alan McClennen, and incumbent Selectman Jon Fuller beat Mark Carron, who is against the $3.5 million article that will pay for engineering and design of a sewer system for downtown Orleans. Fuller received 1,546 votes and McClennen got 1,509, while Carron received 960. Question 8, which called for $3.5 million for the sewer design, won 1,386 to 931. Because the article passed at the ballot but failed to gain a two-thirds majority at town meeting by six votes, it could be reconsidered again before the fiscal year ends July 1, or again in 2015, Fuller said. A petition with the 200 signatures required to hold a special town meeting to reconsider the question could reach town hall soon, and if so, the town would have to hold the meeting before July 1, Fuller said. The close vote at town meeting and the win at the ballot box mean enough voters want to move forward with sewer planning, Fuller said. In other contested races, incumbent Brian Kavanaugh, beat Wesley Spiegel for a three-year term on the Nauset Regional School Committee, 1,392 to 518. Eighteen-year board of health member Augusta McKusick prevailed over Peter O'Meara 1,195 to 1,012.
more
may22 Orleans
Incumbent Jon Fuller was easily returned to his seat on the board of selectmen with 1546 votes. Alan McClennen, long-time open space committee member, who
garnered 1509 votes, will join him. Finance committee member, and former selectman, Mark Carron who received 960 votes was unsuccessful in his bid. Of the 10 ballot questions, most eyes were on Question 8 which asked voters to approve a $3.5 million debt exclusion to fund the design of a sewer system for downtown and a decentralized system for Meetinghouse Pond. That question passed 1386 to 931. To become a reality the question, which failed to garner a two-thirds majority by six votes at last week's town meeting, has to go back to town meeting and secure a two-thirds vote.
may22 Orleans
Incumbent Brian Kavanaugh was easily elected, 1392 to 518, to the Nauset Regional School Committee over Wes Spiegel. Augusta "Gussie" McKusick was returned to her seat on the boardof health besting challenger Peter O'Meara, 1195 to 1012.
may22 Orleans
The council on aging is holding a legal checkup Wednesday, May 29, at 2 p.m. at the senior center on Rock Harbor Road. In celebration of Law Day, there will be an Elder Law Education Program sponsored by the Mass Bar Association. Attorney Brooks Thayer of La Tanzi, Spaulding and Landreth will be on hand to speak about long term care insurance, alternatives to nursing home care, reverse mortgages, common questions asked in elder law, and more. Registration in advance required. Call the senior center at 508-255-6333 to register.
may22 Brewster
Brewster will have two new selectmen. Ben deRuyter of the Finance Committee and Patricia Hughes of the Comprehensive Water Planning Committee were elected to the board in Tuesday's election. DeRuyter (1121) and Hughes (1175) topped incumbent chairman Dan Rabold (603) in the vote.
"I look forward to working with the other members of the board of selectmen and the other committees in town," Hughes reflected. "Hopefully we'll do it in a collegial and productive manner." Hughes served as a selectmen in Brewster from 1989 to 1992 so after 20 years she's making a political comeback. The 35-year old deRuyter is a newcomer to the board. "The basis of our campaign was to break down the divisions that exist between the two boards (Finance committee and selectmen)," he explained. "My hope is to really start to build bridges and change the tone of the conversation." The fin-com and selectmen haven't always seen eye to eye in recent years. In another contested election incumbent Dave Telman (927) and former Parent Teachers Organization President Trish Hill (840) topped Jessica Larsen (682) to capture two seats on the Brewster Elementary School Committee.
more
may22 Brewster
The chairman of the board of selectmen, Dan Rabold, was unseated Tuesday night as Ben deRuyter and Patricia Hughes came out on top in the three-way race for two spots. With 3,340 voters coming to the polls, Hughes led with 1,175 votes, edging deRuyter's 1,121. Rabold received 603 votes. Hughes, 63, has the most government experience of the candidates, having served on the planning board, the board of selectmen, the land acquisition committee and the zoning board of appeals. She listed several priorities during her campaign, including making community investments in water protection because some of the town's ponds are impaired. Rabold, 56, broke from the rest of the selectmen in his support for allowing dogs at Drummer Boy Park, the issue that has caused friction for years in town and came to head when a private citizen sued the board of health for its 2012 ban of dogs from the park. In a tight race for two spots on the school committee, David Telman and Patricia Hill received the most votes, 927 and 840, respectively, topping Jessica Larsen's 682 votes. In the only other contested race, Roland Bassett Jr. beat Scott Collum by a count of 1,163 to 334 votes for constable.
more
may22 Brewster
World-renowned historian Doris Kearns Goodwin, author of Team of Rivals: The Political Genius of Abraham Lincoln, and other best-sellers, will speak in Brewster on October 5, at an event sponsored by the Brewster Ladies' Library Association.
may22 Brewster
Adam Finnegan has been indicted by a Barnstable grand jury on charges of willful or wanton destruction of a church or synagogue and burning of a meeting house.
The two charges carry a combined maximum sentence of 15 years in prison, said First Assistant District Attorney Michael Trudeau. Finnegan, 29, was arrested hours after the Cape Cod Bible Alliance Church, located on Route 6A in Brewster, burned to the ground on Nov. 13. After the arrest, Finnegan's parents issued a statement saying their son, who had been living with them at their Brewster home, suffered from a mental illness. He is being held on $100,000 bail at Bridgewater State Hospital. Finnegan pleaded not guilty at his arraignment in Barnstable Superior Court on Friday. He is due back in court on July 10 for a pretrial conference, Trudeau said.
may22 Harwich
Edwin Jaworski stood on the road leading to the community center all day with his campaign sign, waving at voters on their way to the polls. The Monomoy Regional School Committee incumbent and candidate for a second term thought things were going well because he seemed to know two-thirds of the people passing by. Just a shade over 10 percent of Harwich voters showed up to cast ballots Tuesday - only 1,079 of 10,270 registered voters - but 707 voted for Jaworski and 325 for challenger John O'Brien. Jaworski, a retired longtime Harwich High School teacher, wanted a second term in office to see the new regional high school building project through to the end. And his grandson, a freshman, will be graduating from that new school, which is slated to open in 2014 and is more than a month ahead of schedule. The school committee was the only contested race. Selectmen Ed McManus and Linda Cebula ran unopposed and will be on the board for another three-year term. There were seven questions on the ballot, six asking for capital or debt exclusions. Voters approved, by a margin of 757 to 290, a nonbinding advisory item saying that Gov. Deval Patrick should tell the Nuclear Regulatory Commission to close down Pilgrim Nuclear Power Station because it is a threat to the town's health and safety.
more
may22 Harwich
Incumbent Ed Jaworski defeated John O'Brien in the only contested election today - for a seat on the Monomoy Regional School committe. The vote was 707 to 325. Harwich voters also approved borrowing to purchase a new fire engine and generator, and to fund road work. By a vote of 757 to 290, voters agreed to send a message to Boston saying they think Pilgrim Nuclear Power Plant is unsafe. 1,079 Harwich voters turned out out of 10,270 registered voters.
may22
Falmouth, Yarmouth, Brewster, Orleans, Provincetown, Truro, Wellfleet, Eastham, Chatham, Dennis, Mashpee, Bourne, Sandwich and Harwich voters passed a public advisory question to call on Governor Patrick to request the Nuclear Regulatory Commission uphold their mandate to close the Pilgrim Nuclear Power Station because the public safety of Cape Cod cannot be assured. There is no safe level of radiation. The results are in and Cape Cod residents have spoken. Last night Falmouth, Yarmouth, Brewster, Orleans and Harwich voters passed a public advisory question to call on Governor Patrick to request the Nuclear Regulatory Commission uphold their mandate to close the Pilgrim Nuclear Power Station because the public safety of Cape Cod cannot be assured. The success of this campaign had already been achieved in Provincetown, Truro, Wellfleet, Eastham, Chatham, Dennis, Mashpee, Bourne, and Sandwich. Barnstable will be the last Town to conclude the campaign when Barnstable voters speak at the ballot box this fall. Last October, Massachusetts Emergency Management Director Kurt Schwartz informed Cape Cod residents if a nuclear accident occurred at Pilgrim they will be "in harm's way" of a radioactive plume. Cape Codders would be relocated because their properties will be so contaminated with radiation and therefore uninhabitable. The Fukushima nuclear disaster in March, 2011 has displaced over 160,000 people from their homes indefinitely. Tom Setzer, an NRC official confirmed at an NRC open meeting last month in Plymouth a catastrophic nuclear accident just like Fukushima could happen at Pilgrim. Cape Cod voters were clear by voting yes to close Pilgrim. Arlene Williamson, spokes person for Cape Downwinders stated "The risks of a nuclear accident increase every day the Pilgrim Nuclear Power Station continues to operate". The 41 year old facility has experienced nine automatic shutdowns just this year for leaking valves, leaking pipes, pump failures, power outages and most recently last Monday a fire broke out when turbine auxiliary pumps failed. Cape Downwinders co-founder Diane Turco, stated "The Pilgrim reactor is recognized by Cape Cod voters as an ongoing imminent threat to their health and safety". The people of Cape Cod have spoken and now request Governor Patrick, as the Chief Public Safety Officer for the State of Massachusetts, to take action and call on the Nuclear Regulatory Commission to close the Pilgrim Nuclear Power Station in Plymouth." (Cape Downwinders: The mission of Cape Downwinders is to take action to protect the lives and welfare of the residents of Cape Cod, Martha's Vineyard and Nantucket against the threat of death or injury resulting from the use of nuclear energy at Pilgrim and other locations.)
may21
The Wellfleet Conservation Commission, in collaboration with the Harbormaster, the Shellfish Warden, and the Beach Administrator, adopted Regulation 2.06 Small Vessel Identification and Permitting Program. Small vessels (canoes, kayaks, dories, skiffs, dinghies, sail or paddle boards, and similar watercraft) may be stored on designated Town Landings in Wellfleet.provided that they display a current Identification Sticker obtained from the Town of Wellfleet. ID stickers will be issued on a first-come first-served basis and may be obtained at the Beach Office during the summer season; anytime of year by emailing beaches@wellfleet-ma.gov for a sticker-by-mail application form any time of year at the Harbormaster's Office for those leasing a mooring in the marina or engaging in commercial fishing or aquaculture. All stickers cost $25 except those for individuals leasing a mooring or engaging in commercial fishing or aquaculture which are FREE. Only Wellfleet residents, non-resident taxpayers, and those who present proof-of-stay at a rental home or cottage, motel, or bed-and-breakfast located in Wellfleet. In 2013, storage of stickered vessels will be allowed at Powers Landing, Mayo Beach, Indian Neck Beach, and Gull Pond. Wooden racks are provided at all locations and must be used by all boats at all times with the exception of dinghies, skiffs, prams, and similar boats. Areas will be designated on the sand for these vessels that are too large for the racks. What happens if I leave my boat on a Town Landing without a sticker? A sticker will be attached and if the boat is not removed within 48 hours, it may be impounded. The owner will be subject to a fine of up to $100 and may recover the vessel only after paying any fine imposed. If I have questions about this regulation, contact the Conservation agent at 508-349-0308.
more
may21 Eastham-Orleans-Brewster-Harwich
Voters are headed for the polls in seven Cape towns today to cast their ballots on candidates for local boards and on funding for projects ranging from a new fire truck to bridge construction. Town elections are being held in Bourne, Brewster, Eastham, Falmouth, Harwich, Orleans and Yarmouth. The polls in all towns open at 7 a.m. and close at 8 p.m. In Brewster, three candidates are vying for two seats on the board of selectmen. The Brewster School Committee contest has the same numbers - three candidates for two positions. In Harwich, voters will be asked to cast ballots in favor of the purchase of a new firetruck pumper as well as the town's share of construction on the Muddy Creek Bridge. There is one contested election: Two people are competing for a seat on the Monomoy Regional School Committee. Orleans voters will cast their ballots on nine Proposition 2½ debt exclusions and winnow three candidates for selectmen to two winners. Two people are also running for one three-year term to represent the town on the Nauset Regional School Committee. In the only contested race in Eastham, three people are running for two seats on the board of selectmen.
more
may21 Orleans
Some worried that the town was missing a golden opportunity, but the majority of residents agreed to a one-year moratorium on medical marijuana treatment centers. At town meeting on Tuesday, resident Peter Monger asked that the planning board be given 60 days to draw up regulations for the centers. He hoped Orleans could get one of the licenses the state is giving out for dispensaries, not only because it would be an economic boon but also because many residents would greatly benefit from the pharmaceutical benefits of the drug. "(Orleans) would not become a Mecca for hippies," he said.
Although several speakers agreed a treatment center could be a positive addition to the community, most didn't want to rush the planning process and the amendment was defeated. The discussion of the moratorium was one of the more colorful moments of town meeting as voters wended their way through a 56-article warrant, which included the approval of a $28.6 million operating budget and five union contracts. Although the town's financial outlook was accompanied by positive commentary from the finance committee, Gwen Holden Kelly, chairman of the committee, said the town is facing a major problem. She said the changing demographics - the aging of the town - is its greatest risk. If something isn't done the "crisis will be irreversible" and she said officials should begin to understand the issue and how to address it this year. As it did last year, the town did tackle other looming problems by allocating funds to address future post-employment benefits, such as health and life insurance, and aging buildings. They also approved $800,000 in community preservation grants, much of it will go to debt service on previous open space purchases, but some will fund an irrigation well for Eldredge Field and a restoration study for the Old Firehouse on Main Street, which is leased from the town by the chamber of commerce and the Orleans Community Partnership. Voters approved an emergency parking bylaw which gives selectmen the right to limit parking and issue fines if the influx of fishermen chasing striped bass make the landings too dangerous, and a right-to-farm bylaw which is doesn't grant protections but gathers them together all in one place to help educate the public. Jane Moroney, who grew up on a farm, expressed concerns about how the noise from tractors and early-rising fowl could grate on neighbors. Still, most appeared to agree with another resident who said she would be just as happy hearing a rooster as she would a cardinal or titmouse and the article passed easily. Voters also supported the owners of Main Street Gourmet's bid to create another package store license in town as they plan to add specialty liquors to their product line, but based on the advice of the planning board, didn't support another business owner's wish to change a section of Route 6A from limited business to general business. As the clock approached 11:30 p.m. voters agreed to ask Gov. Deval Patrick to ask the Nuclear Regulatory Commission to shut down the Pilgrim Nuclear Power Station. That question, along with nine others, will be on the ballot Tuesday.
may21 Orleans
Snow Library will be sponsoring jazz pianist Sue Keller Wednesday, May 22, at 1 p.m. All programs are sponsored are offered to the public free of charge. For more information, contact Snow Library at 508-240-3760 or visit www.snowlibrary.org.
may21 Chatham
Memorial Day weekend is upon us. That means flocks of tourists and summer residents begin their migration to the Cape. And so, do great white sharks.
They're en route right now after wintering in warmer climes and experts say expect to see more of them this summer. The great white sharks love Cape Cod in summer because there's plenty of their favorite food to eat -- grey seals. They're more and more abundant due to decades of marine protection. "It's that increase in the grey seal population that we've seen over the last four decades that's now drawing these sharks closer to shore. The café is open and these sharks have come here to feed," said Greg Skomal, a scientist at the Massachusetts Division of Fisheries.
more
may21 Chatham
Chatham Drama Guild's production of "Greater Tuna" is a two-actor, multi-character comedy that is hard work for two actors. However, watching actors working hard at being funny is not that much fun. "Greater Tuna" is a 1981 parlor skit parlayed into a three-play franchise with a near-cult following. It lampoons "the third-smallest town in Texas" by the loose device of an inept radio show on "WOKKK." We learn of Tuna High School's essay contest winners, essays with titles like "Bigotry: The Other Side of the Story." We hear a man pray for the Lord to take care of "the right kind of people." We meet a wide variety of zany characters: men, women and a dog aptly named "Yippy." Don Howell portrays broadcaster Arles Struvie and half the citizens of the town. He plays each of the children of the wildly dysfunctional Bumiller family; an irate town store-owner; the memorable Petey Fisk, who heads the Tuna Humane Society; and many others. He fully commits to physical comedy, with voices, mugging and differentiating bodies for his cast of crazy characters. Jeff Spence is the primary on-air (when they remember to turn on the power) character, Thurston Wheelis. Spence also directed the production. His portrayal of an embittered elderly lady smacks of homage to the late, great Jonathan Winters' Maude Frickert, but much taller. His Reverend Spikes (all in white) gives a eulogy to a departed but unlamented judge, which is a perplexing plethora of platitudes. Spence's mime skills as Bertha Bumiller make an invisible pack of eight dogs that have followed her son home (thanks to Petey Fisk) come to annoying life. And he sure can bark like Yippy. But for both performers, the acting choices are way over the top, moving the characters from comedy to cartoon. Playing everything at 110 percent leaves little room for the audience to enjoy the humor in the lines or situations. It also slows the pace - never a good idea in stage comedy.
more
may21 Harwich
A man seen covered in blood and running through a Little League field was arrested Saturday after he allegedly broke into two homes and startled the residents. Daniel Gomes, 30, of Hyannis, pleaded not guilty at his arraignment Monday in Orleans District Court to charges of breaking and entering in the daytime to commit a felony and placing a person in fear, breaking and entering at night, breaking and entering to commit a misdemeanor and three counts of malicious destruction of property valued at more than $250 May 14 and 18 in Harwich. At about 4:25 p.m. Saturday, Harwich police began receiving calls from people in the area of the Little League field on Oak Street of a shirtless and bloodied man running through the field. He jumped the outfield fence. Within minutes of the initial calls, the police received a 911 call from an Oak Street resident saying that she had heard a door close and discovered a man standing in her home covered in blood. She said the man went upstairs, climbed out a second-floor window and jumped onto a lower roof before running off. While a dispatcher was talking with that caller, another call came in from a nearby Oak Street home reporting that a man had just walked in but quickly turned around and ran off. Police discovered another residence on Oak Street with an open front door. Fresh blood was also found on the door. Gomes was found hiding in the eaves of the attic.
more
may21
I want to thank all the great citizen activists who are making this issue an issue that more and more people in our district understand - what the implications and possible outcomes are from this plant. The biggest question I've been asked here today is why are you here? And I guess I would answer that with a question which is 'where's everyone else?
I think this voice will continue to grow and grow and these crowds will continue to swell. Because of the great education that's going on and this really is about more and more information relative to the potential impact of this plant. So, I'm going to say slowly what everybody here knows but that we need to take back out into the community. When this plant was licensed in the early 70s what it was licensed as was an energy station - it was licensed as an energy station for forty years. The legacy that we're going to be leaving our children is a 60-year-old nuclear waste dump. That is not what we signed up for---it's not the legacy we want to leave our children. So the time to speak out is now. The plant has been here for the forty-year life that it was originally given. The deal was never that we would keep all the spent fuel here. It still is all here and the next 20-years worth will all still be here if we allow it to continue. We have concerns on the Cape in my district about evacuation plans---we have concerns about the impact of an event and what it will do to the health and safety and the property values and the economy down there. So the time to speak out is now. It's to hold our government officials, myself included, accountable and responsible. Ask us to do our job which is to act in your interest and in the interest of the citizens of this area - not in the interest of a corporation whose headquarters is in New Orleans, Louisiana. That's why I'm here, that's why we're all here and I think we're going to win this battle.
more
may21
DISPOSITIONS in court 5/8; 5/9; 5/13; 5/14; 5/15
TINNEY, Josiah, 24, 64 Dory Lane, Eastham; possession of Suboxone, subsequent offense, Dec. 19 in Truro, dismissed.

WOOLF, Kristin, 33, 20 Sunset Terrace, Barnstable; guilty of operating a motor vehicle while under the influence of alcohol, April 28, 2012, in Eastham, one year of probation, 45-day license loss, $1,847.22 costs and $50 fee; not guilty of negligent driving.

CURRAN, James, 29, 35 Santuit Pond Road, Mashpee; admitted sufficient facts to OUI, Jan. 6 in Provincetown, continued without a finding for one year, 45-day license loss, $1,847.22 costs and $50 fee; negligent driving, dismissed; responsible for another traffic violation, filed; not responsible for another traffic violation.

PIEBES, Brandon J., 30, 248 Camp St., West Yarmouth; guilty of OUI-second offense, April 7 in Orleans, 90 days (suspended) in county correctional facility, 14-day inpatient treatment program, two-year license loss, two-year probation, $1,560 costs and $50 fee; negligent driving, dismissed; not responsible for two other traffic violations.

MCDONOUGH, Gerard, 24, Walpole; admitted sufficient facts to possession of marijuana with intent to distribute, Jan. 16 in Harwich, continued without a finding for one year, $600 costs and $50 fee; distribution of marijuana, same date, dismissed.

RUCINSKI, Steven, 46, 10 Seashore Park Drive, Provincetown; admitted sufficient facts to OUI, Jan. 9 in Provincetown, continued without a finding for one year, 45-day license loss, $1,597.2 costs and $50 fee; negligent driving, dismissed; not responsible for another traffic violation.

BURKE, Taryn, 36, Newton; assault and battery, May 11 in Provincetown, dismissed.

BRADFORD, David Jr., 54, Norfolk; admitted sufficient facts to OUI, April 18 in Eastham, continued without a finding for one year, 45-day license loss, $1,847.22 costs and $50 fee.

CLARK, James, 48, Cross St., Wellfleet; admitted sufficient facts to OUI and negligent driving, March 30 in Wellfleet, continued without a finding for one year, 45-day license loss, $1,597.22 costs and $50 fee.

LAINE, James, 30, 348 Freeman's Way, Brewster; guilty of OUI, Oct. 20 in Harwich, 45-day license loss, one-year probation, $1597.22 costs and $50 fee; negligent driving, dismissed; not responsible for another traffic violation.

ARRAIGNMENTS in court 5/8; 5/13; 5/14
HENDERSON, Randall, 48, 558 Training Field Road, Chatham; breaking and entering in the daytime to commit a felony and larceny from a building, April 18 in Chatham. Pretrial hearing June 26.

KENNEY, Donald, 63, 394 Barn Hill Road, Chatham; OUI, reckless driving and another traffic violation, May 7 in Chatham. Pretrial hearing May 17.

NICKERSON, James, 24, 1301 State St., Brewster; breaking and entering in the daytime to commit a felony and larceny from a building, March 18 in Eastham. Pretrial hearing May 30.

ANDREWS, Emily, 22, 3 Beach Plum Road, Chatham; OUI, negligent driving and another traffic violation, April 10 in Harwich. Pretrial hearing June 24.

MCLOUGHLIN, George III, 44, Mansfield; OUI, negligent driving and another traffic violation, May 12 in Provincetown. Pretrial hearing May 29.

SILVA, Edward, 56, 47 Truro Center Road, Truro; OUI, negligent driving and another traffic violation, May 10 in Truro. Pretrial hearing May 20.

ASH, Brian, 42, Weymouth; arson of a dwelling house, breaking and entering at night to commit a felony and three counts of wanton destruction of property valued at more than $250, May 13 in Wellfleet. Pretrial hearing May 21.

PALANZA, John, 36, 46 River Haven Lane, Falmouth; OUI, possession of oxycodone, negligent driving and three other traffic violations, May 14 in Provincetown. Pretrial hearing June 6.

RIPA, Eric, 28, 180 Commerce Park, Chatham; shoplifting, May 14 in Chatham. Pretrial hearing May 21.
more
may20 Wellfleet
The Wellfleet Community Forum will host a unique opportunity to see a possible future for affordable housing and imaginative architecture in Wellfleet. On Sunday, May 26, 3 PM, at the Wellfleet Public Library, the finalists in the Add-on'13: Affordable Housing Competition will present their proposals. To view the finalist's designs go to: http://addon13.blogspot.com/The Architect/Finalists will then have a discussion with the audience about their plans, affordable housing needs, and town bylaws and regulations that may be obstacles to building, or that may influence their final designs. Comments and suggestions from those with experience and/or interest in Affordable Accessible Dwellings, Health and Zoning Bylaws, and modern architecture will be crucial to the final phases of the competition.
may20 Wellfleet
The selectmen at their last meeting approved the request of Daniel Murray, general manager of The Beachcomber since 1991, to use the Cahoon Hollow Beach parking lot from noon to 9 p.m. on Sept. 14. "I am getting married in September," he told the board on his application. "My fiancé and I met at The Beachcomber. The board approved their plan to attach a large tent from the parking lot to the backside of The Beachcomber outside bar that will enable the couple to "create a large eating and dancing area." The wedding will take place overlooking the water. The couple will pay a $100 fee for use of town property.
may20 Wellfleet-Truro-Provincetown
Bob Henrique has been hunting on the Outer Cape for more than 40 years. He remembers scouting for deer in the woods at Truro's Cobb Farm - before the trees came down to make way for houses - while bobwhites whistled and rabbits rustled in the underbrush. He tells stories of "The Swirler," the deer with a distinctive track that eluded marksmen in the Provincetown dunes. He notes the changes in the fox and coyote populations, the habits of the wild turkey that haunt his neighborhood.
And the daggered glances cast his way by the critics who come out during hunting season. "There are people who don't like people that hunt. They think we're evil people," says Henrique, recalling a scowling set of motorists who passed him one day when he was alighting from his pick-up truck with a suit of camouflage on. "You should see the look they give you. . We're not committing any crimes; we're not shooting people. It's too bad that I feel this way about hunting - a hobby of mine, something that's dear to me. That I'm afraid to get out of my truck along Route 6." Henrique is one of a number of local hunters who find themselves on the defensive as opposition to the National Seashore's hunting program brews in the community. Though the Seashore's enabling legislation protects hunting as a traditional use of the land, a group of homeowners in Wellfleet and Truro wants the park to review its policies, arguing that an increase in the year-round population and other changes on the Outer Cape make it harder for hunters and the public to co-exist safely. They contend that hunters, a relatively small group, are given a disproportionate amount of control over parklands during the fall, winter and now - with the recently instituted turkey hunt - spring season. There are millions who visit the Seashore without firearms every year and who are intimidated by hunters, says one Wellfleet resident who has asked that her name be withheld because, she claims, a hunter once threatened her. But people familiar with the issue, such as Warren Tobias, a Truro resident and former Provincetown police sergeant and acting chief, who has hunted on the Outer Cape since he was 14 years old, don't see the reason in those arguments. "It's the National Seashore. It's for everybody, and I'm part of that everybody. I should not have my rights cut back because they don't like it," says Tobias, underscoring the point that the number of hunters is small - perhaps smaller than ever before. Back in his teenage years, he recalls, "I'd get out of school and I'd go home, grab my .410 shotgun that my folks gave me for Christmas, put it across the handlebars of my bicycle and bike to Herring Cove, then walk into the airport to go hunting. Back then during pheasant season you would see quite a few hunters - a fair amount of orange. This past year I went out a couple times with fellows from the Nauset Rod & Gun Club, and I think we may have seen other hunters only one time, all season. And I think it may have been one hunter."
more
may20 Eastham-Nauset
On a recent Monday in the online learning classroom at Nauset Regional High School, Parker Lang, 14, of Brewster designed a video game while 16-year-old sophomore Abby Bausch prepared for an MCAS science test. As a teacher's voice filled her ear phones with information about parasitism, Bausch watched a circle highlight crucial information on her computer screen.
There was a place for her to type e-notes that the school's online coordinator, Chris Grozier, can print out for her. "It's really helpful for MCAS," Bausch said. "It helps with my science class, too." The Brewster teen is one of hundreds of Cape and Islands high school students taking online courses to prepare for tests, recover credits, squeeze in extra AP courses or take an interesting class not offered by their high school. At Nauset Regional High School, 84 students - including 16 night-school students - are taking at least one course in the school's virtual classroom program, which debuted in September. Students have taken courses in gaming design, 3D art and an introduction to programming apps, said Chris Grozier, coordinator of Edgenuity, the online program the school is using. "It's a very 'go at your own pace' kind of program," special education teacher Teal Tobler said. Tobler said she likes the way she can customize credit recovery and test preparation courses for students by removing sections they already mastered to concentrate on new material or areas where students have struggled. Students like the way they can go at their own pace and take classes not offered in their high school.
more
may20 Eastham
After many years of work and planning, the new Eastham Public Library will soon be a reality. The library trustees and the Town of Eastham has signed a contract with the Massachusetts Board of Library Commissioners which will start the process of funding the new library, said Cheryl Bryan, library director. The first payment from the state will arrive in June with a schedule in place for the remaining money. "It's an exciting time for everyone at the library," Bryan said.
may20 Eastham
Cape Cod National Seashore Superintendent George Price has announced that access to Coast Guard Beach in Eastham will be closed Tuesday, May 21, from 6 a.m. to 3 p.m. so seashore staff can create an accessible path to the beach in advance of the summer season. For more information visit www.nps.gov/caco.
may20 Eastham
Lower Cape Outreach Council is holding a Week of Hope beginning May 26. You'll be able to purchase a Magic Button that will let you go into dozens of your favorite stores during the week and get discounts. A button will also admit you to a picnic on the lawn of the Orleans Odd Fellows Hall with live entertainment by Chandler Travis Monday, May 20 from 4:30 to 7 p.m. Every penny of your $20 button purchase goes to help Cape Codders assisted by the Outreach Council. In 2012, the combined total of cash, food and clothing distributed by LCOC to folks in the eight towns it serves was $1,406,590. Buttons can be purchased at Adlumia, Argonauta, Friends' Market Place, Hot Chocolate Sparrow, The Red Barn, Beth Bishop and Heaven Scent You.
may20 Eastham
Six Nauset Regional High School
juniors and seniors, all members of Ginny Ogden's art class, show off their entries for Eastham Historical Society's contest to create a flag in honor of the society's 50th birthday. Gloria Schropfer, president of the society, said the entries were so good it was difficult to choose the top winners. But all were winners. They are from left: Kathryn Burke, Matthew DeFelice, Kiana Schezki, Elisha Rennert, Will Currier and Maraina Raimer. Suchezki won the top prize of $300. Rennert won $100, and the other four each received $25.
may20 Provincetown
At last Sunday's service, the Rev. Terry Pannell finally revealed to the congregation of the Church of St. Mary of the Harbor what has been a long-awaited secret: the gift of a new commemorative plaque from parishioner David Lilly and his husband, Southard Lippincott.
The oval plaque, 21 inches by 3 feet, was created by local woodcarver Geoff Semonian. It is constructed of mahogany and finished in 24-carat gold leaf and paint. The carving was inspired by the legendary local fishing schooner Rose Dorothea and features the figure of St. Mary holding a vessel close to her heart. Semonian based his design on the pattern in a tea-cup holder crafted by the late local artist Carol Whorf Westcott, whose late father, John Whorf, also was a parishioner at St. Mary's. In a heartfelt presentation, Lilly fought back tears as he described his deep gratitude to St. Mary's for helping him get through the death of his brother and for being the site of his wedding to Lippincott 12 years ago. "I just wanted to give back to St. Mary's, which has given me so very much through the years, " he said. The plaque will hang on the Commercial Street side of the church, replacing the rusted, wrought-iron cross currently in its place.
may20 Orleans
Voters will go to the polls Tuesday to vote on 10 ballot questions, ranging from a street sweeper to a new boiler for the elementary school to construction of a new snack shack for Skaket Beach. There are also three races: incumbent Jon Fuller, finance committee member Mark Carron and open space chairman Alan McClennen are running for two seats on the board of selectmen; incumbent board of health member Augusta "Gussie" McKusick is being challenged by Peter O'Meara and Brian Kavanaugh, serving on Nauset Regional School Committee, is facing Wes Spiegel. The polls are open from 7 to 8 p.m. at the senior center.
may20 Orleans
Along with three competitive races, Orleans voters will see nine debt exclusions on the ballot Tuesday. Four of the nine questions were not approved at town meeting May 13, but if they win approval at the election Tuesday, they will have a three-year "shelf-life," said Town Administrator John Kelly. That means if the questions pass at a future town meeting within the next three years, they won't have to win approval at the ballot box again. The four that failed at town meeting included the two largest by far: $3.5 million for engineering design of a downtown sewer system and a $2.8 million debt exclusion for alternative wastewater plans. Another, $250,000 for a conservation mooring pilot program, failed, and $300,000 for maintenance dredging of Rock Harbor was indefinitely postponed. But voters overwhelmingly approved $300,000 for added security measures at Orleans Elementary School. Under the plan, which is on the ballot, cameras would be added inside and outside. Classroom doors would be given automatic lock-down capacity. Currently the teachers need to find their keys and go out into the hallway to lock the doors, said Principal Diane Carreiro. The front door also would get remote locking capacity, she said. Officials wanted school security updates in light of the December shooting of 26 students and staff members at Sandy Hook Elementary School in Newtown, Conn., Carreiro said. Other purchases on the ballot are: $500,000 for stormwater management planning, design and construction; $75,000 for a new snack shack at Skaket Beach; $225,000 for a new street sweeper; and $200,000 for a new boiler at the elementary school. Along with the selectman and school committee races, voters will have to choose between 18-year incumbent Augusta McKusick and newcomer Peter O'Meara for a seat on the board of health.
may20 Brewster
There's at least one thing all three candidates for two seats on the Brewster School Committee can agree on: The town offers high-quality education. "I want to keep Brewster schools outstanding," said Patricia Hill of her campaign. Hill, a school administrator, former teacher and parent, understands how the system operates from all angles and believes her experience will help others in the community understand how a school works. "Everyone wants to help, but you need to know what questions to ask," Hill said. "I want to make the process very transparent and understandable."
She said raising the science and technology curriculum to meet new state standards will be an important step at the elementary schools. As for Jessica Larsen, she wants to make sure "we keep programs for the kids at all levels." The schools do a great job supporting the kids who need a boost. "But I want to make sure we challenge every student at their particular level," Larsen said.
Larsen has enjoyed volunteering on the board of the Nauset Youth Alliance, which runs the after school program, and she is on the Eddy School Playground Replacement Project committee. She has had recent success as a grant writer for these groups. David Telman, the incumbent, said finding the best way to manage the budget is the central challenge of the school committee.
"The budgets are always very tight and with these tight budgets comes a task by the educators and the school administration to keep that at the highest level," he said. His own children are now teenagers. They got a great elementary education, and he'd like to see the younger children get the same, he said. "Also, the elementary schools have a couple of major repair projects - a new roof at Eddy and new windows at Stony Brook - coming up in the next couple of years," Telman said. As a member of the building needs assessment committee, he has been overseeing those repairs, he said.
more
may20 Brewster
A kayaker who couldn't get back to shore after his kayak filled with water was rescued Sunday evening. A kayaker who couldn't get back to shore after his kayak filled with water was rescued Sunday evening. The Brewster Fire Department launched a Zodiac and the Dennis Fire Department also launched a rescue vehicle. The victim had flipped the kayak. He was able to get it back into the proper position, but it was filled with water, making it too difficult for him to paddle to shore. Rescuers got the kayaker back to shore safe and uninjured.
more
may20 Brewster
The Garden Club of Brewster will hold its annual plant sale on Saturday June 1, from 8 a.m. to 2 p.m. at the Brewster Council on Aging on Route 6A, Rain or Shine. Come early for the best selection of member's perennial plants, ground covers and shrubs. Herbs and vegetable plants will be available. Garden related items and crafts will be on sale in the boutique section. Don't miss our delicious homemade bake sale items. All proceeds go to town beautification projects and scholarships.
may20 Brewster
Ron Poirier of Brewster couldn't escape the feeling that his cancer was somehow a punishment. As a young Marine electronics technician at Camp Lejeune in the mid-1970s, the Massachusetts man figured he'd dumped hundreds of gallons of toxic solvents onto the ground. It would be decades before he realized that he had unknowingly contributed to the worst drinking water contamination in the country's history - and, perhaps, to his own premature death.
"It's just a terrible thing," the 58-year-old veteran told The Associated Press shortly before succumbing to esophageal cancer at a Cape Cod nursing facility on May 3. "Once I found out, it's like, 'God! I added to the contamination.'" The cancer that killed Poirier is one of more than a dozen diseases and conditions with recognized links to a toxic soup brewing beneath the sprawling coastal base between the 1950s and mid-1980s, when officials finally ordered tainted drinking-water wells closed. As many as a million Marines, family members and civilian employees are believed to have been exposed to several cancer-causing chemicals. In the final weeks of his life, it was not just cancer that was gnawing at Poirier. The Brewster man was with the 8th Communications Battalion at Lejeune from 1974 to 1976, working in a shop installing and repairing top-secret radio components. The shop was located just south of the Hadnot Point Industrial Area, right in the middle of a cluster of drinking water wells serving one of the base's main residential sections. There was plenty of suspicion about the possible health effects of handling and ingesting trichloroethylene, or TCE. But the U.S. Environmental Protection Agency had not yet established regulations for limiting exposure levels.
more
may20 Brewster
may20 Chatham
A local man missing since Wednesday has been located. Police began investigating the disappearance of Sean Linehan after he left his residence without his cellphone and was last seen walking toward Harwich. The 44-year-old had recently returned to the United States from Thailand and is a U.S. Navy veteran of the Gulf War period, according to police. A police dispatcher confirmed Sunday that Linehan had been located but did not have any information about where he was and why his disappearance was a mystery.
may20 Chatham
The town's ever-changing waterways will be the subject of a public briefing for boaters Thursday, May 23, at the community center, 702 Main St., from 9:30 to 11 a.m. The event is hosted by the Monomoy Yacht Club free of charge. Presenters will provide updates on Chatham's breaks, harbors and moorings, as well as equipment updates from the harbormaster and Coast Guard. Reservations are required at mycseminars@comcast.net.
may20 Harwich
The birth of the Monomoy Regional High School is tangible now. The foundation is poured, the girders will be arriving soon and the track and synthetic-surface multipurpose field are taking shape. Monomoy Regional School Committee incumbent Edwin Jaworski, who spent 41 years as a teacher and personal counselor, most of it in the Harwich school system, believes the school is the product of a 50-year conversation between Chatham and Harwich on regionalizing.
"I was here at the beginning of that journey," Jaworski said. "I'd just like to complete the journey and see that high school built." Jaworski faces off against challenger John E. O'Brien in the only contested race in the Harwich election Tuesday. O'Brien served two terms on the Harwich School Committee and spent more than 50 years in classrooms, teaching at the high school and college levels. He thinks the biggest challenge facing the school system is to maintain the momentum that was generated during the high school building process.
"When I talk to people it's, 'Well, we'll build the high school and that's it,'" he said. "But that's when the work begins to keep the promise of what was supposed to be delivered." While much of the groundwork, such as curriculum and staffing, has been laid for the regional middle and high school, O'Brien thinks the school committee needs to pay attention to the education that is occurring at the other end. He has had some experience with his own children and professionally with the Montessori teaching system and would like to see a more goal-oriented approach in the prekindergarten program. He also would like to expand it. "We should try to make a program so that all the eligible students can participate," O'Brien said. "We should make a prekindergarten program that has clear-cut curriculum goals that prepare them for elementary school." Jaworski also believes the biggest challenge may come after the school is built. "We've been able to get together as a school committee and worked beautifully, but now we have to focus on getting the culture of both communities unified to create an outstanding school system," Jaworski said. Harwich taxpayers have been concerned in the past with funding school budgets since they pay more than 70 percent of the tab each year because the town has far more students in the regional system than Chatham does. No overrides were needed for this year's school budget, but last year voters authorized a nearly $1 million Proposition 2½ override to fund their share.
more
may20 Harwich
Harwich Police arrested Daniel Gomes, 30, of Hyannis, Saturday afternoon after receiving reports of a shirtless, bloodied man running through the Little League field on Oak Street and barging into several homes on that street. A woman on Oak Street called police to report she had heard a door close in her house and discovered a man standing in her home covered in blood. She said the man went upstairs and climbed out a second floor window and jumped onto a lower roof and ran off. While police talked with this witness, another call came in from a nearby home on Oak Street reporting that the same man had just entered her home but quickly turned around and ran off. At this time Harwich police officer Derek Dutra discovered another residence on Oak Street with an open front door. Fresh blood was also found on the door Officers surrounded the house and Lt. Barney Murphy of the Barnstable County Sheriffs Office and his K-9 began a search of the house. They located Gomes hiding in the attic. He surrendered and was placed under arrest. He was transported to Cape Cod Hospital by the Harwich Fire Department for treatment of the many lacerations, and was then returned to the Harwich Police Department and booked on two counts of breaking and entering, three counts of destruction of property and an outstanding default warrant. He was ordered held on $3,000 cash bail and will be arraigned on Monday morning in Orleans District Court.
may20
Fishing Cape Cod's National Seashore is a wild and rugged experience. Oceanic waves relentlessly crash on more than 40 miles of pristine glacial sand. The great beaches of Outer Cape Cod extend all the way from Chatham to Provincetown-virtually as far as the eye can see. An angler standing on the great back beach looking eastward is greeted by the enormity of the Atlantic Ocean and all its power. During winter storms seas in this area can grow to astounding heights of more than 30 feet. At high tide waves crest and tear into the coastline, shifting dunes, moving sandbars and sweeping pieces of Cape Cod back into the Atlantic.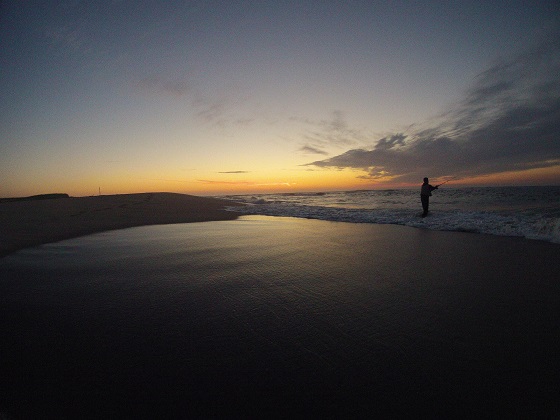 Unlike stonewalled and jetty-ridden beaches, permanence on Cape Cod's National Seashore does not exist. The beach changes by the season, by the month and sometimes by the day. The winter of 2013 altered some sections of Outer Cape beaches so drastically, it rendered them unrecognizable. The fishing, like the terrain, is also ever changing. Striped bass come and go with the tides and daylight. They cruise through crystal clear turquoise water in search of prey. Differences in the shoreline, like cuts in sandbars, beckon them to remain in one spot long enough for an angler to catch them. Then without warning they disappear again, back into the cool Atlantic. Fishing the National Seashore is the most scenic, vast and challenging striped bass fishing adventure Cape Cod has to offer. The one thing you will not find this time of the year on the back beaches of Cape Cod are crowds. Unlike easy to access fishing hot spots like the Cape Cod Canal, the great back beaches are often devoid of human life. Many trips will produce more great blue heron sightings than other people. If you are looking for solitude, then this is the spot for you.
more
may20
Cape Downwinders co-founder Diane Turco and nine others (Arlene Williamson of Mashpee, Sarah Thacher of East Dennis, Janet Azarovitz of Falmouth, Debbie McCullough of Truro, Joyce Johnson of Falmouth, Bill Maurer of Falmouth, Femke Rosenbaum of Wellfleet, Doug Long of Orleans and Margaret Rice Moir of Brewster) were arrested yesterday afternoon while attempting to deliver a letter to the owner of the Entergy nuclear facility in South Plymouth.
All were released on their own recognizance. Plymouth Police Capt. John Rogers said Sunday's arrests were the first outside the plant since March when over 100 people protested. At some point the plant's owners might see the wisdom of accepting the letter and avoiding further bad publicity. This is the third time local protestors have been arrested trying to hand the facility's owners a letter. A 360 degree Rainbow filled the sky Sunday afternoon as more than 100 demonstrators gathered at the Elliot Lane/Route 3-A entrance to the Pilgrim Nuclear Power Station in Plymouth to protest that facility which is on Cape Cod Bay five miles north of the Sagamore Bridge. The event was organized by Cape Downwinders. State Senator Dan Wolf spoke eloquently about the dangers we face as Cape Codders and the need for all concerned citizens to join the activists and pressure our elected officials to shut down this accident waiting to happen. Poet, novelist and social activist, Wellfleet resident Marge Piercy read a poem she wrote about the Pilgrim monstrosity and Fukushima Native Chikako Nishiyama and her translator Chiho Kaneko told of the horrendous days surrounding the Fukushima meltdown two years ago.
more
may20
A yellow-throated warbler was seen at Santuit River preserve in Mashpee this week, and a Mississippi kite was seen at Mass Audubon's Pilgrim Heights hawk watch in Truro. A summer tanager was near Cahoon Hollow in Wellfleet on Sunday, where a parasitic jaeger, a white-crowned sparrow, several feeding humpback whales, several harbor porpoises, a few minke whales, and a pod of dolphins were also noted this week. Humpback whales were also noted feeding off of Coast Guard Beach in Eastham on Tuesday, where bird sightings included a short-billed dowitcher, a merlin, and several least terns. Sightings at Tern Island in Chatham included 400 black-bellied plovers, 500 dunlin, 40 semipalmated sandpipers, 6 short-billed dowitchers, and 14 red knots. At High Head in Truro, sightings this week included 2 northern bobwhites, an American bittern, 2 northern harriers, 2 Virginia rails, a solitary sandpiper, a magnolia warbler, a purple finch, and 2 pine siskins. Seabirds noted in Provincetown included a black tern, a roseate tern, a Caspian tern, 600 common terns, and a parasitic jaeger, and warblers seen at Foss Woods included blackburnian, Nashville, black-throated green, black-throated blue, and northern parula. Birds sighted at Wellfleet Bay sanctuary included 130 brant, 3 ruddy turnstones, 7 semipalmated plovers, 2 killdeer, 4 least sandpipers, a northern harrier, a sharp-shinned hawk, a yellow-throated vireo, a blue-headed vireo, a warbling vireo, a blackpoll warbler, a blackburnian warbler, 16 Baltimore orioles, and an orchard oriole. Other sightings around the Outer & Lower Cape included a late bufflehead in Wellfleet, a lingering American coot, 2 ruddy ducks, and a greater scaup in Eastham, continuing red and white-winged crossbills elsewhere in Eastham, and flyover pine siskins in Truro and Provincetown.
more
may20
Escape to the sandy beaches and clapboard villages of Cape Cod. "I didn't eat any lobster yesterday, I'll have to make up for that." My travelling companion, Rachel, is determined that a day will not pass on our tour of Cape Cod without lobster featuring in one of her meals. It's not a big ask: lobster is as common as chips here. They load it into buns and heap it on to salads with such generosity that it's hard to resist gorging on the sweet pink meat.
Eating locally caught lobster - along with clams, oysters and crab - is just one of the joys of Cape Cod, the flexed arm of land that juts off Massachusetts' southernmost point into the Atlantic. The 340 square mile area is portioned into the Upper Cape, the western end taking in Bourne, Sandwich, Falmouth and Mashpee, the Mid Cape, from Barnstable to Dennis, and the Lower Cape, between Harwich and Provincetown at the north-east tip. Once a peninsula, the Cape was transformed into an island by the construction of a canal in 1914 between Cape Cod Bay in the east and Buzzards Bay in the west. The Bourne and Sagamore bridges, which span the man-made waterway, heave with traffic between Memorial Day (the last Monday in May) and Labor Day (the first Monday in September), when holidaymakers and second-home owners flee Boston and New York to wiggle their toes in white sands and breathe in the fresh salty air on the Cape's 560 miles of coastline. This landscape of dune-backed beaches, lighthouses and clapboard and shingle dwellings seduces visitors to pull on their linen shirts and loafers and bunk down in B&Bs and holiday homes, swelling the resident population of about 200,000 to half a million. They come to sit on the sands (there are about 60 beaches), mess about on boats, go in search of whales, hunt for big-game fish, play golf and ramble or cycle amid the dunes, marshes, pine woods and cranberry bogs. Cape Cod offers more than wide skies. Provincetown is where the Pilgrim Fathers first made landfall in the Mayflower in 1620 (they later settled at Plymouth), commemorated by the Pilgrim Monument (001 508 487 1310; pilgrim-monument.org; $12/£8), a 252ft-high turreted tower built in 1910 which dominates the town. Many of the names of Cape Cod's communities are reminders of the world the Pilgrims left behind - Truro, Chatham, Sandwich, Falmouth, Harwich, Yarmouth and Barnstable. Mashpee and Sagamore recall the original inhabitants, the Wampanoag Native Americans, who lost their land to the English colonists they had helped. Their ancestors still live here and their story is told at the Mashpee Wampanoag Indian Museum (001 508 477 9339; mashpeewampanoagtribe.com, donations). The waters around Cape Cod are so popular with whales that many of the boats are prepared to guarantee a sighting. You don't have to go far from Provincetown, pictured, to see these leviathans emerge from the deep. At the edge of the Stellwagen Bank National Marine Sanctuary (stellwagen.noaa.gov), humpbacks, minkes, the endangered right and the second largest whale on Earth, the fin, are frequently seen. Porpoises, dolphins and seals provide a delightful supporting cast. The Dolphin Fleet (001 508 240 3636; whalewatch.com; from $42/£28) offers tours of between three and four hours, led by a naturalist, from the MacMillan Pier at Provincetown. From Hyannis, try Hyannis Whale Watcher Cruises (whales.net; tickets $49/£33).
more
may18 Wellfleet
The Massachusetts Library Association at its annual conference last month in Cambridge, gave Wellfleet Public Library an honorable mention for its new website, Wellfleetlibrary.org which was designed and built by Andrea Pluhar of PluharCreative in Wellfleet. The site architecture was the product of a close collaboration between Pluhar and the library staff. It was important that the site be easy to read and navigate, and easy for the library staff to maintain up-to-date content. Pluhar went back to the creator of the well-known and beloved mermaids, Ellen LeBow, that illustrate T-shirts and publicity materials of the library, to decorate the site's pages and give it its gentle sense of humor and friendly feeling.
may18 Wellfleet
The Wellfleet Elementary School PTA will hold its fourth annual WES Fest from 10 a.m. to 3 p.m. May 25. The event, a fundraiser for the school's parent-teacher association, includes mechanical amusement park rides, such as a 70-foot Rapid slide, a pirate ship, a moon walk, a Chaos obstacle course and an inflatable soccer game. There also will be games, such as a ring toss and a putting green. Two local bands, the Rip-it-Ups and Sarah Swain and the Oh Boys, will perform. Crafts and food will make it complete. The event is at Bakers Field by the pier and town playground.
may18 Wellfleet
Joan Steinau Lester will read and discuss her new novel, "Mama's Child," a tale about the deeply entrenched conflicts between a white mother and her biracial daughter, at 7:30 p.m. Wednesday, June 5, at Wellfleet Public Library. A book signing will follow the reading.
may18 Wellfleet-Eastham-Truro-Provincetown
The first piping plovers have taken up residence at Truro beaches and annual accommodations for their summer stay are well underway. In Truro, fencing to protective their sensitive nesting habitat has been installed at Corn Hill, Fisher, Ryder and Ballston beaches, where the endangered birds have already begun to exhibit the telltale signs of courtship. Fencing has also been placed within the Cape Cod National Seashore at Nauset Light, Marconi Beach, White Crest, Cahoon Hollow, Newcomb Hollow, Bound Brook, Duck Harbor, Great Island, Jeremy Point and Coast Guard beaches. In total, 63 pairings have been documented throughout Cape Cod National Seashore as the birds continue to return from their wintering grounds in the southeastern U.S. Town officials are working closely with the Cape Cod National Seashore and Mass Audubon Society to monitor the federally protected birds as they begin to nest and lay eggs. The birds, which blend into their surroundings to avoid predators and lay their eggs in shallow depressions above the high tide line, are highly susceptible to vehicle and foot traffic. Under the federal Endangered Species Act, all breeding habitat must be protected until chicks are able to fledge the nest, typically by mid-summer. A cold winter and spring have contributed to a fairly late nesting season this year, meaning the plovers won't likely fledge the area until after July 4, said Mark Faherty, science coordinator for Mass Audubon Society's Wellfleet Bay Wildlife Sanctuary. Their presence is likely to have the biggest impact at vehicle-accessible beaches like Corn Hill and Fisher, where driving will be prohibited within 100 yards of their habitat once chicks begin to hatch. Full beach closures are rare, but the disruption to driving access is likely to set off some annual frustration among beach-goers who see the extent of the birds' protection as a hindrance to public use, he said. "They are one of the most polarizing animals," Faherty said, noting that their endangered status hasn't endeared them to many residents despite their success story under the federal and state guidelines. Since 1995, plover numbers have quintupled to almost 600 pairs in Massachusetts, with some of the healthiest density of their population occurring on the Outer Cape. A massive dune washover at Ballston Beach this winter has also helped turn roughly "two football fields" of marshland into ideal plover nesting habitat, Faherty said. The Truro Beach Dept. has arranged for Audubon to monitor the new Ballston Beach habitat as well as all bayside Truro beaches. The Cape Cod National Seashore will monitor all other oceanside beaches. Any beach closing will be determined by the town's beach department and beach committee.
may18 Eastham
Lisa Panaccione wishes the town would take baby steps when it comes to installing a municipal water system. Officials have been trying to get voter approval for public water at town meetings since the 1970s, but as recently as May 6, they have been unsuccessful. Panaccione differs from the other two candidates for two seats on the board of selectmen in that she thinks town water is too expensive and not necessary. She does, however, favor a small system to address the water supply for the people living around the capped landfill whose wells have been contaminated by chemicals. "I firmly believe we have a moral and legal obligation to the properties around the landfill," she said. "That's what we should all work toward. ... For seven years, there has been no permanent solution. The town is putting itself in a dangerous position by not addressing it." But, she said, trying to get water for the entire town for $114.8 million is like buying a new Cadillac when all you have is a flat tire. "Repair the tire, don't buy a Cadillac," she said. She said voters are confused about the water issue and distrustful of the selectmen. She said the town is 98 percent built out and so the water quality won't get any worse because the population isn't going to continue to grow. But incumbent John Knight, who is running for re-election, disagrees. Knight said public water would have cost $4.5 million when it was first considered in 1971. "Now that won't pay for the paperwork," Knight said. The price tag and the need will only continue to rise, he said. And, he said, the majority of the town agrees with him, as evidenced by the May 6 vote when 64 percent of voters approved a full $114.8 million water system. "We lost by 33 votes," Knight said of the need for a two-thirds majority. "It's not time for a give-it-up attitude." Knight also said affordable housing should be a huge priority in town, because the population of young residents and lower-income seniors cannot live there otherwise. "We're losing people," he said. Wally Adams, the other incumbent seeking another term, said the board has been working so hard, especially leading up to town meeting, that he might as well have camped out at town hall. "We as a board took the responsibility to do as much as we could," he said. Adams said the full water system is the best option, not the partial system that would provide water only for the area around the landfill and most commercial properties. It would provide fire hydrants for 80 percent of town. State Rep. Sarah Peake, D-Provincetown, is working to get zero percent interest for Eastham's water loan. But the way her legislation is written, it applies only to towns without other public water systems. So if a partial system comes in, the rest of the town will not have a chance at zero interest, Adams said. Adams said he is also working to get Rock Harbor reclassified by the Department of Environmental Protection, which erroneously categorized the harbor with a clean-water standard higher than its current use as a boat basin - thus forcing the town to attempt to remove nitrogen unnecessarily at great expense. Adams said he won't stop working toward reclassification.
more
may18 Eastham
Voters go to the polls Tuesday, May 21, from 7 a.m. to 8 p.m. to elect two selectmen and vote on two ballot questions. Question 1 authorizes $38.8 million to establish a town-wide water system. Question 2 is have the elected treasurer/tax collector become an appointed position, as was voted at the 2010 town meeting. A simple majority is needed for the water question to pass. If it passes, and if the June 22 special town meeting approves the municipal water article, then the town will be able to proceed with the water project. It will have the $76 million voters approved at the ballot box in 2007, plus the $38.8 million asked for this coming Tuesday, which will fund the $114.8 million municipal water project.
may18 Eastham
Cape Cod National Seashore Superintendent George Price has announced that access to Coast Guard Beach in Eastham will be closed on Tuesday, May 21 from 6:00 AM to 3:00 PM so seashore staff can create an accessible path to the beach in advance of the summer season.
may18 Eastham
Please join the Eastham Historical Society at its annual meeting and potluck supper, Sunday, May 19, at the Schoolhouse Museum, from 5 to 7 p.m.. Officers will be elected and a review of business and upcoming events will be presented. For the potluck supper, attendees are asked to bring a main dish , salad or dessert for six plus your own utensils.
may18 Eastham
The municipal water project will make a return appearance at a special town meeting at 10 a.m. Saturday, June 22. There will be a secret ballot. At a meeting Wednesday, the selectmen agreed to open the warrant on May 15and to close it on May 24. The warrant at this point will have two articles. Article 1, for the $114.8 million municipal water article voters rejected at the May 6 annual town meeting, and Article 2, for an expanded partial water system for $40 million. The fact that 64 percent of those attending town meeting voted for the $114.8 municipal water system, and 65 percent voted for the partial system has given the selectmen reason to hope that with another vote they will be successful in gaining the two-thirds vote needed to approve the project. The selectmen have held two meetings since town meeting. At both they discussed the problems that came up at town meeting, including the poor sound system, the failure to tell citizens that they had the right to request a secret ballot, and the possibility that some votes were not included by the counters, and that some citizens may have voted more than once. Citizens coming in to town meeting were given a white paper plate and a colored piece of cardboard with YES and NO written on it. They were told it would be explained during the meeting what they would do with these items. That never happened. Sheila Vanderhoef, at the board's May 8 meeting, said she had received calls and e-mails from citizens complaining about the sound system and the "quality of attendee's behavior" at town meeting. Some complained about the "way the meeting was run," she said. Selectman Wally Adams, at the May 8 meeting, asked if anyone had come to town hall to talk about getting abatements due to loss of value resulting from the failure of the water articles. At the May 15 meeting, Gail McAleer, deputy assessor, told the board, "the potential impact on market values is still being determined." She said she has heard that people are surprised to learn that Eastham does not have municipal water. They have it where they come from, and expect to find it here. Several properties near the landfill that have dioxane in their wells are for sale, but have not sold, she said. Resident Bob McGorry told the selectmen he could not hear at town meeting, and ended up voting the wrong way.
more
may18 Truro
One property along the Upper Pamet River Valley has shown unusually high levels of sodium in well drinking water since the flooding from the early March breach at Ballston Beach on the Atlantic Ocean. The town has identified 85 properties along the river valley at risk for saltwater intrusion into their wells, town Health and Conservation Agent Patricia Pajaron said.
Property owners have been advised to voluntarily have their wells tested. Six people gave samples to the town in March. Only one sample had unusual levels but more sampling may be requested as second-home owners return for the summer season, Pajaron said. "About 57 are second homes, so a lot of people aren't back yet," Pajaron said. "I've gotten some calls from folks during the Easter holiday and Patriots Day. It's voluntary testing. It's a recommendation." The owner of the one property with unusual levels was advised to retest again in a few months. The private parcel is on North Pamet Road near the beach, Pajaron said. The water is still safe to drink and the measurement was not high enough to create a salty taste in the water. "The concern is if someone were on a very restricted sodium diet," Pajaron said. The minerals can also be corrosive to well equipment, she said. The flooding inundated a freshwater marsh with seawater and sand, and left standing water in backyards of private homes. Truro public works workers filled the breach with sand from the town's Head of the Meadow Beach in North Truro and stabilized the area, town public works director Paul Morris said. The work was done under permitting from the state, Pajaron said. But town and Cape Cod National Seashore officials are expecting to hold a workshop soon to look at a long-term solution to the occasional flooding of the valley. No date for the workshop has been set, Seashore Superintendent George Price said recently.
may18 Truro-Provincetown
A new 50-acre area in Cape Cod Bay off Provincetown and Truro could provide income for shellfish growers. But a popular, floating method for oyster farming won't be allowed by state fisheries officials who say the equipment could ensnare whales and leatherback turtles. The method uses sets of floats strapped together at the surface and secured on each end with ropes that drop to the seafloor, Provincetown and Truro Shellfish Constable Tony Jackett said Friday.
The floating equipment has been successfully used in shallow waters where there are no marine mammals. The 50 acres is in water about 20 feet deep within the bay's federally designated North Atlantic right whale critical habitat. It's also in the area where, since 2005, a dozen leatherback turtles have become entangled in fixed fishing gear. In the past four years, one right whale entanglement originated in the area. Fisheries officials are concerned about the vertical ropes and entanglements. "At this point, we're not going to allow these floating aquaculture gear," said aquatic biologist Erin Burke of the state Division of Marine Fisheries. Generally, the state intends to give the go-ahead to gear that is rigged without vertical lines or with highly modified lines, to prevent injury to endangered species. Provincetown officials want to create an area along the lines of a community garden with about 25 plots, 1 acre each, for people who want to try aquaculture. On the applications so far in Provincetown, people have suggested they would grow oysters, butter clams, mussels, quahogs, and bay and sea scallops. In Truro, applications have been submitted by shellfishermen looking for more than 1 acre apiece. "You're not going to make a living of it," said Alex Brown, chairman of the Provincetown Shellfish Advisory Committee. "You're going to supplement your income." On Wednesday, the Provincetown Center for Coastal Studies will host a free, daylong workshop for both novice and experienced shellfishermen interested in the new aquaculture development area. The focus will be on the risks of entanglement, regulatory agencies and new developments, such as equipment that eliminates the risk of entanglement.
more
may18 Provincetown
Some residents aren't feeling the love for the bright LED lights, so Cape Light Compact is installing four lower energy versions. But the discussion - and delay - is making selectmen nervous. ape Light's Kevin Galligan, program manager, and Maggie Downey, administrator, got an earful at the recycling and renewable energy committee's meeting Wednesday, May 8, when some 15 townspeople came out to complain about Provincetown's historic downtown looking like "a parking lot" under bright energy-efficient LED streetlamps.
Artist Polly Burnell, a member of the historic district commission and the historical commission, both of which voted against changing the town's 426 high-pressure sodium streetlamps to LEDs, said that, at a temperature of 6000 kelvin, the sample lighting resembles that of a Walmart parking lot. "It's a night town in a lot of ways. [LED lights are] harsh and ugly and not appropriate for the kind of town we have," she said. Downey suggested, and the people present agreed, that the CLC would install four more energy-efficient lights - this time at 3000 or 4300 kelvin, depending on what's available - by Perry's Liquors on Tremont Street. The LED lights would be installed in cut-off fixtures with back light control that would tone down the bluish-white light and direct it downward, Downey said. Lowering the kelvin temperature will create a different color, Galligan said, but it won't be perfect. He added that "4125 kelvin is a moonlit night," and moonlight is white. "Any LED light you will ever choose will never be warm." If the town wants its streetlamps to retain their romantic orange glow, it doesn't have to participle in the CLC program, Galligan said. However, Provincetown then would have to pay for the maintenance of its own streetlights, which he and Downey called "expensive." That notion had the board of selectmen on edge Monday night. David Gardner, assistant town manager, recounted the events of the recycling committee's meeting and at least three selectmen sounded as if they plan to go for the lights despite aesthetic complaints. Selectmen David McChesney pointed out that saying no would be giving up $200,000 worth of free lights and an annual savings of $21,000 as well as free maintenance. "And we'll end up with the only sodium lights on Cape Cod and then what do we do?" he said. Newly elected selectman Tom Donegan said that because the light emitted from LEDs can be directed, "light pollution would also benefit from this."
more
may18 Provincetown
Get a taste of all the sweet and savory treats the Outer Cape has to offer during Provincetown's Restaurant Week and Gallery Stroll. The event runs this weekend through Wednesday, May 22, with a host of popular local eateries participating.
Check out the enticing offerings by participating restaurants inside these special pages. Residents and visitors can enjoy prix fixe dinners for $25 or $35 on any or all of these evenings at a selection of local restaurants. The event is organized by the town's tourism department (www.ptowntourism.com) in conjunction with the Chamber of Commerce (www.ptownchamber.com) and Provincetown Business Guild (www.ptown.org). Twenty-two local restaurants offer the prix fixe dinners (the full list of restaurants can be found on the websites). It's an opportunity to sample a new menu or return to an old fave.
may18 Provincetown
For its "Spring Group Show," the Alden Gallery at 423 Commercial St. in Provincetown is presenting 15 of its gallery artists all working in a specific and uniform size - 14 inches tall by 11 inches wide. Conceived and curated by gallery artist Joerg Dressler, each work will be hung an equal distance apart at the same height on every wall like a vibrant and dynamic horizontal strip. The show, which opens with a reception from 7 to 9 p.m. Friday, May 17, runs through June 27.
may18 Provincetown
The Northeast Region (NER) is soliciting qualified applicants for a temporary contract for a food and beverage snackbar operation at Herring Cove Beach within Cape Cod National Seashore.This is a new facility located in the brand new Herring Cove Bathhouse Complex opening this summer.It is expected the term of the new temporary contract will be June, 2013 until December 31, 2015.The link to the posting on the external website is http://concessions.nps.gov/caco004-13 rfg.htm.
more
may18 Orleans
Brian Kavanaugh isn't afraid to ask questions, read reports or investigate the financial decisions made by the Nauset Regional School administration. Some might call him an obstructionist. "I've heard that from others on the board who don't do anything," Kavanaugh said. "I don't hear that from the teachers or the community. They are grateful." Kavanaugh is running for a three-year seat as an Orleans representative on the Nauset Regional School Committee, which is made up of members from the four towns in the Nauset school district. He is facing competition from newcomer Wesley Spiegel, a father of three who wants to contribute his time to the school system. Spiegel said he wants to work to keep class sizes small and keep the quality of education in Nauset at a high level. Giving the students the best education early on sets them on the right path, so class size at the elementary level is particularly important, he said. "The superintendent is great and he works really hard," Spiegel said. "I want to be supportive." Kavanaugh, whose five children will all be in Orleans Elementary School next year, said if being supportive means being a rubber stamp for the administration, what's the point in having a school committee at all? "If we hire the superintendent to make all the decisions, why do we even meet?" Kavanaugh asked. Kavanaugh said the school committee's role is to oversee the superintendent and make the larger policy decisions and financial decisions. He said his understanding of finances and business allows him to analyze and investigate the financial issues facing the schools. Spiegel also floated the idea of a community pool behind Nauset Regional Middle School, which has been discussed around town. But, he added, the estimated $200,000 or so needed would not come from the school budget.
more
may18 Orleans
Resident Paul Cass told town meeting Tuesday that the proposed fertilizer bylaw had no teeth and didn't go far enough, but it turns out it went too far. "No one has the nerve to just outlaw fertilizer in the stores . but we are in dire straits here," he said. "We have to get away from the golf course front lawn. We should do something besides just volunteer, volunteer." Voters passed the bylaw that banned fertilizer use at certain times of year and suggested limits on amounts, but the day after voters spoke word came down that the Falmouth fertilizer bylaw, which Orleans' was modeled after, was overruled by the attorney general. Town Administrator John Kelly told the selectmen Wednesday that town counsel Michael Ford and Town Planner George Meservey would appear before the board shortly to discuss next steps. The idea behind the bylaw was to remove some of the nitrogen pollution that is coursing into water bodies. Although only about 7 percent to 10 percent of the problem nitrogen is from fertilizer, many want to address as much of the problem as they can without putting in wastewater treatment plants. The majority of the pollution stems from septic systems. Andrew Gottlieb of the Cape Cod Water Protection Collaborative said Barnstable County is about to embark on drawing up fertilizer regulations for the Cape. Unlike individual towns, the county's charter isn't hamstrung by state law that pre-empts town's from addressing fertilizer use individually. "It may be the only way to get through it," said Gottlieb. Selectman David Dunford and Selectmen Chairman Jon Fuller emphasized that some fertilizer regulations were needed. Gottlieb agreed but said it may not be easy. "I can guarantee you the lawn care industry won't like it," he said. "We are going to get a ton of blowback."
may18 Orleans
The Nauset Sea Scouts will hold open houses for parents and prospective Sea Scouts on Wednesday and May 29. Sea Scouting is a character-building, hands-on experience for young men and women ages 14 (and graduated from eighth grade) through 20. It teaches boating skills and promotes knowledge of maritime history. Both events will be at 6 p.m. at Ship 72 Nauset Sea Scouts, 46 Beach Road, Orleans. For more information, go to www.seascoutship72.org.
may18 Brewster
This is the time of year when thousands of teens are planning and dreaming about that rite of passage: prom night. For seven years the staff and a slew of volunteers at the Latham School in Brewster have made sure their students are no different. The Latham School, founded in 1970, is a school for students, ages 8 to 22 who have developmental delays or Prader-Willi Syndrome, a rare genetic disorder. The main campus is located on Route 6A in Brewster, but they have independent and group homes in Brewster, other Cape towns and in Southeastern, Massachusetts.
The prom for the Latham students, and special needs students from other high schools, including Nauset, Dennis-Yarmouth and Harwich, isn't until next month, but as with all proms, getting the right dress for the girls, and getting fitted for a tux for the boys is a big part of the preparation. "The Best Buddies Prom is for all special needs students aged 15 to 21," says Gerry Pouliot, assistant principal. "The prom will be at the Harwich Rec Center, and they'll have a DJ and it will be like any other prom." Steven Peters, marketing manager of The Cooperative Bank of Cape Cod, one of the sponsors of the event, along with volunteers from the Community Leadership Institute, was very happy to be there as the students pored over dress selections and were fitted for their tuxes. "Prom night is a night unlike any other, and we will make that happen for these students, just like any other teen," he says. "They will get to have the experience, their parents will have that photo. This is not an experience they will have to miss." Volunteers have been collecting dresses from shops, private donations and through donations from local businesses. Latham School day supervisor Trish Morgan welcomed the excited girls to "Trish's Boutique," and helped the 24 girls each choose three dresses from the huge selection to try on. There truly was something for everyone. Puritan's of Hyannis donated their time, bringing suit jackets in all sizes to size the 13 boys for their tuxes. The boys have never had tuxes before so this was very special. While getting measured and trying on jackets there were just like any other teenage boys - nervous, a little quiet and proud of how they looked in their jackets. "Each boy will have the same jacket and pants," says Kerry Marchant of Puritan's, "but they then get to pick a black or silver vest, and regular tie or a bow tie."
more
may18 Chatham
A lone Atlantic white-sided dolphin was spotted in Mill Pond on Thursday evening but hasn't been seen since early Friday morning. Brent McGlynn, 18, of Chatham, got a call from a friend around 5:30 p.m. Thursday that a dolphin was in Little Mill Pond. "It was a once-in-a-lifetime kind of thing," said McGlynn, so he hopped in his car and headed to the pond, which is up the Mitchell River from Stage Harbor.
"I had an oar in my car from clamming," he said, and he and two friends took a nearby dinghy out on the water, where McGlynn snapped some photos. "We watched it for maybe an hour, an hour and a half," he said of the dolphin. McGlynn's friends said the animal was stranded under a bridge and they pushed it back into deeper water, he said. The roughly 5-foot-long dolphin was taking short breaths before being helped to deeper waters, he added. When McGlynn shot his photos, the dolphin was in about 8 feet of water at high tide. "It goes down to about 4 or 5 feet at low tide," he said. The International Fund for Animal Welfare responded to the pond and took photos, McGlynn said. "They couldn't figure out if it was sick or not," he said. "It was not injured or ill that we know of," IFAW spokeswoman Kerry Branon said of the dolphin. The location of the sighting was unique, Branon said, and she could not recall any previous sightings at the pond. The dolphin was last seen by an IFAW team at 6:30 a.m. Friday, Branon said. While their hearts may have been in the right place, Branon said she does not recommend anyone do what McGlynn and his friends did and try to save stranded dolphins on their own. "Call IFAW if you see one," she said of the federally protected animal. The IFAW stranded animal hot line is 508-743-9548.
may18 Chatham
The waters off Chatham will be safe for the next few weeks because all the sharks are in Kate Gould Park! The Main Street park, home to the very popular summer band concerts is a veritable frenzy of color and culture--at least until June 2.
Today is the official first day of Chatham Sharks in the Park--a unique outdoor exhibit co-presented by Chatham's business and art communities and sponsored by the Chatham Chamber of Commerce's Merchants Association. Local businesses are sponsoring the 5-foot shark sculptures, each decorated by local talented artists. Unlike the great whites swimming in the waters off the Cape, these sharks are harmless. And they sure are beautiful. The sharks will be on display in the park through June 2 at which time they will be plucked from the grass and sent out for special appearances throughout town all summer. On August 1, the sharks will be auctioned off at a Chatham Bars Inn gala. with the proceeds benefiting the Chatham Shark and Marine Life Research Center Foundation.
may18 Chatham
Long-time school committee member Jeffrey Dykens
garnered the most votes, 1011, in Chatham's race for selectman. Incumbent Tim Roper earned the other seat on the board with 910 votes, with Seth Taylor coming in at 633. Voters Thursday also easily passed a $15 million debt exclusion to tackle the next phase of the town's sewer project and strongly supported a non-binding referendum calling for the closure of the Pilgrim Nuclear Power Plant.
may18 Chatham
The Women of Fishing Families will donate a bench to commemorate the life of Brad Liska at this year's Blessing of the Fleet ceremony at 10 a.m. Saturday, May 18. The blessing will take place at the Chatham Fish Pier, 54 Barcliff Ave. Extension. The public is welcome. Brad died last November after a courageous, year-long battle with brain cancer. He was 13. Brad's father Mark is a commercial fisherman who owns the FV/Sea Dancer. His mother Kate is a member of WOFF. During the service Mark and Brad's sister, Camille, will lay a wreath in Aunt Lydia's Cove to remember those lost at sea. WOFF is a non-profit volunteer organization whose mission is to support fishing families here and across the Cape through a support network, community assistance funds, scholarships and fisheries education. For the last five years WOFF has partnered with St. Christopher's Church to hold the blessing. The Rev. Brian W. McGurk, St. Christopher's rector, will lead the service. Chatham's fishing fleet, fishing out of the fish pier and also Stage Harbor, is the largest on the Cape, although stringent ground fish regulations have strained local fishermen. The service will also feature Celia Whitler, a singer/songwriter/motivational speaker from Tennessee, who will be in town to perform at several events at St. Christopher's.
may18 Harwich
A female jogger running on the wrong side of the road was hit by the mirror of a moving car Friday morning. The woman was struck around 8:30 a.m. near 229 Lower County Road by the right-side mirror of a Toyota Camry. "She was running with traffic when there was a perfectly good sidewalk on the other side of the road." The jogger was taken to Cape Cod Hospital with injuries that are not considered life-threatening.
more
may18 Harwich-Brewster
Families in Dennis, Yarmouth, Harwich or Brewster could have the experience of a lifetime over the 2013-2014 school year. "I have already placed two Italian students, Cristina and Federico, at Dennis-Yarmouth Regional High School for next year," says Victoria Martin, an international exchange coordinator for EF Foundation for Foreign Study, a nonprofit based in Cambridge. Martin will host one of the Italian students in her Yarmouth Port home. A 16-year-old Norwegian boy has been selected to study information technologies at Cape Tech in Harwich next year. Highly motivated both personally and academically, Oliver is a solid student who loves math and science. Martin seeks a host family for him. "Our host families are volunteers who represent the diversity of American culture, with varied economic, religious and racial backgrounds," says Martin. "EF encourages families of all shapes and sizes to consider hosting." Many host families do not have children; others have adult children who no longer live at home. Some have young children and some have teenagers who attend the same or a different secondary school as the exchange student they host. Students between 15 and 18 years old undergo rigorous screening for motivation, character, grades and proficiency in written and spoken English. Likewise, host applicants are screened to ensure that they are suited for the exchange experience. The exchange students' parents must then agree with the match recommended for their child. Host families are not paid. Instead, they are eligible to receive a charitable tax deduction. In addition to providing room and board, host families are expected to share with students everyday experiences such as holiday traditions, evening meals, sporting events, movies and household chores. EF Foundation offers a Host Family Perks program that provides host families with discounts online and at their local grocery stores and community events.
more
may18
Bringing kids to Cape Cod is fabulous. There are playgrounds, parks, beaches, and many other attractions to keep children stimulated and happy (and run them ragged so that they will go to bed easy!).
more
may18
A summer weekend rail service between Boston and Cape Cod officially launches next weekend. But on Saturday, a group of people who signed up ahead of time piled onto the train for a test run. The commuter train will run between Boston's South Station and Hyannis from Memorial Day weekend through Labor Day and connect with Cape Cod bus and ferry services.
It will also provide space for bicycles. State Transportation Secretary Richard Davy has said the service will give people the option to avoid traffic and open tourist destinations to more travelers. On Fridays, an MBTA commuter train leaving Boston at 5:12 p.m. for Middleborough will continue to Hyannis. Trains will depart Boston at 8 a.m. on Saturdays and Sundays. Returns leave Hyannis at 6:30 p.m. Saturdays and Sundays. Fares are $20 one-way and $35 round-trip. It's cheaper if you pick up the train in Middleboro or Buzzards Bay.
may17 Wellfleet
Auditions will be held May 16 through 18 Wellfleet Congregational Church at for Wellfleet's 250th Anniversary Founder's Day Play, written by Dina Harris and David Wright, with original music and songs by Fred Magee. Auditions will be held Thursday, May 16, from 5:30 to 7:30, Friday, May 17 from 12:30 to 2:30 p.m. and 5 to 7 p.m., and Saturday, May 18, from 10 a.m. to 1 p.m. There are six principal roles and six chorus roles available. The director is seeking men and women, ages 20 through 60s, all physical types, who can sing and move well. This is a non-equity production; theater experience is necessary, school and community theater experience welcome. Bring to the audition a head shot, resume and at least one reference: with phone number and/or email address. Be prepared to sing and bring your music. Lively tunes preferred. Also needed: Volunteers for backstage, assistant stage manager, assistant wardrobe, and scenery help (construction and/or painting.) The play will be performed on Sunday, Aug. 4, at the Congregational Church in Wellfleet. This is the kickoff of Wellfleet's 250th Anniversary celebration, a special week of entertainment and events. For more information contact Dina Harris: dinaharris@wellfleet250.org. For more information about activities and events see www.wellfleet250.org.
may17 Wellfleet
As the next phase of its ongoing plan to promote the generation of practical green energy, Mass Audubon's Wellfleet Bay Wildlife Sanctuary is seeking to erect a micro-wind turbine near existing solar panel arrays adjacent to the sanctuary's parking lot. The wildlife sanctuary in South Wellfleet is hosting a community open house Thursday, May 23 from 5-7 PM to provide more information about the project, including images of the proposed turbine and to answer questions. The proposed 120-foot, two-bladed turbine is an example of micro-wind technology as categorized by government and industry and is not comparable to the much larger industrial-sized turbines erected in other areas of the Cape. Its modest scale has been designed to generate only enough power for the sanctuary to return to the regional grid as much power as it uses and has been sited to minimize visual and other impacts, both on and off the sanctuary. Sanctuary director Bob Prescott said adding wind power to the sanctuary's green energy mix is a logical next step following the installation of solar panels at the sanctuary in 2006 and 2011 and the 2008 construction of the award-winning LEED Platinum-certified nature center, an energy-efficient building incorporating recycled materials. "This proposal dovetails with Mass Audubon's organization-wide commitment to demonstrate affordable, practical ways to reduce one's carbon footprint and help to offset emissions contributing to climate change," Prescott noted. "We also anticipate using the turbine as part of our education programs and to further engage the greater community to which we belong." The turbine will require approval by Wellfleet's Zoning Board of Appeals. Mass Audubon will also conduct environmental studies to ensure the turbine will not have adverse impacts. If approved, the turbine would be constructed in the off-season to minimize impact on visitors and wildlife. "We hope people will join us for what I expect to be an informative and productive session," Prescott said.
may17 Wellfleet
The Wellfleet Board of Water Commissioners will hold a publi hearing at 7 p.m. on June 4 on rates and public-private roads revisions in the Municipal Water System Regulations.
may17 Eastham
Residents will have another shot at voting on a public water system at a special town meeting scheduled for 10 a.m. June 22. The selectmen decided Wednesday to hold the special meeting in hopes of getting a two-thirds majority necessary to approve a municipal water project. Two articles will appear on the warrant. One will ask for a $114.8 million project to provide public water to the entire town. The second will ask for a $40.8 million plan that would give water to the area around the town landfill, where private wells have been contaminated with 1,4-dioxane, a probable human carcinogen. That plan also would provide water hookups for 80 percent of commercial properties in town and fire hydrants for 80 percent of the town. Both plans won majority approval - 64 and 65 percent of the voters, respectively - at town meeting on May 6, but both failed by slim margins to gain the two-thirds approval necessary. Frances Szeglin, a resident and public water proponent, urged the selectmen to bring back at least two and possibly three proposals, which she labeled "should do, could do and must do." The should do: provide water for the entire town. The could do: provide water for most businesses and bring hydrants to most residents - the $40.8 million plan. The must do: provide water for people living near the landfill.
more
may17 Eastham
may17 Truro
In the most anticipated question at the ballot box on Tuesday - with no contested board seats on the ballot - residents voted, essentially, to disband the board of fire engineers, giving managerial oversight of the fire department to the board of selectmen. As part of the oversight, the selectmen will be allowed to appoint the fire chief position directly - something that previously was decided by the board of fire engineers. The charter amendment, which was approved at Town Meeting in 2012 to get on the ballot, was fiercely challenged by Fire Chief Brian Davis and fellow fire engineer board members John Garran and Butch Lisenby leading up to the vote. The board of selectmen had steadily sought the change since a study issued in October 2012 raised concerns over the department's management structure and on-call staffing plan. Voters approved the change 211 to 93. Provincetown is now the only remaining town on Cape Cod to use the traditional board of fire engineers management structure. In conjunction with the Truro fire board's elimination on Tuesday, voters narrowly approved, 161 to 153, a property tax increase that raises the town's annual operating budget by $141,367 to fund a revised fire department administrative and staffing plan. Under the new plan, the department will keep one year-round firefighter-paramedic at the station and an additional person in the same role during the summer season. Three other ballot questions involving property tax increases also were approved by popular vote in the town election. Among them, voters approved two temporary tax increases to fund new municipal vehicles. The three one-year budget increases include $75,000 for a transfer trailer to be used by the department of public works for solid waste removal (179 to 138) and $42,000 for a four-wheel-drive vehicle to be used by the fire chief for code inspections and beach rescues (159 to 158). However, voters denied the police department $28,000 for a replacement cruiser (156 to 162). Voters also approved another annual tax increase totaling $12,194 to fund increased hours for a council on aging assistant position. But they voted down $14,538 for an additional part-time position in the health and conservation department. An eighth ballot question on tax exemptions for affordable housing properties in Truro was also approved. Bob Weinstein (with 189 votes) and Paul Wisotzky (238) were elected as Truro's newest selectmen Tuesday night in an uncontested race for two open seats on the board. Weinstein and Wisotzky will succeed embattled selectman Gary Palmer, who did not seek re-election in the aftermath of a third drunken-driving charge earlier this year. Palmer was vice chair of the board and had been a selectman since 2004.
more
may17 Provincetown
This Saturday, the farmers' market will once again take up its six-month weekly residence in the parking lot across from Town Hall on Ryder Street. The market, managed since 2007 by Andy Pollack of Silverbrook Farm in Dartmouth, has secured its usual board of selectmen approval as well as renewal of its three-year special zoning permit. But it did not come without some homegrown debate at Town Hall, and town staff jumping in to resolve a complaint by a local business owner.
Back in February, in response to a suggestion by now-former selectman John "Grassy" Santos to relocate the market to the Jerome Smith Parking Lot off Route 6, Pollack said, "I can understand [the town's] concerns, but the market brings such life into that parking lot on a Saturday that it would be a shame to move it to a remote area." Santos's assertion of the potential for better market expansion if it moved to Jerome Smith was not embraced by Pollack. "It seems like [with Ryder Street] we have the perfect location," he said, "as well as the perfect size. If we double the stalls, it could dilute the returns for the vendors." Selectman Erik Yingling concurred. "If you don't have foot traffic, you're not in business," he said. But Santos continued on his tack, citing the loss of revenue to regular, local and surrounding businesses as well as a loss to the town of up to $350 a day in parking fees. Pollack mentioned that while the individual vendors do make money, he and the market do not. He then suggested that the market, which is not charged for usage of the lot, pay a fee to the town. Selectman Dave McChesney countered that a $100 weekly fee would not amount to much for the town in the long run, and the issue of a fee was dropped.
more
may17 Provincetown
Harbormaster Rex McKinsey doesn't want a surveillance system on the pier so that he can watch people making out, he said. Rather, there are people who are disposing of oil by leaving it next to garbage bins, theft from fishing vessels, and accidents on the pier that cameras could capture. The $99,500 Homeland Security grant that he first applied for in 2005 or 2006 was approved on the third try, McKinsey said, and the town is now seeking bids.
"I've been trying to get this together for years," he said last week. The system for the 1,200-foot long pier includes 24-hour surveillance cameras at the base of the two finger piers, the two floating docks, the ramp of the ferry dock and the main vehicle and pedestrian entrance to the pier, as well as on the vessels immediately adjacent to the pier and the interior of the harbormaster's office. "System must be capable of continuous or near continuous recording of digital images that can be securely retrieved, stored and viewed from a redundant hard-drive database capable of storing a minimum of 168 hours (one week) of images," the invitation for bids reads. One camera, located near the main vehicle entrance, will provide a clear enough picture to identify an individual person or license plate number. The main system will be monitored in the harbormaster's office with remote accessibility at the Provincetown Police Station. When oil is left at the pier, which is against regulations, he said, "now we have a way of knowing what boat it came from" and can give the owner a citation. He also points to an accident on the pier when someone fell into the harbor, saying that authorities would have more information about how it occurred had it happened on camera. While one of the cameras has a pan tilt zoom that can be used to follow people, there will be limits placed on the controls so that it doesn't become a tool for voyeurism. The majority of the cameras will be aimed at a fixed spot. "Most of these cameras would not give me an identification level," McKinsey said. While people should have the expectation that in public they will be caught on tape, so to speak, McKinsey said that with cell phones about everyone has a camera in their pockets that could be more personally intrusive than anything used on the pier. Surveillance cameras will be used for everything from increasing security for harbor tenants to seeing who left dog poop on the pier so that a citation can be sent out, McKinsey said.
may17 Provincetown
may17 Orleans
Selectman candidates Mark Carron and Alan McClennen are on the opposite end of the spectrum when it comes to wastewater - the biggest issue in town. Selectman Jon Fuller, the lone incumbent vying for one of two seats on the Orleans Board of Selectmen, describes himself as the moderate. Fuller wrote the so-called "Fuller Plan," which would have provided sewer connections to 700 residents and businesses downtown. It failed - by six votes - to gain enough support at town meeting earlier this month. It was a compromise between a more extensive sewer plan and doing nothing at all and was an effort by Fuller to pull together both sides of a very divided town.
Even though Fuller's plan failed at town meeting, wastewater planning isn't going away. Rumors are swirling that petitioners may try to hold a special town meeting later this year to reconsider it, Fuller said. That means Tuesday's election will be important to the future of wastewater infrastructure - a costly proposition at an estimated $31.5 million if it ever reaches the construction phase.
If Carron wins, the character of the board will switch, with the majority - David Dunford, John Hodgson and Carron - opposed to the sewer plan. If McClennen wins, the board will retain a similar makeup as now, with Fuller seeking middle ground, two opposed to and two in favor of sewers. Carron, who previously served two terms on the board of selectmen, doesn't want to be cast as anti-environment. He just wants to address critical areas first, such as Meetinghouse Pond, where state regulators say 100 percent of nitrogen needs to be removed.
McClennen entered the wastewater fray when he moved to town 10 years ago. As a retired town planner, "I know how infrastructure can make an incredible difference in how a community is developed," he said. The environment, being the main reason people buy homes and visit the town, couldn't be more critical to the town's future, he said. So he educated himself. "I think I have attended every single presentation on Cape Cod dealing with wastewater; Hyannis, Dennis, Barnstable - I have been there," he said. And he has concluded that the Fuller plan "is the most prudent option for Orleans," he said.
more
may17 Orleans
The Friends of Snow Library are hosting an event under a tent on the grounds of the library Saturday, May 25, from 10 a.m. to 4 p.m. There will be a huge book fair, fun family activities and free refreshments. The 25th is also the official raffle kick-off day - an Old Town kayak and paddle from Goose Hummock and a free lesson by Dick Hilmer. The total value of this package is $700 - ticket price is $5 for one or three for $10. After the day's festivities, the kayak will be on display inside the library until the July 6 Saturday book sale. Board members of the Friends will sell raffle tickets at the library on Tuesdays and Saturdays, and at the farmers market. The winner will be chosen on July 6.
may17 Brewster
The town held its second annual "Brewster Goes Green" fair at the Eddy Elementary School Wednesday night - and as befits the second time around - the town is a deeper shade of green. All the municipal electricity will soon be provided in town, via several solar arrays, cheaper street lighting is on the way, more efficient heating at the DPW.
Cape Light Compact is helping Brewster convert its streetlights from high-pressure sodium bulbs to light emitting diodes. Brewster has 127 streetlights and switching them all could save $3,000 a year. Anyone who's curious can inspect a couple of LEDs in operation outside the fire department and town offices. Brewster will have four municipal solar arrays; one each on the roof of the Eddy and Stony Brook elementary schools, good for 100 kilowatts apiece, a ground mounted array at the transfer station (1.2 megawatts) to be built by year's end and 14-plus acres of solar panels in Commerce Park (4.6 megawatts) constructed by Broadway Electric. They've also leased land near the water department for the Brewster Solar Garden built by MyGeneration energy of Brewster. Assistant Town Administrator Jillian Douglass said Brewster may try again to become a certified Green Community and, through a pay-as-you-throw trash plan to be implemented in October, hopefully Brewtser can reduce the amount of trash hauled to SEMASS in Rochester. "We will try to encourage people to compost at home," Douglass added. "For community composting (at the transfer station) we'll have to get permission form the Department of Environmental Protection." Chamber of Commerce head Kyle Hinkle said Brewster could become an eco-tourism destination. She noted 11 Brewster businesses have been certified through the Cape and Islands Green Business Program.
more
may17 Brewster
The selectmen discussed whether or not to draw up dogs rules for Drummer Boy Park, after both proposals for permitting dogs there were defeated at town meeting last week. The Board of Health banned dogs at the park last year and a court decision overturned those rules. Brewster is currently appealing the ruling and just paid a $300 filing fee on Tuesday. Chairman Dan Rabold suggested they draft some new rules to cover the summer, permitting dogs at Drummer Boy as long as they were leashed, banning them from the playground; pet owners remove all dog waste and setting times dogs could be in the park. "We could enact these and not allow the appeal to go forward," he said. "That would be premature at this point. We're still in litigation," said selectman Peter Norton. "What we do has to be carefully codified and crafted." "I still think the majority of people don't want dogs at Drummer Boy under any circumstances, fenced or unfenced," added James Foley. Ed Lewis argued something must be done before the summer. "What happened at Town Meeting puts us back to square one," he said. "There will be people with dogs al summer at Drummer Boy." "There's no need to vote tonight. This is just to begin discussion," Rabold said.
may17 Chatham
As a school committee member and chairman for almost 19 years, Jeffrey Dykens brought many a school budget and proposal before selectmen. Now he will get to see how it works from the other side of the table. Dykens was the top vote-getter at the town election, winning one of two seats Thursday night with 1,011 votes. Incumbent Timothy Roper will be on the board for a second term, having garnered 910 votes, followed by Seth Taylor - out of the running with 633. A total of 1,521 of Chatham's 5,510 registered voters, a little more than 27 percent, cast ballots. "I'm very pleased and moved that the people of Chatham decided to renew my contract," Roper said. "I look forward to working with Jeff Dykens." Roper said during his campaign that his top priority was keeping the town's financial health in good order. His other goal is to see the first phase of the town's sewer expansion project through to completion. Tabbed as a fiscal conservative, Roper said that he's learned in his first term that personal politics often takes a back seat to getting the job done and doing what is best for the town. "Our goal is to serve the town," he said. "The more you listen to people, the better you serve them." Dykens agreed that getting the job done with the town's wastewater cleanup was critical. He said he was very pleased that the ballot question asking for a Proposition 2½ debt exclusion to borrow $15 million to finish the first phase of the sewer expansion and address some of the most critical coastal water bodies in town had passed by a wide margin. The vote total on that question was 912-491, with 118 left blank. The borrowing measure was also approved at town meeting, 399-91. A nonbinding public advisory ballot question requesting that Gov. Deval Patrick tell the Nuclear Regulatory Commission to shut down Pilgrim Nuclear Power Station to protect public safety passed 890-482.
more
may17 Chatham-Harwich-Monomoy
The Monomoy Sharks punched their tournament ticket on Wednesday afternoon, as senior lefty ace Mike Mahar went the extra-innings distance to defeat East Bridgewater 2-1 in Chatham. Junior Matt Cook drove in the winning run in the bottom of the eighth inning as the Sharks reached the 10-win plateau needed to qualify for the Division 4 South sectional tournament, which kicks off in two weeks.
Harwich won the Div. 4 South crown last year, only to fall in the state title game. Stating that he's been motivated by the loss, Mahar has had stellar season along with his Shark teammates in their first season as a combined Harwich/Chatham team. The Sharks fell to Cohasset on Thursday night, but will look to imrove their seeding next week. Monomoy has played six games in the past two weeks, including a Tuesday road loss to East Bridgewater, a South Shore League rival. They've also fallen to Abington and Norwell in league games. The Sharks will close out their regular season with three games next week, including against cross-town rival Cape Tech on Monday, Carver on Tuesday and Rockland on Thursday.
may17 Wellfleet-Orleans
Elspeth Hay is an avid locavore who lives in Wellfleet and writes a blog about food. Elspeth is constantly exploring the Cape, Islands, and South Coast and all our farmer's markets to find out what's good, what's growing and what to do with it. Her Local Food Report airs Thursdays at 8:30am on Morning Edition and Thursdays at 5:45pm on All Things Considered, as well as Saturday mornings at 9:30am.
Most cooks have heard of broccoli rabe. But what about other rabe varieties? This week on The Local Food Report, Elspeth Hay talks with growers at the Orleans Farmers' Market about this spring delicacy from the Brassica family.
more
may17
We're a mere one week away from what's widely accepted as the start of summer, but the fantastic weather outside makes it feel as though it's already here. While we may not (yet) have a three-day weekend ahead of us, we can still escape to the Cape for a quick jaunt. The Cape Flyer, the new commuter rail train that runs from Boston's South Station to Hyannis, is not scheduled to run until Memorial Day Weekend, but on Saturday, those itching to get out of town can hop on the Flyer for a trial run. Grab your beach hat, sunscreen and a $20 bill. The train departs from South Station at 9:30 a.m., stopping in Middleboro and Buzzard's Bay before finally settling in Hyannis. There will be a press conference once the train arrives, but if I were you'd I'd make a quick escape to the beach and soak up as much sunshine as you can before catching the Flyer back to Boston at 2:30 p.m. Sure, it's a quickie, but it'll give you that much needed confirmation that the days of Winter Storm Nemo are long, long behind us. (And with that sentence, I probably just jinxed it). If you're still unconvinced, rest easy knowing a portion of ticket sales for your mini-vacay go to support The One Fund. The Cape Flyer will run regularly between South Station and Hyannis beginning Friday, May 24. Round trip tickets cost $35, and the trains will be equipped with free wi-fi and concessions. The journey takes about two and a half hours, but kicking back on a train, sandwich and iPad in hand sure as hell beats driving in my book. Check out the full Cape Flyer schedule below.
may16 Wellfleet
Berta Bruinooge will remain chairman of the board of selectmen. Selectman Paul Pilcher asked her to continue on as chairman Tuesday, and she reluctantly agreed, noting this will be the last time. She firmly believes the chair should rotate each year. Pilcher was appointed vice chair, and Selectman John Morrissey will take over the clerk's duties from Dennis Murphy.
may16 Wellfleet-Eastham-Truro-Provincetown
The recreation beaches of Cape Cod National Seashore suffered considerable damage in the series of storms this winter, but Superintendent George Price assures that all will be open for the summer season.The beach access stairs were lost at Nauset Light Beach, Eastham, and Marconi Beach, Wellfleet.National seashore staff recently secured over $200,000 in storm damage funding from the Northeast Regional Office of the National Park Service and has contracted with Classic Site Solutions to perform the stair replacement work.It will begin immediately and will be completed in early June.The other four seashore public beaches are currently open including Coast Guard Beach, Eastham; Head of the Meadow Beach, Truro; Race Point Beach, Provincetown; and Herring Cove Beach, Provincetown. Staffing for seashore beaches is funded by the recreation parking fees and are not affected by the sequestration budget reductions.Staffing includes lifeguards, maintenance, and law enforcement rangers, who perform patrols and assist visitors.Personal service programs such as interpretive walks and talks and education programs have been cut significantly as a result of sequestration.The Salt Pond Visitor Center, Eastham, is open seven days a week all year. The Province Lands Visitor Center will be open Memorial Day Weekend to Labor Day as a result of a generous donation from the Friends of the Cape Cod National Seashore.
may16 Eastham
Visit Salt Pond Visitor Center on June 1, 2013 to participate in a celebration of Wampanoag culture and traditions. Several craftsmen and artists from the Aquinnah and Mashpee Wampanoag communities will demonstrate and discuss refined traditional skills from their Eastern Woodland culture that have been carried down through time. Included will be weaving techniques of twining and finger weaving by Elizabeth Perry; cooking and food preparation by Kitty Hendricks-Miller; pottery production by Kerri Helme; and the production of utilitarian tools and utensils through woodworking and stone making techniques by other participants. Several of these artists contributed to the furnishing of the newest permanent section of the museum exhibit, "People of the First Light" installed in 2011. Demonstrations will take place at the Salt Pond Visitor Center from 10:00 AM to 12:30 PM. At 1:00 PM, the Wampanoag Nation Singers and Dancers will perform an interactive program suited for all ages and designed to sweep the audience out of their seats. This group of Mashpee and Aquinnah Wampanoag has impressed and educated numerous school groups and community organizations during performances across New England. They filled the Salt Pond Visitor Center Amphitheater during their 2011 program. All activities are free, open to the public, and wheelchair accessible. Sponsorship is provided by Eastern National, the national seashore's education partner that operates bookstores at two national seashore visitor centers.
more
may16 Provincetown
With more than two dozen works from the
Provincetown Art Association and Museum, "Provincetown Award Winners" promises to be among the best of the "best of" shows you're likely to see on Commercial Street. On display are works from past and present winners of the Art Association's two major awards - the Lillian Orlowsky Grant and the Romano Rizk Scholarship. The show opens with a reception at 5:30 p.m. Thursday, May 16, and runs through June 27 at the Harbor Hotel Provincetown, 698 Commercial St. For details, visit harborhotelptown.com.
may16 Provincetown
may16 Provincetown-Orleans
You've probably never heard of Morten Lauridsen or Z. Randall Stroope. But after the Outer Cape Chorale's "21st Century Choral Masterpieces" concert this weekend, these names might stick. With selections almost exclusively penned in the past eight years by 10 contemporary composers, these arrangements have never been performed before in Massachusetts.
"I have to say that I really enjoyed putting this program together," says artistic director Jon Arterton, who founded the chorale in 2002. "Many members of the chorale have expressed the opinion that this concert's music is the most beautiful they've ever performed." Perhaps the most recognizable composer is by Grammy Award-winner Eric Whitacre. He drew widespread praise for his innovative Virtual Choir, featuring 185 singers from 12 countries, singing together via webcam. The performance drew 1 million views in under two months, according to YouTube archives. "The Internet has made life for the conductor and the composer much easier," Arterton says. "I've been familiar with some of the composers for many years. When I started looking for other very contemporary but very tonal and beautiful pieces, I was stunned by how much was available." "21st Century Choral Masterpieces" presented by the Outer Cape Chorale at 7 p.m. Friday and Saturday and 3 p.m. Sunday: Provincetown Town Hall, 260 Commercial St. (Friday and Saturday); Nauset Regional Middle School, 70 Route 28, Orleans (Sunday).
more
may16 Orleans
Holocaust victims will be remembered at 7 p.m. May 30 at Nauset Regional Middle School with a ceremony and guest speaker Leon Rubinstein. Rubinstein survived the Nazi Holocaust after losing his family and home in Eastern Poland. He hid in a hole for years, was conscripted into the Russian army as a teenager and was smuggled into British Palestine during the Israeli war for independence. He came to the United States in the 1950s. A resident of Falmouth until this past fall, Rubinstein lives in Dedham.
may16 Orleans
Architect Joy Cuming said sustainable development stems from the individual then travels on to the community to towns and eventually ripples out to the world. But it's been stymied for decades. "We can not continue to use the same models and patterns of growth," she said. But a small crowd gathered at the Old Firehouse last Thursday, backed by a group more than a hundred members, highlighted how Orleans, in some respects, has gotten past the individuals and reached community: The Orleans Community Partnership.
The evidence may not be scintillating - pervious concrete doesn't generate a ton of excitement - but the new walkway installed by partnership, which links Cove Road to Main Street, is a step in the right direction when it comes to protecting, and sustaining, water resources. And those resources were front and center at a forum "Sustainability and Low Impact Development" sponsored by the partnership last month and featuring Cuming, as well as Gordon Peabody, of Safe Harbors - an Outer Cape Company that focuses on solving environmental problems by using the environment, and Seth Wilkinson, President of Wilkinson Ecological Design. The walkway, which ends right by the Old Firehouse, is designed to allow the rainwater to trickle and end up back in the groundwater, as opposed to sluicing off traditional pavement and funneling down to Town Cove. "Lost water is money," said Peabody. More and more folks on Cape understand the value of water and installing rain gardens on their property, said Wilkinson. A rain garden is a planted depression that allows rainwater running off from impervious areas, such as roofs, driveways, walkways, parking lots, and (non-natural) lawn areas, the opportunity to be absorbed slowly. That way the stormwater is treated - plants can take out nutrients and sunshine will break up volatile organic compounds - which are in gasoline. Although the idea of rain gardens is catching on, and can even be used on the streets of Orleans, other important concepts aren't. Peabody pointed out that state and local regulations are lagging behind retrofitting bathrooms. He wanted to use grey water to flush his toilet and he was told "No" what if someone drank out of it. "We don't need to use drinking water for toilets," he said. Although rain gardens are more easily permitted, the regulations haven't matured enough to where they are encouraged by businesses, said Wilkinson.
more
may16 Brewster
The Brewster Meeting House Presents "label" is reaching out past its own First Parish Brewster performers and membership by extending its talent and audience search into the community. Starting Friday, May 3, performers in every possible genre and a general audience from all over the Cape are invited to entertain, or be entertained, at Open Mike Night. It will generally be on the first Friday of the month, (except in July when it will be on a Sunday). Currently, the dates are May 3, June 7, July 7, August 2, and September 6. Organizer Dave Akin welcomes poets to story-tellers to singers to tap dancers. The only real limit is time, five minutes per act, which can range from an individual performer to a combo. An audio system is provided. Performers should sign up by 7 p.m., and the events themselves run from 7:30 to 9:30 p.m. which on some nights might allow for some encore performances. For more information, call 508-685-8993. The event is free although the host First Parish Brewster Music Committee reserves the right to pass a hat in case someone wants to contribute to the fund to pay down the mortgage on the restoration of the Brewster Meeting House.
may16 Chatham
Cape towns are leery of great white sharks, but Chatham is excited about the arrival of some other sharks this week. The creatures creating all the buzz, though, won't be swimming in the Atlantic. These sharks will be "swimming" in Kate Gould Park in the center of Chatham as part of the Chatham Sharks in the Park public-art event that is the beginning of a whole summer full of shark-inspired fun in town.
When officials from the Chatham Chamber of Commerce and Chatham Merchants Association got together to plan the art installation, they decided 24 sharks would be a nice number. The idea was met with such enthusiasm by businesses in town, though, that there will be 54 sharks in the exhibit in the park from Saturday through June 2. A concert Saturday afternoon by The Celtic Trio will be a further draw to the park. After June 2, those sharks will be moved to other locations around town for new "shark sightings," until the Shark Gala on Aug. 1, when the artwork will be auctioned off to kick-start a drive to raise money for a shark and marine life education center in Chatham. Each shark is sponsored by a local business, and some owners decorated the sharks themselves, according to Lisa Franz, executive director of the Chatham Chamber of Commerce. "But the vast majority of people commissioned them out and had other artists do the design." Each of the sharks is 5 feet long and they were hand-cut out of Versatex by Mike Stello of Stello Construction. Artists decorated both sides of the sharks and Jerry Evans of Chatham Wind and Time designed and created plaques with the name of the artist and sponsor for each shark. The park won't be the only place visitors can see decorated sharks, though, and the public art in the park is just one of the shark-inspired activities planned in town for children and adults.
more
may16 Chatham
The Village Hall Family Circle is hosting a spring bazaar Saturday, May 18, from 9 a.m. to 2 p.m., at South Chatham Village Hall, 2567 Main St., South Chatham. The bazaar will raise funds for the restoration of Village Hall, which has been a cornerstone of Chatham and the Cape Cod Cod for close to a 130 years. The bazaar will feature local crafts, baked goods, RADA cutlery, antiques and buried treasures.
may16 Chatham
Police are investigating a report of a missing 44-year-old man last seen Wednesday walking towards Harwich along the shoreline of Forest Beach on Nantucket Sound. Sean Linehan recently returned to the U.S. from Thailand where he worked in real estate and as an English teacher. Described as "talkative" and "chatty" by his family, Linehan left his cellphone behind when he left his residence, but does have a limited amount of cash, his debit card and a credit card. Linehan was described as being depressed but had no history of mental illness or suicidal behavior. He is a U.S. Navy veteran of the Gulf War period, and was described by police as approximately 6 feet tall, around 185 pounds, with brown eyes and brown hair in a "high and tight" haircut. He was last seen wearing blue jeans, gray sweatshirt, sneakers, salmon-colored hat and wire-rim glasses. Aside from his parents, he has no known acquaintances or associates on Cape Cod. Anyone with any information is urged to call the Chatham Police at 508-945-1213.
more
may16
ARRAIGNMENTS in court 5/6
DANIELS, Craig, 37, 17 Highland Ave., Truro; operating a motor vehicle while under the influence of alcohol (OUI), negligent driving and two other traffic violations, May 4 in Provincetown. Pretrial hearing May 15.

GILLIS, James, 45, Duxbury; OUI-second offense, negligent driving, distributing cocaine and three other traffic violations, May 4 in Orleans. Pretrial hearing May 24.

JONES, Jeffrey, 33, 6 Merchant Way, West Yarmouth; assault and battery, May 5 in Chatham. Pretrial hearing May 16.

KEATING, James, 31, 167 Main St., Harwich; possession of cocaine, negligent driving and another traffic violation, May 4 in Dennis. Pretrial hearing June 5.

KEIGWIN, Reed, 24, 34 Pinehurst Road, Falmouth; OUI, negligent driving and two other traffic violations, May 4 in Truro. Pretrial hearing May 28.

KETCHUM, James, 31, 55 Anne Way, Brewster; OUI-third offense, negligent driving and two other traffic violations, May 5 in Brewster. Pretrial hearing May 28.

MATHERS, Jacqueline, 54, Weston; OUI, negligent driving and another traffic violation, May 4 in Provincetown. Pretrial hearing May 28.
more
may15 Wellfleet
Wellfleet Chamber of Commerce invites you to come to Wellfleet and see what's cooking! Wellfleet Restaurant Week runs from Wednesday, May 29, through Wednesday, June 5. For information on special dining offers and special lodging rates throughout the town visit www.wellfleetrestaurantweek.com.
may15 Wellfleet
The third annual Wellfleet Harborfest & Nautical Flea Market, a celebration of Wellfleet's Harbor, will be held Saturday, June 1from 9 a.m. until 4 p.m., rain or shine at Wellfleet Town Pier. More than 50 exhibitors have committed to participate in this year's event. The centerpiece of Harborfest will once again be a Nautical Flea Market. As the first of its kind on the Outer Cape, the Nautical Flea Market attracted large crowds last year looking for marine items and taking advantage of many bargains. This year the town will hold its annual auction of surplus marine property including small water craft at the Harborfest. Event organizers are seeking nautical items to include in the Flea Market such as canoes, kayaks, dinghies, fishing gear, tackle, small motors, boating accessories and dive, snorkel gear. You may participate in the Flea Market as a vendor, donate your goods or consign your items for sale with 25 percent of the sale price going to Harborfest. All items must be in reasonably good condition. Raffle items and gift certificates are also being solicited. This is a great way to promote your business while helping to raise funds to support the Wellfleet community and enhance the waterfront. Proceeds from the event are used to enhance the Wellfleet Harbor and Marina. In past years, this has included informational signs and brochures. This week Harborfest will make a $2,000 contribution to the Wellfleet Marina Enterprise Fund to support further marina improvements. For further information about how you can participate in the Flea Market or donate a raffle item contact Ramon Rustia by phone 508-349-0066 or email rmrustia@aol.com.
may15 Wellfleet-Eastham-Truro-Provincetown
The recreation beaches of Cape Cod National Seashore suffered considerable damage in the series of storms this winter, but Superintendent George Price assures that all will be open for the summer season. The beach access stairs were lost at Nauset Light Beach, Eastham, and Marconi Beach, Wellfleet. National seashore staff recently secured more than $200,000 in storm damage funding from the Northeast Regional Office of the National Park Service and has contracted with Classic Site Solutions to perform the stair replacement work. It will begin immediately and will be completed in early June. The other four seashore public beaches are currently open including Coast Guard Beach, Eastham; Head of the Meadow Beach, Truro; Race Point Beach, Provincetown; and Herring Cove Beach, Provincetown. Staffing for seashore beaches is funded by the recreation parking fees and are not affected by the sequestration budget reductions. Staffing includes lifeguards, maintenance, and law enforcement rangers, who perform patrols and assist visitors. Personal service programs such as interpretive walks and talks and education programs have been cut significantly as a result of sequestration. The Salt Pond Visitor Center, Eastham, is open seven days a week all year. The Province Lands Visitor Center will be open Memorial Day Weekend to Labor Day as a result of a donation from the Friends of the Cape Cod National Seashore. For more information visit www.nps.gov/caco.
may15 Wellfleet
On June 6 the Wellfleet Police Department will once again be participating in the Special Olympics Torch Run fund-raiser and creating awareness for the Special Olympics. The Provincetown Police will run the torch to Truro, and the Truro police will deliver the torch to the Wellfleet Police, who will carry the torch to the Eastham Police. Wellfleet Police are inviting the general public to run with them and offering sponsorship opportunities. For more information contact the Wellfleet Police Department.
may15 Eastham
The Eastham Neighborhood Watch, founded in 2004, is seeking new volunteers. The group functions as "additional eyes and ears", assisting the Eastham Police Department by reporting suspicious activity in town. The group is part of a triad made up of the Eastham Council on Aging, the Eastham Police Department and the Eastham Fire Department. The town is divided into eight regions with 93 block captains. Block captains are year-round Eastham residents. New block captains are needed to assist in covering additional areas in town. Volunteers must be year-round residents and must pass a CORI check before joining this very active watch group. Anyone interested in volunteering should call the Eastham Council on Aging at 508-255-6164 or leave a message for Officer Josh Adams with Eastham police dispatch at 508-255-0551.
may15 Truro
Voters at the annual town election approved a historic charter change for the on-call fire department Tuesday giving selectmen the power to appoint the fire chief. Voters passed the charter amendment 211-93. Historically, the charter has put the selectmen at arm's length of the fire department, which was run by a volunteer board of fire engineers that the selectmen appointed annually. Truro is the Cape's smallest town, and was only one of two with a board of fire engineers governing the fire department. The selectmen sought a consultant's advice in 2011 when the fire engineers seemed mired in conflict and were unable to come up with a long-term plan, particularly for ensuring there would be enough firefighters to answer calls. The department has fewer than 20 on-call firefighters, and the selectmen have fielded complaints from citizens that not enough people are showing up for fire emergencies. By a vote of 161-153, residents also approved a $141,400 Proposition 2½ operating override to pay for manning the fire station 24-hours a day. The permanent increase in property taxes would guarantee one firefighter/paramedic in the station throughout the year and a second person with similar training during the summer season. Currently, the station is manned during the day and evening, but firefighters respond from home at night. The tax increase would amount to about $24.62 for a property assessed at $350,000, town officials said. Voters agreed 159-158 to buy a $42,000 four-wheel-drive vehicle for the fire chief, as a Proposition 2½ capital exclusion. Currently, a private vehicle is used for tough terrain, Fire Chief Brian Davis said. The one-year increase in taxes for a property assessed at $350,000 would be about $7.31. An operating override of $12,194 passed 188-129 to pay a council on aging transportation coordinator an extra 10 hours per week. The permanent increase in taxes would amount to about $2.12 for a property assessed at $350,000. Another capital exclusion of $75,000 for a transfer station trailer passed 179-138, and would amount to a one-time increase in taxes of $13.06 for a property assessed at $350,000. A third capital exclusion of $28,000 for a police cruiser did not pass, in a vote of 156 in favor and 162 against. About 320 voters turned out for the election, out of 1,720 registered.
more
may15 Provincetown
Provincetown has several new restaurants opening for the 2013 season, many of them focusing on the fresh fish and seafood so readily available here on Cape Cod. The largest restaurant with approximately 250 seats will be opened by MACs Seafood in the old Clem & Ursies spot on Shank Painter Road. A seafood and deli market will open in June with Mac's P'town Fish & Oyster opening in the fall. The old Tips for Tops'n on Bradford Street has been purchased by Devon Ruesch, owner of Devon's on Commercial Street. Tentatively called Devon's Deep Sea Dive the new restaurant will focus on great versions of familiar classic seafood preparations including clam fritters, stuffed lobster, lobster bisque, etc. The Canteen is opening on Commercial Street next to the bank and will be a unique take on the classic New England summer shack. Summer fare will include perfected versions of Cape Cod favorites like lobster rolls, fish and chips, chowders and a raw bar. Other classics will include summer salads, fritters, grilled seafood and house-made sausages. They will be open 11am to 2am, sounds like the perfect spot for the late night munchies.
more
may15 Provincetown-Orleans
What makes a masterpiece? It is, of course, that spark of genius that draws the Broadway classics of Stephen Sondheim together with the sacred grandeur of Brahms' "Ein Deutches Requiem," or Verdi's rousing "Anvil Chorus" from his opera "Il Trovatore," or the great works of Shubert, Gershwin or Gilbert and Sullivan, or the folk pop hits of Joni Mitchell, James Taylor or Laura Nyro. Even the rapper Snoop Dog arguably has something to add to this mix.
Something else the greatest hits of these artists have in common is their inclusion in the repertoire of the Outer Cape Chorale - except, perhaps, for Snoop Dog. At least so far. One would be rash to rule rap from the range of this remarkable 130-voice strong ensemble, which, supported by one man playing a piano or full string orchestra, has cut to the core passion of every great work they've presented to Lower Cape audiences who pack the exquisitely restored Town Hall in Provincetown and the acoustically exceptional auditorium at Nauset Regional Middle School in Orleans. We keep coming back to hear this chorale not simply because for more than a decade they've kept trotting out great musical works of supreme artistic merit, the masterpieces, but because they consistently find, hone and share the essences of the masterpiece - the heart and soul of each piece. This weekend, the chorale is presenting a program of beautiful new works by American composers writing modern classical music in our own time. Accompanied by the Outer Cape's own John Thomas on piano and eight string players from the Cape Cod and Providence Symphony Orchestras, "A Concert of 21st Century Masterpieces" begins at 7 p.m. Friday and Saturday, May 17 and 18, at Provincetown's Town Hall, and at 3 p.m. Sunday, May 19, at Nauset Regional Middle School in Orleans. Admission, as always, is free with goodwill donations accepted. "We've done some unusual kinds of things in the past," says Jon Arterton, founder and conductor of this group that's open to all members of the community, even those who have never sung in a chorus before, whom Arterton polishes to their best. "This is the first time we've had a program with such modern, totally unfamiliar composers. I would urge our audiences to come and give it a try. Don't be afraid. It's so easy to say, "Oh, modern music, isn't it so dissonant? Where's the melody?'"
more
may15 Orleans
Selectman candidates Mark Carron and Alan McClennen are on the opposite end of the spectrum when it comes to wastewater - the biggest issue in town. Selectman Jon Fuller, the lone incumbent vying for one of two seats on the Orleans Board of Selectmen, describes himself as the moderate. Fuller wrote the so-called "Fuller Plan," which would have provided sewer connections to 700 residents and businesses downtown. It failed - by six votes - to gain enough support at town meeting earlier this month. It was a compromise between a more extensive sewer plan and doing nothing at all and was an effort by Fuller to pull together both sides of a very divided town. Even though Fuller's plan failed at town meeting, wastewater planning isn't going away. Rumors are swirling that petitioners may try to hold a special town meeting later this year to reconsider it, Fuller said. That means the May 21 election will be important to the future of wastewater infrastructure - a costly proposition at an estimated $31.5 million if it ever reaches the construction phase. If Carron wins, the character of the board will switch, with the majority - David Dunford, John Hodgson and Carron - opposed to the sewer plan. If McClennen wins, the board will retain a similar makeup as now, with Fuller seeking middle ground, two opposed to and two in favor of sewers.
more
may15 Orleans
The second night of town meeting proved much more sedate than the first, when a $3.5 million article for the design of sewers for downtown failed Monday to garner the necessary two-thirds majority by just six votes. Suspicions that the proponents of the sewer article would try to bring it up again for reconsideration Tuesday were not realized. Instead, voters whipped through the special town meeting, purchasing a $200,000 boiler for the elementary school and making other purchases that must be approved as debt exclusions at the ballot on May 21. Voters approved a $28.7 million town budget with little discussion. It was the capital improvement plan, which lays out the "wish list" of purchases over a five-year period, that put the topic of wastewater on the floor for debate again. A resident, Mon Cochran, asked for an amendment to include $3.5 million in the 2015 capital plan for engineering and design of downtown sewers. Getting the $3.5 million onto the capital improvement plan would not appropriate that money. But it would allow voters to approve such a future appropriation by a two-thirds majority. If it weren't on the capital plan, it would need to get three-fourths majority to pass, said Michael Ford, town counsel. Voters also raised $500,000 for a storm water management plan to study and prioritize necessary repairs of the storm water infrastructure throughout town. This would help prevent runoff from polluting surrounding water bodies. Orleans residents were not so open to spending $250,000 on a pilot conservation moorings program. Selectman John Hodgson said conservation moorings kick up less sediment than traditional moorings and protect eelgrass. Voters approved adding a fifth liquor license in town upon the request Heather Tarter, owner of Main Street Wine & Gourmet.
more
may15 Orleans
On the first night of Town Meeting on Monday resident Alan McClennen said if both wastewater articles failed then there would be no money for planning to move forward on cleaning the town's waters. They both went down. On the second night things changed. On a motion by resident Mon Cochran on Tuesday voters agreed to put $3.5 million for planning in the capital plan for 2015, that way town meeting would have another opportunity to approve funding for a plan if it came forward. There was no money attached to the amendment, but if design money is in the capital plan it requires a two-thirds, rather than a more difficult, three-fourths vote. The funds join $42 million for construction already in the plan, but also not appropriated. Chet Crabtree, chairman of the planning board, said the amendment was necessary if residents want to "avoid losing precious time in wastewater planning." But some felt it was an end-run around Monday's defeat of $3.5 million in planning funds for a sewer that would serve the downtown, and provide preliminary engineering for a decentralized system at Meetinghouse Pond. That concern was heightened because there had been conversations in town about proponents of the article finding a way to have it reconsidered as it fell short of the two -thirds majority required by only six votes. "It seems like trickery to me," said resident Paul Cass. Voters disagreed and approved the amendment 366- 186. The so-called Phase 1A plan can come back before town meeting if it garners a majority vote at the ballot box on May 21. If it passes at the annual election it has a shelf life of three years and can be acted on by Town Meeting within that time but needs a two-thirds vote to pass. Cochran's amendment was one of a few steps the town took to address the problem of nitrogen pollution in the town's waters. They also supported a bylaw that controls fertilizer use and appropriated money for storm water management. Town Meeting wrapped up around 11:45 p.m. Tuesday after dispensing with 56 articles, including the passage of a $300,000 article that adds a number of security measures to the elementary school. That appropriation, and several others, also need to pass at the ballot box Tuesday.
more
may15 Brewster
Seventeen-year-old Bess, surrounded by an array of party dresses in the Latham School's west wing, covered her mouth with her hand and uttered, "O-M-G." On Tuesday afternoon, students at the school took turns trying on dresses and getting fitted for tuxedos for the Best Buddies regional prom to be held June 19 at Harwich Community Center.
"The whole focus is for these kids," said Chris Gallant, vice president of marketing for the Latham Centers. "They're the most important people there." The Latham Centers is a nonprofit organization dedicated to providing residential care and treatment to children and adults who are developmentally delayed or suffering from Prader-Willi syndrome, a genetic disorder that can cause cognitive impairment and a chronic feeling of hunger. The Latham School has participated in different proms through the years and for the past few years has been sending students to the prom put on by Best Buddies, an international nonprofit organization founded by Anthony Shriver that provides friendship and leadership opportunities to people with intellectual and developmental disabilities. The prom is attended by about 100 students from across the Cape, 30 to 40 of whom are from Latham. "We have some big events throughout the year, but this is the most fun," Gallant said. When volunteers from the Community Leadership Institute of Cape Cod heard about the Latham Centers, they were immediately interested. "We thought we could make a really positive impact," said Steven Peters, marketing manager at The Cooperative Bank of Cape Cod, who is part of the CLI volunteer group.
more
may15 Brewster
Elbert Uleshoeffer of Brewster appeared before Brewster's selectmen Monday to raise, for the fourth time, the issue of the Brewster Boys Scouts exclusive ability to collect redeemable cans and bottle at the Transfer Station. He's noted the National policy of the scouts excluding gay scouts is at variance with town rules. "Publically no action has been taken, there's been no declaration by anyone as to where you stand. I think something should be said," Uleshoeffer said. He noted the National organization would make a final decision on the issue later this month. "It is a discriminatory policy regardless," he said. "If this was discrimination on race you wouldn't allow them to have exclusive access to bottle redemption. As a citizen I want my government to respond. Like Tip O'Neill said, everything is local." Once the town hold the election May 21, and there are one or two new selectmen, Uleshoeffer would like to see am official stand made. "When you first came here I think we were going to make some decision then the National organization took up the issue and I think we're kind of waiting to see what they come down with. Hopefully we'll hear on the twenty-first," chairman Dan Rabold said. "The policy by the National society is wrong," added Ed Lewis. "It's wrong from the moral standpoint and from the legal standpoint. But I don't think the local councils feel that way and I don't want to hurt the local kids in Brewster or Orleans." "I've agreed with you from the first day," said James Foley. "They have a policy that is wrong. I hope their decision shows that."
may15 Chatham
The following articles were approved by residents at Chatham's annual town meeting, which concluded on Monday night: A request for $110,000 to build a new skateboard park. The location of that park, which had been a point of contention, also was approved, close to its current location at the municipal airport; A request by the owners of Box Office Cafe to count the 132,423 square feet under an adjoining section of bike path toward the total square footage required for them to install a larger septic system and qualify for an increase from 17 seats to 49 seats; Allocation of $13,500 for a consultant to develop a plan to rehabilitate the historical caboose at the town's railroad museum; and A settlement agreement for more than $271,000 reached with the Chatham Municipal Employees Association for actions the town took in 2010. The town did not bargain as it should have with the newly formed union and, in the fiscal 2011 budget, withheld step increases and reduced both personnel and hours. Voters did not approve spending $95,000 to build a paved walking path around the ball fields at Volunteer Park.
may15 Chatham
Orleans voters failed to pass their sewer plan on the first night of town meeting but in Chatham an attempt to drive a stake through the town's sewer project failed. Article 10 authorizes Chatham to borrow $15-million dollars to design and build a new pump station at Stage Harbor, replace water mains from the station to the treatment plant and extend some sewers surround Oyster Pond (the first $5-million) and to make the first $10-million dollar payment on a three year $27-million dollar plan to expand sewers in the Oyster Pond watershed. The article also rescinds previous authorization to borrow $18.3-milllion dollars for the same purpose (all of which is part of $59.5-million being spent as phase 1 of the sewer project).
The town can cut the previous borrowing request primarily because of better interest rates than the anticipated 4-percent. The debt payments on these bonds won't kick in until 2015, when coincidentally, $510,000 in annual payments drop off the ledger. Chatham hopes to receive a zero-percent loan, some of which remain available until 2019. "Chatham is well ahead of other communities," noted Robert Duncanson, the town Director of Health and Environment. However some residents objected to the costs, noting that this is just the beginning of $180-billion dollars and up to 90-miles of sewering to come. "Young families and fishermen are finding the cost of living here to be untenable," said Elaine Gibbs. "As a consequence we're seeing the rapid gentrification of Chatham; a community of the affluent with mainly off Cape residents with second homes." She noted the Cape Cod Commmission has said that wastewater projects could be very expensive for individual towns. "If centralized sewering is unaffordable for every other town to go it alone it is for Chatham," Gibbs said. Another resident noted Federal money isn't free. "Other people lose because we get that," she said. "The DEP, EPA have all said centralized sewering is obsolete now." Jack Cogswell noted the plan would renovate a 43-year old pumping station that runs 24 hours a day every day. "This is the first major step to address nitrogen loading in Little Mill Pond and Oyster Pond," he said. "The town staff will continue to look at alternative solutions to reduce the cost but the problem needs to be solved as soon as possible."
more
may15 Chatham
Selectman David Whitcomb is well known for doing his homework for meetings - and he has attended more than a 1,000 in his close to two decades on the school committee and board of selectmen. So this week he was a wondering what the agenda item "pole hearing" with no back-up material could be about. Turns out it was about him. His fellow board members bid farewell to Whitcomb, who is retiring after four terms, Tuesday at his final board meeting. The board honored him by giving him his own telephone pole on Barn Hill Road - acknowledging with a laugh that they have no actual authority to do that. Although a billboard - which marked highpoints in Whitcomb's career, including his championing of the transformation of the Main Street School into the community center - was light-hearted, board members were serious in thanking Whitcomb for his service to the town. Whitcomb said he was proud of the work the town had managed to accomplish, particularly completing all the capital projects on its list, save one: the fire station. But, he added, he would still be involved in advocating for that, just from a seat on town meeting floor, not on the dais. "It's been a good run," he said, adding to laughter, "If you don't behave yourselves I'm coming back."
may15 Chatham
The 2013 Chatham Preservation Award Ceremony will take place Sunday, May 19, at 4 p.m. at The Wayside Inn in Chatham. The awards are jointly sponsored by the Chatham Historical Commission, the historic business district commission and the Chatham Historical Society. This is the 10th year of the awards and eight historic Chatham structures are being honored for sensitive renovation, restoration and preservation.
may15 Chatham
Pleasant Bay Community Boating is holding an open house Thursday, May 16, from 5 to 7 p.m. at the Wild Goose Tavern, 512 Main St. The evening will present an opportunity to learn about the program and all it has to offer including: sailing instruction and recreational programs for all ages and ability levels of youth and adults, sailing opportunities for experienced "Sailors without Boats," instructional and racing programs, offered free of charge, for Monomoy Community Service and Special Olympics and summer employment opportunities for local teen sailors. RSVP by May 11, to RozColeman@comcast.net or 508-945-1985.
may15 Harwich
Cape Downwinders will be hosting an evening of discussion and information that will focus on "The Pilgrim Nuclear Power Station and the Threat to Cape Cod" Friday, May 17, at Harwich Community Center, 100 Oak St. at 7p.m. Sen. Dan Wolf will discuss his position on the dangers of the power station and share observations from a tour of the facility. The event will also consist of speakers including Diane Turco and David Agnew co-founders of Cape Downwinders. The discussion will address operational history, nuclear waste storage, environmental and health concerns, the lessons learned from Fukushima and the lack of any emergency plan for Cape Cod. Karen Vale from Cape Cod Bay Watch will explain the environmental impact PNPS has on Cape Cod Bay. She will explain Pilgrim's once through cooling system and the danger it poses to Cape Cod Bay. The highly radioactive nuclear waste that Pilgrim has accumulated for over 40 years will also be discussed. A Cape-wide effort for a non-binding public advisory question will ask Cape Cod voters to call upon the governor to request the Nuclear Regulatory Commission close Pilgrim because public safety can not be assured. Seven towns have already approved the measure while the remaining towns, including Harwich, have yet to vote. The presentation is free. The forum will include a Q&A period and handouts.
may15 Harwich
may15 Harwich
Harwich Junior Theatre has discovered a winning combination with Equity actor Buck Deitz and community theater favorite Caitlin Mills. The talented pair displayed their knack for romantic comedy in 2011 when they co-starred in HJT's smashing production of Neil Simon's "Promises, Promises." Director Richard Sullivan makes the smart choice of bringing the duo back to the stage in another turn, this time Simon's 1978 musical comedy "They're Playing Our Song." This essentially two-character play depends on lead actors who can sing and dance and carry a show and Deitz and Mills deliver on all counts.
Portraying two self-absorbed, neurotic songwriters who fall in love, Deitz and Mills generate enough sparks to light up the entire Cape. But this is no match made in heaven. Based on the real-life relationship between legendary composer Marvin Hamlisch and lyricist Carole Bayer Sager, "Playing Our Song" focuses on Vernon, an established, award-winning composer, who teams up with a young, aspiring lyricist, Sonia Walsk. Simon plays up the differences between this odd couple who run into trouble when they attempt to mix their professional and personal lives. They find that love's not always enough to keep them together. As you'd expect, the script is packed with Simon's wit and snappy one-liners. The brilliant but nebbishy Vernon doesn't know what hit him when Sonia appears at his Central Park apartment to make music. Their relationship is rocky from the get go thanks to Vernon's fragile artistic ego and Sonia's penchant for speaking her mind. The straight-laced, romantically-challenged Vernon, however, is more grounded than the kooky, free-spirited Sonia. They spar and squabble like an old married couple, kiss and make up only to do it all over again. The flimsy plot doesn't have enough substance to cover two and a half hours and drags in spots. Simon's script grows a bit repetitive especially the running joke about Sonia's needy boyfriend Leon, who never appears but constantly gets in the way of Vernon and Sonia's relationship. Yet Deitz and Mills are such engaging, appealing performers that you can't help but root for their characters to get and stay together.
more
may15 Harwich
The top collegiate teams in the region will descend on Harwich this week as Whitehouse Field again plays host to the NCAA Div. 3 Regional tournament. The annual event is just a prelude to the Div. 3 National tournament which the winner of this week's regional tournament will qualify for. Games will kick off on Wednesday morning, as Western New England University, the fourth seed in the N.E. Region, will face MIT, the fifth seed, in the tournament's opening game set for Wednesday morning. The top seed in the Region, Southern Maine, will face the eighth seed Daniel Webster in the second game of the day, set for 1 p.m. The teams were seeded prior to the tournament based on their regular season record. The remaining two games will close out the first day of games, as St. Joe's (Maine), will face higher seeded Endicott in the 4:30 p.m. game, while the Salem State/Wheaton game will get started at 8 p.m. under the lights at Whitehouse Field, located behind Harwich High School. The tournament will continue on Thursday and Friday with the winners facing off against each other in a single-elimination tournament. A New England Region championship will be crowned on Friday and moves onto the National Div. 3 tournament.
may15
On this day in 1602, Bartholomew Gosnold sailed into Provincetown Harbor and named the peninsula "Cape Cod" for the huge schools of fish sighted. He didn't "discover" the Cape as many references cite. Champlain had a fight with our Nausets in Chatham in 1609, and others had visited our shores before him including the Portuguese who had set up fishing camps here for decades. But Gosnold is the man who named us and the Pilgrims who stayed for a week in 1620. By 1638 "eight men from Saugus" took refuge from the crowded mainland, and Cape Cod had its first permanent settlement in what is today's Sandwich.
Gosnold had sailed from Falmouth, England in a small Dartmouth bark, the Concord, with thirty-two crew on board, and like the Pilgrims fourteen years later in 1620, they had come to North America to establish a colony in New England, which was then known as Northern Virginia. Bartholomew Gosnold pioneered a direct sailing route due west from the Azores to New England, arriving in early May 1602 at Cape Elizabeth in Maine near today's Portland (Lat 43 degrees). He skirted the Maine coastline for several days before anchoring in York Harbor, Maine, on May 14, 1602. The next day, he sailed across Massachusetts Bay into Provincetown Harbor, where he is credited with naming Cape Cod. Following the Atlantic coastline south for several days, he discovered Martha's Vineyard, and named it perhaps after his daughter or wife. He established a small post on one of the Elizabeth Islands, which is now called Cuttyhunk Island and is part of the town of Gosnold. The post was abandoned when the settlers decided to return the ship to England because they had insufficient provisions to last over the winter.
may14 Wellfleet
Veteran Wellfleet Selectman Jerry Houk, re-elected to another term last month, has a cellphone, but does not like to use it. He is the only Wellfleet selectman who does not have an email address. But he knows that people don't throw cell phones into home windows in Wellfleet, so when he and his wife Mary were asleep in their home at Commercial Street in Wellfleet early Sunday morning, May 12, he knew it was something out of the ordinary when one came crashing through his window and called the Wellfleet police at 1:34 a.m. Police collected the phone, then learned a few hours later that two Commercial Street businesses near the Houks' house had been broken into and vandalized- - Wellfleet Town Pizza at 55 Commercial St. and the Left Bank Gallery at 25 Commercial St. "Both businesses were vandalized, while Wellfleet Town Pizza also suffered significant fire damage," Detective Paul Clark said. Police allegedly tracked the cellphone to Brian Ash, 42, of Weymouth, and arrested him on charges of attempted arson of a dwelling, breaking and entering at night to commit a felony and three counts of destruction of property of property over $250. Wellfleet Police Chief Ronald Fisette said he did not think politics had anything to do with the phone allegedly being thrown into Houk's window.
may14 Wellfleet
A Weymouth man who allegedly set fire to a business on Commercial Street was arrested and charged with attempted arson Monday. Around 1:30 a.m. Sunday, Provincetown police responded to a report of a cellphone thrown through the window of a home on Commercial Street. Later that day, the owners of Wellfleet Town Pizza and the Left Bank Gallery reported their buildings had been vandalized. After an investigation, police arrested Brian Ash, 42, Monday and charged him with attempted arson of a dwelling, breaking and entering in the nighttime and three counts of wanton destruction of property over $250.
more
may14 Wellfleet-Eastham
Beach stairs torn apart by storms this winter at Nauset Light Beach in Eastham and Marconi Beach in Wellfleet will be repaired by early June, allowing the facilities to open to the public, Cape Cod National Seashore Superintendent George Price announced today. The Seashore received more than $200,000 from the National Park Service to make the repairs and has signed a contract for the work.
The Seashore's other four swimming beaches are currently open: Coast Guard Beach in Eastham, Head of the Meadow Beach in Truro, and Race Point Beach and Herring Cove Beach in Provincetown. The staffing for the beaches along the Atlantic Ocean is paid for through user fees and not affected by the March 1 automatic federal budget cuts. Beach entrance fees are collected daily from late June through early September when lifeguards are on duty, and on weekends and holidays from Memorial Day to the end of September. The daily vehicle fee is $15. Pedestrians, bicyclists and motorcyclists pay $3. A $45 pass is good for a calendar year season. It can be purchased at the Salt Pond Visitor Center at Nauset Road and Route 6 in Eastham and the Province Lands Visitor Center on Race Point Road, from Memorial Day through Labor Day, or at a fee booth at the beaches.
more
may14 Wellfleet
Robert Finch is a nature writer living in Wellfleet. He has lived on and written about Cape Cod for forty years. His essays can be heard on WCAI every Tuesday morning at 8:35am and Tuesday afternoon at 5:45pm. 'A Cape Cod Notebook' won the 2006 New England Edward R. Murrow Award for Best Radio Writing.
Nature flourishes even in unlovely locations. On A Cape Cod Notebook, Robert Finch peeks behind Wellfleet Center where, amid dumpsters and bags of recycling, grows an immense black willow. It rises over 60 feet into the air. A true wild native, it is there not because of human tending and protection, but in spite of the lack of it - a king in an environmental slum.
may14 Wellfleet
The Wellfleet Garden Club plant sale will be held Saturday May 25 from 8:30a.m. to 11:30 a.m. on the driveway of Wellfleet Town Hall. There will be many perennials,shrubs,tomatoes,vegetables and herbs from the gardens of our members, as well as donations from local nurseries. Proceeds from the sale go to our speakers and programs, which are open to the public and to the maintenance of the Library Sculpture Garden and traffic islands.
may14 Wellfleet
An all-day workshop in beginner's tango, partner not required, will be held Saturday, May 18, from 1 to 5 p.m. at United Methodist Church, 2450 Main St., Wellfleet. The instructors are Pamela Staysky and Marc Vanzwoll. The cost is $50 per person. For more information or to register, call Olga Kahn at (508) 349-0997.
may14 Wellfleet
Ira Wood is an author, a teacher, a former publisher, a former selectman, and the host of a weekly radio program called The Lowdown on WOMR-FM, Cape Cod's Community Radio Station. For over 30 years Ira has made his home in Wellfleet. The Lowdown enables Ira to indulge his lifelong compulsion to pester people with questions.


may14 Truro
Voters will decide on substantial changes to the on-call fire department at the annual town election today. Polls will be open from 7 a.m. to 8 p.m. at the community center at 7 Standish Way in North Truro. Question 3 proposes a permanent operating budget increase of $141,367 to allow the fire department to keep a firefighter-paramedic at the station year-round, 24-hours-a day, and an additional person with the same training for the summer season. If approved, the tax increase for a property assessed at $350,000 would be $24.62, town officials said. Question 8 proposes to have the board of selectmen appoint the fire chief directly. Currently the selectmen appoint a board of fire engineers annually, and the fire engineers choose a chief. The new proposal was approved at the April 24 town meeting, and stems from a recommendation from a consultant that a new management scheme is needed for the fire department. Question 6 would assess an additional $42,000 in property taxes as a Proposition 2½ debt exclusion to pay for a four-wheel drive vehicle for the fire chief. Currently, part-time Fire Chief Brian Davis uses his own vehicle for calls on rough terrain. If approved, the tax increase for a property assessed at $350,000 would be $7.31 for one year. Voters approved the operating overrides and capital exclusions at the May 2 town meeting; the request in Question 1 for a new part-time assistant health and conservation agent was indefinitely postponed. Voters also will be asked in Question 7 to exempt from taxation rental properties restricted as affordable housing, as approved by the Legislature in 2012. There are no contested races for seats on the board of selectmen, school committee, library trustees, cemetery commission, planning board and housing authority.
more
may14 Eastham
Town meeting voters Monday approved all of the Community Preservation Act funding articles with one exception. They voted to spend $220 on alum treatment of Great Pond, $18,424 for climate control of the town clerk's archives, $25,000 to make First Encounter Beach more accessible for the handicapped, and $659,950 to the affordable housing trust to purchase and convert existing housing into affordable housing units. But when it to Article 24, which asked for $300,000 to be used by the affordable housing trust to complete predevelopment activities on up to 7 acres of the Purcell property, and 9 acres of town owned land near the Children's Place, voters said no. Nathan Nickerson said there was no information about what was being planned, and while he was in favor of affordable housing, he did not want it on the Purcell Property, which is "the last piece of town-owned land that is suitable for turnips." He had no objections to using the other piece of town-owned property for housing, but "the Purcell property is a window to our past. It's our legacy, our heritage." Selectman John Knight and Lisa Panaccione of the community preservation committee urged voters to approve the article. "There is no senior housing in Eastham," Knight said, adding the Purcell property was not purchased "for a turnip farm." If voters rejected this, "Eastham will have the distinction of having the smallest number of affordable housing on Cape Cod." There is a "dire need for affordable housing," Panaccione said. "Its fun to talk about turnips but you cannot equate a turnip to a roof over someone's head." When the vote was taken, Schropfer announced the article failed to pass. Voters also approved a non-binding advisory question to have Pilgrim Nuclear Power Station closed since the public safety "cannot be assured."
more
may14 Provincetown
A Cape Cod National Seashore advisory commission recommended Monday that the northern parking lot at Herring Cove Beach be raised and moved back to save the iconic experience of the beach. But the proposal calls for paving a sand dune; the idea makes sense to locals because of the tradition of being able to park and see the water, but it may be hard to convince out-of-town federal officials to destroy coastal habitat. After the vote at the Seashore headquarters in South Wellfleet, one commissioner asked Seashore Superintendent George Price if the National Park Service personnel who will review the plan are behind it. "So far," Price said. Herring Cove Beach is the most popular of the Seashore's six swimming beaches. The northern lot, with 208 spaces, allows visitors to pull in and watch the sunset from a car or step right onto the beach. A larger parking lot on the southern end, behind a large dune, has no views and a longer sand path to the water. A subcommittee of the commission, which included town and state officials and a National Park Service scientist, was assigned last fall to come up with a solution to the storm erosion and high maintenance of the long and narrow northern lot. Local coastal geologists have projected that in 20 years the parking lot and an asphalt seawall, both dating from the 1950s, would be eaten away by storms and rising seas. But townspeople, tourist-based business owners and local officials think any long-term fix for the lot has to retain both the views of the ocean and easy accessibility to the beach. The commission supports moving the 208-space lot directly back 125 feet and elevating it 15 feet, while allowing for a long slope down to the water's edge. Other ideas considered were keeping the lot where it is but elevating it 2 feet on pilings, using temporary roadways that could be moved back every 10 years, or changing the shape of the lot from a long row to a shape with fewer spaces directly on the water.
more
may14 Provincetown
The Provincetown Police Department will host a weekly meet-and-greet with the police chief starting today. Called "Coffee Chat," the series of meetings will allow residents to discuss a variety of topics with Chief Jeff Jaran. The meetings will be held through June 12 at various times and locations, according to a police department press release. Today's meeting will be from 10 to 11 a.m. at the Province­town Public Library at 356 Commercial St.
may14 Provicetown
"Lovelace," starring Amanda Seyfried as '70s porn star Linda Lovelace, will be the opening-night film at this year's Provincetown International Film Festival.
Also on the lineup for this year's fest, which will run June 19-23, are new narrative features from Pedro Almodovar ("I'm So Excited!"), Brian DePalma ("Passion"), Neil Labute ("Some Velvet Morning") and documentaries on author Gore Vidal, actor Harry Dean Stanton, writer-director-actor Andre Gregory and comedian Moms Mabley. The festival also announced that Harmony Korine, writer-director of "Gummo" and this year's "Spring Breakers," will receive this year's Filmmaker on the Edge award. Korine will be interviewed on stage by filmmaker John Waters during an awards ceremony on June 22. More information: www.ptownfilmfest.org.
more
may14 Provincetown
may14 Orleans
Sewers for downtown Orleans won a majority but failed by a mere six votes to get the two-thirds necessary at the first night of town meeting on Monday. The vote was 600-309, not quite enough to approve $3.5 million for the engineering design for a sewer system and treatment plant for downtown Orleans, and further study of wastewater treatment in the Meetinghouse Pond area. Proponents of the article said downtown sewers, projected to be connected to 450 residential and 250 business properties, would have revitalized downtown, stimulated affordable housing and encouraged economic growth. It would have reduced the nitrogen that harms water quality in Town Cove, said Town Planner George Meservey. But there were just enough nay votes to win the day, on the basis that the cost would not provide enough benefit to enough people. Others feared it might harm Namskaket Creek. The cost for the failed article for a $500,000 home would have been $26 a year, Meservey said.
more
may14 Orleans
Six votes. The article calling for $3.5 million in design and engineering money to fund the first phase of Orleans' comprehensive wastewater management plan needed 606 "yes" votes to pass. The final tally after the secret ballots at the Nauset Middle School were counted was 600 to 309, just shy of the two-thirds majority. But it's not over as the special town meeting reconvenes tonight, Tuesday, and Phase 1A could be brought forward again.
"It can be reconsidered," said Selectmen Chairman Jon Fuller, a proponent of the plan. The plan was one of two wastewater articles defeated Monday, the other was a citizen's petition, and calls for the design of a sewer system for the downtown and piping the wastewater to a new plant at the site of the current Tri-Town Septage facility. The funds, which would cost the owner of a $500,000 home about $25 a year, would also pay for preliminary design of a decentralized wastewater treatment system for Meetinghouse Pond, one of the most polluted water bodies in town. The plan, which would address about half of the nitrogen polluting Town Cove, starts with a small treatment facility - serving 450 residences and 250 businesses - that can be expanded. If the plan pushed by Fuller as well as the Orleans Pond Coalition and Orleans Can had been supported, it's estimated it would cost about $31.5 million, or - if 0 percent loans are secured from the state - about $146 a year for the owner of a $500,000 house. A citizen's petition article that called for $2.8 million to fund a number of initiatives, including conservation moorings and stormwater remediation, as well as preliminary design funding for a solution for downtown and Meetinghouse Pond, also failed. That article needed a three-fourths majority and fell short with a vote of 524 to 105.
more
may14 Orleans
Orleans artists are invited by the Art at Orleans Senior Center Board to enter their most creative works in the summer-into-fall juried Art Show. "The Goldman Show" entitled in memory of E. Stanley Goldman, 1913-2013, benefactor who endowed the permanent art collection at Orleans Senior Center, has an open theme. Works in acrylic, computer art, encaustics, mixed media, pastel and pencil, photography, print making, oil and watercolor are welcome. A maximum of two suitably framed, original works may be submitted on Friday, June 14, from 1 to 5 p.m. There will be a $12 jury fee per entry. Julie Blanchard, artist and teacher at the Cape Cod Art Association, Dennis and Creative Arts Center, Chatham, will jury the show. Detailed information is on the show web site www.atcapecod.com/aosc and also available at the front reception counter at Orleans Senior Center, 150 Rock Harbor Road. For more information, call Cathie Hertz at 508-255-5265 or the COA at 508-255-6333.
may14 Chatham
Proposed changes to Route 28 in West Chatham dominated town meeting debate Monday night. Voters approved a petitioned article asking that town funding be withheld from a state study to create a plan addressing safety issues and beautifying the busy stretch of highway. West Chatham business owner Dan Meservey told the audience that most West Chatham business owners and residents oppose a plan recommended by selectmen that would eliminate a center turning lane, create a roundabout at one end and add a traffic light at one intersection. But the vote was a lot closer, with 214 in favor of cutting off funding and 204 against. Proponents of the defunding article were concerned that the changes favored by selectmen would create a gridlock in summer that could spread to adjoining roadways and discourage people who might otherwise be patrons of those businesses along that 1,200-foot-long stretch of highway. Meservey also pointed out that many of those stores had already suffered through recent sewer construction that tied up or detoured traffic for many months. He was afraid a complete rebuilding of that portion of roadway would ravage businesses again. "Don't tear up the road. Do something to make it more beautiful. We don't need any more construction," Meservey said. Selectmen argued that the suggested design is not final, but just a starting point based on feedback at public meetings. The design could change and still be subject to public hearings. They expressed concern that, without a state-approved plan, the town would lose millions of dollars in state funding.
more
may14 Chatham
The longest most contentious debate of town meeting night was for a non-binding article but Chatham's selectmen have been officially advised, by a 214-204 vote, not to pursue a redesign of Route 28 in West Chatham. They had previously supported eliminating the three-lane turning section and reducing it to two lanes and replacing it with a round-about and are in the process of preparing to submit a plan for the state - the next step would be funding a design plan. an Meservey, a local business owner, submitted the petition to instruct the selectmen to discontinue any further funding for a design of Route 28 between George Ryder and Barn Hill roads. He pointed out that over the past ten years town officials have spent $382,618 on various plans for West Chatham. "This plan eliminates the turning lane and includes a round-about. We ant to keep a turning lane there, forty businesses and 2100 residents are opposed to a change," Meservey said. "We don't need anymore construction. We just need to get on with that area and get businesses back in business again. West Chatham is not Nantucket."
more
may14 Chatham
Residents' advice to place a moratorium on sewer construction, was deemed wrongheaded by selectmen wanting to continue the town's economic savings and environmental legacy. "This is a no-brainer," said Selectman David Whitcomb, speaking of the article asking for $15 million so the town can take another step in its wastewater project. "This will clean up the two worst watersheds we have." The article, article 10 which will before residents on May 13 at town meeting, asks that the town rescind $18 million and appropriate $15 million so the town can build the next phase in its comprehensive wastewater management plan. The money would be used for upgrading a pump station and extending the sewer into neighborhoods in the Stage Harbor, Oyster Pond and Little Mill Pond systems. The reason why borrowing has to be rescinded is because grants reduced the price tag of the town's initial wastewater infrastructure, which included an expanded sewage treatment plant and a "backbone" of pipes down Route 28. "[The cost] was $59 million and town received almost $21 million in outright grants and loan reduction," explained Bob Duncanson, director of health and environment, adding that voters re-appropriating money was the most "transparent" way to conduct town business. The tax increase is expected to be about six cents, but could drop further if the latter stage of the project qualifies for zero percent financing as the other stages did.
more
may14 Chatham
A lot of tax bills are being returned to town hall marked undeliverable, but if you didn't get one it doesn't mean you are off the hook. The bills are due by May 29 so if you haven't received one check with town hall or go online, said Finance Director Alix Heilala.
may14 Chatham
Spiritual recording artist, author and motivational speaker Celia Whitler will sing at the annual Blessing of the Fleet at the Chatham Fish Pier Saturday, May 18, at 10 a.m. The event is co-hosted by St. Christopher's Church and the Women of Fishing Families. Whitler wrote all the songs on her latest recordings, "Live Christ Collection" (download only), and "Angels Watching Over Me: Lullabies and Sweet Songs." She lives in Franklin, Tenn. In the evening, she will lead the music at St. Christopher's Celtic Evensong and Communion, beginning at 5 p.m. in the church's sanctuary, 625 Main St., Chatham. On Sunday morning, May 19, she will take part in the church's 10 a.m. Holy Eucharist. Whitler will lead an intergenerational gathering that will include youths from middle schools and high schools and adults of many ages called "Fill My Cup." A light dinner will be served at the end. Babysitting will be available. All are welcome. For additional information on any of her appearances or to reserve a spot at "Fill My Cup," call St. Christopher's office at 508-945-2832.
may14 Harwich
Tatiana Kiss-Coviello considered a few different career tracks when she started her freshman year at Cape Cod Regional Technical High School. The Eastham teen thought about carpentry. She tried graphic arts but decided against it. But when she tested out the new technical engineering program at the school, she found her answer.
"It just seemed right," Kiss-Coviello said. The 14-year-old grew up wondering how things worked and how her toys were put together. And in the technical engineering career track, she and the other nine students have studied heat engines, made paper rockets and circuit boards and used a 3D printer. "It would be nice to have a career I like," Kiss-Coviello said, approving of the class. The high school debuted the technical engineering program this March, with 10 students in the first class. Each year, the school will add a grade level to the vocational program, said Gale Bock, head of curriculum and instruction at Cape Tech. The four-year program could branch out into many fields, school officials said, including manufacturing and mechanical engineering, digital electronics, aerospace engineering and digital electronics.
more
may14 Harwich
Monday was planting day, and it was easy to spot Don Milbier among the dozens of volunteers who swarmed a sunny hillside garden plot behind The Family Pantry of Cape Cod. A steady stream of people trooped along mulched pathways toward Milbier, the garden director. Like a conductor, he would point to an area of the half-acre garden that needed their attention before the planting of hundreds of vegetables could begin.
The pantry, which served more than 9,200 people last year, will grow its own vegetables for the third year this season to give to its clients, along with bags of canned foods and other groceries. String beans, lettuce, tomatoes, peppers, peas, cucumbers and yellow and butternut squash were all being planted. Milbier hopes to double last year's crop of 4,000 pounds of fresh produce. "Prior to starting the garden, I surveyed clients about what they liked and didn't like. Overwhelmingly, the request was for fresh produce and more meats and protein sources," Family Pantry executive director Mary Anderson said. Before the garden was created three years ago, the pantry purchased very few fresh vegetables and fruit because it was too expensive. Anderson was aware of studies showing that obesity and prediabetic conditions in low-income families were linked to eating processed and junk foods, which were considered more affordable. "We help families, and that includes a lot of children," she said. "It makes it better for clients and the volunteers to give a more balanced food selection." Food pantries have found that once a garden is established and the demand increases for fresh vegetables, other gardeners and local farmers drop off the surplus from their own gardens. The Lower Cape Outreach Council, which served nearly 21,000 clients last year, started its garden in Orleans in 2008. It ships 30 bags of groceries a week to eight different food pantries it manages across the Cape. Executive director Larry Marsland said the number of clients has expanded not just in number but in the length of time they remain in need. They used to see people in a short-term crisis, but now are serving families and single people whose economic woes are not just related to the vicissitudes of a seasonal economy.
more
may13 Wellfleet-Brewster
Although food trucks have been around for hundreds of years and have increased in popularity over the past decade, they're still relatively new to the Cape. For the third installment of its "Putting it on the Table" series, the Cape Cod Museum of Natural History invited husband-and-wife team Christian and Jaime Sparrow to talk about their food truck Sunbird, which officially opened in the summer of 2012.
"Our hearts are here," said Christian Sparrow, 39, who grew up in Orleans and met Jaime, whose family spent summers on the Cape, when they were kids. The couple spent 10 years in San Francisco before returning to the Cape in March of 2010. "The truck offers flexibility and spontaneity, unlike a restaurant," said Jaime Sparrow, 38, who owned restaurants in San Francisco, where local, fresh ingredients are the rule rather than the exception. "It's really simple," she said of her food philosophy. "The ingredients should shine." The Sparrows get ingredients from about a dozen local farms, and about 50 to 70 percent of the ingredients they use are local. "The better they do, the better I do," said Lucas Dinwiddie, 31, who owns Halcyon Farm in Brewster, which supplies Sunbird with baby sprouts, herbs and other seasonal greens. "The purpose is to draw attention to all the local food around and the environment," said Kate Roderick, a natural history museum employee who is on the committee that runs the "Putting it on the Table" series. Sunbird served about 100 to 150 customers a day last summer, and the Sparrows worked hard to keep up with demand. But that's not to say the food truck hasn't hit a few bumps in the road. Sunbird is currently stationary on Route 6 in Wellfleet because that is the only place the Sparrows could get a license to operate. Moving the truck to Orleans for the fall season would be ideal, but figuring out the zoning and licensing laws of each town can be intimidating, Jaime Sparrow said.
more
may13 Wellfleet
Robbery is quite unusual in Wellfleet.
Yesterday someone broke into Town Pizza during the night. The owners nailed a purple board over the broken window. If you saw anything unusual Saturday night or have any information that might help with an arrest, please call the Wellfleet police.
more
may13 Eastham
The Eastham United Methodist Church on Route 6 holds an Al-Anon meeting every Thursday night from 7:30 to 8:30 p.m. Al-Anon is a fellowship of friends and relatives of alcoholics who believe their lives have been affected by someone else's drinking. The program is free of charge, open to all.
may13 Eastham
Suzuki lessons are offered by Shaun Verfillie at Kingsbury Strings Studio in Eastham. For more information, call 508-246-9305 or email at Sobek100@aol.com.
may13 Truro
may13 Provincetown
After Steven Lampert moved into his beach house on Winston Avenue a year ago, he started finding broken beer bottles and dog poop on the path in front of his house. At night he was bothered by trucks driving down the path, and the bonfires people in the trucks were setting. "Some of the neighbors would drive down there without a permit," Lampert said. "More than one time fires were built on the beach, which is not permitted."
Research found that Lampert owned the land associated with the eight-foot beach path that people were walking down and trucks driving upon. Thus he approached the conservation commission with a request that a split-rail fence block his beach property from street access. "On hearing his arguments, and he had counsel with him, his strongest argument was liability," Dennis Minsky, ConCom chair, said. The commission found that the fence wouldn't affect animal life or beach grass and thus approved it. ConCom's purview is limited, Minsky said. It doesn't consider traditional use or aesthetics. But Jim King, a 30-year summer resident who lives on the corner of Shore Road and Dewy Road, which becomes Winston Avenue, said that he has been driving his truck on the beach and building fires there for decades. He wasn't even aware that bonfires weren't allowed on bay beaches, he said, until he was informed by the police Lampert called. "People always thought that was a town landing. Everyone did," King said. King appealed the ConCom fence decision to the state Dept. of Environmental Protection, arguing that, among other things, it forfeits public access in favor of private gain and that there are no provisions for vehicle access. Because he is not an abutter he had to find 10 or more neighbors to say he would represent their viewpoint. He did. Though the DPW came out April 17 to look at the site and will make its decision sometime this month, abutters at the Dewy Condo Trust hired Safe Harbor Environmental Management and Habitat Restoration to find a solution to the public access problem, which included filing a Request Determination Applicability to move the grass from a new pedestrian trail to Lambert's path. That didn't solve Lampert's problem. "I still want the fence and the grass. We've already started re-vegetation," he said, adding that beach grass wouldn't be enough to stop people from crossing his beach.
more
may13 Provincetown
Rebecca Bruyn discovered a renewed passion for her photography in 2010 when her design was selected for Truro Vineyards' commemorative wine label competition for the 100th anniversary of the completion and dedication of the Pilgrim Monument. "It was a wonderful way to make a stronger connection to my work. It was what I needed to get me into gear," says Bruyn, who keeps a couple of unopened "Century Wine" bottles with her winning label in her studio. "Now I find the time to do it."
With a love for history and architecture, Bruyn draws inspiration from the houses and landscapes of Cape Cod. Even during her daily drives from her home in Truro to her full-time job as a nurse administrator in Sandwich, she'll take cell phone pictures as she passes interesting structures and sights. Bruyn's blue-toned photographs are distinct for the printing technique called cyanotype, an alternative developing process that uses natural light. She credits Provincetown photographer Midge Battelle for first introducing her to cyanotype printing in 1999. Discovered in the mid-1840s, the process involves putting the negative directly on watercolor paper treated with the developing chemicals and then placed under glass. It's then left to "cook" in the sun for five to 10 minutes before it is rinsed. The resulting image looks both painterly and antique. It also means that no two developed images will be the exact same shade of blue (cyan). Bruyn's new photos will be exhibited in the group show "Reflections & Inspiration: New Works" at Provincetown's Cortile Gallery (www.cortilegallery.com), which opens with a reception to be held next Friday, May 17, from 6 to 8 p.m., and runs through June 17.
"All the work on display is original and includes various media - oil, woodcuts, ceramics, drawings," says gallery director Kerry Filiberto. Besides Bruyn, the exhibiting Cortile artists are Dennis Allee, Clare Barrett, David Coddaire, Polly Cote, Al Davis, Sandra L. Dunn, Gail Fields, A. Paul Filiberto, Jerome Greene, Ray Heus, Benton Jones, Brian Larkin, James Kubiatowicz, Rob Longley, Joan Lord, Donna Mahan, Michael Marrinan, Ann Parks McCray, Roni Siegal, Brenda Silva, Catherine Skowron, Michael Tieman, Ed Walsh and Rebecca Zelis. "Kerry is committed to her artists," says Bruyn, whose work also shows at Little Beach Gallery in Hyannis. "I love the openings because I can talk to people about my work. Not many people know about this process; some think they're just old negatives. When I explain it, they are intrigued."
more
may13 Provincetown
Police Chief Jeff Jaran has scheduled several "coffee chats" as an invitation to the public to discuss a variety of police department and general law enforcement topics in an informal setting. Coffee chats will be held weekly at various locations. As it stands now, the schedule is: 10 to 11 a.m. Tuesday, May 14, at Provincetown Library; 10 to 11 a.m. Tuesday, May 21, at Wired Puppy; 9 to 10 a.m. Wednesday, May 29, at Far Land Provisions; 9 to 10 a.m. Tuesday, June 4, at Joe Coffee; 1 to 2 p.m. Wednesday, June 12, at Provincetown Council on Aging. For more information, contact Paige Perry at (508) 487-1212 or pperry@provincetown-ma.gov.
may13 Orleans
Mark Carron, chairman of the Orleans Historical Society, came before selectmen earlier this month to ask board members to keep the society in mind if they plan to sell the American Legion/Town Hall Annex, which is next to the society's meetinghouse. The society, under Carron's leadership, has embarked on a capital campaign to return the society's home back to its roots as a true meetinghouse - a place for meetings, wedding and funerals. Once additional space is secured the society's museum and offices, now crammed into the meetinghouse can occupy the new space. One of the biggest problems in the 1830s building in lack of storage space - the balcony is a makeshift office and the pews are overflowing with paperwork, historic documents and rolled-up maps. "By acquiring this property, and possibly others, it will give the Orleans Historical Society the space and location that will serve to preserve our history for many years to come," he said. The society has a building committee, which is determining the needs and wants of the society, and Carron said he has also been in contact with professional fundraisers. Carron told the board the society realized that purchasing property from a municipality is not easy. "The fact that the current property is the site for the town halls septic system makes the sale of this property somewhat complicated. However, if the town does become serious in their desire to sell this location, the Orleans Historical Society would be very open to working out some known issues, such as, temporary housing for the police should their current location be remodeled and some 99 year lease for a $1 for the placement of the septic system," he said. The town doesn't have to make any decisions immediately as the society does not have the means to purchase the property today, Carron said.
may13 Orleans
After 36 years in business, Capt'n Elmer's Seafood Restaurant and Fish Market owned by the Costa family, has closed its doors. The building and property at 18 Old Colony Way in Orleans has been purchased by Chuck and Meredith Konner. Chuck Konner is co-founder of The Corner Store in Chatham and recipient of SCORE's "2012 Small Business Owner of the Year" award. Renovations are under way; the new restaurant will open its doors in time for the summer season as the Rock Harbor Grill. The fish market will also be open for the season, but additional details regarding management are not available at this time. The Costa family thanked their customers, employees and vendors for their patronage and support throughout the years.
may13 Orleans
This year's July 4 parade theme is "50 States to Celebrate," created by Michela Galazzi, a fourth grader at Orleans Elementary School. Log on to the town's website for an entrance form. Fireworks will take place at Rock Harbor at dusk Monday, July 1, with a rain date of July 2. The parade will take place July 4 at 10 a.m.
may13 Chatham
With veteran selectman David Whitcomb deciding not to run this year, three candidates are in contention for two seats on the board. In the only contested race, voters in Thursday's election will choose among incumbent Selectman Timothy Roper, a fiscal conservative running for his second term in office; Jeffrey Dykens, a longtime school committee member; and Seth Taylor, a native son returning after a quarter-century away but eager to serve his hometown again.
Roper believes the board's most important task is keeping the town's financial health in good order. Chatham has a number of big-ticket projects in the works, such as the continuing expansion of the municipal sewer system, the new Monomoy Regional High School and a new fire station.
Dykens said he, too, feels strongly about dealing with wastewater, listing it as his priority. "Preserving the sanctity of our water, both fresh and saltwater, is job one," Dykens said. "We lead the Cape with our investment (in wastewater cleanup) and I think we have to continue our leadership position." Dykens and fellow challenger Taylor think the town should finish Phase 1 of the wastewater management plan and then step back and evaluate whether it has done the job as advertised.
Taylor said he believes it would be easier to sell the remaining phases of the project to voters if there were tangible evidence of success. Taylor's main concern is that town government follow the town charter. "It's a blueprint of what the government is, how it treats you, and what you can expect from it," he said. His principal motivation for entering the selectman's race was that he was left off the charter review committee. He would like to see the board of selectmen sit down with that committee and discuss how the charter should be interpreted.
more
may13 Chatham
Chatham Annual and Special Town Meeting at Chatham High School auditorium on Monday, May 13, 6 p.m. Budget: Total $42.1 million, which includes the $8 million budget for the schools as well as the capital plan and water department budget. Regionalizing with Harwich reduced the town's expenses by $504,000. A $100,000 request to hire an owner's project manager, required by state law on large capital projects, to look at treatment options and the siting of a facility to remove increasing amounts of iron and manganese from town wells. A safe operation of bicycles bylaw would prohibit bicyclists from using sidewalks downtown. Community Preservation Act funding requests: There are 11 projects, including $128,000 to pay the non-profit Chatham Conservation Fund back for stepping in to help with the purchase of the former Meservey restaurant property, $205,000 to help renovate the historic South Chatham Village Hall, $160,000 to assist Habitat for Humanity in building four affordable homes in West Chatham, and $110,000 to construct a new skateboard park. All articles in the special town meeting were submitted by citizen's petition. The first two are designed to help the Box Office Café, located in South Chatham. One would grant a subsurface easement on the bike trail to the Box Office Café so it could expand its business. Because of board of health regulations the café is limited to nine seats, if owners install a new wastewater treatment system, and secure the easement, they can have close to 50. The easement is basically an acknowledgement that the land can't be developed, since it is officially being taken out of the development column the Café, which has more than a thousand supporters, have flexibility. The process is allowed by state law. The other change would not restrict the Box Office Café to only selling beer and wine and would allow up to 49 seats. The last is article is submitted by business owners and residents of West Chatham who said they felt ignored by selectmen. Over the past year - through petitions and public meetings - they have said they want Route 28 to continue to have three lanes because they believe it is safer and better for businesses. Selectmen, however, support two lanes. The article would suspend future funding for the project and require that any plans relative to the design for the stretch of road come before town meeting.
more
may13
Tired of the plant and animal world. Do flesh and blood and sparkling green chlorophyll not cut it anymore? Does the land of spores, mold and toadstools send out an irresistible call? Your travels down the road of sorrow are over. The Cape Cod Mushroom Club is here. Founded in March, the club will meet each month for walks, talks, shows and demonstrations.
"The moniker of the club is inspire, educate, cultivate and identify," founder and president Wesley Price proclaimed. "I feel the club's purpose is to do all four of these things in such a way that people get excited about the aspects of their ecology." Price, a construction field worker, was initially interested in soil ecology and nutrition and how the water cycle worked. "A lot of the time that led me back to fungi," he said. "My interest grew because of their fantastic diversity. I guess it was a hobby. I did go back to school to get a degree in microbiology with a concentration on mycology. Paul Stamets was one of my mentors. I've been a member of the Boston Mycology Club for years. But I was unable to make many of the walks because they were off-Cape in the Boston area." While the soil isn't as rich and filled with decaying vegetable matter as the sort many people might associate with mushrooms, we certainly do have our share of fungi. "The Cape has a distinct ecosystem and niches that make it good for certain types of mushrooms," Price said. "Sandy soils are good for certain mushrooms and certain species of trees are good for mushrooms." The fungi tribe ranges from yeasts to molds to huge shelf fungi and toadstools. The largest living organism in the world is a fungi that occupies over 2,300 acres in Oregon - and a single fruiting body in China stretched over 33 feet. The mushrooms we see are just the tips of an iceberg - under the soil small-interconnected mycelium twine about collecting nutrients. The first frost in the fall is when they stop and as soon as the temperature climbs above freezing the mycelium start growing again. For more information about the Cape Cod Mushroom Club, visit www.capecodmushroom.org.
more
may13
Restaurants across the Cape are offering three or four course pre fixe menus starting at $25 this week.
If you've ever wanted to try a Cape restaurant you may not have visited yet this is the week to do it. Restaurants from Falmouth to Wellfleet are offering three and four course menus ranging in price from $25 to $35 in honor of restaurant week. More than 30 Cape Cod restaurants are participating including Anejo Mexican Bistro in Falmouth, the Black Cat Tavern in Hyannis and the Ocean House Restaurant in Dennis Port. Cape Cod Restaurant week begins today and runs through Sunday May 19. You can view a full list of participating restaurants and menus on CapeCodRestaruantWeek.com.
may13
A Eurasian wigeon was seen at Frost Fish Creek in Chatham again this week, along with 4 gadwall and 4 green-winged teal. Birds noted in the vicinity of Tern Island in Chatham included a young bald eagle, a great egret, a snowy egret, a killdeer, 2 American oystercatchers, 7 common terns, and a Bonaparte's gull. A report from the south end of Monomoy NWR in Chatham included a northern harrier, 2 American oystercatchers, 10 piping plovers, a thick-billed murre, and a brown thrasher. Birds noted around Wellfleet included a lingering common merganser, a young bald eagle, a marsh wren on the Herring River, 3 white-winged crossbills visiting a feeder, and 6 red crossbills at Bound Brook Island. Other sightings around the Outer & Lower Cape included a young bald eagle in Eastham, returning Baltimore orioles and great-crested flycatchers across the region, and a late red-necked grebe and an Iceland gull at Herring Cove in Provincetown.
more
may11 Wellfleet
Preston G. Ribnick "PR", 66, of South Wellfleet, MA passed away in the early morning hours of Sunday, May 5th. He was surrounded by his family and enveloped in love. Preston was born on flag day, June 14, 1946, in Wichita Falls, Texas to proud parents Frank and Claire Ribnick.
Preston graduated from high school in 1964. He received his undergraduate degree at the University of Houston and his master's degree at Tulane University, in New Orleans. Preston daily gave thanks to what he considered his greatest achievements in life which are his two magnificant sons, Benjamin and Dov. He was so proud they have become such fine young men who have followed their own unique paths to happiness and personal success. He felt extremely fortunate to maintain an almost daily communication with each since they live so far away. Preston and Lilli tried to support each son and even traveled to the ends of the earth to do so when possible. Conversely so, both sons consider their father a legend, rightly so. In 1994 he married the love of his life, Lilli-Ann Green, in Chatham. In 1979 Preston followed his entrepreneurial spirit and founded Professional Resources Group (PRG). PRG became a nation-wide health care information and consulting firm dedicated to improving patient care. A prominent Medical Director and Chief Quality Officer of a large multi-specialty medical group that Preston worked with for many years stated that "this is a great loss for the family and for the entire country!!
[Preston] was a wonderful part of building a culture of patient courtesy and I will always remember the brilliance that he brought to that effort. Not the least of this was the way he used humor to lighten his teachings". He further said that "you cannot say more for any man than that he made such a difference in people's lives that one meeting left a life-long positive impression. Preston Ribnick was such a man. His wisdom, kindness, humor, and love of teaching were instrumental in the change that has come to healthcare in the last 20 years, elevating patient satisfaction, patient courtesy, and the entire patient experience to one of our highest goals." Preston was proud to live in the unique and wonderful community of Wellfleet. He was extremely grateful for the protection of the Cape's fragile environment through the Cape Cod National Seashore. His love of democracy led to continuous advocacy work since 2010 focused on protecting the health safety and well-being of the people living on Cape Cod, in our Commonwealth and around the world. Preston and his wife loved to travel and spent an extraordinary life together exploring foreign destinations around the world. Another great joy was traveling to "The Homeland" to see his beloved family and friends all across the great state of Texas as well as visiting family and friends wherever they lived. Preston is survived by his wife Lilli-Ann Green; his sons Ben Ribnick of Carlsbad, CA and Dov Ribnick of Sydney, Australia, and brothers Alan Ribnick of CA and Keith Ribnick of TX as well as a large and loving family. Charitable donations may be made to Fidelity Charitable, a charity at which a fund has been established to collect contributions in memory of Preston Ribnick. Please reference 'The Preston Ribnick Memorial Fund' in the memo field of your check. Checks may be made payable to Fidelity Charitable and may be sent to: Fidelity Charitable, P.O Box 770001, Cincinnati, OH 45277-0053. A memorial celebration of Preston's life will be held at the Wellfleet Preservation Hall, on Main Street in Wellfleet on Monday, May 13th at 11:30 a.m. The doors will open for contemplation at 10 a.m. Rabbi Deanna Douglas will officiate. Marge Piercy has graciously offered to read her poem dear to the family. Denya LeVine has kindly offered her gift of song. Preston was honored to be a veteran of the United States Army. For online condolences please visit www.nickersonfunerals.com.
may11 Wellfleet
On this day, the New York Times reported in 1908 that the Marconi station in Wellfleet was sending wireless messages to vessels at sea as far offshore as 1,700 miles. In 1900, Marconi set up a high-powered transmitting station at Poldhu, on the English Coast at Cornwall. In 1901, Marconi built a wireless station at Signal Hill, Newfoundland and on Cape Cod, Massachusetts.
Marconi selected Cape Cod since it had been described by Henry David Thoreau as a place "where a man may stand and put all of America behind him." After passing up a location in Barnstable and being denied permission to build his wireless station near the Highland Light, Marconi settled for an eight-acre site on a high bluff in South Wellfleet. Marconi set up headquarters at the Holbrook House in Wellfleet. The South Wellfleet station was similar to the Poldhu one with a circular series of twenty 200-foot ship's masts set back 165 feet from the edge of the bluff. Storms blew down the aerials at Poldhu on September 17, 1901 and a Nor'easter toppled the aerials on Cape Cod on November 25th. Nevertheless, Marconi received the first transatlantic signal - the three-dot Morse code letter "S" tapped out from Poldhu on December 12th at the Newfoundland station. The aerial at Poldhu was held aloft by a canvas kite.
more
may11 Eastham
Less than two days after seeing the municipal water article defeated for the second time in two years on town meeting floor, the selectmen Wednesday met at 2:30 p.m., not to lick their wounds, but to plan for a future victory. They agreed to hold a special town meeting with a secret ballot at 1 p.m. on Saturday, either June 22 or June 29. They discussed several options for articles, but took no action, deciding to wait until their next meeting. Sheila Vanderhoef, town administrator, will let them know as soon as possible if the high school gym can be reserved for either of these dates. The high school gym was filled with 1077 voters Monday night as town meeting convened. A total of 685 voted in favor of Article 7, the $14.8 million water system, 392 voted against it. But 718 votes were needed for it to pass by a two-thirds majority. It fell 33 votes short. Dave Schropfer, moderator, opened the meeting at 7:10 p.m. with a tribute to Lillian Lamperti, now in her 35th year as town clerk. He set down the rules, limiting discussion to three minutes, but suggesting two minutes would be best. Some were allowed to break this rule. There were problems immediately with the public address system and the microphones that were stationed at three places for voters to speak. Voters yelled out they could not hear when Schropfer opened the meeting. It was difficult to hear what people during the meeting. There was an element of rudeness not often seen at town meeting, with seated citizens shouting out objections to Schropfer. Voters rapidly approved the first six articles, starting at 7:21 with Article 1 and by approving Article 6, eight minutes later before tackling the municipal water article at 7:29 p.m. Selectmen Aimee Eckman, chairman, presented the water article, speaking clearly with a wireless microphone, so as to be heard by all. She took 18 minutes to explain. "We believe this to be a town-wide problem," she said. "Some who are opposed to this article say there are cheaper solutions, but they really have no expertise. You elected us to make decisions and look out for the best interests of Eastham. That is what we are doing," she said. "Now it is up to you." While Eckman was clearly heard, others who came forward to speak used microphones that blared or muffled their comments, making it almost impossible to her what many were saying. Not all gave their names.
more
may11 Eastham
Mom's will eat free at the Mother's Day Breakfast at the Orleans-Eastham Elks Lodge in Eastham Sunday, May 12.
may11 Provincetown
Even under Thursday's cloudy afternoon skies and random raindrops, 10 cars were parked at the northern end of Herring Cove Beach. On the horizon was Race Point Light, shrouded in gray, and farther out were the shadows of four fishing vessels. Gail Behrik, a Provincetown resident for 17 years, had quickly driven out to catch the moody weather on her camera, and several parking spaces down, Terre DeLuisa, who moved to Provincetown two weeks ago, sat in a chair next to her car.
"This has been my favorite spot for 40 years," DeLuisa said. "On Monday there were two whales." The northern end of Herring Cove Beach is where people come - in the worst and the best weather - to sit in their cars, watch the sunset, sleep, drink coffee, read the newspaper or put their toes in the water. "I'm here every day," Behrik said. The beach, both the northern and southern side, is the Cape Cod National Seashore's most popular swimming spot, with 876,000 visitors last year. But the northern parking lot, a long and narrow strip of land with 208 spots, is in trouble, federal officials say.
Erosion from storms and sea-level rise is expected in the next 20 years to eat away the asphalt and sand, and expenses to continually repair the lot are expected to rise. In response to that, a subcommittee of the Seashore Advisory Commission will recommend Monday that the lot be moved up and back 125 feet, almost to the Province Lands Road, according to subcommittee member Richard Delaney, who heads the commission as well. The dune that currently runs parallel along the back of the lot will be lowered so that the views of the horizon from the new location are preserved, Delaney said. Visitors would also be able to walk down a gentle slope from a parked car to the beach, he said. The six-person subcommittee included town, state and federal representatives and three advisory commission members. "The important principle is to preserve the visitor experience, the visual aspect," subcommittee member Mark Robinson said Thursday. "There aren't a lot of big parking lots where you can see the water from your car." The recommendation to move the lot inland takes into account rising seas and the high cost of maintaining structures threatened by erosion, Robinson said. Also, Delaney said, the recommendation allows what will be the older paved lot to return to a natural state. "If we were planning a brand new facility on a blank slate, would we be paving dunes? No," Robinson said. "But would we want to make a bad situation much, much better? Then, yes." The proposal from the subcommittee will need to be approved by the advisory commission, and then it would be incorporated into the federal environmental assessment being prepared by the Seashore as part of the initial stages of analysis and permitting for the project.
more
may11 Provincetown
There was no other choice but to have police Det. Richard Alves walk into unlicensed businesses and tell them they were non-compliant, David Gardner, assistant town manager, said. On Saturday, April 27, Alves warned some 26 business owners that they must come into Town Hall Monday morning to renew their licenses. He handed out no fines or citations, Town Manager Sharon Lynn said. Aaron Hobart, licensing agent, couldn't make the rounds because most businesses are only open on weekends when Town Hall is closed, said Gardner. But the situation couldn't be ignored.
"We can't knowingly allow somebody to violate a general bylaw," Gardner said Monday. Sending a cop in there, he said, had him worried "from the very beginning" that there would be a perceived heavy-handiness on the town's part. "And the fact that we didn't get the opportunity to notify them first," he said. With guesthouses, retail stores, restaurants, bars, galleries and more, Alves estimates there are 600 to 700 businesses in town. At least 26 of them opened without their business licenses this year, he said, and some remained unlicensed throughout last year. Because the bylaw fines businesses $300 for each day they are open without a license, Gardner and Hobart determined that such businesses should shut their doors until the licensing board met. They were overruled, Gardner said, because businesses weren't forewarned. In the past, the town issued warning letters that gave businesses five days to come in for their licenses. If they did that, they didn't have to pay the $300 per day unlicensed fine fee, which only became active after the time expired. The licensing process requires that a business apply for a license and pay the fee (which was hiked from $60 to $170 earlier this year), which is followed by a town inspection of the premises and then licensing board approval. Besides the $300-a-day fine, Kristin Hatch, chair of the licensing board, said that the board itself has a regulation that doubles the amount of the licensing fee for noncompliant businesses. Some of the dialog between the licensing board and agent "was an issue," Lynn told the board of selectmen at a meeting on April 29. The licensing board didn't want businesses to have to close their doors and, in the end, businesses were allowed to remain open because Police Chief Jeff Jaran didn't want police to take the heat, Hatch implied. Alves, she said, sits in on licensing board meetings as a liaison to the police department and the fact that he went out to notify business rather than the agent himself was no big deal.
more
may11 Provincetown
When it comes to wakes, the Irish couldn't hold a candle to the celebration at Lorraine's Mexican restaurant Sunday night. The 21-year-old restaurant was closing its doors, and the festive funeral - also a celebration for Cinco de Mayo - drew dozens of acolytes. Every seat in the West End eatery was taken and waiters had to squeeze between groups of people table-hopping and reminiscing. Many diners wore sombreros or black mustaches painted on their faces, with one woman dressed as a giant-sized foam taco, complete with a dollop of sour cream on her head.
It was a happy-sad night, with bottles of tequila drained and plenty of chili rellenos and tuna tacos flying out of Chef Lorraine Najar's kitchen. Stories of the first time people had eaten at the restaurant also circulated. "I've lived here for 24 years and Lorraine's is one of the places I've always loved," said Provincetown resident Donna Szeker. "It was one of my favorite places and she is one of my favorite people." Tim Hazel, a waiter at the former Gallerani's restaurant, remembers when Najar was a guest chef on the Tuesday and Wednesday "Mexican Night" at that eatery. None of the waiters wanted to work in what was expected to be a slow, mid-week experiment. "But it ended up being gangbusters. We'd have 100, 150 people a night. [Najar] really got her launch there," Hazel said. The success of her weekly stints at Gallerani's enabled Najar to open her own restaurant, which moved a few times before settling in at 133 Commercial St. The current building was more than a restaurant serving Mexican and Mexican-influenced food. It also served as a de facto art gallery, where some local artists got their start. Marilyn Lober Colucci remembers hanging her paintings there and selling one the first night, causing her to excitedly get out of bed to go down to the restaurant and meet the buyer. And it was a place where second-home owners regularly stopped in after making the Friday night drive to Provincetown. Najar said she is closing the restaurant to take a much-needed rest. But while you can take the woman out of the restaurant, you can't always take the restaurant out of the woman. Though it was her last night - and Najar spent much of it going table to table kissing cheeks and hugging patrons - she also took the microphone to let everyone know what the food specials were this last night. She also wiped down tables and seated the supporters waiting patiently for a table in a line that stretched out the door onto Commercial Street. "Thank you for being here," Najar told the diners Sunday night. "Thank you for being in my heart."
may11 Orleans
Orleans Annual and Special Town Meeting on Monday, May 13, 6:30 p.m. at Nauset Regional Middle School auditorium. Budget: Total $30.46 million (includes about $1.5 million in special articles - such as $315,180 for pavement management and other expenses, such as $566,000 in pay increases for the town's five unions.) The town's operating budget is $28.7 million. Property tax increase: 3.5 percent (if everything passes), .17 cents to $6.27 per $1,000 of valuation for fiscal year 2014. The amount doesn't include any of the debt exclusion questions; they will impact the tax rate beginning in 2015. Controversial wastewater articles are expected to generate an overflow crowd and voters will likely be in at least one room in addition to the auditorium. Officials will ask town meeting to move both articles, numbered 11 and 12 in the special, up to the beginning of the meeting. Once those articles are voted on, by secret ballot, officials believe that the crowd may thin out enough to have everyone together in the auditorium. There are two articles that deal with wastewater, one is the "compromise" plan authored by Selectmen Chairman Jon Fuller and based on the town's comprehensive wastewater management plan. Called Phase 1A, it calls for sewering the downtown - 450 residents and 250 businesses - and piping the wastewater to a new plant, designed to handle that flow as well as septage from townspeople but has the opportunity for expansion, at the site of the current Tri-Town septage facility. The price tag also includes engineering for a decentralized system for Meetinghouse Pond. Estimates show that construction of Phase 1A will cost about $30 million and cost taxpayers about $146 a year. Voters, however, are only voting on $3.5 million to design the system. The plan is supported by the decade-old Orleans Pond Coalition, the fledgling Orleans Can and the majority of selectmen. It requires a two-thirds vote.
more
may11 Orleans
Charles "Buddy" Young has two traits familiar to most old-time Cape Codders: he began recycling before it became trendy and giving back has nothing to do with a tax write off. "I guess I am collector, but I like to help people," said the 78-year-old Orleans native who was born on Great Oak Road.
But he'll have to change his ways after the building commissioner received a report that Young stores his treasures, many of which he gives away, in a trailer in his yard on Eldredge Park Way. Trailers are prohibited, unless they are incidental to construction of a new home, and even then they are limited to six months. Young has already begun clearing out the trailer he has used for the last seven years and is making plans to perhaps have a carport or a shed, but the experience, and the specter of a fine, rankle him. What bothers him the most is that the town uses trailers; there are a few at the parks and beaches department - which also happens to be in the ultra-protected Old King's Highway District, as well as the fire station. "I should be able to have the same rights as the town," he said. When the building commissioner, Brian Harrison (of whom Young is a huge fan; Harrison is just doing his job, he says) issued the citation, Young noticed the code included no exemption for municipal uses - so the town is out of compliance. Young said there shouldn't be a double standard.
more
may11 Orleans
The council on aging's May Cabaret, featuring Frank Sinatra impersonator Jeff Jarvis, will be held Wednesday, May 15. The show begins at 11 a.m. with lunch, featuring teriyaki salmon, acorn squash with maple butter and coconut Rocky Road bars, following at noon. Purchase $10 tickets in advance at the COA on Rock Harbor Road.
may11 Brewster
Brewster goes Green, cosponsored by Brewster's Energy Committee, Recycling Commission & Chamber of Commerce will be held from 6:30 to 8:30 p.m. on Wednesday, May 15, at the Eddy Elementary School. It will provide cost-saving opportunities for residents and businesses featuring energy efficiency, renewable energy, recycling, composting, and green design. The program will also feature student demonstrations and practical information and expert advice. All are welcome.
may11 Brewster
A Brewster woman pleaded guilty this week to driving under the influence of alcohol, second offense. Lorraine Hurley, 54, of 732 Satucket Road, Brewster, will lose her driver's license for eight years as a result of her conviction after a car crash in October. In 2004, Hurley's charge of driving under the influence of alcohol was continued without a finding in Wareham District Court. In 2007, a judge in Orleans District Court found Hurley guilty of operating under the influence of alcohol. Her third OUI arrest, which was reduced to a second offense in court, came after her car went off the road and flipped on Satucket Road on Oct. 11. She was taken to Tufts Medical Center by medical helicopter for treatment for a possible head injury following that crash, according to a court documents.
may11 Harwich
Weather permitting, Route 137 will be paved from the Brewster town line to the Chatham town line Monday through Wednesday. The paving is expected to begin at 6 a.m. and last until 6 p.m. each day. There will be no detours and all businesses along the route will be open. The Harwich Police Department suggests motorists use Exit 10 to avoid traffic delays that may occur at Exit 11. Electronic signs in the area will advise of any changes because of weather or other factors.
may10 Wellfleet
I gave my first "State of Wellfleet" address as Wellfleet's Town Administrator this past February 11th. It was the Monday after the February 8-9 Nor'Easter. I did not know then that that storm would be followed by two lesser, but still significant storms over the next four weeks. The cumulative effect was significant erosion events at three of the four Town owned ocean beaches: Newcomb Hollow; Cahoon Hollow; and LeCount Hollow (also called "Maguire's Landing.") White Crest was left untouched by all three storms. In the wake of these storms I began to hear isolated rumors that "Wellfleet's beaches are closed." That is most assuredly not the case.
At Newcomb and LeCount the damage was easy to assess and relatively easy to remedy. About 20 feet of pavement was compromised and the remediation efforts by the DPW to stabilize the slope and reconstruct the walking ramps down to each beach resulted in the removal of the compromised pavement with the loss of eight parking spaces at each lot. Cahoon Hollow presented more of a challenge because the parking lot is forty or more feet above the beach and the dune face appeared to be near vertical, far to steep for safety. Original estimates were that restoration would reduce the lot of eighty spaces to eight spaces. But that's not what happened. The DPW spent the entire week of April 29th working on the parking lot and the face of the coastal bank. With the addition of material from off site, the bank was restored to a normal slope and the walking ramp to the beach was reconstructed. The cut back at the top of the dune face was minimized resulting sixty remaining spaces rather than the eight spaces in the original estimate. Overall our beach parking was reduced by about 5% from 831 spaces to 790 spaces. Wellfleet has four ocean beaches with 790 parking spaces. All will be open this summer. The Cape Cod National Seashore also maintains Marconi Beach, a fifth Wellfleet ocean beach. Wellfleet also maintains beaches and landings on Cape Cod Bay and on several of our ponds. What does the future hold for these lots? It's important to note that shoreline erosion does not happen at a constant rate. A significant erosion event may be followed by years of minimal or no erosion or it may not. What happens depends on a lot of factors, all of which were unfortunately present between February 8th and March 7th.
more
may10 Eastham
The selectmen are planning a special town meeting in June to vote again on a municipal water system. Despite the failure of two public water proposals Monday, the selectmen want to move forward with other - or the same - proposals again in June. On Monday a vote for a $114.8 million townwide water system failed to get two-thirds majority at town meeting. A second article for a $40.8 million partial system also failed to reach the two-thirds mark by fewer than 20 votes. Aimee Eckman, chairwoman of the board of selectmen, said officials need to take action immediately on the homes around the town landfill, where routine testing has found 1,4-dioxane, a probable human carcinogen, in several private wells. Along with $100,000 taken from the town's stabilization fund at town meeting Monday, more money needs to be raised to pay for additional testing. The selectmen will finalize the date of the special town meeting and the type of articles they will present at 2:30 p.m. May 15 at Eastham Town Hall.
may10 Eastham
Less than two days after seeing the municipal water article defeated for the second time in two years on town meeting floor, the selectmen Wednesday met at 2:30 p.m., not to lick their wounds, but to plan for a future victory.
They agreed to hold a special town meeting with a secret ballot at 1 p.m. on a Saturday, either June 22 or June 29. They discussed several options for articles, but took no action, deciding to wait until their next meeting. Sheila Vanderhoef, town administrator, will let them know as soon as possible if the high school gym can be reserved for either of these dates. The high school gym was filled with 1077 voters Monday night as town meeting convened. A total of 685 voted in favor of Article 7, the $114.8 million water system, 392 voted against it. But 718 votes were needed for it to pass by a two-thirds majority. It fell 33 votes short.
may10 Provincetown
People meandering down Commercial Street just may find that they've wandered into a post-WW II living room, with dresses hanging about that a woman had reconstructed and repurposed so that her friends and family would have fashionable clothing despite hard times. After that they may stroll into a Brazilian eatery and grab some traditional fare, or find themselves in an art supply store on Bradford Street among oil paints and canvases that may inspire a day of plein-air painting.
Several new businesses have recently opened, or are scheduled to open, in Provincetown this season that bring even more diversity to town. Flavio Nogueira and his husband, Doug Rockwell, have already got Uma Loucura ('crazy' in Portuguese), a Brazilian food stand, open on weekends in the Aquarium Mall at 205 Commercial St. A longtime barkeep and houseboy at the A-House, Nogueira grew up cooking this popular fare with his mother in Brazil - he continues to spend winters there - and has dreamed of opening this place for years. In addition to the traditional, Uma Loucura has a vegetarian plate on its menu. Mac Hay is bringing a full seafood and deli market to the old Clem & Ursie's location, at 85 Shank Painter Road, in June. Locals likely will be the first to hit Mac's P'town Fish & Oyster, a hybrid restaurant, which will open at the same location this fall. Hay calls it a cross between Wellfleet's Mac's Shack and Mac's at the pier, in which one section will have full table service, and the other will have counter service. The restaurant will feature full sushi, shellfish and drink bars, as well as serve ice cream. "It's a bit of everything, really," Hay said. Devon Ruesch brings his famous breakfast to another location at the former Tips for Tops'n at 31 Bradford St. Dinner will be "focused on seafood, like really great versions of familiar classic preparations," he said. The restaurant will feature variations of clam fritters, stuffed lobster, lobster bisque, clam chowder and the like. Beer and wine will be served and the restaurant is scheduled to open May 30. While he plans to retain some of the feeling of classic Tips, hardwood floors and new tables and chairs are being installed. P'town Café at 256 Commercial St. is now open for business on weekends, serving such things as coffee, lattes, pastries and bagels. Also new to the food scene is The Canteen at 225 Commercial St., launched by Rob Anderson and Loic Rossignon and featuring Tom Pucci (formerly and famously of Pucci's Restaurant). Joon will be opening anew in the now former Lorraine's location, at 133 Commercial St.
more
may10 Provincetown
Developed in Provincetown , Myra Slotnick's "The Weight of Water" premiered at The Provincetown Theater in 2011. Last fall, the original cast appeared in a staged reading at the Abington Theater in New York City, and this week, May 12-16, the same cast, along with its original creative team, enjoys a full production at The Producer's Club, nestled among the Broadway theaters on 42nd Street. For details, visit weightofwater.co.
may10 Orleans
The Orleans Cultural Council invites the public to the M. F. Dole Exhibit receptions in recognition of all artists and their work Saturday, May 11, from 1 to 4 p.m. Beginning at Snow Library, The Bart Weisman Smooth Jazz Group performs from 1 to 2 p.m. in the Craine Room Gallery. Artist awards will be presented from 2 to 3 p.m. including artist talks and refreshments. The reception then moves to the Firehouse Gallery at 3 p.m. continuing with awards, artist talks and light refreshments. Michael Giaquinto, exhibit curator for the Cape Cod Museum of Art and juror of this exhibit has selected the following works for recognition: First prize: Georgene Riedl; second prize: Dale Michaels Wade. Best in Category: photography: Joshua Avery; oil: Elizabeth Lazeren; Watercolor: David Mills; Collage: Lexa Hale. The M.F. Dole Show features 76 original works of artists from 13 towns. It is the first M.F. Dole exhibit fostering collaboration between three Orleans town entities: Orleans Community Partnership, Orleans Cultural Council, and Snow Library. The exhibit is currently displayed at two locations, the Old Firehouse Gallery 44 Main St. on Friday and Saturday afternoons and at Snow Library during library hours. Sponsored by the Orleans Cultural Council, this exhibit is funded by the M. F. Dole Fund and by an anonymous grant to help the Orleans Cultural Council promote the arts in Orleans.
may10 Orleans
Without the benefit of hundreds of thousands dollars in town funding, the Orleans Water Alliance had to rely on their members' backgrounds and something that is free to develop its wastewater plan: common sense. Nello Trevisan, a member of the grassroots group made up of engineers, operation specialists and a host of others, said the alliance's proposal may not be as extensive or as detailed as the town's comprehensive wastewater management plan, but he believes it's the right path for Orleans. "We offer a plan that is a common sense, cost effective approach and does not jeopardize the environmental health of Namskaket Marsh or Skaket Beach," agreed Jeff Eagles, who helped found the alliance with Trevisan more than a year ago. Both men were speaking at a press conference Monday that explained the key tenets of the alliance's "Affordable Clean Water Action Plan," dubbed a "Citizen's Common Sense Solution." The plan will be before voters at special town meeting Monday. Voters will be asked to support the alliance citizen's petition, which asks for $2.8 million to further study wastewater infrastructure and has fertilizer control, stormwater remediation and conservation moorings at its heart, over Phase 1A, which is based on the town's comprehensive wastewater management plan and requests $3.5 million to look at wastewater solutions for Meetinghouse Pond but focuses on allocating funds for an engineering design to sewer the downtown and build a treatment plant at the site of the current septage treatment plant, which is near the marsh. Both plans aim to improve the health of the town's salt water embayments, which are suffering from nitrogen pollution emanating mainly from septic systems. Towns all over the Cape have been grappling with how to protect their waters, and therefore their economy and culture, from nitrogen pollution for more than a decade. Some towns, such as Orleans and Chatham - which has already embarked on a sewering solution - are ahead of their peers.
more
may10 Orleans
Doug Fromm, one of the founders of Orleans Can, is front and center in supporting the town's wastewater plan so he is barraged with pros and cons about sewers. But there is one comment he listens to far more frequently. "If there is one thing I hear as I go about town it's, "I'm so confused," he told the crowd gathered at an "Ask the Experts" forum at the Church of the Holy Spirit Monday. The goal of the evening, Fromm said, was to bring "clarity" to the maelstrom of issues swirling around wastewater, as a vote on a first phase of the plan looms May 13. The panelists were clear. Based on a raft of science and studies stretching back decades, Namskaket Marsh will not be unduly harmed if the planned sewage treatment plant is built on the site of the current Tri-Town septage plant. The plant will be designed for approximately half a million gallons per day and the amount of nitrogen discharged will not harm the marsh, they said. "I'm a scientist and I like marshes and I'm telling you: so for nitrogen 'no' (adverse effect)," said Brian Howes, of the School of Marine Science and Technology (SMAST) at UMass Dartmouth. "We are not even close to the limit." Marshes are naturally nutrient-rich systems, which is one of the reasons why the site was chosen. The town and others across the Cape have to remove nitrogen, primarily from septic systems, which is coursing into embayments and precipitating deep declines in water quality.
more
may10 Brewster
Despite a boatload of protests by abutters Ocean Edge's plan to build a 480-square foot dock, an elevated walkway and observation deck and recreation area at Blueberry Pond was approved, pending conditions, at Wednesday's conservation commission meeting. The hearing spanned three meetings and absorbed extensive public comment, but while people raised all sorts of objections, many didn't fall under the commission's purview or have any legal effect.
Chairman Steve McKenna noted the project met relevant performance standards - and in fact has less impact than homes that have previously been approved. "We asked for them to minimize as much as possible," McKenna said. "We have to look at this through the lens of performance standards." Hayley Winfield asked about the square footage of the observation deck. "We'll do a footprint much larger than that for a standard home," McKenna noted. "Access to the water is a right of the property owner." They found there was sufficient mitigation for the dock - which does require a variance. "We don't have any regulation that stipulates dock size, only policy," noted McKenna. "As a community dock it is larger than a single family dock." The issue of aesthetics was raised at the hearings but the commission has no "hard and fast guidance" on it so would be able to deny the project on that basis. Construction will be phased in over two years and the committee will re-evaluate the project after the first year. "There will be an awful lot of eyes looking out on it," McKenna said. The commission will set the conditions for approval at their May 14 meeting.
may10 Brewster
Dogs weren't the only topic on Brewster's town warrant. A citizens petition to delay the implementation of a pay-as-you-throw petition was defeated by a show of hands, after heated discussion Monday night at town meeting. "Pay-as-you-throw will cost you more money," proclaimed advocate William Moran. "If you buy more than one bag a week you will pay $253 (a year). In 2014 the fee will be $118 so it's $134 more." Moran noted the chairman of the recycling committee is a vice president at Covanta (where Brewster ships its trash).
You cannot serve two masters," Moran said and he also said the selectmen denied him the right to present a power point presentation before the board. "You have to ask yourself is this the way you want Brewster run? This is not North Korea folks - this is Brewster," Moran declared. "We need a new recyling committee appointed." Mary Chaffee was the board of health liaison to the recycling committee for two years. "I've been incredibly impressed with their expertise. The selectmen asked us a couple of years ago to hold down solid waste costs," Chaffee said. "It does save money and control costs and it lets individual households control their cost. It is a mystery to me why we would wait to launch a program that offers benefits right now." Selectman John Dickson noted the program was revenue neutral. "This reduces the amount of money that will go to Covanta," he added. "We should have implemented it a couple of years ago," said Chris Powicki. Voters agreed.
more
may10 Brewster
may10 Chatham
For several years the specter of the cost of a settlement with the Chatham Municipal Employees Association has been hanging over officials' heads. The specter is now a concrete cost. On May 13, town meeting will be asked to spend $271,405 to address an alleged prohibited practice charge filed by the association with the state Department of Labor Relations. Although the state didn't make a decision - the hearing was scheduled for this spring - it had found that there was "probable cause" that the town did not bargain with the union as required by law. "This settles it," said Town Manager Jill Goldsmith. "Clears it up." The sum is broken into three pieces: $65,000 in raises, $150,000 to address layoffs and $47,000 in reinstatement of hours. Goldsmith, who was not employed by the town at the time, said in 2010 the union had just formed and there was some debate about whether the Chatham Municipal Employees Association was official. The former town manager, on the advice of counsel, chose not to collective bargain with the union, which filed a grievance with the department of labor. "There is a fiscal impact for it," said Goldsmith, adding that the department of labor was pro-employee. The agreement settles one of 11 prohibited practice charges filed against the town by the union. The union is currently negotiating with the town on a new contract. There is a placeholder article on the warrant - with a space for a monetary amount - if the negotiations are completed in time.
may10 Harwich
The votes are in and Harwichport made it to the #2 spot on Coastal Living's 2013 "America's Happiest Seaside Towns" list.
In January, word went out that Harwichport made the coveted list of 10 seaside towns. Coastal Living readers, vacationers and residents were asked to vote for their favorite. Voting was open until February 28 and it was announced this week which town made it to the top. Harwichport came in second to Beaufort, SC, but surpassed other seaside gems including Sanibel Island, FL and Kennebunkport, ME. When choosing the 2013 contenders, Coastal Living considered standard of living, beach health, sunny days and something the magazine's editors called "coastal vibe".
more
may10
Cape Cod officials now know the price if they choose to continue sending the region's trash to a waste-to-energy incinerator in Rochester after current contracts expire at the end of 2014. Covanta Energy - the global company that owns the SEMASS Resource Recovery Facility - has agreed to accept trash from Cape and off-Cape towns for between $66 and $71 per ton, based on the total amount of trash sent to the facility, according to a term sheet distributed May 3 to local officials. As expected, the proposal is almost double current rates. "This is for towns that are interested in signing a long-term contract with these terms and conditions," said Cape Cod Commission Deputy Director Patty Daley, who spearheaded negotiations with Covanta. The figure could go up by $1.50 per ton if a town doesn't grant Covanta the right of first refusal for contracts of more than a year for recyclables, electronic waste or organic materials. The cost increases by 2.5 percent each year of the 10-year contract. As part of the deal, towns would receive from Covanta between 25 cents and $1 per ton dedicated to local recycling, recycling education and/or energy conservation initiatives. Covanta charges most towns about $37 per ton under current contracts, which run out at the end of 2014. The current contract is $37.51 per ton until 2015 for Cape Cod towns except Wellfleet, which pays $18.50 per ton. Most affected towns have placed articles before town meeting requesting that town officials be allowed to negotiate new solid-waste contracts. Towns across the Cape are wrestling with how to pay for the increased costs either through higher sticker fees, switching to pay-as-you-throw systems, as in Sandwich, or by pursuing other alternatives.
more
may09 Wellfleet
Auditions for 12 acting roles will be held May 16-18 for "Our Town: Billingsgate Becomes Wellfleet," an original play written by Dina Harris and David Wright to kick off a weeklong celebration of the town's 250th anniversary in August. The play will be performed twice Aug. 4 at the First Congregational Church at 200 Main St. There are six acting roles and six chorus roles. Men and women in their 20s through 60s, of all physical types, who can sing and move well are sought. The actors will not be paid, and rehearsals will begin July 16. Auditions will be from 5 to 7:30 p.m. May 16, 12:30 to 2:30 p.m. and 5 to 7:30 p.m. May 17 and 10 a.m. to 1 p.m. May 18. All the auditions are at the First Congregational Church; candidates are asked to bring a head shot, a resume, a reference and music to sing. For more information, contact Harris at dinaharris@wellfleet250.org.
may09 Wellfleet-Eastham-Truro-Provincetown-Orleans
Turn in your gun and receive a gift or gift certificate from a local business during the Outer Cape Voluntary Gun Buy Back Program, to be held from Saturday, May 11, through Sunday, May 19, at police departments from Provincetown to Orleans. In exchange for handing in unwanted firearms, participants will be treated to gifts from the Dolphin Fleet Whale Watch, Conwell Lumber, Atlantic Spice Company, Wellfleet Marketplace, Wellfleet Farmers' Market, Fairway Restaurant, Hole-in-One Donut Shop, Willy's Gym, Bird Watcher's General Store, True Value Hardware, Main Street Books in Orleans, Stop & Shop or Shaw's Market. The gun buy back will take place from 8 a.m. to 2 p.m. at the following locations: Saturday, May 11, Provincetown Police Dept.; Sunday, May 12, Truro Police Dept.; Monday, May 13, Wellfleet Police Dept.; Tuesday, May 14, Eastham Police Dept.; Wednesday, May 15, Wellfleet Police Dept.; Thursday, May 16, and Friday, May 17, Orleans Police Dept.; Saturday, May 18, Eastham Police Dept.; Sunday, May 19, Truro Police Dept. Guns collected will be delivered to the Mass. State Police and destroyed. An attempt will be made to identify any rare, antique or highly collectible guns and inform the donor that they may have value. Donations from business are still being accepted. Area merchants may contribute gift cards, gift certificates, gift memberships, goods or services, and are asked to consider giving up to four gifts. Gift donations may be dropped off at any of the Outer Cape police departments. To request a pick-up, contact Lydia Vivante at (508) 349-6619 or vivantelydia@gmail.com Also, tax-deductible donations may be given to the Wellfleet Police Relief Association (note that they are for the Gun Turn-In Program) and funds will be earmarked for the gun buy back program. Mail donations to WPRA, 36 Gross Hill Road, Wellfleet, MA 02667. The gun buy-back program is expected to be an annual event scheduled for the spring.
may09 Provincetown
Peregrine Theatre Ensemble, a new professional company formed by three well-known Outer Cape actors, will debut in June with a production of a "lost" Eugene
O'Neill one-act, following up with Andrew Lloyd Webber, Noel Coward and favorite numbers from a host of musicals. Co-founders Adam Berry, Ben Berry and Tessa Bry have announced "a glance" at Peregrine's first season via the company website and social media. The four-show roster is heavy on music in the summer, with a Halloween-timed production of a ghost story that's an appropriate fit for Adam Berry's experience working as part of the TV team of Syfy's "Ghost Hunters." The trio chose the name Peregrine after Peregrine White, the first child born to the Pilgrims when they arrived here, while the Mayflower was anchored in Provincetown Harbor. "Our company spirit embodies that same adventure and passion of braving uncharted territories."
more
may09 Brewster
The chairman of the planning board, who is also running for constable in the upcoming election, was asked to leave Stony Brook Elementary School before town meeting after he allegedly made an obscene gesture to a member of the Brewster Finance Committee. Scott Collum, 38, came into a finance committee meeting at the school shortly before town meeting started Monday night, according to a Brewster police incident report. He was carrying a young girl in his arms when he yelled, "Is this a public meeting?" the report says. He then walked up to the table, leaned in, extended his arm and lifted his middle finger. He yelled to a finance committee member. "That's for calling my kid a minion," according to the report. He then walked out, the report says. Police Chief Richard Koch, who was in the meeting room, said he asked Collum to leave and not return for town meeting. "He disrupted the public meeting and his behavior bordered on disorderly conduct," Koch said. Collum is running unopposed for re-election to the planning board and he is also running against incumbent Roland Bassett Jr. for town constable in the May 21 election. He said the finance committee member had earlier referred to his three children, whom he had taken to the pre-town meeting, as his "minions" in a derogatory fashion. "Minion" can mean a servile dependent, follower, underling or someone who is highly favored, according to the Merriam-Webster dictionary. "I'm not ashamed of what I did and I'd do it again," Collum said. "I will not put up with any person insulting my children for any reason."
may09 Chatham
Voters at town meeting will be presented a wide variety of warrant articles, such as building a new skateboard park, a request to borrow $10 million for the next phase of the town's wastewater project, and even a petition to grant subsurface rights that a restaurant's owners say will save their business. One thing voters won't see is an override to fund the town or school budgets. While the town's operating budget is up by $706,914, or 2.7 percent, the capital budget dropped by around $1.2 million and Chatham's share of the Monomoy Regional School District budget declined by about $500,000. Free cash increased by more than $860,000 to nearly $3.3 million. Don't expect that scenario in future years, the finance committee warned in its annual budget message. Debt tripled over the past couple of years as the town took on big projects such as expanding its wastewater treatment facility, the first phase of constructing sewers, and building a new $60 million regional high school with Harwich. Debt service is by far the largest component of the town operating budget at more than $7.9 million in 2013 and 2014. The town's wastewater project continues to be the beneficiary of state and federal wastewater grants and loans. A U.S. Department of Agriculture grant of more than $18.1 million reduced the money town meeting authorized to borrow for the first phase. Article 10 asks voters to rescind their authorization of that $18.1 million and approve borrowing $10 million to extend sewers into neighborhoods in the Oyster Pond watershed. This portion of the project recently qualified for a $10 million zero-interest loan from the Clean Water State Revolving Fund. If approved, the article, a Proposition 2½ debt exclusion, also requires a majority vote at the town election on May 16. The 11 articles requesting Community Preservation Act money sit dead center on the warrant. They include, among others, restoring old nautical charts, fixing the Eldredge Public Library windows, building a walking trail at Volunteer Park, and hiring a consultant as the first step in restoring the historic caboose at the railroad museum.
more
may08 Wellfleet
may08 Wellfleet
May 2nd brought perfect turtling conditions to Outer Cape Cod with bright sunshine, a light breeze and a noon astronomically low tide. Visibility in the South Wellfleet mating aggregation was exceptional as illustrated by the photograph above as this male diamondback terrapin swam through the clear tidal water. We sampled turtles in this prime Outer Cape mating aggregation to assess the level of activity in this late spring season. We discovered, unsurprisingly, that love is in the air . and in the water, too . on Outer Cape Cod.
In less than 30 minutes we captured and processed 22 turtles, all mature adults. No prepubescent juveniles were observed. Ten turtles were marked specimens; 12 were new and had never been seen before. Netting that many turtles in so short a period of time is an indication both of the level of mating activity and the perfect conditions. Of the ten known turtles, several were old friends. Female Diamondback Terrapin #834 has been tracked by the Turtle Journal team since 2000. We've learned a great deal about this lady in the last 13 years. We know that she nests on dirt roadway Way #100 on Lieutenant Island and now we know her mating aggregation location.
Terrapin #834 is one of the first terrapins in Wellfleet Harbor to reveal her brumation site. The "before and after" pictures from late April 2009 show Terrapin #834 as she emerged from winter brumation in Wrong Step Creek near the Lieutenant Island causeway. The black ooze visible in the picture on the right is the spot where the Turtle Journal team watched her rise from the primordial ooze. We were a bit surprised by the ratio of 15 males to seven females, especially since in capturing terrapins there is a decided bias in favor of netting the larger females. Male terrapins are just a tad more than half the length and less than a quarter of the mass of female terrapins.
Another old friend we found was Terrapin #118, the Grande Dame of Wellfleet Bay Wildlife Sanctuary. She has been observed in our longitudinal study since 1988; that is, for the last quarter century. Terrapin #118 nests along the Sanctuary's Goose Pond Trail and she is easily recognizable because of her distinctive forked (Devil's) tail, documented since her first sighting in August 1988.
more
may08 Eastham
Despite a bruising town meeting and the failure of two articles that would have created a town water system, officials and advocates say they are not giving up. Now, proponents are talking about a water article at a special town meeting in the fall. "I was really shocked and disappointed for sure," said Deanna Ross, whose residential well was one of nine found to contain 1,4-dioxane, a probable human carcinogen. Ross and other private citizens worked hard leading up to Monday's town meeting to mount a campaign for a $114.8 million public water system. But Eastham residents, as they have every time a public water system question reaches town meeting, did not support it by the necessary two-thirds majority. The vote Monday night on the full system was 685 to 392, just 33 short of the two-thirds majority. Then a finance committee member tried to get voters to approve a smaller system, for $40.8 million, and that failed by less than 20 votes to gain two-thirds. Town water did receive 64 percent of the vote Monday, said Selectman Aimee Eckman, chairwoman of the board. She noted it was 390 more votes than last year, when a smaller system failed at town meeting.
more
may08 Provincetown
A pair of incumbents on the town's top boards were unseated Tuesday at the annual town election. In the selectmen's race, Thomas Donegan and incumbent Austin Knight won the race for two three-year seats, beating out incumbent Francis John Santos and Raphael Richter. Donegan received 700 votes, Knight 673, Richter 567 and Santos 414. For two three-year seats on the Provincetown School Committee, Anthony Brackett and incumbent Kerry Adams beat out incumbent Loretta Stewart and Peter Grosso. Adams received 708 votes, Brackett 449, Stewart 411 and Grosso 409. The town has 2,874 registered voters, and about 1,300 turned out at the polls at town hall. The three Proposition 2½ debt exclusion questions passed, although only two will move forward. On the question of using $250,000 for capital improvements for floating docks and finger piers at MacMillan Pier, 846 people voted in favor and 355 voted against. On the question of using $1 million to further pave Commercial Street, 923 people voted in favor and 274 voted against. A third Proposition 2½ debt exclusion proposing to use up to $3 million to renovate the current police station also passed, with 635 in favor and 536 against. But the project is at a standstill because the corresponding article on the annual town meeting warrant was indefinitely postponed. In other races, Anne Packard was elected for a three-year term to the board of library trustees, with 673 votes; challengers Mark Westman received 234 votes and James Johnson 170 votes. Ann Maguire was elected to the charter enforcement commission for a three-year term with 888 votes. Diana Fabbri was elected to the housing authority for a five-year term with 881 votes, and Stephen Del Gizzo was elected to the same board for a one-year term with 779 votes.
more
may08 Provincetown
There was a bit of a shakeup on the board of selectmen Tuesday night when Tom Donegan pulled the chair out from under incumbent John Santos, though current selectmen chair Austin Knight keep his seat from challenger Raphael Richter.
Interestingly, however, the 1,267 voters who hit the polls made an unprecedented move when they passed the ballot question (635 for and 536 against) that allowed for a $3 million Prop. 2 1/2 override to pay for the revamping of the existing police station, which was indefinitely postponed at Annual Town Meeting. Because it passed at the ballot, the article could go on to Special Town Meeting this fall, if petitioners or the board of selectmen decide to again place the article on the warrant. "That was a shocker to me," said Eric Yingling, a proponent of the question and of keeping the police station at its current Shank Painter Road location. "We're going to have a meeting about it and figure out what it means." The override would be enacted, Town Clerk Doug Johnstone said last week, if the question is put forth to and passes Special Town Meeting in the fall. The other two override questions, one that asked for $1 million for the second phase of repaving, for the West End of Commercial Street, was approved 923 to 274, and the question that asked for a $250,000 exemption to pay for repairs and capital improvement to MacMillan Pier and for the design of a wave attenuator passed 846 to 355. The school committee also will see a change with Anthony Brackett, the father of twin preschool students who is a semi-retired musician and teacher; he got the nod with 449 votes, outshining incumbent Loretta Stewart's 411 votes. Another incumbent, Kerry Adams, was the top vote getter and kept his seat with 708 votes. Peter Grosso lost his bid with 409 votes. With 673 votes, artist Anne Packard snatched the board of library trustees position away from Mark Westman (234) and James Johnson (170). An unchallenged Diana Fabbri took the five-year housing authority seat with 881 votes and Stephen Del Gizzo got the one-year position on the same committee with 779 nods and no opposition. Also running unopposed was Ann Maguire for a three year term on the charter enforcement commission. She received 888 votes. Provincetown has 2,874 registered voters, Johnstone said. This year's election turnout was higher than last year in which 1,087 peopled voted.
more
may08 Provincetown
may08 Provincetown
In another sign of the season, the right whales have come and gone. At the height of things, about ten days ago, 113 North Atlantic right whales - fully a quarter of the estimated 470 existing individuals - were sighted in Cape Cod Bay. A week later, Provincetown Center for Coastal Studies posted on Facebook: Not a single right whale spotted in Cape Cod Bay... And while the right whale survey season doesn't officially end until May 15th, researchers at the Center have turned their attention to the next wave of visitors - the humpbacks. This was a notable right whale season in more than one regard.
more
may08 Orleans
Snow Library presents author Ron Berler Saturday, May 11, at 10 a.m. Berler wrote "Raising the Curve: A Year Inside One of America's 45,000 Failing Public Schools." Brookside Elementary School in Norwalk, Conn., is one of more than 45,000 schools labeled "failing" because of low scores on annual mandatory state tests. Yet, according to journalist Berler's story of one year in the life of the school, Brookside is hardly a failure. In what has been described as a readable and fast-paced chronicle of the lives of administrators, teachers, and students, Berler captures the deep love the teachers have for their students and the teachers' struggles to teach to the test while hoping to instill a love of learning. Among other students, readers meet Marabella, who has great potential but who is not an especially dedicated student, and Hydea, a shy but deeply imaginative girl with great, though untapped, reading ability, who is performing below her grade level at the start of her fifth-grade year. Both girls find themselves in Mr. Morey's class. Morey is a committed teacher who "spends his days instilling in his students an eagerness to learn" and watching them blossom. With Morey's efforts, and the leadership of the school's principal and the school's reading specialist a number of other students show significant academic improvement and blossom when they enter middle school. The program is free. For more information, call the library 508-240-3760 or log onto www.snowlibrary.org.
may08 Orleans
The foreclosed Saltwater Grille/Arbor property at 20 South Orleans Road is on the market for $650,000.
The property was sold at a foreclosure auction held September 13, 2012. The buyer was Cinnamon, LLC. A search of the Massachusetts Secretary of State's corporate database indicates that Todd G. Thayer and J. Bruce Macgregor are the principals of Cinnamon, LLC. The Bohman Thayer listing discloses that "broker is a partner of the ownership". According to documents recorded at the Barnstable County Registry of Deeds on March 29th, Cinnamon, LLC purchased the Orleans landmark for $400,000. The property is offered for sale at $650,000 as listed. Options to lease or build-to-suit are also offered. The current Orleans Assessor's field card values the property at $940,300, down $27,400 from its 2012 assessment of $967,700. Bank of Cape Cod holds a $250,000 mortgage with Cinnamon, LLC. The former Saltwater Grille was operated by Moss Landing, LLC. The foreclosure deed lists TD Bank NA as the mortgage holder. Moss Landing, LLC purchased the former Arbor restaurant and Binnacle tavern for $850,000 in 2003.
more
may08 Brewster
Four dogs at Drummer Boy Park were reported to police at 8:20 a.m. Tuesday in the wake of a vote at annual town meeting Monday that did nothing to relieve a 2012 ban on dogs at the park issued by the board of health. "They did vacate when asked to do so," Police Chief Richard Koch said of the dog owners. Police, though, are expecting more dog owners at the town-owned park on Route 6A, Koch said Tuesday.
Voters basically left the town's existing dog-restraint bylaw intact Monday by voting down the selectmen's attempt to pass a leash law. With this law, dogs would have to be leashed off the owner's property unless explicitly allowed, such as at a dog park or designated area. The proposed bylaw also allowed unleashed dogs on all town-owned beaches and tidal flats from October through April. Instead of a leash law, the current dog-restraint bylaw remains in effect, Koch told town meeting Monday. That regulation requires that dogs be confined to their owner's property, but if accompanied by an owner and under the owner's control, a dog can be off-leash throughout town. A separate board of health action bans dogs at Drummer Boy Park. Town meeting also turned down an attempt by a group of citizens to set out a compromise at the park, from May through September, when leashes would be required on dogs from morning through afternoon. In other months, dogs could be unleashed at all times. A third article at town meeting that created an off-leash dog section at the park, but only if privately and fully funded, failed as well. A controversy over the presence of dogs at the park has emerged in the last four years or so, as the area has grown in popularity for dog owners and their pets. The town purchased the park in 1988, and it is often used for community and civic events. The health board specifically banned the dogs at the park because of documented evidence of aggressive and out-of-control dogs, and because dog waste contains bacteria and parasites that can cause disease in humans, according to the wording of the ban. Violation of the board of health's ban at Drummer Boy Park carries a $50 fine.
more
may08 Brewster
It wasn't exactly a doggie debacle but after extensive debate Monday night all three canine related articles on the Brewster town warrant had more bark than bite and went down to defeat by a show of hands. The town finds itself pretty much where it started three years ago - with some significant differences. Defeated were two proposals, one by the board of selectmen (albeit supported by only one board member) and a citizens group to ensconce dogs at Drummer Boy Park. Also toppled was a seven page re-write of Brewster's animal control laws that would've required most dogs to be leashed at all times when off their owner's property.
The animal control vote was a victory for advocates of looser dog rules - and the collapse of both Drummer Boy plans leaves the status quo - unfortunately there's no agreement on what that is. A Brewster resident won a court ruling in December overturning the Board of Health's ban on all dogs at Drummer Boy - however the town has appealed the decision and contends that the ban is in effect during the appeal. "This bylaw has been a moving target," Nate Pettengill complained about the proposed animal control rules (Article 24). "No dog is allowed on any public property unless it's on a leash. The Punkhorn and other trails are now off limits. This is inconsistent with other towns like Harwich, whose law matches ours almost word for word. Are our dogs that different?"
more
may08 Brewster
Monika Woods of Brewster has won The Cape Cod Symphony Orchestra's first "Soloist" competition and received a $3,500 cash prize. "The Virtuosos: Orchestra & Soloists" concert was held May 4 and 5, to close out the symphony's season.
Woods performed with the orchestra and the other finalists, Taylin Im on piano and Luke Scott, baritone. Im of Providence, R.I. came in second place, earning a $2,000 price and Scott came in third with a $1,000 prize. Unlike the semi-finals where a panel of judges, the audience and online voters determined who made it to the next round, the audience alone determined the winner during last weekend's concert. At both performances the audience cast votes for their favorite musician. At the conclusion of the May 5 performance, all three finalists were called back on stage where the winner was announced. Woods earned undergraduate and graduate degrees in clarinet in her native Romania before coming to Cape Cod six years ago. She started performing Mozart duets on the streets of Provincetown on her days off from cleaning cottages. She is married to Eli Woods and has a 3-year-old daughter. The Cape Cod Symphony Orchestra created the regional classical music competition to provide opportunities to amateur musicians and uncover the next classical star. Sixty-two applicants from across New England entered the groundbreaking competition that involved the audience - both in-house and online - in the outcome. The applicants from five New England states represented 14 different instrumentations and ranged in age from 10 to 61.
more
may08 Chatham
A Chatham art gallery and its owners filed for Chapter 7 bankruptcy earlier this year and several artists whose work was on display at Wynne Fine Art may be left on the hook. The artists say their unsold art, offered at retail prices totaling nearly $700,000 - should be returned to them. A bankruptcy trustee, however, plans to sell the artworks to pay creditors. Kenneth Wynne III and Allyson Wynne filed for bankruptcy Feb. 1. On March 13, they also filed for bankruptcy for their business, Wynne Fine Art Inc. An auction has been tentatively scheduled for June 27 to sell 128 original artworks as part of the bankruptcy cases, according to court documents. In their bankruptcy filings, the Wynnes do not list the artwork as part of their property. The couple lists $619,790.81 in assets and $768,783.89 in liabilities in their personal bankruptcy, while the business bankruptcy lists no inventory, $21,619.82 in assets and more than $260,000 in liabilities. Boston-based law firm Foley Hoag is representing 13 artists who had work displayed at the Chatham gallery. Eleven of the 13 have artwork they are seeking to recover from the gallery, according to attorney Joshua Pemstein. The 11 artists' unsold artwork constitutes 84 paintings, valued at nearly $700,000, he said.
more
may08 Chatham
With a wide-range of questions, candidates for selectman were able to talk about everything from a shark research center, to the location of a skateboard park to Route 28 in West Chatham. But they also narrowed down what was most important to them. For close to two hours Monday night the three candidates - incumbent Tim Roper, longtime school committee member Jeffrey Dykens and Chatham native Seth Taylor - tried to convince voters attending the League of Women Voters' forum, and those watching on television, why they deserved one of their two votes. Roper, who owns a marketing strategy company, said his top goal is protecting the economic health of the town, as everything, including civic and environmental health, flows from that. He said Chatham was lucky to have the highest bond rating, AAA, and an enviable tax rate, but protecting that required vigilance. Dykens, who has lived in town for close to 40 years, said that Chatham's greatest challenge was protecting its salt and fresh waters, which voters had begun to do by supporting the wastewater plan. Taylor, who recently moved back to town from California after 25 years with the U.S. Customs Service, saw the town's charter - and its current rewrite - as the most important looming issue. One of the main reasons he opted to run for the board was because of a recent special town meeting called by residents who were frustrated when oversight of the harbormaster was moved to the police department. Taylor believed selectmen had not listened to the people, or read the charter correctly.
more
may08 Chatham
The Village Hall Family Circle is hosting a spring bazaar Saturday, May 18, at South Chatham Village Hall, 2567 Main St. The purpose of the bazaar is to raise funds for the restoration and preservation of Village Hall, which supporters say has been a cornerstone of the Chatham and Cape Cod community for 130 years. The spring bazaar will feature local crafts, baked goods, and Rada cutlery in the Main Hall, as well as antiques and buried treasures on the Lower Level.
may08 Harwich
Town meeting finished up Tuesday night with affordable housing initiatives and zoning changes among the major issues put before voters. But first, they quickly approved a proposed moratorium on medical marijuana facilities on a unanimous vote. "This is why you all came, I'm sure," quipped town Moderator Michael Ford, peering at the gray-haired audience over his spectacles. "This is a terrible thing, unless and until they get their act together," said voter Bill Doherty about the over-four month period that has elapsed since the medical marijuana facility law went into effect with the state Department of Public Health's promised guidance to towns still not forthcoming. Voters did like spending $455,000 of Community Preservation Act money to help create 20 units of affordable rental housing in five buildings in a $4.5 million project on Route 28 in West Harwich. The land is owned by the Harwich Ecumenical Council for the Homeless.
more
may07
The Wellfleet Community Forum will host a disaster preparedness panel discussion on Monday, May 13 at 7:30 p.m. at the Wellfleet Public Library, 55 West Main Street, Wellfleet. Recent disasters--both natural and man-made--have communities asking themselves how prepared they are in the face of such calamities as a hurricane, a bombing or a "major" incident at the Pilgrim Nuclear Power Plant in Plymouth. The panel will include State Senator Dan Wolf (D-Harwich), State Rep. Sarah Peake (D-Provincetown), Wellfleet Police Chief Ron Fisette, retired Wellfleet Fire Chief Dan Silverman and Cape Downwinders (an anti-nuclear power group) spokesperson Diane Turco. Following the panel discussion, attendees will be given the opportunity to address the panel. The Wellfleet Community Forum is a non-partisan civic organization based in Wellfleet.
may07 Wellfleet
Ira Wood is an author, a teacher, a former publisher, a former selectman, and the host of a weekly radio program called The Lowdown on WOMR-FM, Cape Cod's Community Radio Station. For over 30 years Ira has made his home in Wellfleet. The Lowdown enables Ira to indulge his lifelong compulsion to pester people with questions.


may07 Wellfleet-Truro
Robert Finch is a nature writer living in Wellfleet. He has lived on and written about Cape Cod for forty years. His essays can be heard on WCAI every Tuesday morning at 8:35am and Tuesday afternoon at 5:45pm. 'A Cape Cod Notebook' won the 2006 New England Edward R. Murrow Award for Best Radio Writing.
On A Cape Cod Notebook, writer Robert Finch is struck by the juxtaposition of helium-filled weather balloons and the ancient courtship rituals of tiny woodcock birds.
may07 Wellfleet
The first Planning for Climate Change Forum was held at the Wellfleet Bay Wildlife Sanctuary. Bob Prescott of MA Audubon thanked Harriet Korim of Cape Cool for suggesting a panel discussion and provided a brief introduction on why climate change matters in nature. Global warming will affect turtles at the sanctuary, he said. The temperature of incubation influences the sex. If there are only female turtles, reproduction will not happen. Chris Powiki, President of the Cape & Islands Renewable Energy Collaboration, showed us an image of Wellfleet as seen from space and remarked the town is brighter in summer, ie. higher electricity consumption. He spoke of how we can all improve the energy efficiency of our houses.
Greg Berman's topic was "Expected Changes in Wellfleet due to a Dynamic Climate." What does climate change mean for our town? Two things. Sea level rise and high-intensity storms. Climate change is happening. It will cause coastal erosion. We need to prepare for saltwater intrusion into septic tanks and wells. The rising temperature of the ocean will lead to acidification, which will impact shellfish. Dr. Nick Robinson of Pace University spoke on "Strategies for Adaptation, Motivating Community Participation and Preparation." Holland and Korea are forward-thinking countries. They plan 100 years into the future. We need to look to them for inspiration and shift our thinking to a new creative level. The dump will have a solar array but we need to do more. In fact, we should "reuse everything," including waste. The final speaker, Dr. Judith Pederson of MIT Sea Grant, offered "Best Practices for Short-term Solutions and Long-term Changes." In 100 years, Massachusetts will have the climate South Carolina enjoys today. Dr. Pederson showed images of quahogs as they are today, smaller than a number of years ago. Acidification will continue to make them shrink in size. The shell thickness and hinges will also be impacted. Georges Bank was once out of the water and protected Cape Cod from storms. George's Bank no longer fulfills that role.
more
may07 Eastham
After a fierce debate that involved shouting and political maneuvering on the floor, Eastham town meeting rejected a public water system - again. Only once did Moderator David Schropfer have to call for the town constable to calm a speaker who would not sit down. And she did sit before the constable got to her. But order was generally difficult to control throughout the debate on the $114.8 million article that would have provided public water to every resident of the town. The article, which required a two-thirds majority, failed by 33 votes, with 392 against and 685 in favor. After the vote was announced, applause erupted in the packed Nauset Regional High School gym. But finance committee member Steve Cole immediately introduced a new version of the article, this one asking for just so-called Phase One. Priced at $40.8 million, Phase One would have provided three well fields and one storage tank and provided public water to 80 percent of the commercial properties. About 80 percent of the town would have had fire hydrants under that phase. But after almost no debate, that article also went down, failing to get the required two-thirds majority by just 19 votes - 621 in favor and 330 opposed. What led up to that point was a heated back-and-forth as elected officials made pleas in favor of the system while opponents railed against it, mostly on the basis of the price tag. The cost would have been $17,875 for the median-priced $400,000 home over a 29-year payment schedule. Depending on the bond payments, the cost per household would have varied from about $300 a year to $966 at the top payment year. The annual cost averages out to $616 a year, or $52 a month. "You elected us to make decisions and look out for the best interests of Eastham, and now it's up to you," said Aimee Eckman, chairwoman of the board of selectmen. "Those who say they have cheaper solutions really have no expertise; we've consulted with a lot of experts." Eastham stands alone on Cape Cod and is one of a handful of towns in Massachusetts without some sort of public water. Residents have private wells and septic systems on their properties. For years, voters have pushed back against proposals to adopt municipal water, including last year when town meeting overwhelmingly rejected a slightly smaller version of Phase One for $32 million. This year, private well testing around the landfill revealed 1,4-dioxane, a probable human carcinogen, beyond recommended levels in nine private wells. Aside from the new issue at the landfill, about 40 percent of homes throughout town have tested nitrate levels at 2 parts per million, an indicator that their wells are being affected by nearby septic systems. In addition, 70 percent of homes in town have more bedrooms than recommended by Title 5, the state regulation governing on-site sewage systems.
more
may07 Eastham
Town meeting once again, as it did last year, said no to a municipal water system, and no to a partial water system. The high school gym was filled with 1077 voters, but only 392 voted for the $114.8 million municipal water system proposed in Article 7, while 685 voted against it. An amendment to the article, calling for $40.8 million for a partial water system, also failed to pass by 19 votes, with 621 yes votes, 339 no votes. Town meeting wrapped up at 11 :05 with all articles acted on.
more
may07 Eastham
The Nauset Light Preservation Society (NLPS), an all-volunteer organization, is pleased to announce that work has begun to repaint the historic Nauset Lighthouse. Cape Cod Potato Chips, which operates a manufacturing plant in Hyannis and is part of the Snyder's-Lance family of snack brands, is sponsoring the restoration project.
The scope of the project includes cleaning the tower and removing rust, caulking around the lantern room windows, and painting the exterior of the tower with the black, red and white of the existing color scheme. Work is scheduled for completion by the end of May - just in time for the start of the busy summer season when more than 6,000 people visit the iconic lighthouse. "We are grateful that Cape Cod Potato Chips and Snyder's-Lance is sponsoring the painting of the Nauset Lighthouse," said David Gray, President, Nauset Light Preservation Society. "The generous donations of individuals and businesses that operate within our community allow us to maintain Eastham's most famous historic structure." The International Chimney Corporation, the same company hired to move the Nauset Light in 1996, has been contracted to perform the repainting project. The company has extensive experience painting lighthouses, having recently painted ten lighthouses along the East Coast, the Great Lakes, and California. The International Chimney Corporation was hired previously to paint the Nauset Light and has intimate knowledge of the unique structure and the environment in which it lives. Cape Cod Potato Chips has been a supporter of the Nauset Light for many years, with the iconic landmark featured on every bag of the kettle-cooked chips.
more
may07 Truro
may07 Provincetown
Four candidates will compete today in the annual town election for two three-year seats on the board of selectmen, and four people will compete for two three-year seats on the Provincetown School Committee. Polls are open from 7 a.m. to 7 p.m. at town hall at 260 Commercial St. homas Donegan, Austin Knight, Raphael Richter and Francis John Santos are running for selectman. Kerry Adams, Anthony Brackett, Peter Grosso and Loretta Stewart are running for school committee. There are no other contested races on the ballot. Voters also will be asked to weigh in on a Proposition 2½ debt exclusion of $250,000 for capital improvements to the floating docks and finger piers at the town's MacMillan Pier, damaged in the Feb. 8-9 snowstorm. The debt exclusion was approved at the April 1 special town meeting and would add $19.11 in the first year of property taxes to a median-priced single-family home assessed at $603,650, according to a town finance official. A second Proposition 2½ debt exclusion of $1 millionwould allow for more paving of Commercial Street. The second debt exclusion was approved at the annual town meeting April 2 and would add $38.21 in property taxes in the first year for the same median-priced property.
may07 Provincetown
The Soup Kitchen in Provincetown celebrated the end of its 20th season on April 26. The team of volunteers, led by Chef Amy Howell, have cooked and served 13,316 lunches since November, including such treats as salmon and wild greens.
may07 Provincetown
may07 Provincetown
may07 Provincetown-Chatham
May typically marks the start of visitor season at the National Seashore -- but on the bright sunny first week of May, the Province Lands Visitor Center in Provincetown remained closed. The bright yellow tape across the stairs and a hand lettered "May 25" taped over the information sign signaled to the cars and RVs roaming through the parking lot that the summer of 2013 won't be business as usual.
The visitor center is hardly alone. From the tip of Provincetown to the tip of Woods Hole, the fingers of the federal sequestration cuts are beginning to squeeze the region's critical seasonal economy. In a triple hit, the cuts are expected to hit seasonal jobs, visitor services, and infrastructure. From interpretive services, to hours of operation, to planned capital improvements, the outcome of the financial standoff in Washington DC comes home to roost in a myriad of places far outside the Beltway. Frustration, coupled with determination to keep functioning despite potentially crippling mandatory cuts, characterized responses from organizations forced to grapple with the on-theeet realities of the sequestration. The US Fish and Wildlife Service, Monomoy National Wildlife Refuge will have shorter hours, fewer seasonal employees, and deferred repairs. Instead of its usual seven day a week schedule, the refuge will cut back to six days, although which day gets the federal ax hasn't yet been confirmed. Needed repairs to the Monomoy Lighthouse are on hold, delaying its reopening to the public. The National Seashore draws visitors to the Outer and Lower Cape. Luckily, the National Park Service (NPS), funds the 50 lifeguards, the canoe tours, and the off-road vehicle program through user fees. Beaches and trails will open as usual. However, other visitor services come under the sequestration hammer. Sequestration chops $376,000 from the National Seashore budget between March and September. That translates into 19 fewer employees, the majority of whom work in interpretation, as well as a smaller number in law enforcement, custodial, and resource management. Interpretation programs - the educational programs that range from Salt Pond walks to low tide tours that help people understand both natural and cultural attributes of the seashore - typically serve about 46,000 people each year. But not this summer. It could have been a lot worse, though: Originally, the popular Province Lands Visitor Center had been scheduled for a complete shut down. "That really sounded disastrous to us!" said Dick Spokes, president of Friends of the Cape Cod National Seashore, which stepped in and through a private funds gift of $25,000 gave the visitor center a reprieve, at least from Memorial Day through Labor Day.
more
may07 Provincetown
Provincetown is long known for its art scene. Last year, Harbor Hotel Provincetown introduced ARTBEAT, a series of bi-monthly exhibits celebrating the area's artistic bent. Beginning May 13, the hotel unveils its newest addition to the series, "Provincetown Award Winners," featuring the best of the Provincetown Art Association and Museum's members. The show will feature past and present award winners of the major grants, The Lillian Orlofsky Award and The Romano Rizk Scholarship. The exhibit runs from May 13-June 27, with opening reception May 16 at 5:30 p.m. The hotel will continue to be home to rotating exhibits of paintings, sculpture, video and film, as well as co-sponsored events with local collectors and museums. It's also a place to save some spring money: Through May 20, they have a "Pay the Temperature" deal, where daily rate is based on temperature on the day of check-in. The rate can't be booked online but by calling 855-447-8696. For hotel info, visit www.harborhotelptown.com.
may07 Orleans
Late last month, a large group of volunteers from the Mass Beach Buggy Association,
led by Chapter President Scott Morris, cleaned up a massive amount of debris from the outer beach in Orleans. In addition, they assisted beach patrol staff in the posting of fencing for the protection of endangered shorebirds and their habitat.
may07 Orleans
If voters are still unsure of which wastewater plan to support, the candidates for selectmen are not. For the past several years the community has been divided on how to proceed with cleaning up its waters. This year, two dueling plans have emerged to take the first step in ridding the town's waters of nitrogen pollution.
"This is the most controversial issue I have seen in the 20 to 21 years I have been moderator," said Duane Landreth, the town moderator, who also moderated the candidates night sponsored by the Orleans Citizens Forum. And this week, the three candidates running for two seats on the board - incumbent Jon Fuller, finance committee member Mark Carron and open space committee member Alan McClennen - told the crowd gathered Tuesday at the Nauset Regional Middle School what they supported. Fuller, not surprisingly, supports the plan he authored, sometimes called the Fuller Plan, but formally dubbed Phase 1A. McClennen, a former town planner in Arlington who has made wastewater an avocation for the last decade, also supports the plan that sewers downtown - 450 dwellings and 250 commercial properties - and treats the wastewater at a small, but expandable, treatment plant at the site of the current Tri-town septage treatment plant. Carron does not. He said he'd rather put everyone in a room, lock the door, and, if necessary, "throw away the key" until folks agreed. The Phase 1A plan had too many detractors (including two sitting board members), Carron said, adding the town should start with Meetinghouse Pond, which is, arguably, the town's most polluted water body.
more
may07 Orleans-Chatham
Selectmen Chairman Jon Fuller is not keen on the idea of having tour boats based at town landings heading out, dropping some chum in the water, and then lowering cages with folks angling for a personal experience with a great white shark. Natural Resources Director Dawson Farber doesn't disagree. "It (could be) a real nightmare situation for us," he said. "We are concerned about potential commercial operators. Cages. and baiting of sharks is totally inappropriate for Orleans." Since there are no regulations in place the great shark working group, which Farber chairs, has successfully lobbied the director of the state's Division of Marine Fisheries to agree to require permits to pursue, attract or tag the charismatic predator, but some town officials are hoping that doesn't preclude research or eco-tourism. Orleans and Chatham selectmen met Wednesday to talk about the sharks that were often seen off their beaches last summer, and although they agreed that safety was paramount they wanted more say in how shark access was regulated.
more
may07 Brewster
For now, dogs will continue to complicate things in Brewster. Voters turned down all three dog-related warrant articles on Monday at the annual town meeting at Stony Brook Elementary School. A proposed bylaw that would have required dogs to be leashed except in areas where they were explicitly allowed to run free, failed. A citizen petition that would have allowed unleashed dogs at Drummer Boy Park except mornings and afternoons from May through September also failed. And a third article that would have created a 1.25-acre dog park area at Drummer Boy Park, contingent upon donations, went down, as well. "It's complicated," Police Chief Richard Koch said at the meeting, when asked to clarify what laws were in force as a result of the votes. The current law allows dogs to be off their leashes if they are under voice control, but a current board of health ban on dogs at Drummer Boy Park is still in force, Koch said. That ban is being challenged in court. The special and annual town meetings ended Monday. About 600 people attended. Opponents of the proposed leash law said dogs need exercise off the leash, with responsible supervision, and that more research about the proposed bylaw is needed. Proponents of the proposed leash law said dogs can act impulsively and bite people, that a fenced-in dog park is needed, and that the new bylaw would provide clearer enforcement guidelines for police. In other matters, voters approved the $20.8 million annual operating budget for the next fiscal year. There were no Proposition 2½ articles. Voters turned down a move by the finance committee to reduce the operating budget of the golf department for the next fiscal year by $32,000 so that expenses equaled revenues. However, they voted in favor of making $75,000 in immediate security upgrades to the town's two elementary schools, such as replacing locks, installing cameras and renovating door entries.
more
may07 Harwich
Town meeting approved both the town and regional school budgets as well as a number of capital purchases on Monday night. While the Monomoy Regional School District budget required a nearly $1 million Proposition 2½ override last year, town and region officials were able to pare it down this year and it passed without any discussion at $20.3 million. The town operating budget of $28.6 million also passed easily with attention drawn to only one line item - $58,000 to pay for a facilities manager. Some voters complained that the condition of many of the town's buildings was so bad that department heads were distracted by addressing the issues and this position was essential to stay on top of maintenance problems. "We see many, many, many buildings in disrepair," said Rich Larios, chairman of the capital outlay committee. Voters agreed, and the position remained on the budget. But finance committee Chairman Skip Patterson warned that the town could still be overspending. Patterson cited $1.5 million potentially added to taxes if a combination of debt and capital exclusions passes at the ballot box. He was also concerned that the Monomoy regional school budget could continue to climb. One project that will not be taking a slice was the hotly debated addition to the town community center. The article asking for $310,000 to pay for plans and bid documents for the community center addition was indefinitely postponed. After 13 years, the town has almost paid the cost of building the center and some voters thought it is OK to take on new debt and expand the popular facility to accommodate a growing demand. But other voters argued the town couldn't afford to take on the estimated $3.5 million to equip and expand the lower level of the community center. They advocated evaluating what the new high school could offer in terms of a fitness center and meeting rooms and look at existing buildings such as the current middle school that will be vacant once the high school is built. Many other capital articles passed easily, including $425,000 for a new pumper truck for the fire department; $500,000 for paving and sidewalk repairs; $305,000 for new loader and dump truck for the Department of Public Works; and $250,000 for repairs to the bulkhead and storm drains at Allen Harbor. Voters also approved $187,500 as part of a matching grant for construction of the Muddy Creek Bridge; $210,000 to finalize the town's comprehensive wastewater management plan; $150,000 for a new patrol boat for the harbormaster; and $1.96 million for a new drinking water treatment facility.
more
may07 Harwich
The second night of town meeting starts at 7 this evening at the community center at 100 Oak Street and the meeting will start at Article 46, with 17 articles remaining on the town meeting warrant. The Special Town Meeting begins at 8 p.m. and contains 15 articles. Highlights of the articles on both warrants include: Three affordable housing proposals; and Medical Marijuana Facility moratorium.
more
may07
Atlantic White Shark Conservancy, a new nonprofit committed to raising public awareness of white sharks, launched a 60 day online campaign to pre-sell 1,500 great white shark license plates.
The pre-orders are required to manufacture the plates. The campaign will run through June 20. "This is a chance for the people of Massachusetts to show their support for shark conservation," said Cynthia Wigren, president and co-founder of Atlantic White Shark Conservancy, AWSC, said in a press release. "Despite their fearsome reputation, white sharks are incredibly vulnerable, like most sharks. Sharks are an asset to our marine environment, and as apex predators they play a critical role in maintaining the health of our ocean's ecosystem." Proceeds from the sale of the plates will directly support the Massachusetts Shark Research Program, led by shark expert Dr. Greg Skomal. For the first time, modern scientists have predictable access to white sharks in the North Atlantic and the ability to study their life history and ecology over multiple spatial and temporal scales," said Skomal. "Without a strong sense of how many white sharks exist in this area or how many are being killed, the time to act is now." Funds will help scientists obtain the resources needed to support current and long-term white shark research projects. Plate sales will also support the Atlantic White Shark Conservancy Summer Camp Scholarship Program. AWCS is currently working with Mass Audubon, Cape Cod Museum of Natural History and Monomoy White, and is interested in expanding the shark education program to include other organizations across the state. To order Shark plates visit www.indiegogo.com/projects/massachusetts-great-white-shark-license-plates/x/2984105.
more
may06 Wellfleet
The Wellfleet Community Forum will host a panel discussion on disaster preparedness at 7:30 p.m. May 13 at the public library at 55 W. Main St. The program was prompted by the disasters experienced or witnessed in recent months, such as Hurricane Sandy, the region's winter storms and the Boston Marathon bombing. The panel will feature state Sen. Dan Wolf, D-Harwich,, state Rep. Sarah Peake, D-Provincetown, Wellfleet Police Chief Ron Fisette, retired Wellfleet Fire Chief Dan Silverman and Diane Turco of the anti-nuclear group Cape Downwinders. People can ask questions and express concerns. The forum is nonpartisan, and the event is free. For more information, visit www.wellfleetforum.org or email info@wellfleetforum.org.
may06 Wellfleet
Folks coming into town meeting last week had a chance to pick up a flyer inviting them to join W.O.O.F., Wellfleet Owners of Fido. If interested in joining, respond to wellfleetwoof@gmail.com.
may06 Wellfleet-Truro-Eastham-Orleans-Chatham
On July 30, 2012, Denver businessman Christopher Myers had no clue he was about to swim into the history books as the first person in 76 years to be bitten by a great white shark in Massachusetts. If Myers were to return to Ballston Beach this summer, he'd see that little had changed. Yes, there finally would be warning signs telling swimmers there may be sharks in the water, and for a very good reason, because state tagging studies showed that at least four great whites have made an adjacent beach their hunting ground.
But a recent vote by selectmen continued the policy of leaving Ballston and Longnook as beaches without lifeguards to keep watch for sharks or give emergency first aid. Selectmen felt more tangible problems such as affordable housing and economic development took precedence over the remote possibility of another attack. "This is a new and evolving issue, and certainly as more monitoring is done and the science becomes more clear, things might change," said Truro Selectman Jay Coburn. "But one shark attack didn't warrant increasing lifeguards on our beaches." However, along some of the Atlantic Ocean towns of the Outer Cape, the Cape's shark problem has progressed so quickly to the head of the worry list that it has outstripped the deliberative process municipalities apply to many other issues such as affordable housing, wastewater, and education. "We're really new at this. We're not experienced hands. We're feeling our way through this without trying to panic people," said Wellfleet Beach Superintendent Suzanne Grout Thomas. Even though many scientists say it is inevitable that there will be more attacks and even fatalities, town, state and federal officials seem caught up in how to balance an unquantifiable risk with real budgetary and manpower constraints. How much is too much when it comes to protecting the public? "It would be great if we could have a police officer at every single intersection to deal with traffic, but we have to figure out what the relative risks are," Coburn said. "What do people do out of necessity versus choice? If you go in where there are a lot of seals, that is a matter of choice." It was a big step, state shark researcher Greg Skomal said, for 11 Cape and Islands communities and the Cape Cod National Seashore to acknowledge this fall they had a problem that required a regional approach. They formed a working group that initially included some harbormasters from the Cape & Islands Harbormasters Association but whose membership quickly broadened to include Skomal and his assistant John Chisholm, as well as police and fire personnel, town beach and recreation managers, the state environmental police and Cape Cod National Seashore Chief Ranger Leslie Reynolds.
more
may06 Eastham
A big turnout is expected Monday, when town meeting opens at 7 p.m. at the Nauset Regional High School gymnasium. Some 1,200 chairs will be set up for citizens, and the bleachers will also be available to accommodate more. Last year, when town meeting was held in the school auditorium, with overflow seated in the cafeteria, there were problems. Those in the cafeteria could not hear what was going on in the auditorium, and there were delays in relaying the votes taken in the cafeteria to the auditorium, when Moderator Dave Schropfer announced the results. Things will be different this year. "I hope we thought of everything," said Aimee Eckman, chairman of the board of selectmen. The selectmen talked about shuttle buses picking up people at different locations in town and delivering them to the high school. The idea was to make it unnecessary for people to park on either side of Cable Road, as they do for graduations. They decided not to go with shuttles, but rather to have police officers in the parking lot directing citizens to spaces in the parking lot. A policeman on bicycle will ride through the lots looking for spaces where latecomers will be able to park, said Eckman. "There will be parking on the road, built only if the school parking lot fills up," she said. There should be no problem hearing what is going on. "We will tie into the gymnasium sound system, which has speakers in the ceiling," Eckman said. "Before, we had speakers set up in the front and people could not hear very well, but using the gym's sound system will add to people being able to hear." Voters will act on a 37-article warrant. The biggest articles, in terms of money, interest, and longtime impacts on the town are Article 7, which calls for a municipal town-wide water system that will cost $114.8 million; Article 12, the operating budget of $22, 191,512, up 7.63 percent over last year, and Article 17, which seeks a home rule petition to allow the town to impose a room rental tax.
more
may06 Eastham
Cape Cod Hospital is sponsoring a blood drive Wednesday, May 8, at Eastham Town Hall from 9 a.m. to 3 p.m. All the blood collected stays on Cape Cod to help Cape Codders. Walk-ins are welcome, but appointment will be honored first. To schedule an appointment or for additional information, call 508-862-5273.
may06 Eastham
Join expert Dr. Jennifer Salvo from 10 a.m. to noon Friday, May 10, at the senior center, 1405 Nauset Road, as she presents a range of the newest low-vision devices that may help those who are experiencing changes in vision or sight loss. All are welcome to attend this program that will be presented during the regularly scheduled Sight Loss Support Group. Van transportation is available. For more information and to reserve your spot, call 508-255-6164. The sixth annual Health Fair will be held at the senior center from 10 a.m. to 1 p.m. Friday, May 17. It will feature a variety of organizations providing useful information for you. There will be door and raffle prizes, plus lunch. Come see a free movie at 12:30 p.m. on Friday, May 24, at 12:30 p.m. Call ahead 508-255-6164 to find out what movie is playing.
may06 Eastham-Orleans-Nauset
The emergency shelter at Nauset Regional High School in Eastham usually has about 35 people taking refuge from the storm, but when Nemo hit the Cape in February, that number jumped to almost 200. "It was a wake-up call in a lot of ways," said Catharie Nass, Disaster Services chairman of the Cape Cod chapter of the American Red Cross, and shelter stalwart. Although volunteers were highly commended, the volume of people, coupled with their age and medical conditions, revealed gaps in the county's sheltering system, said Sean O'Brien, Barnstable County emergency preparedness director. "There are deficiencies we need to address," he said. O'Brien and Nass, along with the town's police chief, Scott MacDonald, Deputy Fire Chief Tony Pike and Donelle Denery of the Cape Cod Disaster Animal Response Team were the featured speakers at the Orleans Citizens Forum's emergency preparedness discussion at the Jailhouse Tavern Tuesday. Orleans resident Chip Bechtold, who volunteers for a number of medical entities, including Cape Cod Hospital, said he had heard stories about people not having oxygen or the medications they needed while at a shelter, as well as other complications. The hospital, he added, ended up taking in a lot of folks in need and was "jammed, crammed" full. Although no one went without oxygen at Nauset, Nass said, there were concerns. One of the biggest shortcomings was the lack of medical professionals and personal care attendants.
more
may06 Truro
Larry Dapsis, deer tick project coordinator and entomologist at the Cape Cod Cooperative Extension, provides practical advice on preventing tick-borne diseases at a talk titled "One Bite Can Change Your Life" at 6:30 p.m. on Wednesday, May 8, at the Truro Public Library. Learn how to protect yourself, your yard and your pets. The program is free and open to all.
may06 Truro
Residents filled the Community Center on Thursday night, May 2, to participate in Truro's annual Town Meeting. Nearly 200 residents turned out to speak and vote on this year's warrant, featuring 34 articles. Over the course of the three hour meeting, 32 of the 34 articles were ultimately approved by a majority or unanimous vote. One article was postponed indefinitely and only the proposed redefinition of Truro roadways was outright rejected by voters. Article 1 - Committee Reports, approved by unanimous vote. Article 2 - Selectmen Salaries, approved by unanimous vote. Article 32 - Redefining Truro Roadways: An article to change the definition of "street" in Zoning bylaws in order to avoid future litigation. The new definition, taken almost verbatim from state law, is intended to more accurately identify and categorize the various types of roads in Truro, including roadways constructed prior to 1955 that don't meet modern standards for clearance. The amendment would allow to the Planning Board to review building permit requests from property owners along these older roads on a case-by-case basis. The proposed review process is an alternative to creating specific regulations for all types of roads, which could otherwise prevent certain properties from obtaining a permit, according to the Planning Board. Article failed by majority vote.
more
may06 Provincetown
Wave attenuators were floating in Provincetown Harbor earlier this week. The second deepest natural harbor on the East Coast acted as a "switching station," Harbormaster Rex McKinsey said, in which the 455-foot-long freighter Capri dropped Swedish-made floating attenuators in the water, awaiting transport to their final destination.
McKinsey got a good look at them when he was out in the harbormaster's boat on Monday, and talked about how they could be used to protect the storm-ravaged pier from future assaults, and how fingers could be attached so that boats could tie up there. The concrete and Styrofoam floating attenuators, made by SF Marina, are in such high demand, due to the coastal damage done all along the Eastern Seaboard by the Feb.8-9 blizzard and other storms, that the product had to be shipped from the parent company in Sweden across the Atlantic, rather than from its U.S. branch in Virginia. While the attenuators were destined for Brewer Plymouth Marine and New Hampshire, the Capri needed 25-foot-deep water to maneuver and thus delivered them here. McKinsey directed the Capri to about 60-foot-deep waters inside the harbor, where it would be protected while dropping its cargo. Most ships that size would be out near Long Point, he said, where the water is 90 to 100 feet deep. The tugboat Jaguar, which delivers Provincetown its fireworks barge, lifted some of the floats onto a barge and headed out for the Plymouth delivery. Another tug has taken the rest of the floats to New Hampshire. The Capri is now headed to Morehead City, N.C., to drop off the rest of its cargo. This sort of attenuation system could be useful in Provincetown, McKinsey said, where it could be placed by the first row of moorings on the east side of the pier. This would help protect the north and south floating docks and the pier from future storms. It would be one piece of a "multiple part solution so we don't have to overbuild one thing," he said. Wooden fingers could be installed so that boats can tie up, and "each standard pontoon is designed to accept electric and water supply services. Normally, the pontoons would be moored using chains and blocks," says SF Marina's website. Attenuators are placed in harbors to stop waves, which McKinsey described as water rolling over itself. Waves are twice as big as we see from above because they make an inverted V-shape underwater, "kind of similar to the top of the wave," he said. A four-foot wave, therefore, needs to bounce against an eight-foot structure for it to break up. McKinsey pointed to the docks, saying they are so wide that the wave would lose energy upon hitting them.
more
may06 Orleans
The Orleans Chamber of Commerce and SCORE presented the SCORE Build A Better Mousetrap Award to chamber member Fitness Revolution of Orleans. The award honors companies that survive the critical first five years and appear to be headed for long-term success. Kristin and Jamie Hoffman opened Fitness Revolution in 2006 after acquiring space in the old Cape Codder printing warehouse and networking with local business owners who provided services during the building phase of the health club. Upon opening the Hoffmans were well on their way to "pursuing their dream of the fitness industry as a way of giving health and wellness to the community they loved." Kristin Hoffman, originally from Eastham, attended college in North Carolina at Chapel Hill where she studied business. Jamie Hoffman grew up in the South Shore and frequently visited Cape Cod as a child. He moved to the Cape permanently after graduating from St. Michael's College where he played hockey and lacrosse. Jamie became a personal trainer after witnessing the progress his mother made with the help of fitness professionals after a massive stroke left her partially paralyzed. With a passion for the industry and a business plan focused on personalized attention to members' needs and goals while providing a clean and friendly atmosphere, the Hoffmans opened Fitness Revolution. As business owners they provide a positive working environment by allowing staff members to fully use the gym, classes and childcare facilities along with offering training to their staff through the Aerobics and Fitness Association of America. They also work closely with the Orleans Elementary School on its fitness program and they donate time and gifts to many local charities including The Relay for Life, Pedal to End Cancer, Nauset Newcomers, Lower Cape Outreach, Gala by the Sea Community Connections, The Learning Garden, The Latham School, Child Family Services, Nauset Middle School Greenhouse Project, Orleans Community Playground, The Orleans Pond Coalition, The Ed Gill Race, The Turkey Trot in Chatham and the Nauset 5K.
may06 Orleans
Monday, May 6, The Orleans Water Alliance, along with concerned Orleans citizens will unveil its comprehensive, Affordable Clean Water Action Plan at the Barley Neck Inn on Beach Rd at 4 p.m. This comprehensive "common sense" plan covers multi-year goals, measurement tools, and specific initiatives that closely follow the recent nine-point set of recommendations issued on Jan. 2, 2013 by the Cape Cod Water Protection Collaborative and the Cape Cod Commission. Supporters say the plan provides a road map for ensuring clean water, including nitrogen reduction to meet the total maximum daily loads of nitrogen for all Orleans ponds and estuaries for generations to come by using smart technology, adaptive management, consistent measurement tools and data collection and affordable alternative approaches. They say it is a very different and more progressive approach versus the big sewer infrastructure plan (starting with the Fuller 1A proposal) that costs at least 50 percent more on a per-property basis which would also put Namskaket Marsh, an Area of Critical Environment Concern, in harm's way. The second part of the event will be a question and answer session. Attendees will be encouraged to ask questions on this important yet complicated matter such as the differences (and similarities) between the ACWA and the Fuller plan, how decentralized systems work, and technical questions on the plume at Namskaket Marsh.
may06 Brewster
Last month, technology company Apple Inc. released a commercial touting its iPhone as the most-used camera in the world. For iPhone 9, a group of Cape and Islands artists, it's the only camera. On Sunday afternoon the group debuted its first exhibit, "9 iPhoneographers 9 Perspectives," at the Brewster Ladies' Library. Each artist showcased a handful of photos taken with an iPhone (the most popular choice), an iPad or an iPod, and edited using apps.
"We wanted a group with no rules," said Mikael Carstanjen, a retired potter who founded the group a year and a half ago with his wife, Mary Doering, a fellow artist. "We started shooting, and I realized there were other people also using their phones." The group meets once a month to share photos and discuss apps, which are used both to take photos and to edit them. There is no minimum or maximum number of apps an artist may use to take or alter a photo. Michael Karchmer used the app Camera Awesome to take his photo "Gotham," a view from the 20th floor of the Beacon Hotel in Manhattan. He then used the app Paper Camera to make the photo "look like a comic," Karchmer said. Finally, he used Adobe Photoshop Lightroom on his computer to adjust the photo's color. "There are unlimited possibilities," said Karchmer, a Harwich resident who has always been a photographer but started using his iPhone to shoot two years ago. Karchmer is president of the Cape Cod Viewfinders Camera Club, a photography club that meets twice a month. Many of the members of the camera club belong to iPhone 9, including Amanda Reed, whose interest in "iPhoneography" changed the subject of her photographs.
more
may06 Brewster
Here's comes the sun, and more importantly, the electricity to power all of Brewster officialdom. The selectmen were finally able to reach an agreement (235 pages long) with CVEC and Broadway Electric to construct and operate a solar array off Freeman's Way on the site where the two wind turbines would have gone.
"Thank you for signing this contract," declared Ed Swiniarski, chairman of the town's energy committee. Brewster will have a right to exercise an option after 10 years to buy and operate the facility. The electricity generated by this project and one already constructed at the Brewster transfer station will offset all of town's electric use - plus a little more. There will be two separate solar arrays on the site, which is near the Brewster Water Department. The first array will range over 13.73 acres, and contain 12,518 solar panels built by Sun Tech of China. The array could produce 3,630,220 watts. The second array will span five acres and sport 3,366 panels and have a 976,140-watt capacity. Broadway Renewable Strategies will build and operate the project and CVEC is the facilitator. The actual electrons generated will all be consumed locally. NStar will use net metering to credit the power to the 14 town accounts that burn electricity. Brewster will buy the electricity from CVEC for 7 cents a kilowatt and be credited with 12 cents thus creating a positive credit of 5 cents. In 2009 Brewster spent $516,718 on electricity and last year the amount was similar. In 2010 the electric use was 2,507,489. So Brewster could save half a million dollars a year.
more
may06 Brewster
On Thursday May 9, at 6:30 p.m. at Brewster Town Hall, the Brewster Democratic Town Committee will host a Candidates Night. All three candidates for the Brewster Board of Selectmen have agreed to participate. Candidates for Brewster School Committee and other races will be invited. This event is open to all interested Brewster residents. For further information or questions, please contact BDTC chair, Steve Leibowitz at StevenL57@yahoo.com or 774-521-9384.
may06 Brewster
The board tinkered with some budget items prior to town meeting. Heating and ventilation work at the DPW will cost $22,000 more than expected. That'll come from golf receipts now transferred to the town. A facilities manager was loped fro the regional school budget - trimming Brewster's share but Brewster will have to add a kindergarten class next fall - due to rising enrollment. That'll cost an additional $60-80-thousand dollars. The selectmen will handle that prior to the fall town meeting.
may06 Chatham
Joining towns across the nation, selectmen designated May as preservation month. Spencer Grey, a historical commission member who brought the proclamation forward, said over the decade the town has recognized the month more than a hundred homes and businesses have been restored. A new group of owners who chose the path to preservation will receive awards at a ceremony at the Wayside Inn May 19 at 4 p.m., he said. The proclamation talks about the value of preservation in "fostering local pride and maintaining community character" and how it is "important to celebrate the role of history in our lives."
may06 Harwich
Monday night Harwich has a regular town meeting followed on Tuesday night by a special town meeting.
Residents will decide whether to approve a $28.5 million annual operating budget plus another $20.3 million budget for the new Monomoy Regional School District which includes Harwich and Chatham: Voters will vote up or down on these four other matters: 1) $ 310,000 for a design on the possible expansion of a lower level on the Oak Street Community Center, a $3.5M project which may never be built; 2) Continue to give part-time elected officials health benefits; 3) A new Fire truck for $425,000; 4) Approve $187,500 for a new bridge over Muddy Creek.
more
may06
When Lisa Freeman of Brewster landscapes her 3 acres of property near conservation land, she thinks about more than designing for beauty. She takes action to repel and kill deer ticks. A long-term sufferer of Lyme disease, Freeman wants to reduce the chance a tick will bite her, her husband or her daughter.
She sets out insecticide-containing "tick tubes" and has foregone a grassy lawn in favor of wood chips. She and her husband also have cut down a number of trees whose shade creates nice, moist areas for the humidity-loving ticks to wait for warm-blooded prey. Their two Shih Tzu dogs aren't neglected either - they wear collars that repel ticks and have herbal repellents applied to their coats. Also infected with babesiosis - another tick-borne disease - Freeman is religious about following the Cape Cod Cooperative Extension's advice to local residents: Protect yourself, protect your lawn, protect your pets. "We don't want to get bitten again. That's the bottom line," said Freeman, who is a nurse and patient advocate with Lyme Awareness of Cape Cod. "There are no boilerplate recommendations" that confer instant immunity from tick bites, Cape Cod Cooperative Extension entomologist Larry Dapsis said. But there are a few basics steps people can - and should - take to stop ticks from biting, he said. Before gardening, hiking or sending the children to camp, treat clothing with a permethrin-based insecticide, Dapsis said. He said deer ticks walking across properly treated clothing will die within 60 seconds. "Don't just spray your pants," he said. Spray inside the pant leg cuffs and footwear as well. Nymphal stage ticks that are out at the end of this month hide in leaf litter at foot level, so an insecticidal barrier on shoes is a must-have in the protection game, Dapsis said. Spray sides and tops with a sideways sweeping motion for about 30 seconds, then allow to dry, he said. Thomas Mather of the University of Rhode Island's TickEncounter Resource Center says studies show that people who wore treated shoes were 74 times less likely to end up with a tick bite than people wearing untreated shoes. "It doesn't matter if it's the dead of winter," Dapsis said, noting that adult deer ticks - which have a 50 percent chance of carrying Lyme - are active whenever it's above freezing.
more
may04 Wellfleet-Eastham-Truro-Provincetown-Orleans
It's rare for a group of police chiefs to agree on something, Eastham Police Chief Edward Kulhawik says, half in jest. But from May 11 to May 19, five police chiefs on the Lower Cape will hold what they hope will be an annual, regional gun and ammunition "buy-back" program, as a way to help prevent gun violence in the wake of the Dec. 14 shootings at Sandy Hook Elementary School in Newtown, Conn. A gunman killed 20 first-graders and six school staff members. "We wanted to address and come up with something to recognize what went on in Newtown," Kulhawik said. In particular, Cape Cod's older residents often have guns in their homes that relatives may end up not wanting after a death in the family, several police officers said. Removing unwanted guns from a house can lower the chance that they might be stolen and used to harm someone, police said. "We anticipate more of the guns are inherited, or next-of-kin," Truro police Lt. Craig Danziger said. "We think it's important for public safety. We're hoping to give them a safe way to dispose of them." Residents of Orleans, Eastham, Wellfleet, Truro and Provincetown can bring in unwanted guns and ammunition in exchange for a gift or gift certificate. Anyone turning in unwanted guns or ammunition will be asked to sign a release form conveying ownership to the police and allowing the equipment to be destroyed. Turn-in time for all events is from 8 a.m. to 2 p.m. Provincetown: May 11 at the police station at 26 Shank Painter Road; Truro: May 12 and May 19 at the police station at 344 Route 6; Wellfleet: May 13 and May 15 at the police station at 36 Gross Hill Road; Eastham: May 14 and May 18 at the police station at 2500 State Highway; Orleans: May 16-17 at the police station at 90 S. Orleans Road. Tax-deductible gifts and gift certificates donated from local businesses are being sought as well. For further information on the gift program, contact Lydia Vivante at vivantelydia@gmail.com. For information about the gun "buy-back" program, contact any of the police departments.
more
may04 Eastham
The Eastham Hiking Club, led by Don Light, will take a 2.5-hour hike starting at 9 a.m. Wednesday, May 8, at Gull Pond in Wellfleet. Directions: head down Gull Pond Road, across from Moby Dick's, then drive one mile to School House Hill Road, to the parking lot The hike will pass seven ponds including Gull, Higgins, Williams, Slough, Horseleech, Round and Herring.
may04 Provincetown
Lydia Hamnquist, chair of the recycling and renewable energy committee, had an unhappy surprise when she returned after a month away and saw the bright light emitted by eight sample LED streetlights that had been installed in town. Her reaction, she said, was, "Oh crap!" "I like the energy efficiency, but I think if those things went up there's nothing we can do [later]," Hamnquist said. "They're really not good for you." On Tuesday she pointed to a photograph of a bright bluish-white light shining almost directly into a Commercial Street apartment window.
(Cape Light Compact has installed four sample LED lights on Commercial Street between Lopes Square and Town Hall, and another four are situated on Court Street, north of Bradford.) Then she pointed to a copy of a year-old Harvard Medical School publication that says that night light is unhealthy and that "blue light, emitted by electronic and energy-efficient light bulbs, may be especially so." Exposure to light at night has been linked to breast and prostrate cancer, diabetes, heart disease and obesity, the report states. The problem of quality of light versus energy efficiency had Hamnquist stumped until she began talking to her architect neighbor. A figurative light bulb popped on over her head when she realized that there are different temperatures of LED lights, and some of those could cast a different glow over the town. The recycling and renewable energy committee will discuss the matter with Kevin Galligan of Cape Light Compact at its meeting at 6 p.m. on Wednesday, May 8, in Town Hall. There are a total of 247 streetlights in Provincetown that could be replaced with LED lights; the Compact plans to pay for installation and equipment costs. As proposed, the program would save the town 73,000 kilowatt-hours a year, which reportedly translates into savings of just over $21,000 annually. There are a variety of LED lighting options, Hamnquist said. The sample LED lights are about 6,000 kelvins, a temperature that casts an almost blue hue. A cooler kelvin temperature would create a warmer, yellower effect. The town should let Galligan know what it wants, Hamnquist said, because he will ask if the manufacturer can produce it. If cooler LED lights cannot be produced, she hopes that cones will be installed that will direct light downward instead of into windows. Hamnquist isn't the only one who has a problem with the proposed streetlights. Replacing vapor streetlights with LED lights is like replacing the candlelight in your kitchen with fluorescent bulbs, said the artist John Dowd, who serves as chair of the historical commission, Monday. LED light is "too flat and cold and it just evens everything out." Though he agrees that they are bright and illuminate more, Dowd thinks LED streetlights make the town less romantic. "I don't think the savings are significant enough to tamper with the look of the town," he said.
may04 Provincetown
The nonprofit Trustees of Reservations will celebrate its purchase of the Dunes' Edge Campground with a ribbon-cutting ceremony at 12:30 p.m. today at the campground at 386 Route 6. The 100-site property opened on Wednesday. The group will operate the property as a campground during the tourist season and as a public park in the offseason. The town will finalize a conservation restriction on the property by June 1, according to Brian Carlson, the town's health and environmental manager, permanently protecting it from future development. The land borders the Cape Cod National Seashore. The trustees also run a campground in Royalston. For information about reservations, call 508-487-9815 or visit www.thetrustees.org/dunesedge.
may04 Provincetown
After landing on the winning side of a light-hearted bet that initially had nothing to do with the Boston Marathon, except coincidence, one local resident has seized upon a novel way to do his part to help those affected by the Marathon Monday bombings. Two weeks ago, on a "dare," Brennan Kavanagh accepted a challenge posed by a group of friends to grow a mustache within a week. They pledged $1,000 if he were successful.
Out of a sense of fun, and not really expecting much to come of his efforts, Kavanagh grew the first mustache to grace his face in 25 years and revealed it just prior to race day. To the gratification of many - and the surprise of a few, including Steven Schnitzer, his boss at Saki - Kavanagh's friends agreed to pay up. Fast-forward to Monday evening, April 15, and suddenly his windfall took on a whole new significance. Kavanagh learned a friend competing in the marathon had been knocked to his knees by the impact of the second blast. Although not grievously injured, he spent a brief stay in a Boston hospital and is still experiencing some difficulty walking as a result of stiffness in his legs. In the immediate aftermath of the attacks, it occurred to Kavanagh that he didn't really need the bet money, and that others could really use it. He then decided his winnings should go to The One Fund Boston to assist his friend and other runners, especially those faced with the huge challenge of rebuilding their lives. The One Fund was set up by Mayor Tom Menino and Gov. Deval Patrick to raise funds for families most affected by the horrific events of Marathon Monday. Kavanagh says he hopes his donation "will help the individuals, their families and friends injured in this tragic event which occurred on Patriots Day, of all days, the day when America's freedom started." He adds, "I feel humble about winning my bet, and my friends feel the same way as I do. To me, my donation is also from my friends. It was a gift from my heart and a way that I can help others heal both physically and psychologically. I hope people will think about the freedom we have being American; their contributions, no matter how small or large, will help the injured regain their freedom." Kavanagh's generosity seems to come naturally to him, imbued from years of experience. A native of Andover, he lived in Boston for two decades before moving to the Cape 15 years ago. Despite, or perhaps because of, a secure home base here in Provincetown, enhanced by an ever-widening circle of friends, Kavanagh is also a world traveler whose kind impulses have in the past extended all the way to people in Pakistan. He does not see himself as an exemplar of largesse. Rather, he modestly explains, he is just doing his part to help when and as he can. A self-described "very private person" he adds, "I got this attribute from my mom, who always offered a helping hand." Anyone who wishes to follow Kavanagh's generosity and help victims of the Boston Marathon bombings can do so by going to onefundboston.org.
may04 Brewster
Three Pakistani government officials visited Brewster's Stony Brook Elementary School on Friday as part of a nine-day international exchange program. The brightly colored classrooms decked out with artwork under high ceilings impressed the three women, who are an airline official, a tax department deputy and an education administrator.
"The school is very beautiful," said Saima Khatian, a senior research and development officer in the federally owned Pakistan International Airlines Corp. "It's friendly, colorful and creative." The Pakistani officials are part of an international exchange program sponsored by the Massachusetts Municipal Association. This year 14 women from Pakistan are being hosted in several Massachusetts towns before heading to New York City and Washington, D.C., during a six-week tour. The program allows Pakistani officials to study and hopefully bring back ideas for better local governance. The Pakistan government concentrates at the federal level, with much less local involvement, said Brewster Town Administrator Charles Sumner. Sumner has been leading the officials around since Sunday, when they arrived after visiting Amherst and Boston. He volunteered for the exchange program after other members of the municipal association spoke highly about the experience in past years.
more
may04 Brewster
The hearing is closed. There will be no more testimony on Ocean Edge's plans to build two large docks and an observation platform on 26.2 acres they own at Blueberry Pond. The conservation commission now has 21 days to make a decision on whether to permit the project work to begin.
Ocean Edge has scaled back the plan. The two docks will now cover 480 square feet instead of 600 and a recreation area will be shifted out of a 50-foot buffer zone near the water. Opponents of the plan were not mollified. The dock construction would now be done in two phases, half this year half in the next. "We've reduced the distance of the dock into the pond by seven feet," project engineer John O'Reilly said, "and added handrails to the docks to address safety concerns and pulled all work outside the 50-foot buffer." The observation deck is also downsized from 2400 square feet to 2200. To mitigate the construction work and vegetation pruning Ocean Edge will remove an old pump house and restore the area with native vegetation. The docks will accommodate 12 kayaks and up to six other non-motorized water craft. The entire recreational facility will operate between 8 a.m. and 8 p.m.
more
may04 Brewster
Just about a century ago, Eugene O'Neill pointed an accusing finger at the double standard, and Anna Christie showed him the way. Cape Rep Theatre has staged a sizzling production of O'Neill's 1922 Pulitzer Prize-winning "Anna Christie," which feels like a homecoming for the playwright, who produced his first play, "Bound East for Cardiff," in Provincetown in 1916.
O'Neill brought his early seafaring experiences to "Anna Christie," which even has a scene set at the Provincetown harbor. Director Maura Hanlon insightfully commands the stage by building the tension between the characters into a striking conclusion. O'Neill's psychological understanding of his characters is subtly constructed. Chris Christopherson, the captain of a barge, has a love-hate relationship with the sea, where he has worked his entire life. The Swedish sailor abandoned his wife and daughter, who eventually came to America to live on a Minnesota farm with cousins. After her mother died, his daughter Anna was treated badly by her cousins, worse than a hired hand, she says. But when the play opens, Anna, after 15 years, is reclaiming her father and reunites with him in a New York City saloon. "Anna Christie" by Eugene O'Neill at Cape Rep Theatre in Brewster plays 8 p.m. Thursdays through Saturdays through June 1 and 2 p.m. Sundays, May 12-June 2.
more
may04 Chatham
The July 4 parade committee is looking for nominations for grand marshal as well as suggestions for judges, young and old. The committee is also looking for parade volunteers. The deadline is May 31. Those who want to be in the parade have a bit longer, until June 15, to fill out the application. The theme is "Hats Off to Chatham." For more information, visit www.town.chatham.ma.us.
may04 Harwich
A Dennisport man was arraigned Thursday in Orleans District Court on a number of breaking and entering and larceny charges in Harwich that relate to similar incidents in Dennis. Justin Emerald, 30, pleaded not guilty to 13 counts of breaking and entering in the nighttime to commit a felony, 10 counts of larceny from a building, seven counts of vandalism, attempting to commit a crime and larceny of more than $250. The charges stem from a string of break-ins along the Dennis-Harwich line between October and January. Emerald was charged in January for a string of break-ins in Dennis. Police allege that he stole more than $10,000 worth of goods from homes and businesses including jewelry, silverware, coins and baseball cards. Prosecutors are reviewing cases from both towns with the intent of presenting the charges to a grand jury. Emerald is being held on bail from earlier cases and is due back in court June 12.
more
may04
As of Wednesday cod quotas for Cape Cod fishermen have been slashed 61 percent on Georges Bank and 77 percent in the Gulf of Maine (north of Provincetown). The bad news is they'll hardly notice it. "The reality is we were at those levels the last fishing year. We've already taken the cuts. We can't find codfish," observed Tom Dempsey the Policy Director for the Cape Cod Commercial Hook-fishermen's Association.
The allowable catch on Georges Bank, where many Cape fishermen fish, has been cut from 5,013 metric tons to 2,002 mt. However, the total cod catch from Georges Bank fell 93 percent from 1982 to 2010. Fishermen caught just about 30 percent of last year's Georges Bank allotment - or about 1500 mt. "So with a 60 percent cut it's still more than we caught," Dempsey lamented. "Fishing as a whole hasn't caught two-thirds of the quota. So these quota cuts are secondary to a declining stock. There aren't enough fish to build a business on." Dempsey sees this as proof the fishery has been mismanaged over the decades. "We've been advocating for owning up to the crisis in New England," he said. "We've had boats targeting cod and haddock all the way up to the Canadian line and they can't find enough fish so they've moved to other fisheries; conch, skate, dogfish, monkfish - and some have left fishing all together. We've seen a decade long decline in Georges Bank codfish and without fish it's hard to make money on the water." Part of the problem was estimates of breeding stock were way to high when done in 2008 - and they weren't rechecked for years. "We've been vocal about the need to rebuild codfish stocks. The first step is to make the cuts. The next step is to do annual stock assessments. We do assessments every five or six years. That's like driving through Boston with a thirty-second delay on the steering wheel," Dempsey said. None-the-less, many fishermen oppose the cuts - they're quotas have been chopped to levels that are barely worth bothering with and they still have substantial overhead.
more
may03 Wellfleet
Voters Tuesday maintained the status quo, returning incumbents Berta Bruinooge and Jerry Houk to the board of selectmen to serve another three years. Bruinooge, once again, was the top vote getter with 590 votes. Houk received 568. Challenger Mary Ellen Manning, in her first bid for elected office, showed well with 466 votes.
"Anything could have happened, but I was fairly confident that I would be reelected," said Bruinooge, chair of the board of selectmen, shortly after the votes were announced at 11:15 p.m. at the senior center. "I'm happy Jerry was reelected, too," she said. "I think our board works well together. I hope Mary Ellen tries again in the future." Houk said, "I think the voters returned the right people to the board of selectmen. I look forward to serving again with Berta and the rest of the board." In the race for moderator, Dan Silverman, a former seven-term moderator and the former fire chief, unseated incumbent Bruce Bierhans. Silverman received 458 votes to Bierhans' 401. Dawn Rickman, town clerk, who oversaw the town election and the special state primary, both of which were held at the same time Tuesday, said of the town's 2,063 registered voters, 901 voted in the town election, 853 in the special primary. Voters approved question 1 on the ballot, affirming their Town Meeting decision to spend $250,000 on a new fire truck. The vote was 554 yes, 320 no for this Proposition 2 ½ property tax exemption. They confirmed their approval of question 2, also a Proposition 2 ½ property tax exemption, agreeing to spend $350,000 on a public bathhouse at Baker's Field by a vote of 620 yes, 243 no. Question 3, a tax exemption of $69,000 to pay for replacing a portion of the elementary school roof, passed with a vote of 712 yes, 160 no. Question 4, a tax exemption of $130,000 for the purchase of land owned by Chequesset Yacht & County Club passed by a vote of 445 yes, 408 no, but the vote is moot at this point as earlier this month Town Meeting voters agreed with the selectmen not to make this purchase. Question 5, approval of a charter amendment to change the currently elected positions of town clerk-town treasurer and town collector to appointed positions passed with a vote of 655 yes, 134 no. Question 6, a non-binding public opinion advisory question calling for the shutdown of Pilgrim Nuclear Power Station was approved by a vote of 639 yes, 203 no.
may03 Wellfleet
Yes, there are clams dying in Wellfleet harbor, killed not only by QPX disease (quahog parasite unknown) but also by HN disease (hemocytic neoplasia), two researchers told a room filled with shellfishers and town officials Monday.
Roxanna Smolowitz, a professor of marine biology at Roger Williams University and director of the Aquatic Diagnostic, and Diane Murphy of Woods Hole Sea Grant and Cape Cod Cooperative Extension, spoke as guests of the Wellfleet Shellfish Advisory Committee. QPX and hemocytic neoplasia are a cause for mortality of hard shell clams in Wellfleet Harbor, Smolowitz said. Why? "We have a lot of questions ourselves," she said. "This is a long-term project." Since the initial outbreak of QPX in Wellfleet in 2005, QPX has spread to other plots and continues to cause "significant infestations and mortality," she said. With slides she showed the signs of QPX in clams, how infected clams rise to the top and gape, how on shucking them the shellfisher finds nodules. The highest incidence of death by QPX is in the spring. She was asked if shellfishers could take steps to get rid of QPX. "You can't," she said. "We had a big outbreak of QPX in 2005, and we tried to clean it up and stop it from going further but, unfortunately, that was not successful and it continues to be present on most of the plots we've sampled the last two years." She suggested using northern-based clams, from hatcheries in the north, "since they seem to have the ability to ramp up and ramp down their immunity system better. Animals in southern climes are not conditioned to live in cold water and don't seem able to react to QPX as well or as fast as northern-based clams." She told the shellfishers to "cull hard," and if they see a dead clam on their plot, "get rid of it, bring it to land and take it to the landfill. Do something with them to get them away from the other animals." In addition, Smolowitz said, they are dealing with a "relatively new finding that we call hemocytic neoplasia, and Wellfleet is the epicenter for this disease," she said. "Only a couple of cases have been found, it is rarely seen, it is a disease of the blood vessels. Your clams are out there dying from two diseases, not just one," and the clams most affected are in Wellfleet.
more
may03 Wellfleet-Eastham
The state's top shellfish biologist told shellfishermen gathered at Cape Cod Community College on Thursday night that they were victims of their own success. Oyster harvests have soared as the raw market expanded nationally over the past decade, with the state commercial landings rising from 2.9 million pounds worth $6.9 million in 2010 to 4.1 million pounds worth $11.6 million last year.
Division of Marine Fisheries senior scientist Mike Hickey was explaining that with more on the market each year it was understandable how, while rare, reported illnesses from eating oysters could increase. Cape aquaculturists and wholesale dealers were told that, in the wake of nine verified cases of Vibrio p. in 2012, measures in the control plan instituted last year would be stepped up and plan coverage would extend from the eight towns along Cape Cod Bay to all 22 coastal communities in the state. "More growing means more eating (of oysters), raw or lightly cooked," Hickey said. "And the risk of illness from eating raw oysters is increasing exponentially. It's what's going on nationwide." The disease in question is the bacteria Vibrio parahaemolyticus, also known as Vibrio p. These bacteria are naturally occurring in sea water, but multiply rapidly in hot weather and can cause gastrointestinal illness - and, in rare cases, death - when a contaminated oyster is eaten. The new regulations require better, more standardized record keeping and attempt to bring shellfishermen and dealers into a tighter time frame for getting the oysters cold by closing off some loopholes. But shellfishermen asked for some leeway, proposing scenarios where they might be able to get keep their product from getting warm while still accomplishing all they had to out on the water between tides. They also complained that chilling oysters with ice could cost a lot of money.
more
may03 Wellfleet
"I want to keep living on our land but I'm inheriting a dying delta," says Monique Verdin early in "My Louisiana Love," a poetic documentary that's also a valentine to her native southeast Louisiana. Beautifully photographed, the film is the first feature from Verdin, a photographer, and director Sharon Linezo Hong, who's made several shorts and who will appear at the screening of "My Louisiana Love" at 7:30 p.m. Saturday, May 4. It's the final film in the excellent independent documentary series at Wellfleet Preservation Hall.
Though just over one hour, the film delivers lots of historical, cultural and environmental information, wrapped in a personal, heartbreaking journey. Verdin, in her 20s, returns from Florida in 2004 to her elderly grandmother's home at the southernmost tip, outside New Orleans. There she bears witness to a fading way of life. Her family is part of the Houma Native Americans who first settled in the region and subsisted off the rich wetlands by fishing, trapping and hunting. But as early as the Louisiana Purchase, the oil-rich lands drew entrepreneurs and, later, major oil companies. Verdin's family was pushed farther south and the land around them became increasingly laden with pipes and tunnels to transport oil. It not only stripped the wetlands of cypress trees but also caused flooding. The simple life of her ancestors, which Verdin documents in powerful photographs, isn't without a personal price: her father, like many natives, is an alcohol and drug addict; flooding ruins homes and crops; residents must do daily battle with oil companies that invade their yards; and oil rigs dominate the skyline. Verdin documents all this with stunning clarity and visuals. Then comes Hurricane Katrina in 2005, both a natural and man-made disaster. Finding her grandmother and her ill father at the Superdome after a harrowing search, then returning to her own and to her grandmother's destroyed homes yields powerful footage that has not before been captured on film in quite the same way. Oil tanks were pushed off bases during the hurricane, sending oil spilling into the marshes and wetlands. Along with her partner and fellow Louisiana native, artist and actor Mark Krasnoff, Verdin takes to the deserted highways, filming miles and miles of utter destruction and desolation. In spite of the calamitous events, "My Louisiana Love" is rooted in the personal. Credit goes to editor Julie Mallozzi, herself an accomplished Boston-based filmmaker, for turning the footage into a mournful but moving journey. A sequence of Krasnoff dancing alone on a vacant stretch of highway is followed by a surprising revelation. Enter Verdin's friend, filmmaker Sharon Linezo Hong, who picks up the shooting. We see Verdin's compelling photography show as she pays tribute to her family and community; footage of Verdin's cousin who has for years been battling oil companies drilling in her backyard; and Verdin's spirited grandmother, Matine, who turns 96 during the filming. As we see Matine planting potatoes in the wake of Katrina, she bestows the advice that "when you don't know what to do, you do what you know."
more
may03 Eastham
Anyone thirsty for a feisty debate about public water will find it at Eastham's annual town meeting Monday, where the focus will be on a proposed $114.8 million municipal water system. After years of similar failed attempts to pass a town water system, town officials are determined to see it go through this time.
The selectmen have sponsored biweekly informational meetings, including several on Saturdays, leading up to town meeting. Hundreds of public questions and the answers are posted on the town's website, along with a way to plug in a property address to see what the water system would cost each homeowner. The town itself is beginning to look like a swing state the week before a presidential election, with signs for and against a water system stacked along every street. "I've seen my nitrate levels go up seven times in the 20 years I've owned my home," said Dr. Joanna Buffington, a member of the town's board of health and a proponent of the system. Nitrates in the well water indicate contamination from septic systems. Her neighbor's septic system lies 40 feet from her well, a common scenario in the densely populated parts of town. "My biggest complaint is the cost," said Tom Johnson, the most vocal opponent of the water system. "It's unbelievably expensive for retired people," Johnson said. "If I thought 75 percent of the people here could afford it, I'd be fine with it. But it's not affordable and it's not necessary." Many people living around the town's old landfill disagree with him. This fall, routine well-testing found 1,4-dioxane, classified by the Environmental Protection Agency as a probable human carcinogen, in three wells near the landfill. Subsequent testing found 1,4-dioxane in seven more wells. The EPA is testing an additional 60 homes this week.
more
may03 Eastham
Next Monday, Eastham voters will be asked to approve a $114 million municipal water project. The Cape Codder supports the plan. Yes, it's a major infrastructure project and it's very expensive. A "house rich, cash poor" resident would find a $600 or more increase in their tax bill staggering. The tax burden would not be felt immediately, but would be phased in, as the project progresses, over many years. Chances are pretty good the project, once approved, would be funded at a zero percent interest rate, instead of 2 percent. State Sen. Dan Wolf has made that goal a priority. According to the Eastham Board of Selectmen's calculations, with the zero interest borrowing rate, the cost per year for a $400,000 home would drop from $600 to about $350. Once the system is in place, residents would also expect to pay about $250 per year for water. However, town officials point out that savings will largely offset the cost of both building the system and homeowners' annual water bills, making the project "a wash." That may be overly optimistic, but the savings do make this project seem more affordable. Under the plan, a town-wide system of fire hydrants would be installed within two years, resulting in an estimated 25 percent reduction in homeowner's insurance. Homeowners would no longer have to maintain private wells and private water treatment. The cost to drill a new well can cost $4,000, and replacement pumps are about $1,000. In addition, the additional taxes are deductible. According to the selectmen, once you factor in the amortized cost to install and operate private wells and pH neutralizers, and take into accounts savings in electricity, insurance and tax deductions, the net cost for water would be $214 per year. Should the project be funded at zero percent interest, residents would actually save $25 per year. We think the plan is well thought out and affordable. But is it needed? Backers of the plan say water quality is getting worse, and the town should act before its water becomes non-potable. Nitrates, while not at danger levels, are indicators of other contaminants. Most houses in Eastham are on one-quarter and one-half acres. Septic systems and wells maintain a distance from each other, but how close is your neighbor's septic tank form your well? Opponents have argued that Eastham's municipal water is coming from the same source as private wells and this is somewhat true. The entire Cape draws its fresh water supply from one source: an aquifer that runs beneath our sandy peninsula. However, town wells are located away from developed areas unlike private wells and testing is done regularly, and water can be treated. We're impressed by town officials who have been diligent in presenting public information sessions to address concerns. Eastham has grown from a quiet seaside hamlet to a developed town that swells from 5,000 year round to 20,000 in summer. It's time it built a municipal water system, before it's too late.
may03 Truro
Annual town meeting moved closer Thursday to expanding the fire department. Voters passed a Proposition 2½ override of $141,400 that would guarantee that a firefighter/paramedic would be at the fire station 24 hours a day, seven days a week year-round and a second firefighter/paramedic similarly would be on duty during the six-month tourist season. Town meeting, with 34 articles on the warrant, ended after 10 p.m. Out of 1,700 registered voters, 130 attended. Currently, the fire station is manned during the day and evening but firefighters respond from their homes at night. The override would guarantee staff at the station all the time, primarily because of citizen complaints that too few people are showing up at fires. The fire department has fewer than 20 people on its on-call roster, a fire official said in recent days. The $141,400 could be used only with the written approval of a majority of the selectmen, a majority of the finance committee members and the town administrator. The override would add an estimated $24.62 in the first year to property assessed at $350,000. Voters also agreed to use $60,000 in free cash to pay for a comprehensive study of the fire department and various options for reorganization and endorsed purchasing a $42,000 four-wheel-drive vehicle for the fire chief, as a Proposition 2½ capital exclusion. The annual operating budget of $16.4 million for the next fiscal year passed, with a 6 percent increase over the previous year. The increase was primarily in the school and police departments and unexpected capital improvements. Voters also agreed to use $235,000 in free cash to pay for grounding at the police and fire station to prevent future lightning strikes and to buy a stand-alone emergency generator. The building has been hit by lightning several times over the past 18 years. A Proposition 2½ operating override of $12,194 passed, to add 10 extra hours per week for the council on aging transportation coordinator/assistant to the director. The estimated property tax increase in the first year for property assessed at $350,000 would be $2.12. Voters approved capital exclusions of $75,000 for a transfer station trailer and $28,000 for a police cruiser. All overrides and debt exclusions still require majority approval at the town election on May 14. Voters did not approve a zoning amendment to update the definition of "street," where proponents said the measure gave the planning board better decision-making tools for the town's 63 noncompliant streets and foes said more study was needed.
more
may03 Truro
A resident of the Outer Cape, the oil painter Paul Schulenberg has shown his
internationally collected work in a variety of local venues - the Hopper House Museum, twice in solo shows at the Cape Cod Museum of Art, and in group exhibitions at the Provincetown Art Association and Museum and the Cahoon Museum of American Art. The Truro Public Library is showing his work starting with an opening reception from 5 to 7 p.m. on Friday, May 3. The library is located at 7 Standish Way, Truro.
may03 Provincetown
At least one unobservant bicyclist has caused some delay of the Commercial Street paving project. Somewhere between 50 and 70 feet of Commercial Street, by Winthrop Street, has not yet received a final coat of asphalt because the Robert B. Our Company and the town spent extra time repairing an area upon which a bike attempted to travel. Rich Waldo, deputy director of Public Works, said Thursday that a woman rode a bike around barrels and traffic cones onto steaming asphalt into which her tires sank. She then got off the bicycle and her footprints further caused damage to the wet pavement, he said. Workers had to repair that part of the street and, by the time that was done, the day was over and the decision was made to "just end there," Waldo said. That portion of the road will be paved along with phase two, from Standish to the Post Office, which begins on Tuesday. It won't cause traffic problems, Waldo said, because traffic will be detoured up Court Street and down Carver Street. Waldo also mentioned that the sides of Commercial Street that appear unpaved are "areas that are just using traditional pavement" rather than the porous mix. Traditional pavement will direct water away from buildings and is more durable, he said. All of Commercial Street is scheduled to be open to traffic on Friday, May 10, although some line painting will need to be done and street signs installed.
may03 Orleans
may03 Orleans
The town of Orleans is proposing the required use of screw-in moorings and the elimination of traditional mushroom anchor mooring systems. As part of the special town meeting warrant May 13, the town will seek funding approval for a pilot program to find out if utilization of these screw in moorings could have a positive effect on our pollution concerns. Supporters hope this could reduce nitrogen levels throughout our ponds and harbors. It is also being proposed that the town could potentially own, install and maintain all moorings in Orleans eliminating boaters from being able to own, maintain and install their own moorings as in the past. As a company (Nauset Marine Inc.) whose business is reliant on the use of our waterways we are certainly concerned about water quality and ensuring our town's natural resources remain healthy although we do have many concerns to share. Liability: Currently if a mooring fails, the liability for damage falls on the boat owner, marina, or contractor who installed the mooring. If the town of Orleans was to own and maintain the equipment, the town could become liable for the failure potentially causing unforeseen expenses. Water quality, eel grass and pollution: It is our understanding that no scientific research or evidence exists proving that screw-in mooring systems reduce nitrogen levels or will improve water quality in our ponds and harbors. Although, there is evidence that use of screw-in mooring systems reduce the scouring of eel grass, the majority of our ponds, including Meeting House Pond, do not have the proper sediment type or water depth to support eel grass. Cost, installation and maintenance: The proposed screw-in moorings have a significantly higher purchase cost than a traditional mooring. Installation and maintenance costs are also higher as specialized equipment, (attached to a large barge) would be required to effectively install these systems. At a recent informational meeting at Snow Library, a manufacturer of these screw in moorings estimated the cost to purchase and install a single mooring in the range of $2,500 to $3,000. Boaters who typically purchase, install and maintain their own mooring, potentially may not be allowed to take care of their moorings themselves and the cost of mooring a boat in Orleans could cost considerably more. Logistics and placement: As moorings are placed in our tidal harbors, (and they are exposed to changing wind direction and currents), many moorings have to be realigned in order to space the boats properly alleviating the potential of two vessels coming in contact with each other. It is concerning that once these proposed screw in style moorings are placed, they are permanent. Typical moorings can be moved or realigned easily where the proposed would require significant cost to remove and reinstall.
more
may03 Brewster
Brewster Town Meeting on Monday, May 6, 7 p.m. at Stony Brook Elementary School. Dogs at Drummer Boy: There are two articles dealing directly with dogs at Drummer Boy Park - as well as a new set of animal control rules (see zoning articles below). Article 25 is a citizen's petition that would permit unleashed dogs at Drummer Boy from Oct. 1 to May 1 as well as before 9 a.m. and after 4 p.m. from May 1 to Oct. 1. Article 26 is a plan put forward by the selectmen for a 1.25-acre fenced in off-leash dog area at Drummer Boy. Dogs would be prohibited from the rest of the park. The selectmen have voted 5-0 against supporting the citizen's petition and 4-1 against supporting their own proposal. These articles will probably be taken up in tandem. Fingerprint check: This article would allow the police to conduct fingerprint checks when people apply for licenses for hawking, peddling, ice cream vending and managing a bar. The selectmen will ask voters to postpone this. Town budget: To raise and appropriate $20.8 million for town operating expenses. That's a 1.7 percent increase over the previous year's estimated operating expenses. Road betterment: Voters will be asked to authorize $12,000 for engineering and to fix potholes and drainage and $194,845 to do the work on South Pond Drive and Captain Fitts Road. The project will be funded by a 20-year assessment on the annual tax bill to the abutters. Because of differing assessments on the abutters the values assigned to different property holders have been disputed. School funding: To raise and appropriate $702,591 for Cape Cod Regional Technical High School, $6,690,250 for Brewster elementary schools and $9,216,038 for Nauset Regional schools. Capital projects: To raise and appropriate $1,275,340 for capital projects including $125,000 for water planning, $164,000 for fire department expenses, $100,000 for roadwork, $147,000 for heating and ventilation work, $66,000 for replacing two police cars, $22,100 for Tasers, $214,620 for work at Nauset Regional High School, $230,000 worth of construction at the water department and $76,620 for golf course projects. Zoning bylaw articles: There are four zoning articles dealing with sign regulations, parking rules, licensed special events and animal control. The animal control rules require leashed for dogs around town and are in partial conflict with the citizen's petition regarding off-leash dogs at Drummer Boy. PAYT delay: Article 30 is a citizens' petition that would postpone the pay-as-you-throw implementation at the transfer station pending further study. The selectmen oppose this and contend that it is non-binding.
more
may03 Harwich
The Harwich Civic Association is sponsoring a forum for Monomoy Regional School Committee candidates at 10 a.m. Saturday at town hall. The candidates will answer questions from the civic association, and members of the public are invited to attend and ask their own questions, according to Brooke Williams, president of the civic association. The forum also will include a brief discussion of warrant articles for the town meeting and special town meeting. The forum will be held in the Griffin Room in town hall, 732 Main St.
may03 Harwich
The cost of dumping your trash in Harwich is going up. For now town officials are keeping the wraps on exactly how much. Currently, the cost of a sticker for the disposal area is $120 for residents. The town has had a long-term contract with Covanta Energy in Rochester for disposing trash at their Southeastern Massachusetts Resource Recovery Facility (SEMASS). The cost per ton with Covanta is now $37.50. But that rate expires at the end of 2014. Brewster is the only Cape community that has re-negotiated a new rate of $70 per ton.
On Friday morning, Town Administrator James Merriam attended a meeting in Barnstable, negotiating with thirteen Cape towns to reach a new trash disposal contract with Covanta. The county-organized collaborative has been working for over a year on this issue. After issuing a public request for proposals for a company to handle trash disposal, the collaborative considered offers from companies such as Casella Waste Systems of Vermont and Waste Management of Houston, Texas. But in the end, the towns have returned to seek a new contract with Covanta. By working collectively with other communities, the hope is to obtain a more competitive long-term rate (5 to 20 years in length) with the lowest increase. Merriam would not comment on ongoing negotiations, except to say "the market has changed since the last agreement and so have the terms." Further negotiations are expected next week to resolve several remaining issues. One way for the town to reduce its weight of tonnage taken to Covanta is to adopt a pay it as you throw system similar to the one Brewster is considering or Sandwich adopted last year. The cost, per sticker, would likely go down but then users would have to pay for a specific bag type and the more they dispose of, the higher their cost.
more
may03
Members of the U.S. Nuclear Regulatory Commission on Thursday heard testimony from people representing some of the 24 organizations who support the shutdown of all General Electric Mark I and Mark II nuclear reactors. Opponents of the Pilgrim Nuclear Power Station are among those who signed the petition asking nuclear regulators to shut down 31 nuclear reactors across the country. "If you don't revoke these licenses, you should resign, because you're not doing your job," Diane Turco of the Cape Downwinders - an organization that supports the shutdown of Pilgrim - said in a teleconference with NRC members, who met Thursday in Takoma Park, Md. The two-hour teleconference was streamed online Thursday afternoon. Pilgrim is a G.E. Mark I plant. Speaking on behalf of about 2,500 petitioners, Paul Gunter, who directed the reactor oversight project for the anti-nuclear group Beyond Nuclear, criticized the NRC's vote to delay a requirement for nuclear reactors to have filtered vents. The 31 G.E. Mark I and Mark II reactors the petition specifies do not include this safety feature. "If the agency is to restore any public confidence "» it must now act by revoking these," Gunter said. Turco, a Harwich resident, told NRC members that people in the Bay State were "appalled" when the commission extended Pilgrim's license for 20 years, against the wishes of high-ranking elected officials, including Gov. Deval Patrick. Much of the Cape Downwinders' discontent with NRC officials stems from the extension of the 40-year-old plant owned by Entergy Nuclear. The plant exceeds industry averages for automatic shutdowns and unplanned power changes.
more
may03
DISPOSITIONS in court 4/24, 4/25, 4/30, 5/1
HOLQUIN, Elizabeth, 24, 70 Arrowhead Road, Eastham; possession of cocaine, Feb. 14 in Eastham, dismissed on payment of $250 costs.

PAPARO, John, 47, 4 Paddock Drive, Harwich; admitted sufficient facts to violating a protective order, assault, and two counts of assault with a dangerous weapon, Aug. 16 in Harwich, continued without a finding for two years, $1,200 costs and $50 fee; possession of a firearm without FID card, dismissed on payment of $100 costs; intimidating a witness, dismissed.

BASSETT, Kenneth, 46, 2 Opas Way, Orleans; admitted sufficient facts to operating a motor vehicle while under the influence of alcohol (OUI), March 22 in Orleans, continued without a finding for one year, 45-day license loss, $1,847.22 costs and $50 fee; negligent driving and another traffic violation, dismissed; responsible for another traffic violation, filed.

BLOOMFIELD, Simon, 54, 2091 Main St., Brewster; admitted sufficient facts to OUI, Jan. 10 in Brewster, continued without a finding for one year, 45-day license loss, $1,847.22 costs and $50 fee; negligent driving, dismissed; responsible for another traffic violation, filed; not responsible for another traffic violation.

PERRY, Scott, 45, 17 Perry Road, Truro; malicious destruction of property valued at more than $250, April 1 in Truro, dismissed.

RORRO, Scott, 48, 4 Aden Way, Truro; malicious destruction of property valued at more than $250, April 1 in Truro, dismissed.

SILVIO, William, 59, North Chelmsford; guilty of negligent driving, Aug. 16 in Eastham, one-year probation, $600 costs and $300 fees; not guilty of OUI, same date.

EVANS, Edward, 47, address impounded by court; admitted sufficient facts to violating a protective order, Dec. 4 in Harwich, continued without a finding for six months, $300 costs and $50 fee.

MACCUISH, Greg, 41, 35 Alden St., Provincetown; admitted sufficient facts to assault and battery, April 11 in Provincetown, continued without a finding for one year then closed, $50 fee; disorderly conduct and intimidating a witness, dismissed.

AGGER, Max, 22, 56 Cahoon Hollow Road, Wellfleet; violating a protective order, Oct. 4 in Chatham, dismissed.

ARRAIGNMENTS in court 4/28, 4/29, 4/30
PEKOCK, Susan, 48, Watertown; operating a motor vehicle while under the influence of alcohol (OUI), third offense, negligent driving and two other traffic violations, April 25 in Harwich. Pretrial hearing June 13.

EVAUL, William, 63, 11 Hughes Road, Truro; operating a motor vehicle while under the influence of alcohol (OUI), negligent driving and two other traffic violations, April 28 in Provincetown. Pretrial hearing May 20.

PACHECO, Jeffrey, 44, 371 Main St., Dennis; threatening to commit a crime (arson), April 29 in Provincetown. Pretrial hearing May 16.

PORTER, Hannah, 24, 126 Miles St., Harwich; OUI-second offense, negligent driving and two other traffic violations, April 29 in Brewster. Pretrial hearing May 22.

SMITH, Mitchell, 26, 134 Rock Harbor Road, Orleans; assault and battery with a dangerous weapon (hands/feet) and assault and battery, April 29 in Orleans. Pretrial hearing May 7.

YAZEL, Christopher, 33, 15 Cottage St., Provincetown; assault and threatening to commit a crime, April 29 in Province­town. Pretrial hearing May 17.

JEROME, Arthur, 59, 140 Millstone Road, Brewster; OUI, negligent driving and two other traffic violations, April 30 in Dennis. Pretrial hearing June 3.

WHITE, Jeffrey, 49, 31 E. Well St., Wellfleet; operating a motor vehicle while under the influence of alcohol (OUI), two counts of child endangerment by OUI and another traffic violation, April 29 in Wellfleet. Pretrial hearing June 5.

WILCOX, Christopher, 28, 296 Commercial St., Provincetown; assault and battery with a dangerous weapon (bicycle), assault and battery, intimidating a witness, resisting arrest and vandalism, April 29 in Provincetown. Pretrial hearing June 5.
more
may02 Truro-Eastham-Nauset
A few hours after 20-year-old Logan Dunne of Truro died from a rare cancer Jan. 4, his family and friends sought solace at Long Nook Beach, a place he loved. They snapped photos of what appeared to be a sun pillar, a beam of light shooting upward from the sun, on the horizon. A sun pillar occurs when sunlight reflects off the surfaces of falling ice crystals.
Now those photos are the inspiration for a new outdoor mural that will be installed at Nauset Regional High School to honor Dunne, a 2012 graduate. The mural, expected to be installed by graduation, will be 8 feet by 24 feet, with several layers of exterior latex paint covered by a clear coat of polyurethane. It will be placed just outside the gymnasium where graduation is typically held. The mural also will display a phrase Dunne wrote for a college application essay that his family treasures: "I wake up, work harder, laugh deeper and dream bigger than the day before. That is what success is." On Wednesday, Dunne's mother, Kim Kettler; Nauset students Ellie Garside, her sister Hannah Garside and Meaghan Mahan; and artist Cherie Mittenthal painted the mural in a school hallway near the art department. Kettler and Mittenthal began the project Monday. But the idea had surfaced weeks earlier with art teacher Ginny Ogden and other school staff and Ellie Garside, Dunne's girlfriend and one of Ogden's students, who thought of the sun pillar for the mural. Garside asked Kettler about the idea and about getting help with the mural from her contacts at Truro Center for the Arts at Castle Hill. Kettler is president of the Castle Hill board of directors, and Mittenthal is executive director of the nonprofit organization.
more
may02 Provincetown
A woman displaced from her Bradford Street apartment Tuesday night was aided Wednesday with lodging and money for food and clothing by the American Red Cross. Firefighters were called at 9:02 p.m. Tuesday to 143 Bradford St., Unit B, and initially found heavy smoke. They had to use air packs to enter the property. The fire was under control by 9:30 p.m., and firefighters were airing out the apartment and checking for sources of heat that could reignite until about 10:20 p.m. Unit owner Helen Lipton was not at the property. The unit is assessed at $338,900. The Red Cross aid included lodging for the tenant's son.
more
may02 Provincetown
By the end of a tense joint meeting between the board of selectmen and the Public Pier Corp., at which accusations were hurled and town employees insulted, it was agreed that Provincetown Harbor will continue to be run as-is, for now. That means keeping Rex McKinsey on board as harbormaster and pier manager. But after next week's town election, in which selectmen John Santos and Austin Knight are battling to maintain their seats, the board tentatively plans to create a working group. The group, which will include some members of the selectmen, Pier Corp. and perhaps others in town, will decide how to split McKinsey's job in two and figure out who will hold the other position.
Lee Ash, chair of the Pier Corp, opened the discussion with a prepared statement in which she pointed to a report by Robert Pomeroy that she says was supposed to address the so-called "mooring mess" but came back as an audit of the harbormaster's office. Pomeroy's report, while criticizing the lack of mooring rental verification, ignored the controversy that led to the audit - a complaint by Ken Kinkor, a trustee of 16 MacMillan Wharf Reality Trust, who claimed that 17 years ago 35 mooring blocks had been stolen from a town mooring field by Flyer's Boat Rentals, a private mooring rental business in which Selectman John Santos has an interest. "There's been a predetermined, unspoken effort to turn the harbormaster's office over to the police department," Ash said. Lynn responded with a prepared statement of her own, which she read from a computer screen, in which she said she's received many complaints about the harbormaster's office. Complaints abound about derelict boats and people angry at "the ineptness of personnel," including the harbormaster and the assistant harbormaster, Lynn said. She went on to say that there were several problems with marina employees, including one who was not wearing a shirt and another who was wearing a uniform while drinking in a bar. There were employee incidents "needing police involvement," Lynn added. She further stated that Ash and the Pier Corp wanted her to take charge of hiring down at the pier, and asked to continue the marine patrol officer program. The program, which began last year and is led by Det. Scott Chovanec, has about three police officers on the pier 24-7 during the season. "The harbormaster's number- one duty is taking over that mooring field," Lynn said. "That's where we're talking about enforcement."
more
may02 Provincetown
Back in the late 18th century, Irish author Laurence Sterne took great pains in readying his nine-volume tome "The Life and Opinions of Tristram Shandy, Gentleman" through a years-long publishing process. According to the University of Glasgow, Sterne is known to have chosen the format, paper, type and layout and even personally signed more than 12,000 copies to safeguard against piracy.
Now, some 250 years later in the era of the Internet, though there's no guarantee that writing a book won't take one any less longer than it took Sterne, publishing one can be a whole lot less arduous. This Saturday, May 4, local author Laura Shabott conducts a lecture and seminar to demonstrate exactly "How to Create an E-book" with a free seminar from 3 to 4 p.m. at the Provincetown Library. Last month, Shabott released her how-to book, "Confessions of an E-book Virgin: What Everyone Should Know Before They Publish on the Internet," simultaneously on three online sites and launched her self-published work with a reading at Napi's as the featured writer at the Writer's Voice Café, held the second Wednesday of each month. "People say that with self-publishing, it's substandard," says Shabott, a Connecticut native with an acting degree from Emerson College who first washed ashore here in 1999 and took some time to find her footing in Provincetown. "It's not sub-standard if someone follows the process that any professional publishing house does," she says. "I've been boomeranged out of here three times and keep coming back," she continues with a laugh. "It's truly the home I've been looking for all my life." Shabott wrote "Confessions" over the course of the past two years after her novella, "The Cat Letters," appeared on Amazon in 2011 before, she confides, it was ready for prime-time. "If you want to have a truly well-written book, it's got to leave your hands and get into the hands of others." To that end, in preparing "Confessions" for its online debut, Shabott enlisted a coach, two proofreaders and a team of eight or more local previewers, including former Banner arts editor Sue Harrison and playwright Meryl Cohn. "They gave me invaluable feedback," she says. As a result, "Confessions" is available for $0.99 from Amazon (amzn.to/XHgUpa), Kobo (bit.ly/12TFH7r) and the Provincetown Library's new imprint, Provincetown Public Press, via iTunes (bit.ly/16ZL0mu).
more
may02 Provincetown
may02 Orleans-Chatham
Harbormaster Dawson Farber ran through what a great white shark working group had accomplished over the winter: a $50,000 grant that paid for signs in 10 Cape towns and Nantucket warning of the presence of sharks; an educational brochure for mass distribution; and standardization of response protocols and a communication system to spread the word about confirmed shark sightings.
But the combined boards of selectmen from Chatham and Orleans - while grateful for the work Farber, as chairman, and the rest of the group had done in the months since great whites had departed for warmer waters - quickly shifted their focus from safety concerns to the economic impacts, both positive and negative. Concerned that there were no regulations controlling commercial ventures that might come to make money off the great whites that have gathered off Cape shores to hunt the growing gray seal population, the selectmen had asked the state Division of Marine Fisheries for help. In particular, selectmen were worried that shark cage operations, popular in other great white hot spots, could attract the big predators close to beaches - or, worse, cause them to associate humans with food. The operations draw sharks to tourists in a submerged cage by spreading a slick of fish offal or trolling large pieces of fish. "Right now, it's the Wild West," Division of Marine Fisheries scientist John Chisholm told selectmen. "Anyone can roll into town with a shark cage and do whatever they want." "The potential public safety risks are significant," Farber said. Paul Diodati, Division of Marine Fisheries executive director, wrote back to selectmen that his agency was proposing a regulation banning any pursuit or harassment of great whites in state waters without a special permit. Division of Marine Fisheries shark scientist Greg Skomal and Chisholm's great white shark tagging operation, which has tagged 34 white sharks since 2009, already has state and federal permits, but might also need a special permit, Chisholm said. Chris Fisher, who tagged great whites off Chatham last summer using chum and caught them on baited hooks, and who was in the audience, would also need a special permit to do that this summer in state waters if the new regulations go into effect.
more
may02 Orleans
For Ron Jacoby, theater on Cape Cod began, then began again, with Betsy Argo. Jacoby first came to the Cape from Bard College in 1963 to work at Argo's Orleans Arena Theater. A college director of his was artistic director in Orleans that year, and convinced Jacoby to come for the intense, multi-show, resident summer-stock tradition that was set up at the old town hall (now the Academy of Performing Arts) from 1950 to 1976.
Five years after that first summer, he got a call from Argo, seeking his advice about a director. He recommended one, who then asked Jacoby to come back to Orleans to act in "The Three Sisters." Jacoby ended up returning to the Cape to act, direct or be part of the apprentice program for the next three summers. "Then I went to the Midwest," he says about ending that phase of his career. "But we did some great things during that time." And that time in Orleans was seminal for Jacoby, who worked professionally in theater as actor, director, artistic director, producer, etc., for decades in various parts of the country. The Cape itself held enough of a pull on him, in fact, that he and wife Linn, also a professional actress and director, decided to retire here in 2009. "The Arena Theater was my first theater experience on Cape Cod and I just fell in love with" the area, Jacoby says. Sitting across a table from him at a local restaurant, Argo smiles. "A lot of people from the Arena Theater decided to move here," she says. "A lot of people." And reconnecting with Argo, with whom Jacoby had lost touch decades before, was instrumental in involving the couple in the local theater scene. Now the three are working together to produce two weekends of staged readings of Linn Jacoby's adaptation of the musical "Quilters" by Barbara Damashek and Molly Newman. Reconnecting with Argo began soon after the Jacobys settled here and they learned of a Truro screening of daughter Liz Argo's movie "Stagestruck: Confessions From Summer Stock," about the Arena days. With fond memories and so many personal and professional connections to his time there, Jacoby wanted to see it, and unexpectedly reunited with Betsy Argo in the lobby. "The years melted away," he says. The Jacobys wanted to get involved in the Cape theater scene and have done so acting together in "Born Yesterday" at Wellfleet Harbor Actors Theater and "A Thousand Clowns" at Chatham Drama Guild. Their own Stage East Actors company produced "The Belle of Amherst" last year, with Linn playing Emily Dickinson in the one-woman show and Ron directing. But Jacoby credits Argo with making the key difference in their personal and theater lives on the Cape. When the Jacobys started looking for a venue to produce their own Stage East plays, it was people from that group who suggested the hall at the Church of the Holy Spirit in Orleans.
more
may02 Brewster
U.S. Sen. Elizabeth Warren, D-Mass., told a packed house at the Back Nine Cafe on Wednesday to fight to take government control back from big business. "How do Fortune 500 companies pay zero in taxes while college loans go up to 6 percent?" she asked. "This game is rigged." The consumer must "get up and fight," she said. "You've all got to be there to fight." Warren was guest speaker at the Community Development Partnership's annual meeting. It was her first official Cape visit since being sworn in as a U.S. senator, said Jay Coburn, executive director of the partnership. The Harvard law professor won the seat from Republican Scott Brown in 2012. Warren's work as a consumer advocate meshes with the goals of the Lower Cape nonprofit agency, which provides loans for local businesses and affordable housing programs. In its 20 years, the organization has granted $2.5 million in micro loans to 140 businesses from Harwich to Provincetown, Coburn said. Coburn said he became a fan of the future senator when he first heard her in 2007 being interviewed by National Public Radio's "Fresh Air" host Terry Gross on the topic of credit cards. In that show, Warren revealed the various ways the credit card companies nailed consumers with fees, including mailing bills from the West Coast to the East Coast, thus making the mailing time so long people would get hit with late fees, Coburn said. Coburn then got to know her on the campaign trail while working on election campaigns for state Sen. Daniel Wolf, D-Harwich. Warren spoke passionately about the ways in which citizens are being hurt by a lack of consumer protection in Washington, D.C. The interest rate on many college loans is set to double from 3.4 percent to 6.8 percent July 1. At the same time, there are Fortune 500 companies paying zero in taxes, she said. Automatic budgets cuts are hurting the Head Start program, which helps low-income children, and the Meals on Wheels program, she said. Meanwhile, she said, the big agricultural businesses take in millions in subsidies.
more
may02 Brewster
Ed Lewis said farewell to the board of selectmen Monday after nine years on the board. He isn't running for re-election and Monday's town meeting will be his last as a selectman. He thanked all the town officials and staff. "I want to thank the voters because they supported me - one of the nicest things was when people come up to you after you've announced you're not going to run and say 'thank you,'" Lewis said. "We're all volunteers and if you consider the time and effort spent it's not a job it's a love. It's been a wonderful nine years." Lewis is running, unopposed, for Nauset Regional school committee.
may02 Brewster-Harwich
Wednesday's meeting of chambers of commerce from Harwich, Dennis, Brewster and Yarmouth was billed as "an information exchange" on a proposal for a Lowe's Home Improvement store in Dennis, espousing to no particular position on the project. But the 35 or so people who turned out for the session made their opinion clear: Only one in the group was ready to welcome the retail giant to the Mid-Cape. The rest were nervously preparing for battle. "I'm here because I have a real strong concern about the business community in our four towns," said Sid Snow, owner of Snow's Home and Garden centers in Orleans and Harwich. "Lowe's is one of the largest home improvement stores there is. We're not going to compete with them." Snow said the customer base on the Cape is limited. "The only way I see Lowe's being successful and staying here is by putting everybody else out of business," he said. Lynn Colangione, member of a coalition called Local Businesses for a Strong Cape Economy, agreed with Snow. "Lowe's corporate strategy is market takeover," she said. Lowe's plan calls for building a 100,000-square-foot store and 28,000-square-foot garden center off Theophilus Smith Road.
more
may02 Harwich
At town meeting last spring, Harwich voters passed a $990,000 Proposition 2½ override to pay for their portion of the Monomoy Regional School District budget. This year, voters will not face any override to fund the town's operating budget or the regional school budget. Still, with 78 articles to consider, there will be a lot to do when voters again convene at the community center for annual town meeting Monday and special town meeting Tuesday. In Article 5, the regional school budget is up $1.14 million from the previous year, but the town operating budget, Article 4, increased by less than a half-million dollars, meaning the Harwich total of $50.3 million, $946,745 more than last year's figure, didn't require an override. Additionally, there are six requests on the May 21 town election ballot asking for more than $3 million in debt exclusions to pay for equipment, construction or design funding, or planning; these first have to be approved at town meeting. One of the requests is from the fire department, which is seeking $425,000 in Article 16 to replace a 1992 pumper truck with a new one. The department was hoping to keep that price low by trading in the current truck for an estimated $20,000, but had trouble recently getting that price. Voters also will be asked to authorize spending on two proposals to deal with wastewater cleanup.
more
may02 Harwich
A Harwich police officer pulled a homeowner to safety not once but twice after the man tried to put out a garage fire Wednesday morning.
The fire at 65 Ryder Road broke out just after 10 a.m. It started near the back door that connected to the garage, he said. It was able to spread because of old files and paperwork housed in the garage. About 25 percent of the garage was in flames by the time firefighters arrived, according to Harwich Deputy Fire Chief Kent Farrenkopf. One of the homeowners tried to extinguish the fire with a garden hose and had to be rescued by Harwich police Officer Derek Dutra. After pulling the male home-owner out once and assisting the female homeowner suffering from smoke inhalation, Dutra had to rescue the man again after he re-entered the garage to put the fire out but fell and suffered facial injuries.
more
may02
There's been a lot of coverage of an emerging story in the Cape region: the imminent launch of the OpenCape fiber optic network. My company, CapeNet, built it and is responsible for selling broadband services on it.
My message today isn't about CapeNet, OpenCape, or even Comcast. It's about all of us who live in, work in, and care about the future economy of our region. Our outdated infrastructure affects everyone in the southeastern MA and the Cape. We've all experienced these things, either directly or indirectly:
Local economic development is hampered because our broadband infrastructure is inadequate to attract new employers.
Thousands of residents leave the Cape region each workday, and many leave the region permanently each year, in search of better job opportunities. Our local population is shrinking.
Thousands of tourists arrive each year in our beautiful towns and beaches, expecting the same level of service they get elsewhere on their mobile devices, but rarely get it.
Local businesses, schools and research institutions know that the higher cost and limited availability of broadband throttles their ability to grow, attract the best teachers and workers, and compete in the global economy.
The higher cost and inefficiency of running local government telecom and data systems is passed on to tax payers.
Public safety officials have cited times when key communication connections were cut, putting the entire population at risk.
The questions are, "Is everyone satisfied with what we have today? Do we need to fix this?" If broadband was as good as existing service providers say, these problems in our communities wouldn't be happening. And here's why they're happening: Existing service providers are slow to upgrade in rural areas, and if they do it at all, it's in response to competition.
more
may01 Wellfleet
Voters returned incumbents Berta Bruinooge and Jerry Houk to the board of selectmen Tuesday at the annual town election. Bruinooge received 590 votes and Houk 568. Challenger Mary Ellen Manning received 466 votes. The two selectmen's positions are for three-year terms. Out of 2,603 registered voters in town, 917 showed up at the polls for the town election, roughly a 35 percent turnout. The counting of votes ended at around 11 p.m. at the senior center. Incumbent Town Moderator Bruce Bierhans lost to retired Fire Chief Daniel Silverman, a former town moderator, for a one-year term. Silverman received 458 votes and Bierhans 401. A majority of voters endorsed Question 1 on spending $250,000 for a new fire tanker truck, in a vote of 554 to 320, as a Proposition 2½ debt exclusion. A majority of voters also endorsed Question 2, on spending $350,000 for public restrooms at Baker's Field, in a vote of 620 to 243, also as a Proposition 2½ debt exclusion. Question 6, a nonbinding public opinion advisory question calling for the shutdown of the Pilgrim Nuclear Power Station, passed 639 votes to 203. For the fire tanker truck, the newly approved spending means that property taxes would increase by 81 cents in the first year of a 20-year borrowing period for property assessed at $350,000, town records indicated. For the public restrooms, the spending would increase property taxes by $1.05 in the first year for a property assessed at $350,000.
may01 Wellfleet
853 Wellfleet citizens voted in the April 30 special state primary. In the Democratic primary, 144 voted for Lynch, 545 for Markey. In the Republican primary, 105 voted for Gomez, 39 for Sullivan, and 15 for Winslow.
may01 Wellfleet
A Wellfleet man was charged with two counts of child endangerment Tuesday after allegedly driving under the influence while two children were in the car. Around 3 p.m. Monday, police received a report of an impaired driver near Cumberland Farms on Route 6. Officer Donna Holway saw the car driving erratically and pulled over Jeffrey White, 49, of 31 E. Well St. After talking with White, Holway determined that he was drunk and placed him under arrest. It was unclear whether the children in the car were White's. They were taken home, where White's friend agreed to watch them. A Breathalyzer test performed at the police station concluded that White's level of intoxication was at least twice the legal limit. White was arraigned in Orleans District Court on Tuesday where he pleaded not guilty to one count of driving under the influence of alcohol, and two counts of child endangerment by OUI.
more
may01 Wellfleet
After a 30-year hiatus Steve Shook is back. And we have his daughter to thank for it. "A couple of years ago my daughter Lizzie asked me to show her what I'd been working on," he says. "She said, 'I'm going to see to it that you get back in the studio.' And like a dad I thought, aw, that's sweet, but it will never happen. But at 32, she doesn't drop things."
The fruits of his daughter's mission, a new CD, "Dignify," is now out, and on Friday, May 3, Shook will celebrate with a CD release party and concert at Wellfleet Harbor Actors Theater. He will play tunes from the new CD and, to the delight of many fans, reunite with his former band mate, Chandler Travis. Shook, who many know around here as a successful building contractor, was also once a pretty well known musician. He and the multiple band creator Chandler Travis were originally Travis and Shook, and eventually evolved into The Incredible Casuals. "We met in prep school," says Chandler Travis. "I pretty quickly got kicked out of that school and lost touch, but [we] met up again in college at Boston University." They began playing together in college, and toured the country together. "We spent 17 years on the road, opening for George Carlin throughout the '70s into the '80s," Shook says. "We played in 42 states, including Alaska in February. We played at Carnegie Hall and on The Tonight Show. Part of it is fantastic, but it's a hard way to make a living, and I reached that point of just not wanting to be on the road anymore. While Travis continued (Shook describes him as "a lifer") Shook and his wife, Lisa, had two children. He built a successful business and rarely picked up a guitar. "It's hard to do once in a while," he says. "I lost all my calluses. Occasionally I'd sit in with The Casuals, but only maybe once a year or so." But he never stopped writing songs. "Before I went back into the studio I had to get back into shape," Shook says. "I hadn't been playing or singing, and like an athlete, you have to get in shape. I went into training for six months to go from playing once in a while to get my chops back - my range had diminished. I just made a point to play every day."
more
may01 Wellfleet
Legendary musicians Youssoupha Sidibe and Charles Neville have created a band called, "Mystic Rhythms," which infuses New Orleans and West African music with drums and bass. Neville is a virtuoso saxophone player most well known as a front man for the Neville Brothers. Sidibe has performed and recorded with many musicians, including Matisyahu, Michael Franti, India Arie, Steve Kimock, Bela Fleck and the Flecktones and Michael Kang of String Cheese Incident. They will perform Saturday, May 11, at 7:30 p.m.at Wellfleet Preservation Hall. Tickets are $15 and available at wellfleetpreservationhall.org.
may01 Wellfleet
Ira Wood is an author, a teacher, a former publisher, a former selectman, and the host of a weekly radio program called The Lowdown on WOMR-FM, Cape Cod's Community Radio Station. For over 30 years Ira has made his home in Wellfleet. The Lowdown enables Ira to indulge his lifelong compulsion to pester people with questions.


may01 Eastham
In Tuesday's primary election, 1,122 voters turned out in Eastham, 27 percent of the registered voters. In the demoratic primary, 760 voted, giving Lynch 205 votes and Markey 555. In the Republican primary, 362 voted, giving Gomez 230 votes, Sullivan 111, and Winslow 21.
may01 Orleans
Live theater has the power to move you to tears and laughter and sometimes at the same time. Neil Simon's "Lost in Yonkers" may arguably be the prolific playwright's best work. Set in 1942, the autobiographical, 1991 Tony Award and Pulitzer Prize-winning play chronicles the turbulent year Simon and his older brother live with their overbearing German-Jewish grandmother. Their widowed father, Eddie, is forced to go out on the road to earn the money to pay back a loan shark for his dead wife's cancer treatment. The boys' saving grace is their childlike, loving aunt Bella who lives with her stern mother in an antiseptic apartment above the family's candy store. With "Yonkers," Simon moves beyond his reputation as a comic genius and the master of clever one-liners and running gags to the stature of a serious and skilled dramatist. As you'd expect the play has strong comic overtones, but it's more of a drama than a comedy. Simon creates a compelling portrait of the relationships in his dysfunctional extended family and "Lost in Yonkers" resonates with warmth and poignancy. Deftly directed by Millie Sheerin the Academy of Performing Arts' production is first-rate. Front and center is Karen Riquinha's compelling portrayal of the mentally challenged, 35-year-old spinster Bella. The expressive actress imbues Bella with childlike innocence, vulnerability, and an aching loneliness. Riquinha effectively conveys Bella's instability with emotions that can turn on a dime and her heartbreaking desire to fulfill her womanly longings for love and children. Despite her slow-mindedness Bella is keenly perceptive and sensitive to the pain of her family members. "Lost in Yonkers" at the Academy Playhouse, 120 Main St., Orleans, plays 8 p.m. Fridays and Saturdays and 2 p.m. Sundays through May 19.
more
may01 Brewster
Paul Simons prepared for Brewster town meeting by mailing out 1,125 postcards inviting dog owners to show up for Monday's votes. Dogs will indeed be the focus of several of the 38 articles on the special and annual town meeting warrants. Simons is a member of the group known as the Citizens for a Shared Park, which put a petitioned article on the town meeting warrant asking for dogs to be allowed to run off-leash at Drummer Boy Park before 9 a.m. and after 4 p.m. from May 1 to Oct. 1, and allow them to have unrestricted hours during the winter. The idea offers a low-cost way for all citizens to enjoy the park, Simons said. Drummer Boy had become an extremely popular de facto dog park in recent years, causing complaints about unruly dogs and feces. The board of health voted to ban dogs from the park year round in March 2012. The ban prompted dog owner and part-time Brewster resident Jordan Sprechman to sue the board of health. Sprechman, a wealth adviser for JPMorgan Chase in Manhattan, spent $16,000 in the legal battle and won. In December, a Barnstable Superior Court judge overruled the board of health ban. The town is appealing, but in the meantime, officials at this town meeting hope to be able to finally put the dog issue to rest. The selectmen unanimously voted against recommending the petitioned article. This may leave some people who know the long history of Brewster's dog fight confused because, in March 2012, the selectmen voted 3-2 in favor of similar restricted hours. Their vote, however, was invalidated the next night by the board of health ban. Selectman Ed Lewis said after more consideration, the selectmen no longer think dogs should run free at Drummer Boy. "There's always (feces) residue, and you cannot pick it all up," Lewis said. So, this year, the selectmen put forward a different article dealing with the dog dilemma. They are asking to fence off 1.25-acres in the southwest corner of the park to create a permanent area where dogs can run off-leash. The article is contingent on receiving private donations to build the fence.
more
may01 Brewster
The selectmen were finally able to reach an agreement (235 pages long) with CVEC and Broadway Electric to construct and operate a solar array off Freeman's Way on the site where the two wind turbines would've gone. Brewster will have a right to exercise an option to operate the facility at some point and the electricity generated by this project and the one at the landfill should cover to town's electrical needs. Ideally construction will begin in 12-18 months but agreements have to be worked out with NStar for transmission and metering of the power.
may01
As Gov. Deval Patrick and members of Congress continue to press the White House and federal regulators to postpone severe reductions to catch limits for New England fishermen, the National Oceanic and Atmospheric Administration on Tuesday notified Congress that it was moving forward with the reductions as planned for Wednesday.
NOAA announced Tuesday that it intended to file the catch limits for the 2013-2015 fishing seasons, imposing limits for Gulf of Maine and Georges Bank cod that are 78 percent and 61 percent lower that fiscal 2012, respectively. Substantial reductions to catches of groundfish are also being made for Gulf of Maine haddock, Georges Bank yellowtail flounder, American plaice, witch flounder and Cape Cod, Gulf of Maine and Southern New England yellowtail flounder. Regulators insist the new limits are "necessary to ensure stocks are not subject to overfishing," but Massachusetts politicians and researchers have questioned the science used to draft the new limits, and fishermen warn it could cripple a $2 billion industry in Massachusetts. NOAA announced steps it was taking to mitigate the financial hit on fishermen, including increasing the catch limits for healthy populations of redfish, pollock and white hake, whose quota will be increased by 15 percent.
more